Mexican Grilled Shrimp Bowls with Sweet Potato and Tomato
This Mexican Grilled Shrimp Bowl recipe is packed with flavor from hearty sweet potatoes, bright tomatoes, and tender grilled shrimp. Enjoy as a smaller appetizer or a full-on meal, perfect for Cinco de Mayo or any backyard gathering!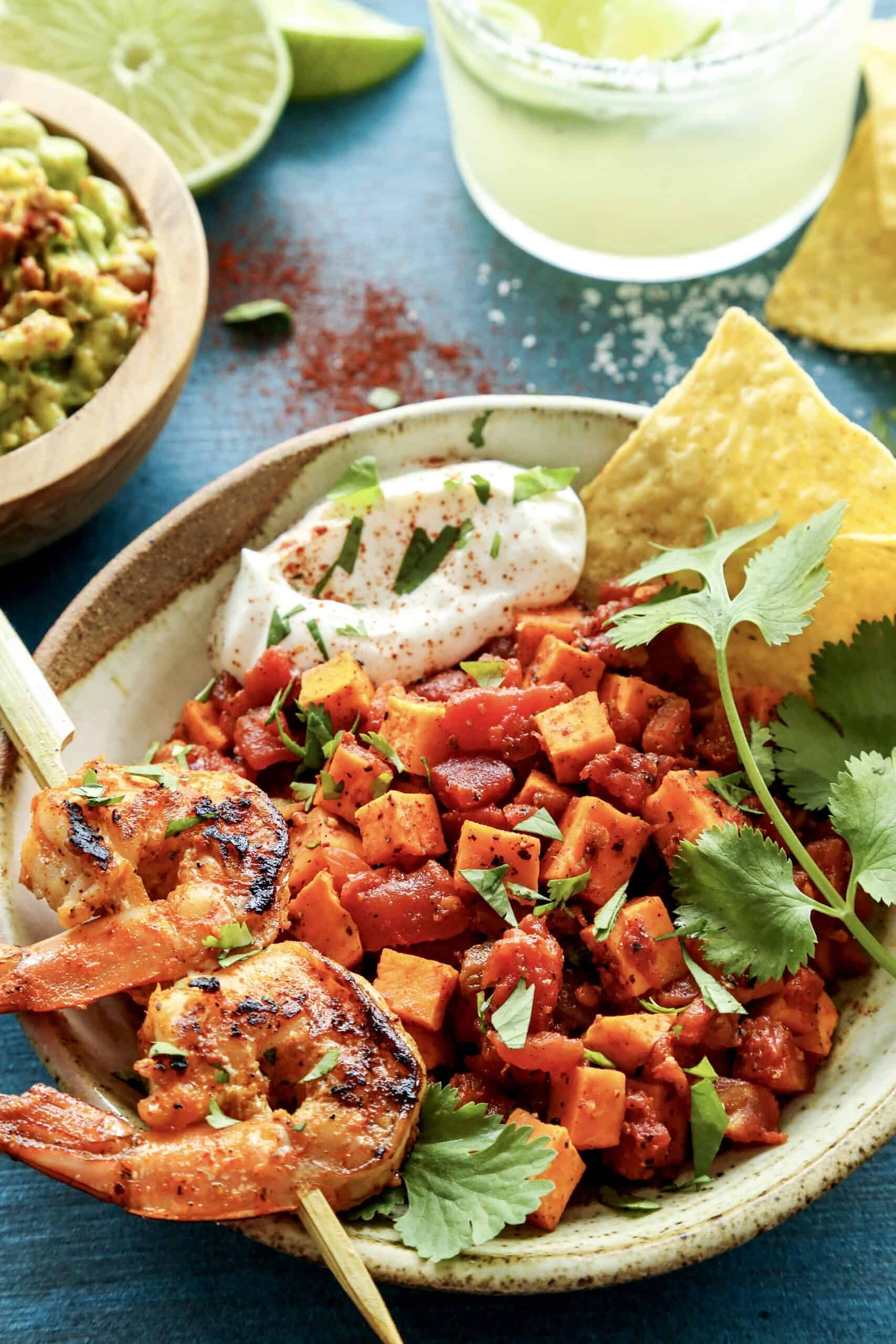 Easy Mexican Grilled Shrimp Bowl Recipe
When it's cold outside, we naturally lean on comfort foods to help warm us up. This recipe for Mexican Grilled Shrimp Bowls with Sweet Potato and Tomato is comfort with a side of spring and summer rebellion.
There's fantastic flavor mixed in with the warmth and coziness of this dish, but also a nod to warmer weather days ahead, with skewers of grilled shrimp. If I close my eyes and dream even bigger than spring, I find myself lounging on a sandy beach somewhere in the Caribbean, dipping my tortilla chips into this wonderful bowl…
Next to margarita grilled shrimp skewers and air fryer shrimp, this shrimp and sweet potato recipe is one of my all-time favorites.
* This is a sponsored post, created in partnership with Red Gold®.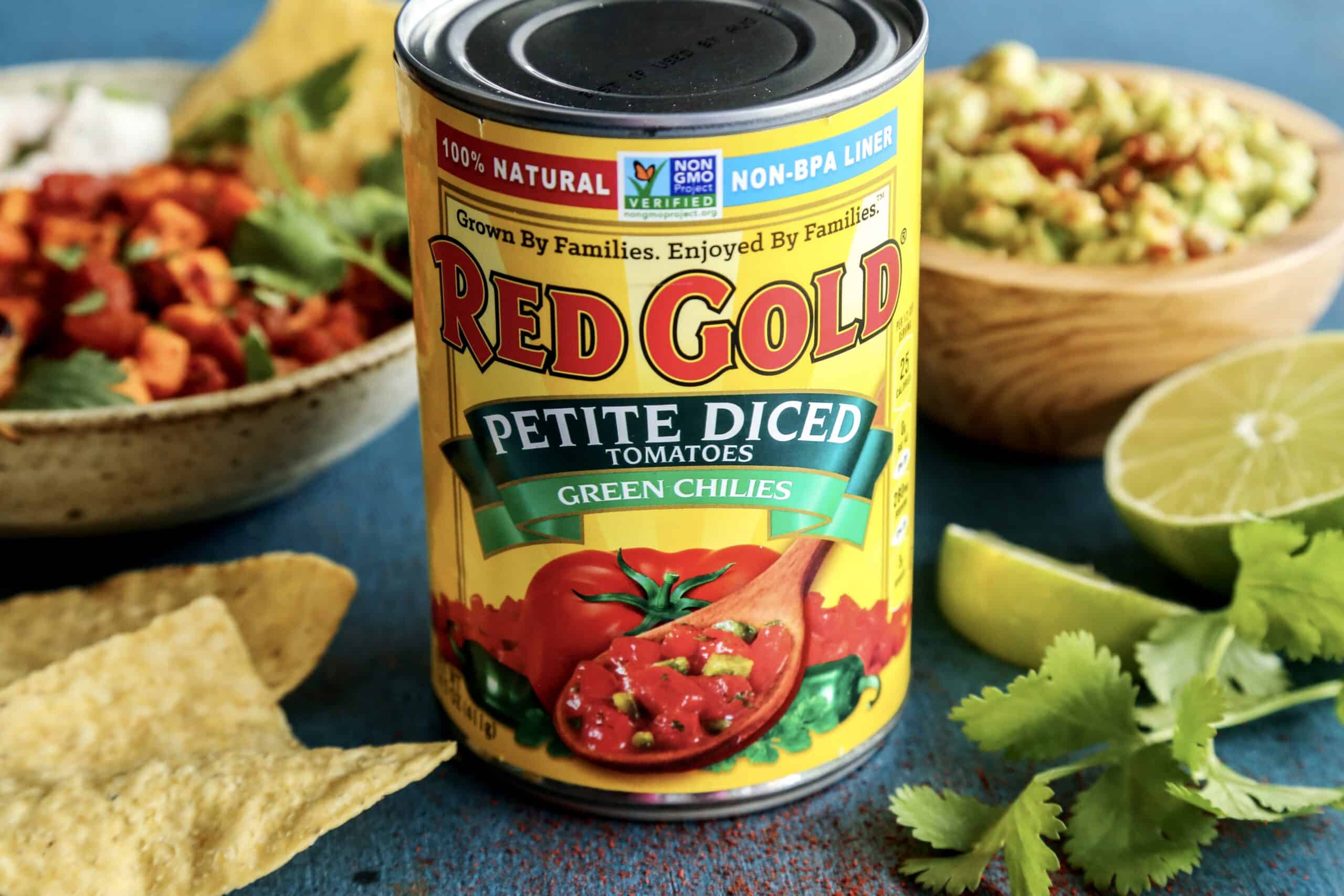 You'll find canned tomatoes in our pantry and on our table year-round. Our family loves tomatoes. But let's face it, there are only a few months each year where the fresh tomatoes actually taste like they should, rich and sweet and juicy.
I am particularly fond of Red Gold tomatoes, sustainably grown on family farms here in the Midwest. They offer a great variety of products featuring tomatoes preserved at their summertime peak, including these petite diced tomatoes with green chilies.
In this Mexican sweet potato and tomato grilled shrimp bowls recipe, I was able to skip mincing a jalapeño by simply choosing these canned tomatoes instead.
Sweet potatoes add color, warm flavor, and heartiness to this recipe. They are roasted very simply with olive oil, salt, and black pepper before joining the Mexican-spiced diced tomatoes.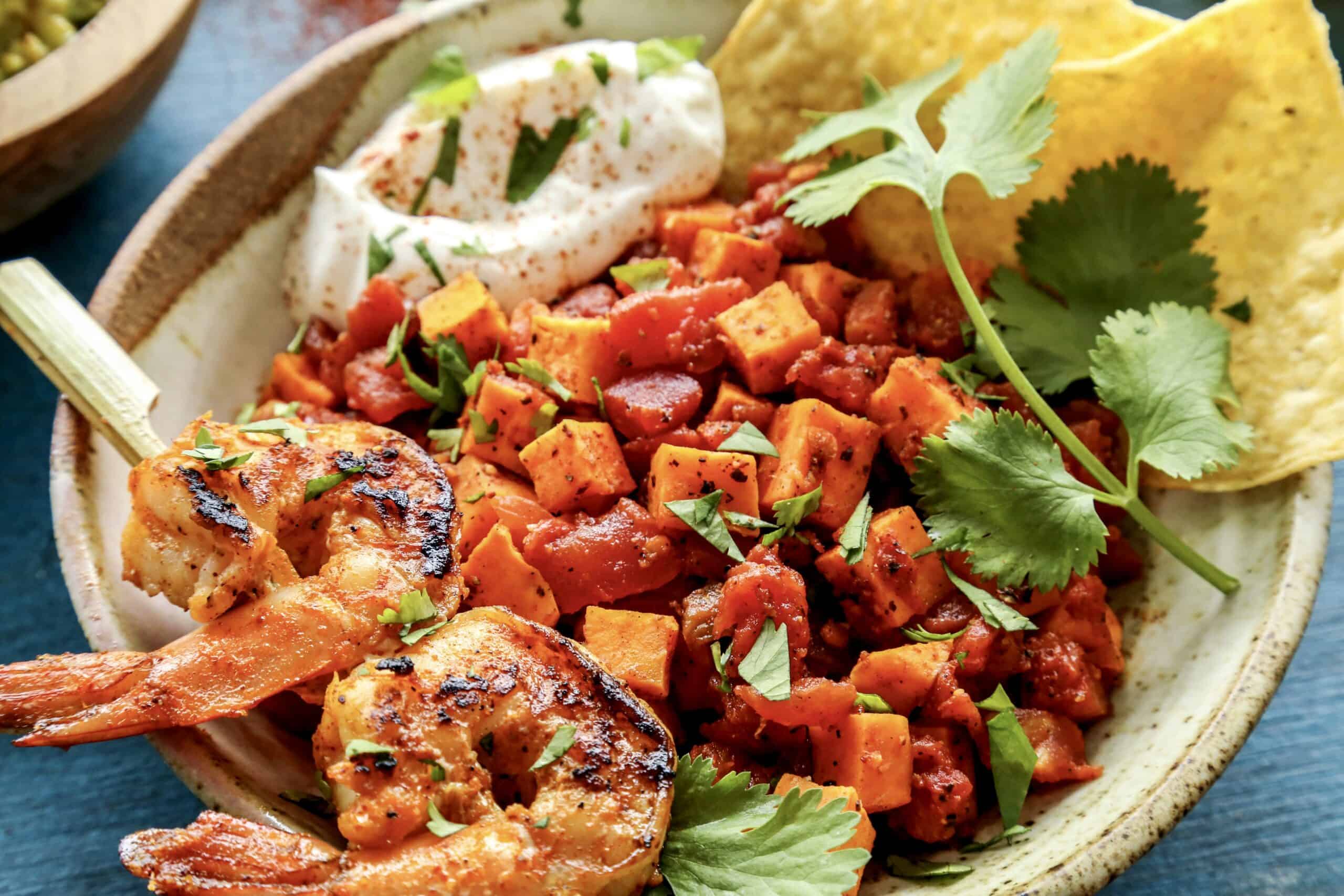 I will never turn down a meal that involves chips and dipping. Add on some grilled shrimp, and I am solidly hooked.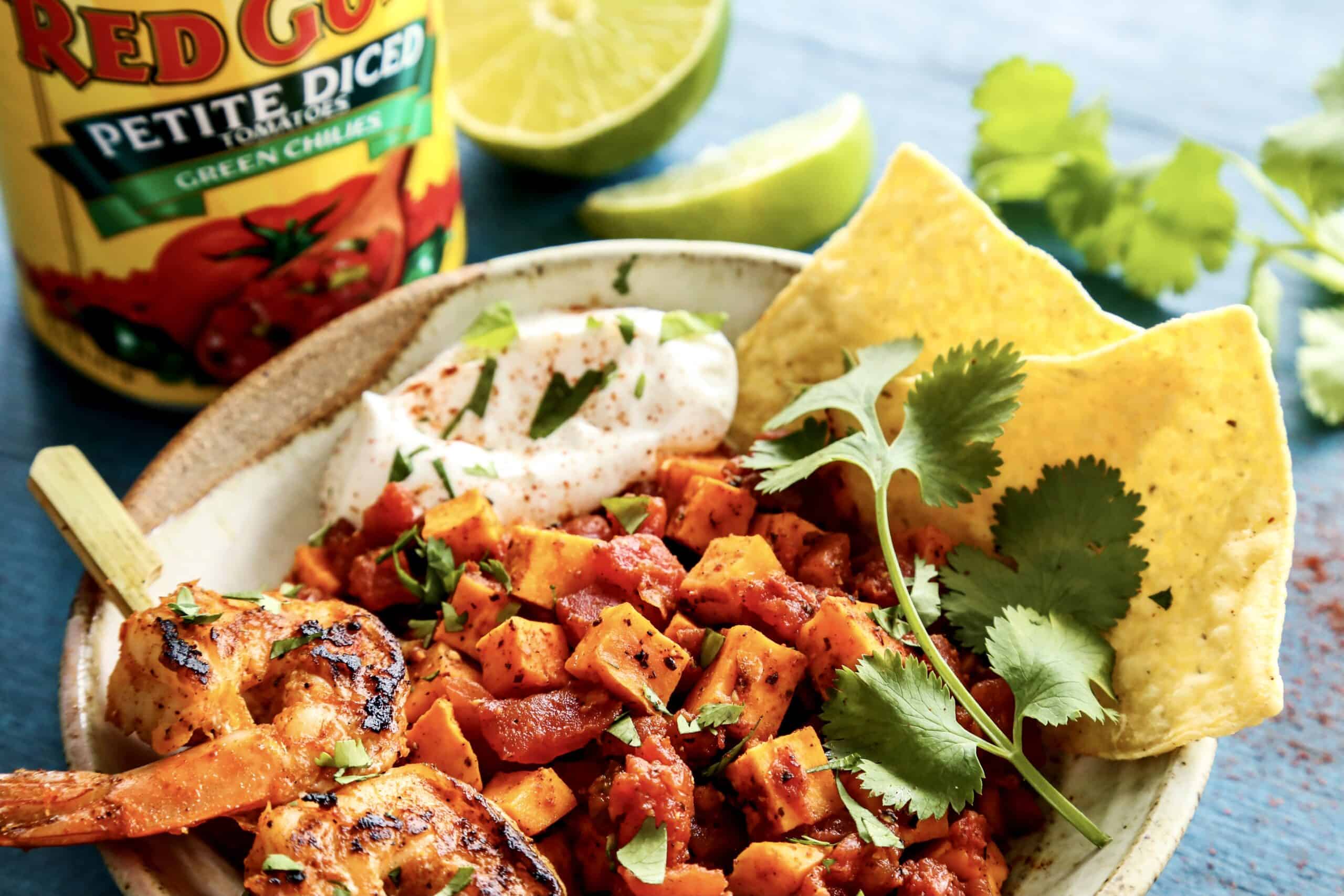 Serving Suggestions
This bowl is fresh and satisfying, offering the perfect segue into spring and summer. I like to offer it in smaller portions as an appetizer, and in larger bowls as a meal.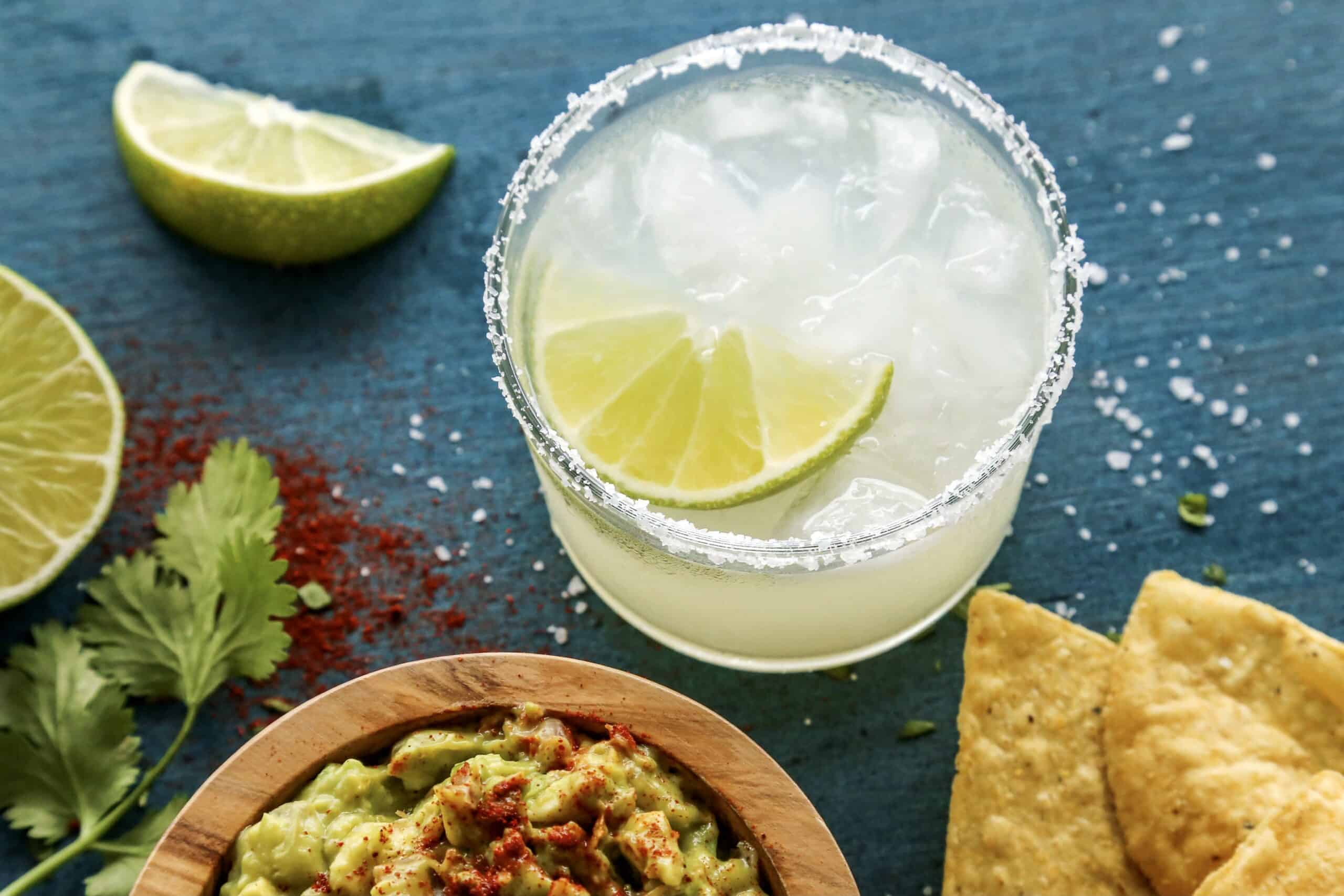 And come the weekend, a margarita pairs quite wonderfully with this dish, no doubt about it. Check out my favorite traditional margarita or my big-batch Prosecco margarita – either one would be excellent.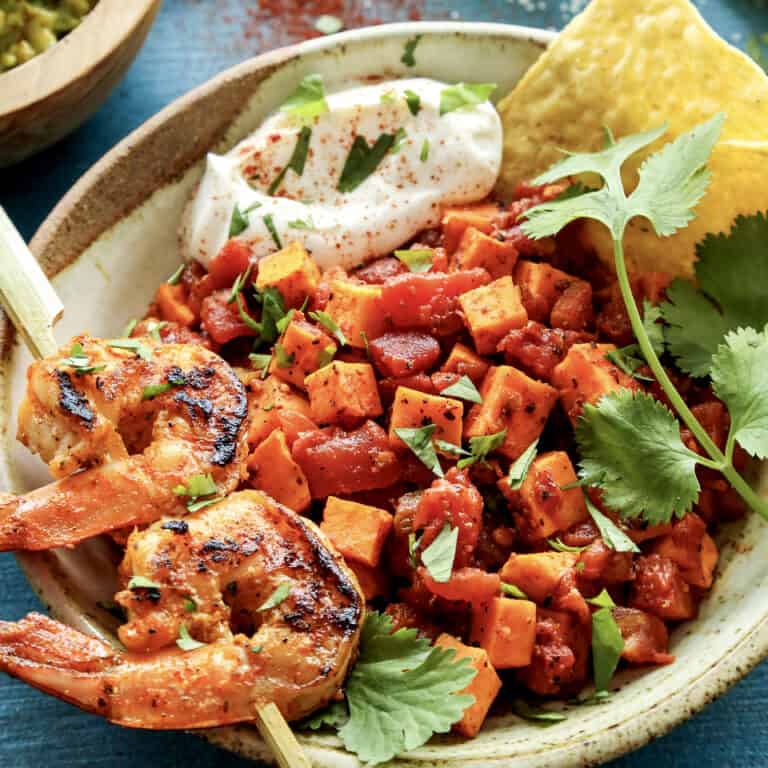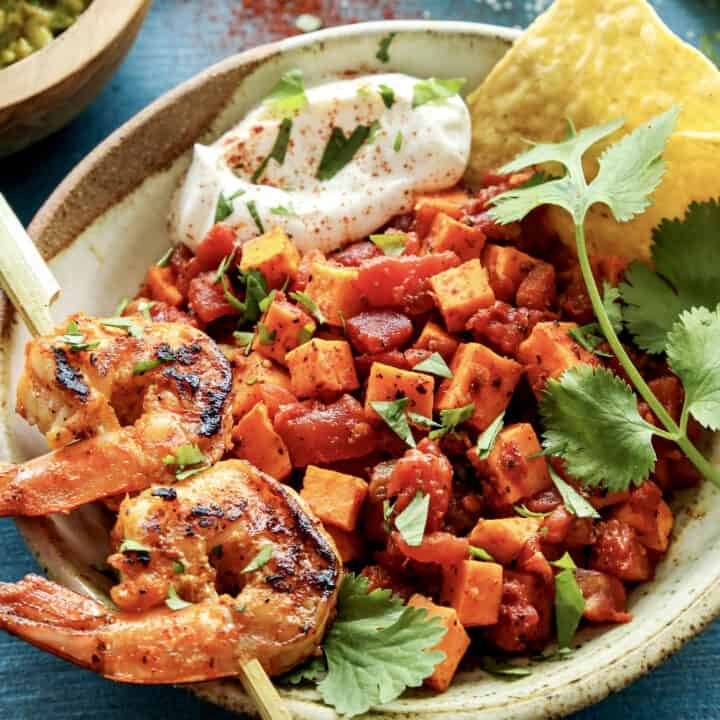 Mexican Sweet Potato and Tomato Grilled Shrimp Bowls
Yield: 4 servings for appetizer, 2 for meal
Prep Time: 30 minutes
Cook Time: 55 minutes
Total Time: 1 hour 25 minutes
This Mexican Grilled Shrimp Bowl recipe is packed with flavor from hearty sweet potatoes, bright tomatoes, and tender grilled shrimp. Enjoy as a smaller appetizer or a full-on meal, perfect for Cinco de Mayo or any backyard gathering!
Ingredients
for the grilled shrimp:
8 raw jumbo shrimp (21 to 25 per pound), peeled and deveined
2 T. freshly squeezed naval orange juice
zest from 1 naval orange
1/2 T. olive oil
1/2 T. brown sugar
1/4 tsp. smoked paprika
1/4 tsp. chili powder
1/4 tsp. garlic powder
1/4 tsp. cumin
1/4 tsp. kosher salt
1/8 tsp. black pepper
for the sweet potato and tomato bowls:
2 c. peeled and cubed sweet potatoes, 3/8″ to 1/2″ in size
1/2 T. + 1 tsp. olive oil, divided
3/4 tsp. kosher salt, divided
1/2 tsp. black pepper, divided
1/4 tsp. smoked paprika
1/2 tsp. cumin
1 can (14.5 ounce) Red Gold® Petite Diced Tomatoes with Green Chilies, drained
chopped cilantro
tortilla chips
sour cream
guacamole
Instructions
for the grilled shrimp:
Place shrimp in a wide shallow bowl or small zip-lock baggie and set aside. If using wood skewers, soak them in water now.
In a small bowl, whisk together orange juice, orange zest (I love this zester!), olive oil, brown sugar, smoked paprika, chili powder, garlic powder, cumin, salt, and black pepper to create the marinade. Pour marinade over shrimp and gently stir to coat evenly. Cover and refrigerate for 1 to 2 hours. Then thread shrimp onto skewers and discard marinade.
Heat grill or grill pan to medium-high to high heat. Make sure grates are clean, and then oil them well. Set shrimp skewers on grates and grill for about 3 minutes per side, or just until shrimp are no longer translucent and have some nice char. Remove to plate.
for the sweet potato and tomato bowls:
While the shrimp are marinating, preheat oven to 400°F.
Place sweet potatoes on rimmed baking sheet. Drizzle with 1/2 tablespoon of the olive oil and toss to coat evenly. If you need to use a bit more olive oil, go ahead. Sprinkle with 1/2 teaspoon of the salt and 1/4 teaspoon of the black pepper. Toss again. Roast for 20 minutes and then stir. Roast for another 20 minutes, or just until sweet potatoes are nicely softened. Remove from oven and set aside.
In a medium skillet over medium-high heat, heat remaining 1 teaspoon of olive oil. Add smoked paprika, cumin, remaining 1/4 teaspoon salt, and remaining 1/4 teaspoon black pepper. Stir to combine. Sauté for 3 minutes, stirring a couple times. Add diced tomatoes and turn down heat to medium. Simmer for 5 minutes, until thickened a bit. Fold in roasted sweet potatoes and heat for 1 minute. Divide mixture between 4 small bowls for appetizer sized portions, or 2 bowls for meal sized portions. Add 2 grilled shrimp to each smaller bowl or 4 grilled shrimp to each larger bowl. Sprinkle with chopped cilantro. Serve with your favorite tortilla chips for scooping, along with sour cream and guacamole.
Notes
from a farmgirl's dabbles
Nutrition Information:
Yield: 4
Serving Size: 1
Amount Per Serving:
Calories: 268
Total Fat: 5g
Saturated Fat: 1g
Trans Fat: 0g
Unsaturated Fat: 4g
Cholesterol: 44mg
Sodium: 1309mg
Carbohydrates: 48g
Fiber: 6g
Sugar: 21g
Protein: 9g
Nutrition information is automatically calculated by Nutritionix. I am not a nutritionist and cannot guarantee accuracy. If your health depends on nutrition information, please calculate again with your own favorite calculator.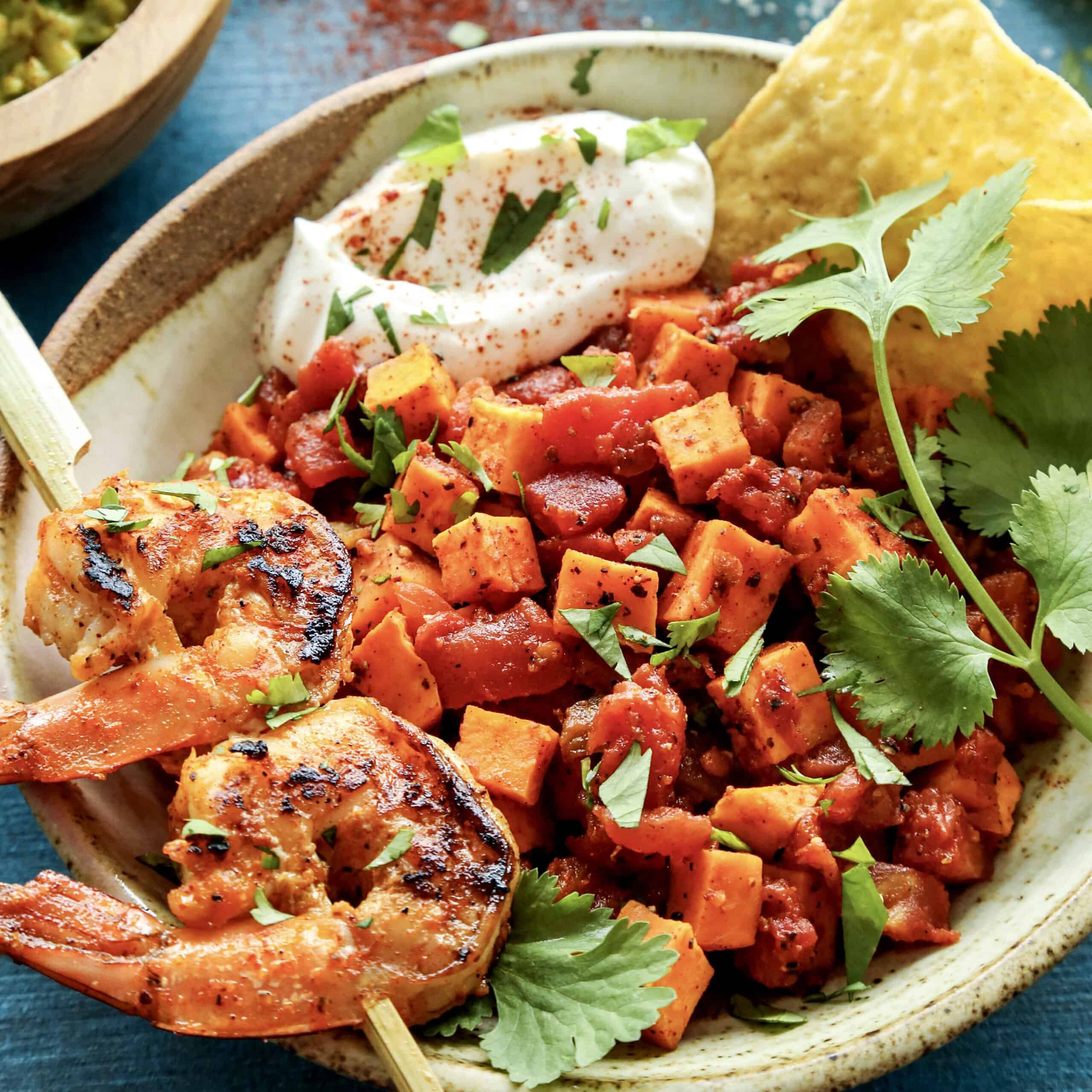 Like this recipe? Save it to Pinterest!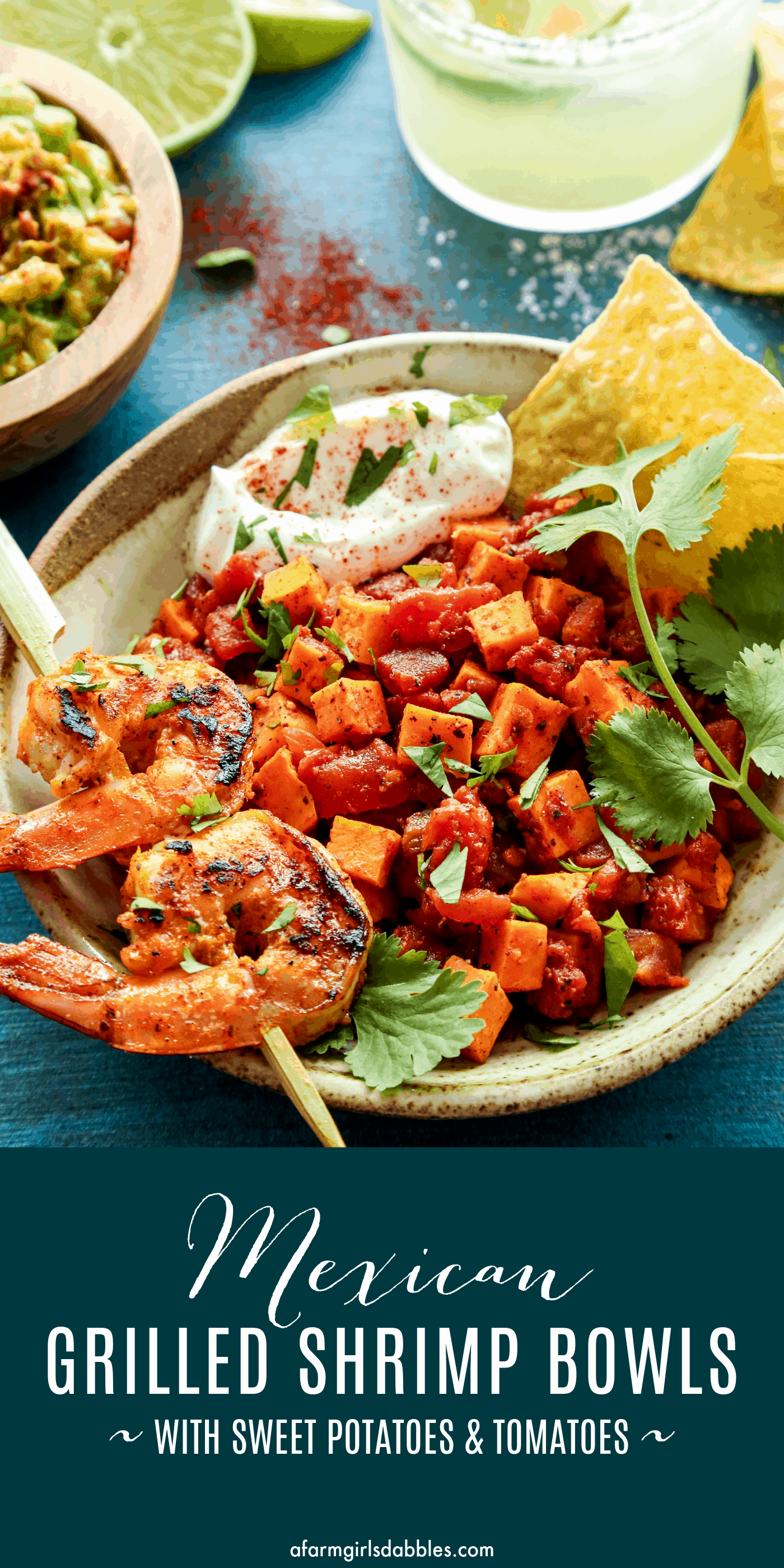 For more deliciousness with Red Gold tomatoes, here are a few more recipes featured on a farmgirl's dabbles and beyond:
Be sure to check out Red Gold on their website. You can also find them on social media on Facebook, Twitter, Instagram, and Pinterest.
This post is sponsored by Red Gold. I am happy to be partnering with this Midwestern company again, bringing you delicious recipes bursting with fresh, rich tomato flavor. All opinions are 100% my own. Thank you for supporting the brands that help make this site possible.