Edible Oreo Cookie Dough
This Edible Oreo Cookie Dough is perfectly soft and sweet, with crunchy bits of chocolatey Oreo cookies. Grab a few friends and spoons, and dig in to this delightful cookies & cream treat!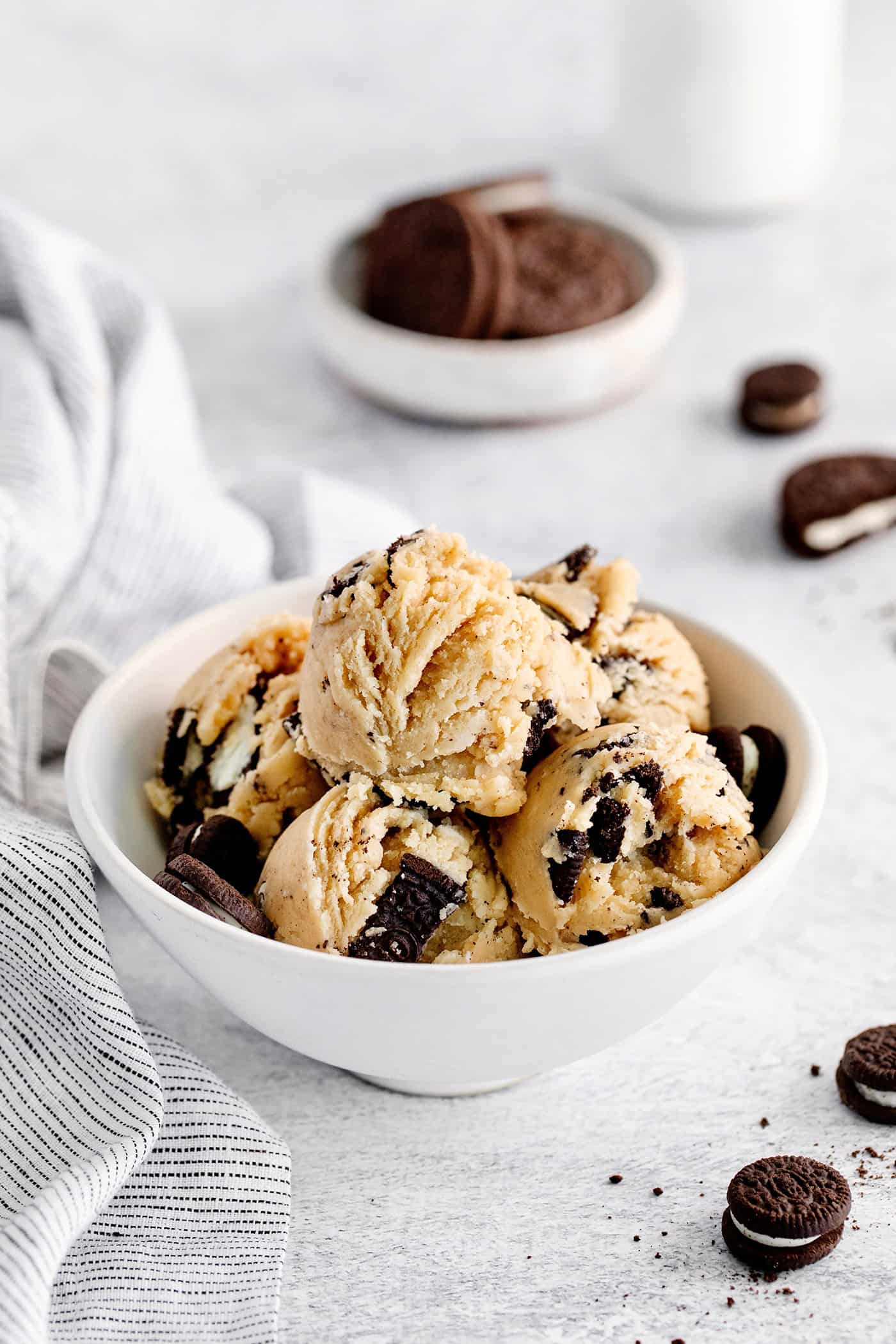 Cookies and Cream Edible Cookie Dough
Cookie dough has been one of my longtime favorite things to eat – it was always the bonus from helping Mom make cookies!
And now that I have my own houseful of cookie dough lovers, well, I've fully embraced recipes for edible cookie dough. My no-bake recipes are specifically made to never see the inside of an oven – and they're SO GOOD!
After watching our daughters make edible chocolate chip cookie dough again and again, I wanted to mix it up with a cookies & cream riff. Because I LOVE chopped Oreos in everything from cheesecake to ice cream to rice krispies treats to truffles!
If you like cookie dough and Oreos, I'm betting you'll find this Edible Oreo Cookie Dough to be as addictive as I do. Enjoy!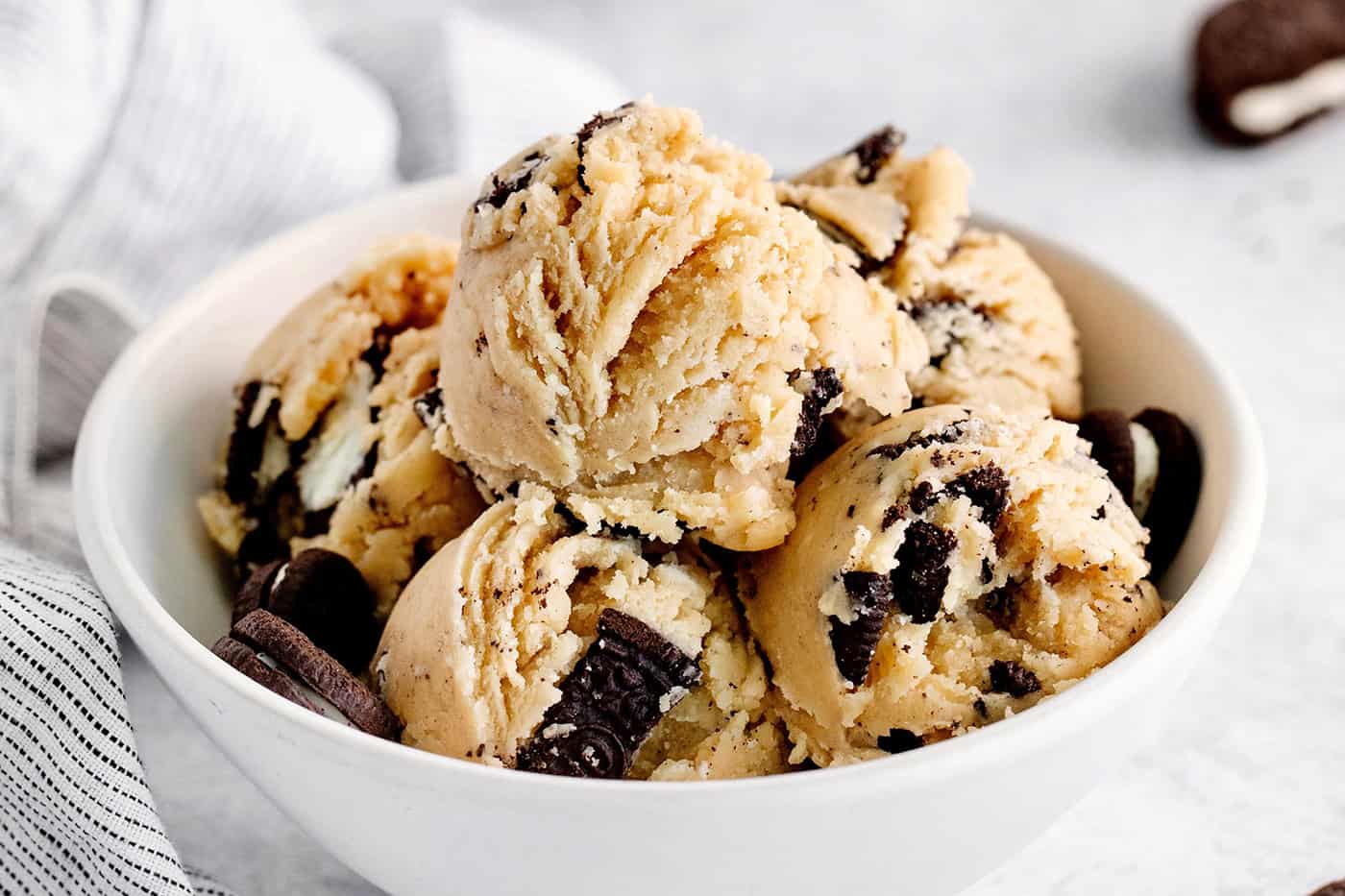 Is Cookie Dough Safe to Eat?
I think most of us know that raw cookie dough is not considered safe to eat, even as we sneak bites every time we bake cookies. I grew up eating raw cookie dough, and I'm sure I'll be snitching dough for as long as I'm baking homemade cookies. While most of us never have any negative consequences, raw cookie dough does present the risks of e. coli and salmonella, however.
Most of us likely consider eggs to be the risk in raw cookie dough, but did you know that flour is a raw ingredient, and just as big of a risk? I remember a major producer recalling bags of flour a number of years ago.
So what makes edible cookie dough different?
Recipes like this edible Oreo cookie dough skip the eggs entirely and then heat treat the flour (it's super easy to do!) to eliminate any risk of E. coli or salmonella.
I've played around with different ingredients and quantities, and got this edible cookie dough recipe exactly how I – or should I say "we" – like it. Getting this just right was a bit of a process, and it wasn't complete until each member of our family gave a thumbs-up. Recipe testing at its finest! :)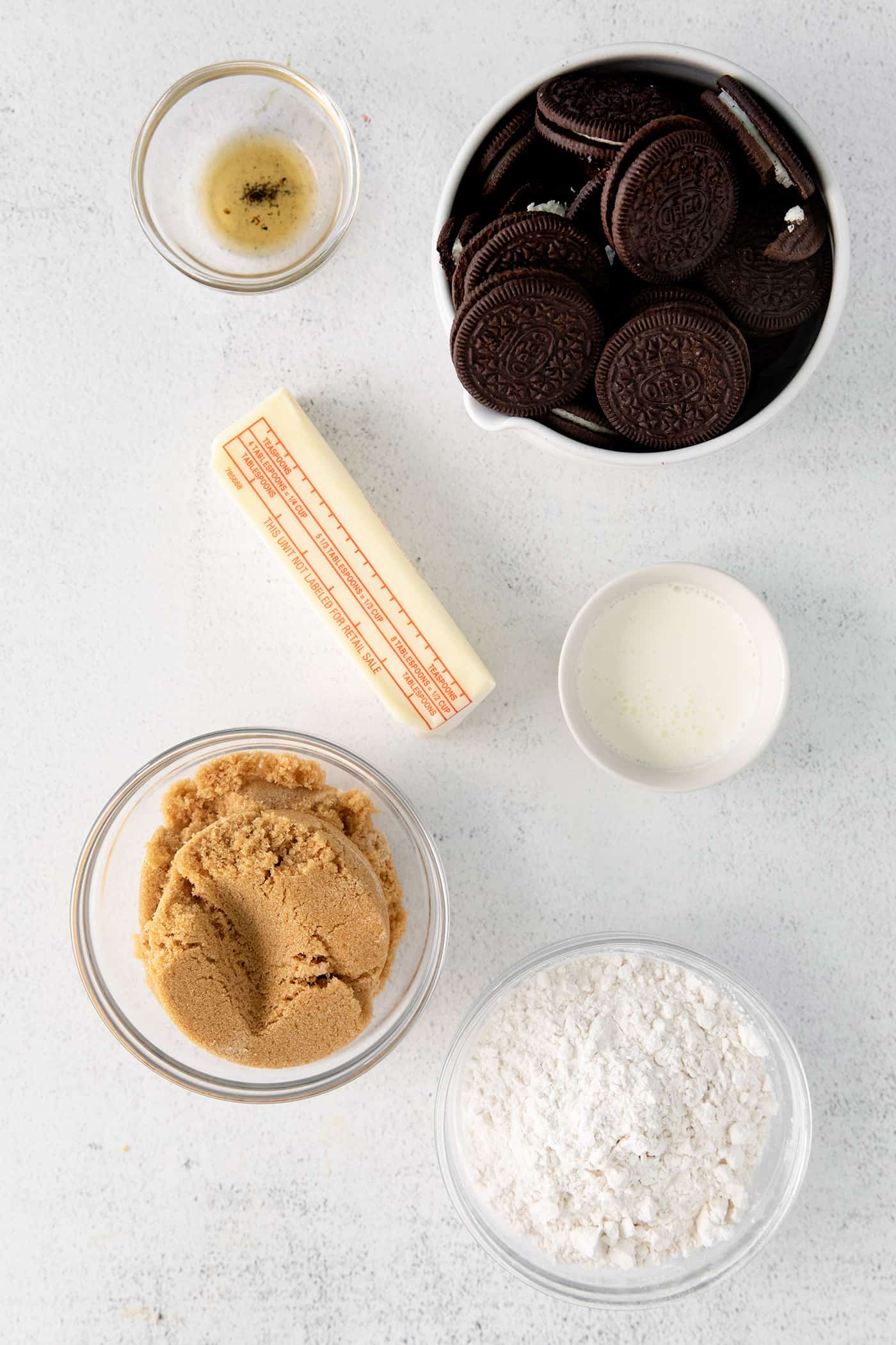 What You'll Need
Cookies and cream edible cookie dough requires just 5 ingredients to make. Besides the Oreos, all the ingredients are ones you'd find in your standard cookie recipe.
All-purpose flour – Flour gives the cookie dough structure. If you're using raw flour, be sure to cook it per the directions below. If your flour is safe to eat raw, feel free to skip Step 1.
Oreos – Use the whole cookie for this recipe. Chop the cookies into small pieces, about 1/4″ to 1/2″ in size.
Butter – Butter adds the classic rich, buttery flavor to this cookie dough. Make sure it's fully softened (but not melty) so it incorporates smoothly with the sugar.
Brown sugar – I like brown sugar in cookie dough for its richer flavor.
Half and half – Half-and-half helps bring the dough together, giving it a bit of moistness. You could use milk or cream if you prefer.
Vanilla extract – Vanilla enhances the sweetness and flavor of the cookie dough, a traditional cookie dough flavoring.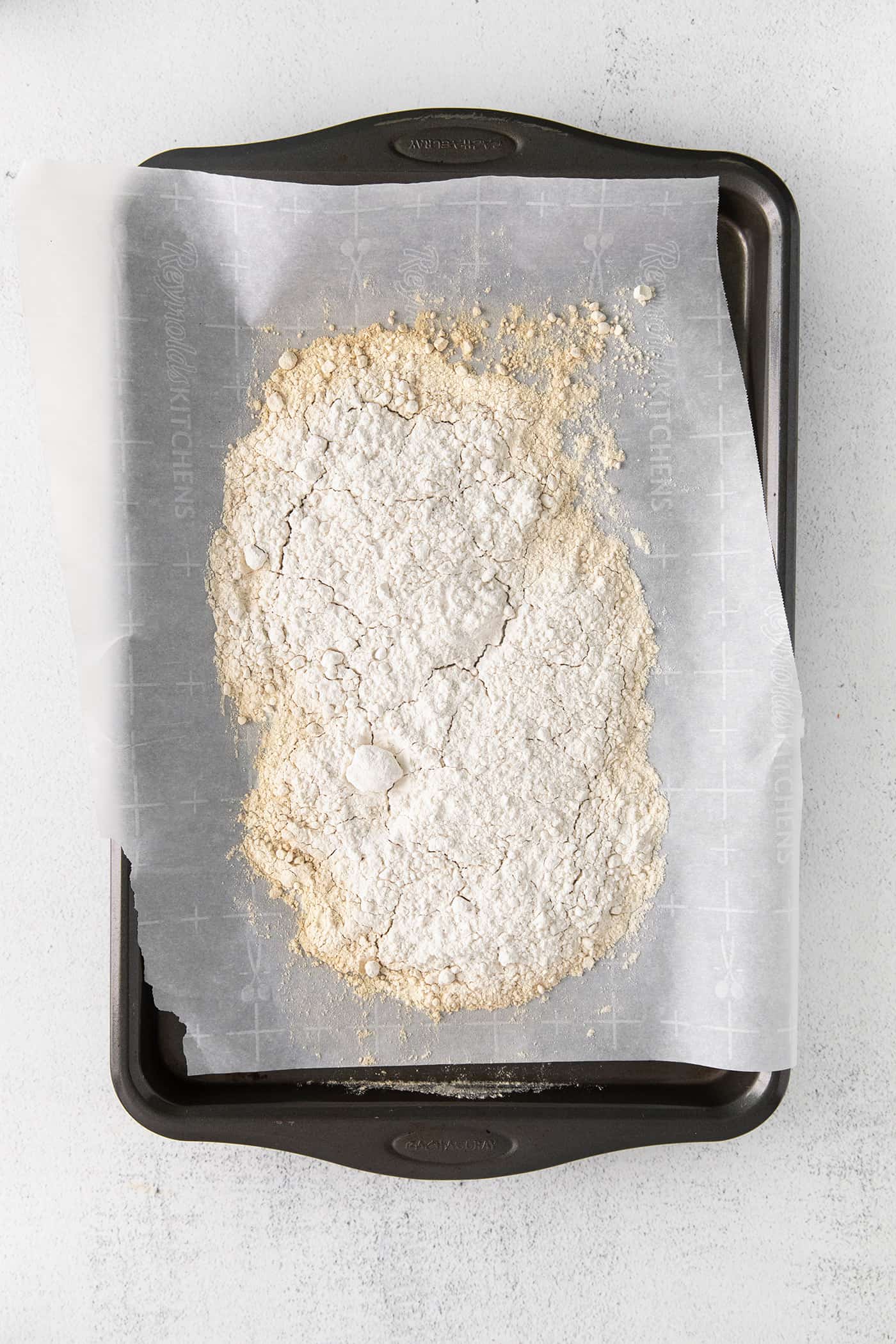 How to Heat Treat Flour
The best way to heat treat flour is in the oven. Spread the flour on a baking sheet lined with parchment paper. Bake at 350° F for about 8 minutes, until the flour just begins to turn golden brown. It should reach a temperature of 160° F.
You can also heat treat small amounts of flour in the microwave, spreading it out on a plate and microwaving for 30 second intervals.
Be sure to allow the flour to cool before continuing with the recipe.
Tip: I, personally, like to make more than needed so that I can keep some in the pantry for future cookie dough cravings. We usually make a double-batch, and then we can use it for either this recipe or our regular edible chocolate chip cookie dough version!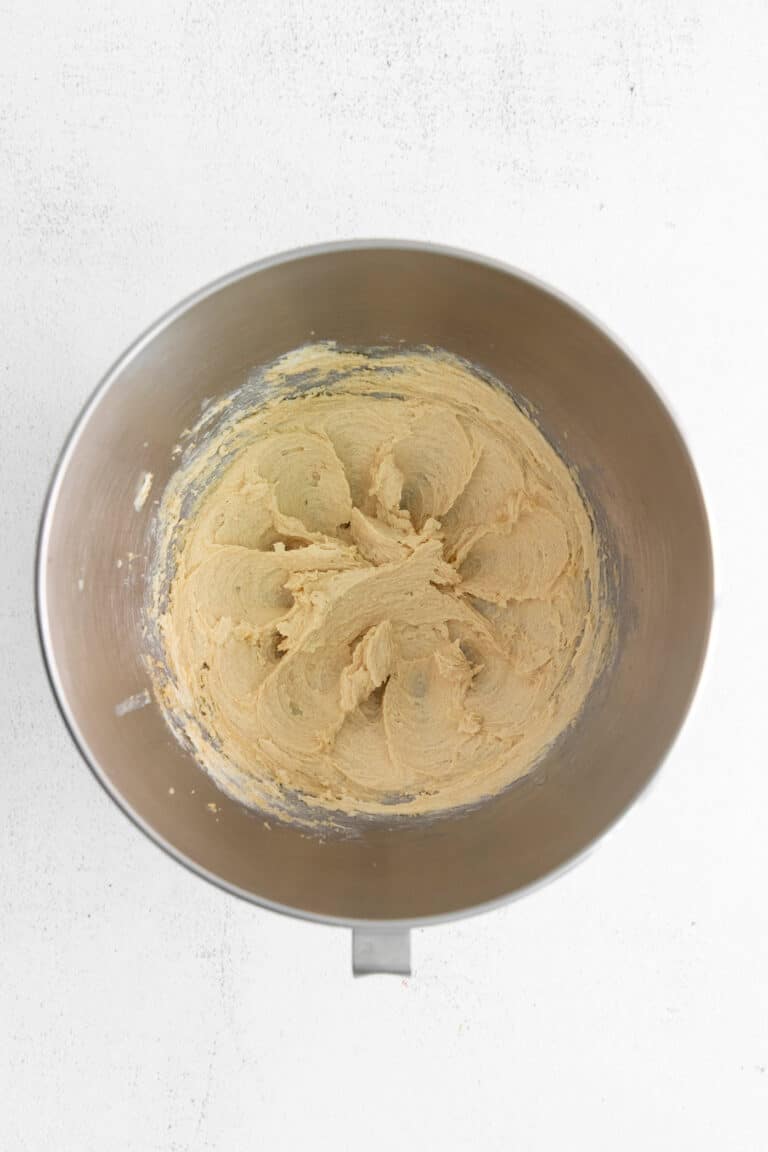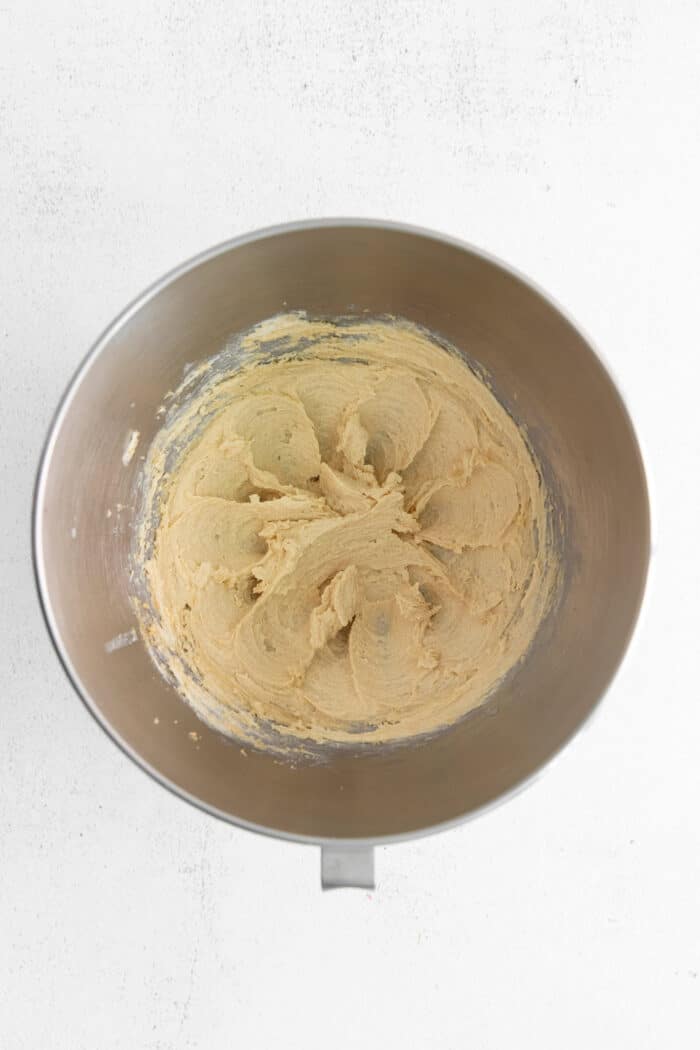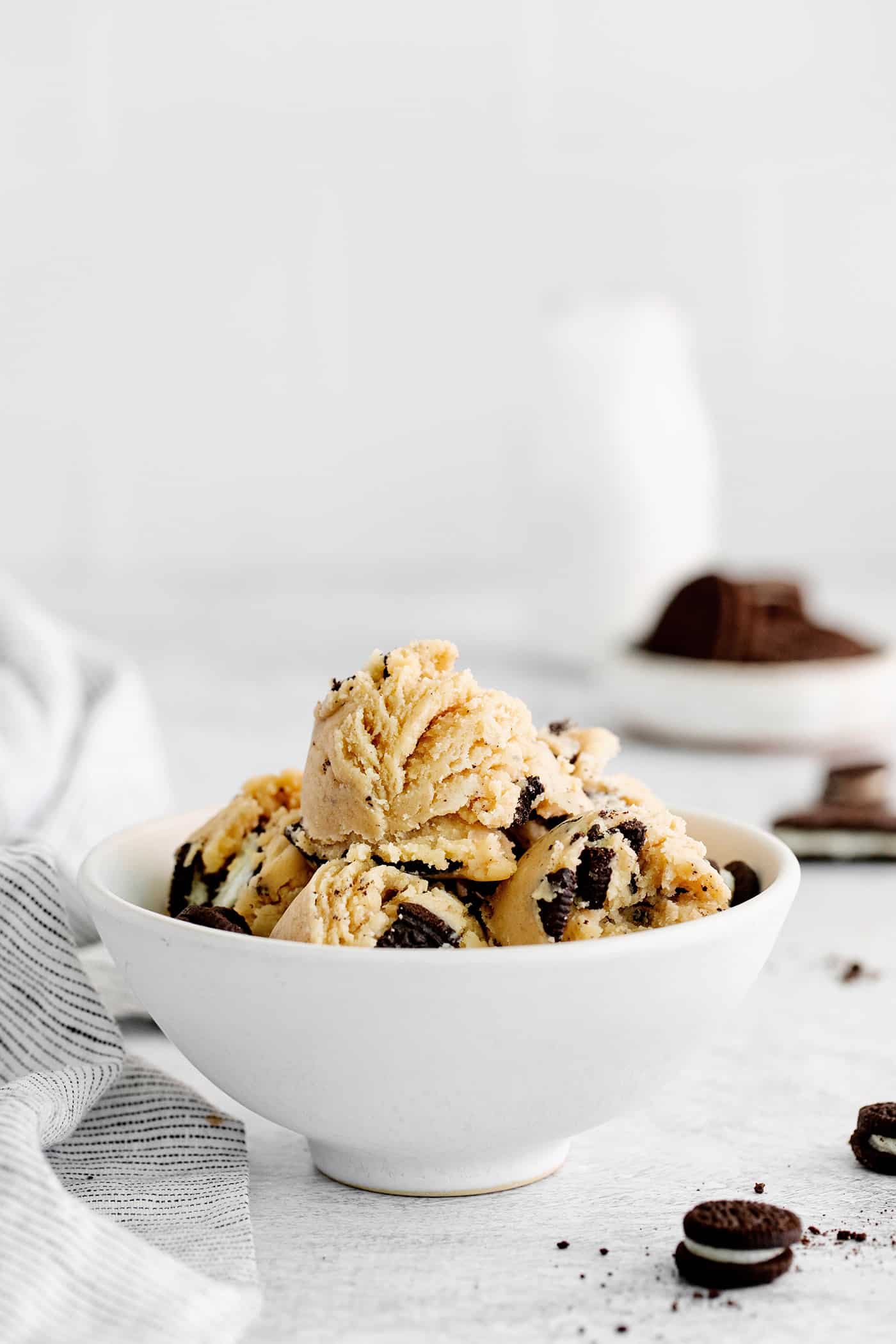 How to Make Edible Oreo Cookie Dough
One of the best parts about edible cookie dough is just how easy it is to prepare!
Combine the ingredients. Cream the butter and brown sugar until light and fluffy. Add in the half and half and vanilla. Then add the heat-treated flour.
Add the Oreos. Use a spatula to stir in the chopped Oreos.
Enjoy. Enjoy immediately (when the cookie dough is at its softest, irresistible best!) or place in the fridge for later.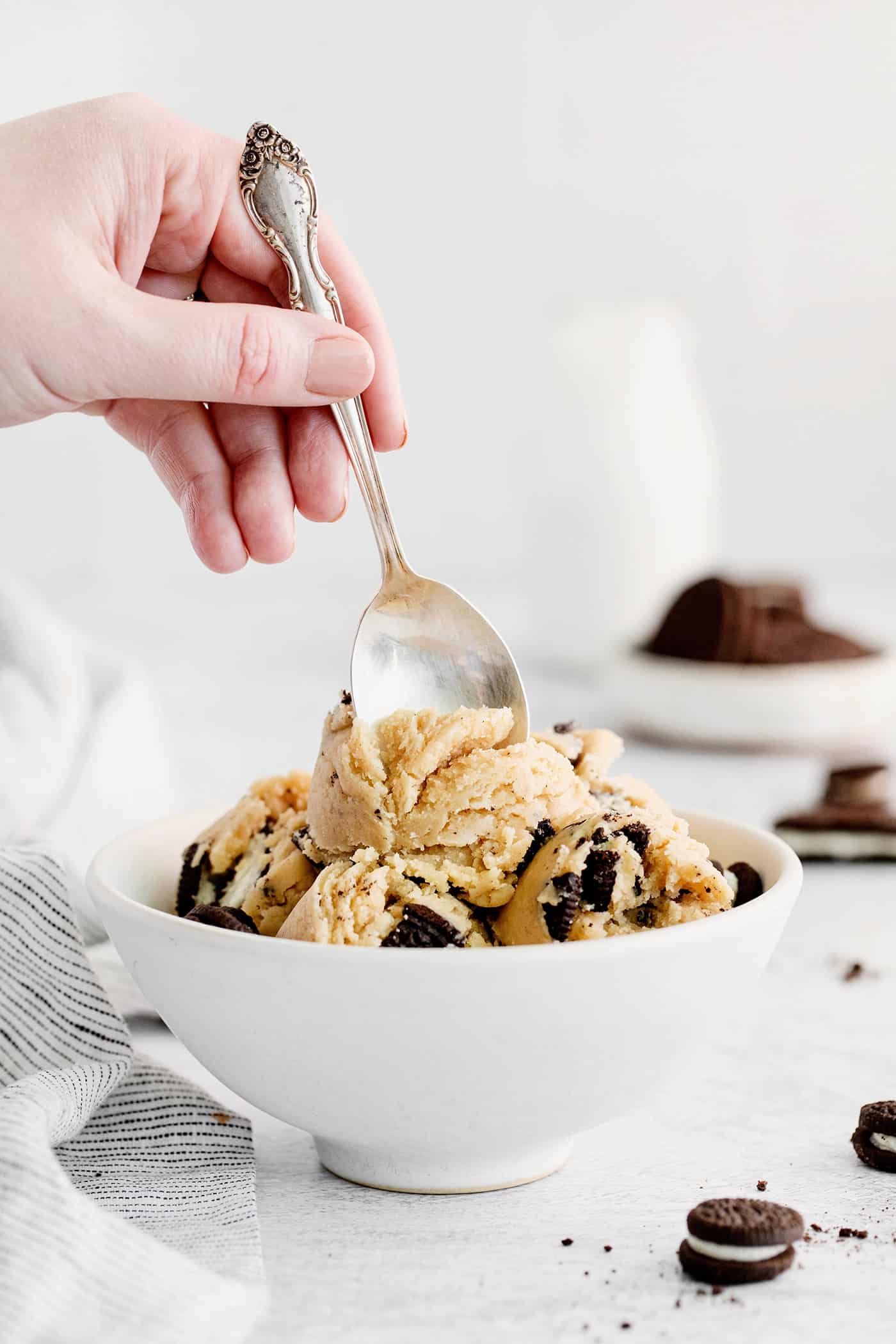 Serving Suggestions
My favorite way to enjoy edible Oreo cookie dough is immediately after preparing it. The texture is perfectly soft, like you'd expect when you're actually baking the dough for cookies. It's irresistible!
Either serve up individual scoops of cookie dough or let everyone dive right into the bowl with a spoon.
When we want to add a fun presentation for guests, we like to use a small scoop to add 2-3 scoops of cookie dough to small dessert bowls. And then we serve it with small coffee spoons. Everything in mini portions. It's so much fun, everyone loves this!
And for all you dippers out there, you can use hard cookies like Nilla Wafers for dipping.
How to Store
Refrigerator: Eggless cookie dough can be stored for up to a week in the fridge, in an airtight container. Note that you'll need to let it sit on the counter for 20 minutes or so, to allow it to come to room temperature. Otherwise, it will be hard to spoon/scoop as the butter firms up with the cold temperature.
Freezer: You can also freeze your cookies and cream edible cookie dough. I recommend using a cookie scoop and freezing individual portions on a cookie sheet then transferring to a freezer-safe container. Allow to thaw in the fridge, then bring to room temperature.
More Oreo Desserts:
Like this recipe? Save it to Pinterest!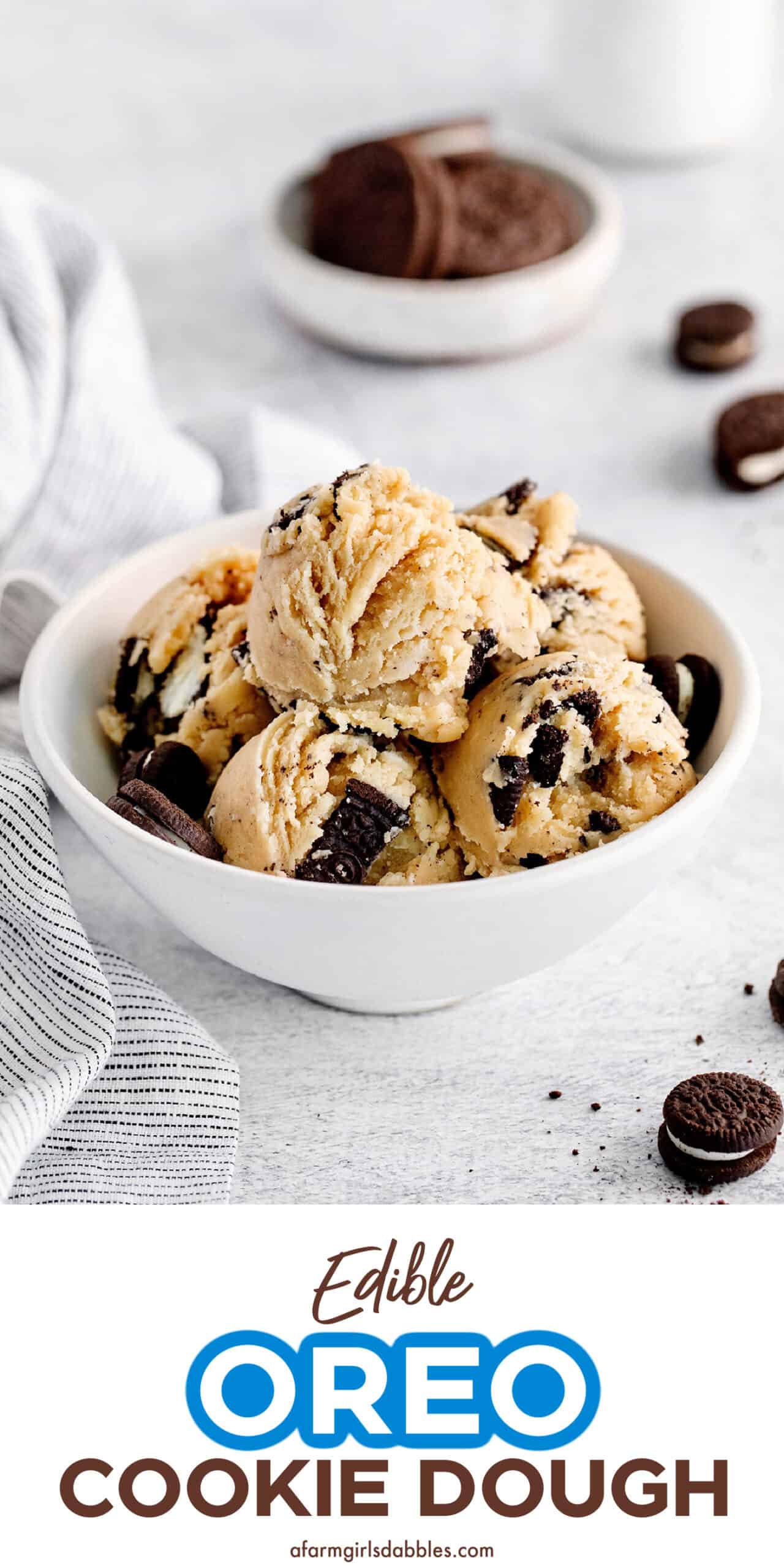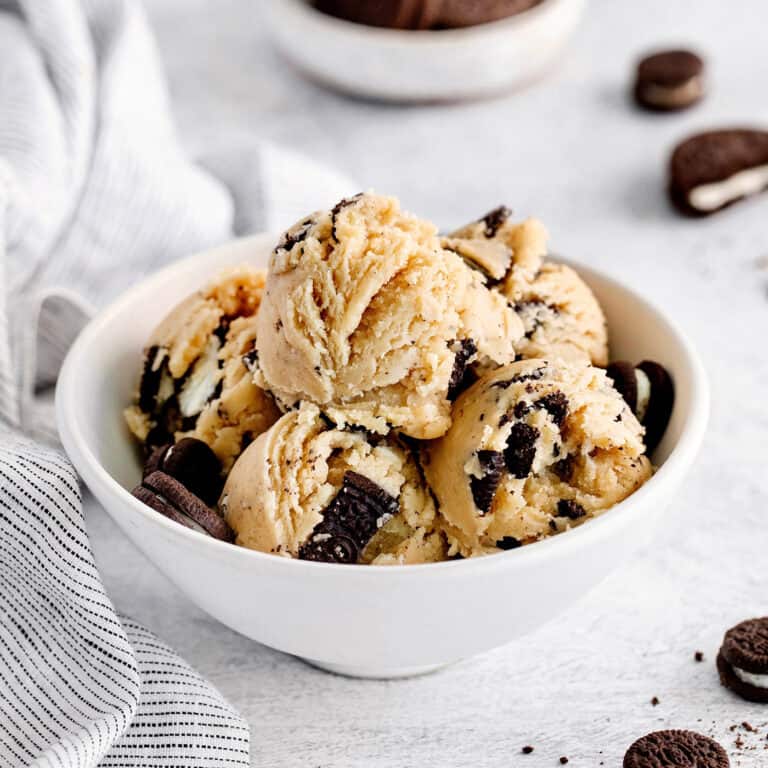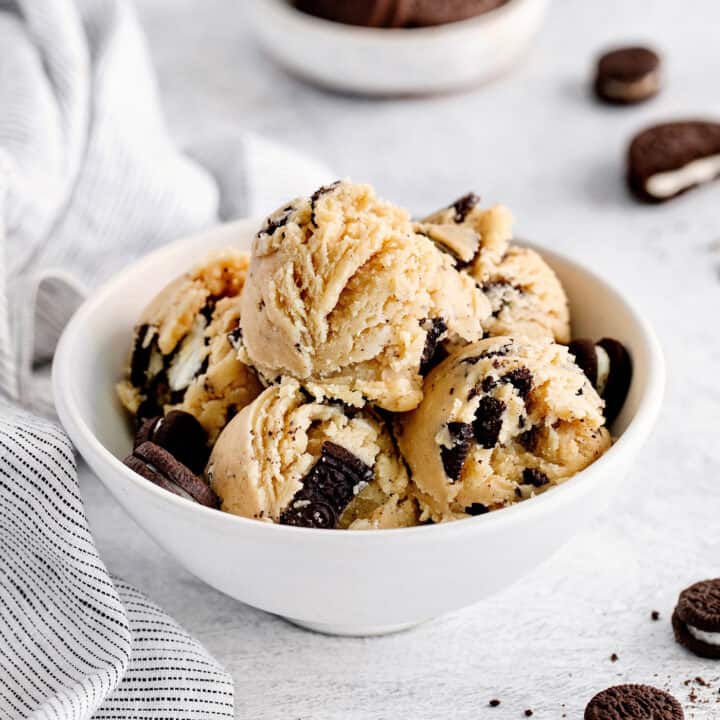 Edible Oreo Cookie Dough
Yield: 1 1/2 cups cookie dough
Prep Time: 15 minutes
Cook Time: 8 minutes
Total Time: 23 minutes
This Edible Oreo Cookie Dough is perfectly soft and sweet, with crunchy bits of chocolatey Oreo cookies. Grab a few friends and spoons, and dig in to this delightful cookies & cream treat!
Ingredients
1½ cups all-purpose flour
10 regular Oreos, roughly chopped
½ cup unsalted butter, softened
½ cup light brown sugar, lightly packed
2 tablespoons half-and-half
2 teaspoons pure vanilla extract
Instructions
Preheat the oven to 350° F. Line a large rimmed baking sheet with parchment paper and spread out the flour over the baking sheet. Bake for about 8 minutes, or until the flour is just beginning to turn golden brown around the edges. Set aside to cool completely.
Add the butter and brown sugar to the bowl of a stand mixer fitted with the paddle attachment. Beat on medium speed until light and fluffy, about 1 minute.
Next add the half-and-half and vanilla. Mix to combine.
With the mixer on low speed, slowly add the toasted flour.
With a spatula, gently fold in the chopped Oreos.
Notes
I like to enjoy this cookie dough immediately, when it's perfectly soft. But it can be kept in an airtight container in the fridge for up to 1 week. Just be sure to bring it to room temperature before enjoying.
Nutrition Information:
Yield: 6
Serving Size: 1
Amount Per Serving:
Calories: 406
Total Fat: 20g
Saturated Fat: 11g
Trans Fat: 0g
Unsaturated Fat: 5g
Cholesterol: 42mg
Sodium: 85mg
Carbohydrates: 53g
Fiber: 1g
Sugar: 23g
Protein: 4g
Nutrition information is automatically calculated by Nutritionix. I am not a nutritionist and cannot guarantee accuracy. If your health depends on nutrition information, please calculate again with your own favorite calculator.