Raspberry Swirl Cheesecake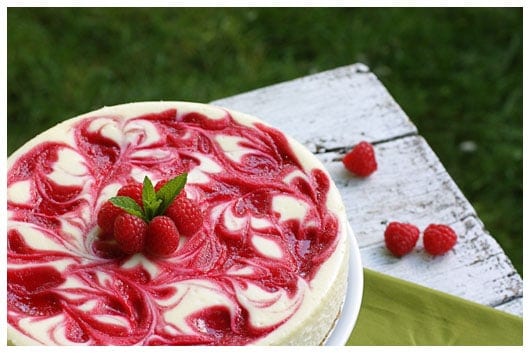 Our raspberries just started to ripen over the past weekend, almost two weeks later than normal. But that comes as no surprise after it took so achingly long for our Midwestern winter, followed by a cold and extra rainy spring, to finally depart.
Which makes these vibrant and tasty garden delights seem all the more well deserved!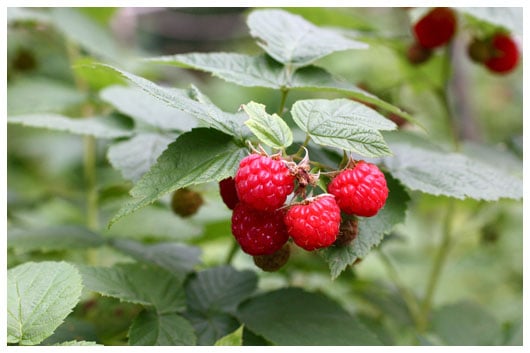 Picking and enjoying fresh raspberries from the yard feels very natural to me. Growing up on the farm, we had a large raspberry patch, and spent a great deal of time tending to it. I can still envision Mom gently washing the buckets of berries at the sink and the late night bowls of vanilla ice cream toppled with ruby heavenlyness.
When Blake and I were considering buying our current home, the already established raspberry patch was a definite plus in my book. And, since moving in, our family has enjoyed every last bite!
When our berries hit their peak week of producing, we can pick almost a gallon bucket of berries every day. It's impossible for us to consume them all before they spoil. While we eat plenty of fresh berries every day, and give them away to grateful friends and neighbors, there still needs to be a plan to make sure none of them goes to waste.
We freeze some for future use. And we make a couple batches of our favorite quick and easy Raspberry Blackberry Freezer Jam. It's so fabulous smeared on a piece of buttery toast, a warm popover, or a fresh steaming yeasted waffle.
And when I'm feeling really indulgent…
I make this Raspberry Swirl Cheesecake!
Do you want to know my criteria for cheesecake recipes?
First of all, the cheesecake can't be wimpy in stature. I pass by any recipe that doesn't use at least 24 ounces of cream cheese. If you're going to make a cheesecake, it might as well be eye catchingly tall and indulgent!
It needs to incorporate a hot water bath during baking. I find this method just works better, by eliminating (most) cracking.
And a plus would be that the recipe includes sour cream, as I like its texture and tang. Although this Raspberry Swirl Cheesecake does not have any sour cream in it, it does fit my main bullet points, and I think it's one of the best cheesecakes I've ever made (or ate anywhere!). It's super creamy and luscious, delicately tangy, and swirled with the softly sweet taste and scent of fresh raspberries. The beautiful berry marbling always elicits oohs and ahhs. Every time I make it, I'm reminded of the expression on my mother-in-law's face when I made this for the first time on her birthday many years ago. I thought she was going to cry.
This cheesecake really is special enough for tears of joy. And I do hope you'll find that out for yourself by giving this tried and true recipe a go.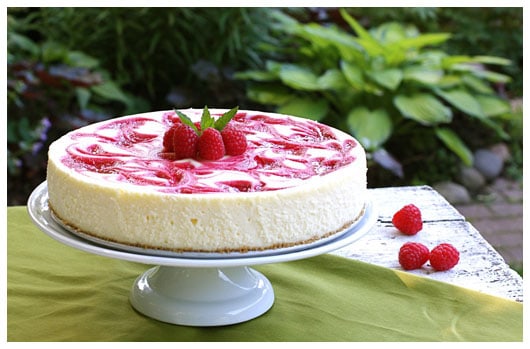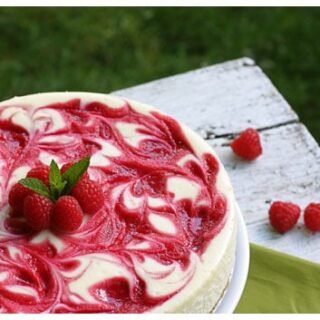 Raspberry Swirl Cheesecake
Yield: 12 servings
Prep Time: 25 minutes
Cook Time: 1 hour 10 minutes
Total Time: 1 hour 35 minutes
Raspberry Swirl Cheesecake is a delicious dessert to serve any time of year, but it's especially tasty in the spring and summer when you can use your own freshly-picked raspberries! This rich raspberry cheesecake is sure to make your all-time-favorite-cakes list.
Ingredients
FOR THE CRUST:
1 c. finely ground graham crackers
2 T. unsalted butter, melted
2 T. sugar
FOR THE RASPBERRY PUREE:
6 oz. raspberries
2 T. sugar
FOR THE CREAM CHEESE FILLING:
32 oz. cream cheese, at room temperature
1-1/2 c. sugar
pinch of salt
1 tsp. vanilla
4 large eggs, at room temperature
ALSO NEEDED:
boiling water for the hot water bath
Instructions
Preheat oven to 350°. Wrap the exterior of a 9″ springform pan, including the base, with a double layer of foil. Set aside.
For the crust, stir together cracker crumbs, melted butter, and 2 tablespoons sugar in a medium bowl. Press crumb mixture firmly onto bottom of pan. Bake until set, about 10 minutes. Let cool in pan on a wire rack. Reduce oven temperature to 325°.
Heat water for the hot water bath (to prevent cracking). Set a medium pot of water on the stove to boil.
Prepare the raspberry puree by processing raspberries in a food processor until smooth, about 30 seconds. Pass puree through a fine sieve into a small bowl, to remove most of the seeds. Discard the solids. Whisk in the 2 tablespoons sugar and set aside.
Time for the cream cheese filling! Put cream cheese in the bowl of an electric mixer fitted with a paddle attachment and mix on medium speed until fluffy. This should take about 3 minutes. Then, with the mixer on low speed, add 1-1/2 cups sugar in a slow, steady stream. Add salt and vanilla and mix until well combined. Add the eggs, one at a time, mixing each until just combined. Do not overmix! Pour cream cheese filling over your baked crust.
Drop raspberry puree by the teaspoon on top.
With a wooden skewer or toothpick, swirl sauce into filling. You should have some raspberry puree left over. Save it to serve with your slices of cheesecake. (Or it makes for an awesome raspberry lemonade!)
Now for the hot water bath. Set cake pan inside a large, shallow roasting pan. Carefully ladle boiling water into roasting pan to reach halfway up sides of cake pan. Carefully transfer roasting pan to oven. Alternatively, you can set the cake pan inside the roasting pan, place it in the oven and then ladle the boiling water into the roasting pan. Whatever you feel more comfortable with is fine by me. Bake until cake is mostly set, with just a slight bit of jiggle in the center, 60 to 70 minutes. Don't wait until the cake is completely set, as you run a higher risk of cracking.
Transfer cake pan to rack to cool completely. Refrigerate uncovered for at least 6 hours. Letting it set overnight is even better. It firms up and gets completely chilled. Before unmolding the springform pan, run a knife around the edge of the cake. Serve slices with some freshly whipped and slightly sweetened cream, a drizzle of left over raspberry puree, and a sprinkling of fresh raspberries, if desired.
Notes
I have been making this for a number of years, adapted from a page torn out of Martha Stewart Living. You can also find the original recipe online at marthastewart.com.
Nutrition Information:
Yield: 12
Serving Size: 1
Amount Per Serving:
Calories: 498
Total Fat: 31g
Saturated Fat: 18g
Trans Fat: 0g
Unsaturated Fat: 10g
Cholesterol: 146mg
Sodium: 314mg
Carbohydrates: 49g
Fiber: 1g
Sugar: 43g
Protein: 8g
Nutrition information is automatically calculated by Nutritionix. I am not a nutritionist and cannot guarantee accuracy. If your health depends on nutrition information, please calculate again with your own favorite calculator.