Poppin' Patriotic Marshmallow Pops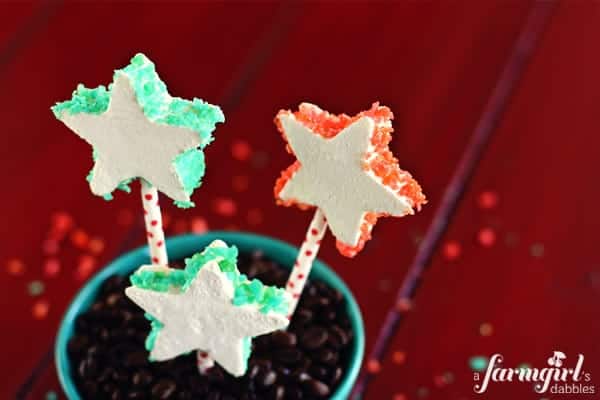 Marshmallow love has reached a new level of affection around here. And it's not my opinion alone. Our girls agree with me, too. With just one bite of these Poppin' Patriotic Marshmallow Pops, both of them said, with eyes as big as saucers, "Ohhhhh, Mom…these are sooooo good!"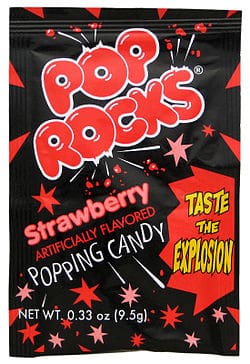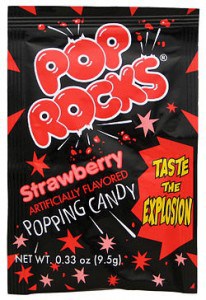 I'm a 70's child, so Pop Rocks are just a part of my vocabulary. I still smile when I see them on candy racks today, happy to see they have not been retired. As I placed a few packets on the counter to pay for recently, our youngest daughter questioned what they were. What?!?! I realized I had not yet introduced her to these, a favorite candy of my childhood. So I paid for an extra packet and we opened them on the way out to the car. Her apprehension for knowing the candy was going to pop in her mouth soon turned into smiles and excited chatter about this newfound wonder. That's my girl!
These star-shaped marshmallow pops make for a super fun treat. They're soft and full of vanilla flavor, as comforting as a homemade marshmallow can be. But with the very first bite, that laid-back vanilla quickly takes a back seat to the Pop Rocks pyrotechnics shooting off in your mouth! It is the most wonderful contrast in texture and flavor. An edible fireworks show!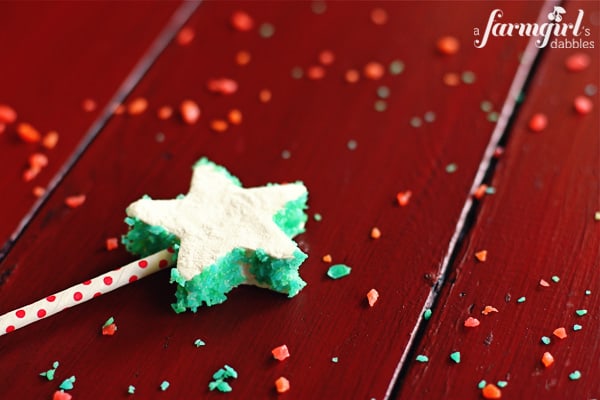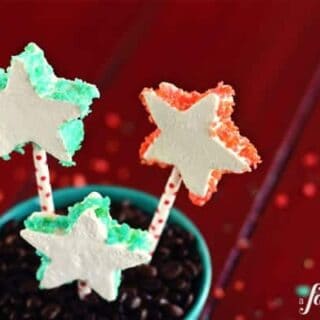 Poppin' Patriotic Marshmallow Pops
Yield: 12 to 14 stars
Prep Time: 30 minutes
Cook Time: 10 minutes
Total Time: 40 minutes
These star-shaped marshmallow pops make for a super fun treat.
Ingredients
powdered sugar, for coating pan
2/3 c. water, divided
3 (1/4 oz.) envelopes unflavored gelatin (found by the Jell-O at the grocery store)
1 c. granulated sugar
1 c. light corn syrup
pinch of kosher salt
1 tsp. vanilla
6 packets of Pop Rocks, more or less, depending on how much you apply
sturdy paper straws or lollipop sticks
Instructions
Lightly spray the inside of an 9'' x 13'' pan with cooking spray. Generously coat with powdered sugar and set aside.
Pour 1/3 cup of the water into the bowl of a stand mixer. Sprinkle the gelatin over the water and stir briefly to incorporate. Let stand for about 10 minutes, or until the gelatin has softened.
In a saucepan, off the heat, combine the remaining 1/3 cup of water and the granulated sugar, corn syrup, and salt. Place the pan over medium-high heat. Clip a candy thermometer on the inside of the pan, making sure it doesn't touch the bottom. Cook the mixture without stirring until it reaches 240° F. Brush down the sides of the pan with a pastry brush, dipped in water, to gently wipe away any sugar crystals.
With your mixer on low speed, very carefully add the hot syrup to the softened gelatin. Add the vanilla and increase the speed to medium-high. The mixture will start out clear, but quickly turns very white. Beat for about 8 minutes, or until the marshmallow gets very thick and sticky, and starts to pull away from the sides of the bowl, in string-like pieces. This will really give your mixer a workout.
Spread the mixture into the prepared pan using a lightly oiled spatula. With wet hands, press the batter evenly into the corners of the pan. Just keep rewetting your hands to help with the stickiness. Set aside for at least 1 hour, or until the mixture is firm and cool. Sprinkle a little powdered sugar evenly over the top.
Run a wet knife around the edge of the cooled pan to loosen the marshmallow. Remove the marshmallow from the pan, onto a sheet of parchment paper.
Dip your small star-shaped cookie cutter (mine measures about 1-1/2" wide) into a shallow bowl of water and then cut the slab of marshmallow into star shapes. This is a sticky job, but it helps tremendously to dip the star cutter into the water in between cuts. Repeat this process until the whole slab of marshmallow is cut.
Note: All of this can be done a day prior to serving. The Pop Rocks, however, do react to air and moisture, and should not be applied too far in advance of eating. For the optimal Pop Rocks eating enjoyment, you should be fine to apply the Pop Rocks a couple of hours prior to serving - just keep them in a cool dry environment.
To apply the Pop Rocks, only open 1 packet at a time. Press the cut sides of the star marshmallows into the Pop Rocks. Then insert sturdy paper straws (what I used) or lollipop sticks to finish them off.
Nutrition Information:
Yield: 14
Serving Size: 1
Amount Per Serving:
Calories: 230
Total Fat: 0g
Saturated Fat: 0g
Trans Fat: 0g
Unsaturated Fat: 0g
Cholesterol: 0mg
Sodium: 31mg
Carbohydrates: 59g
Fiber: 0g
Sugar: 58g
Protein: 0g
Nutrition information is automatically calculated by Nutritionix. I am not a nutritionist and cannot guarantee accuracy. If your health depends on nutrition information, please calculate again with your own favorite calculator.