Lasagna Soup
Lasagna Soup is like lasagna in a bowl! This easy lasagna soup recipe is packed with flavor and topped with ooey-gooey cheesy yum! It's the ultimate comfort food.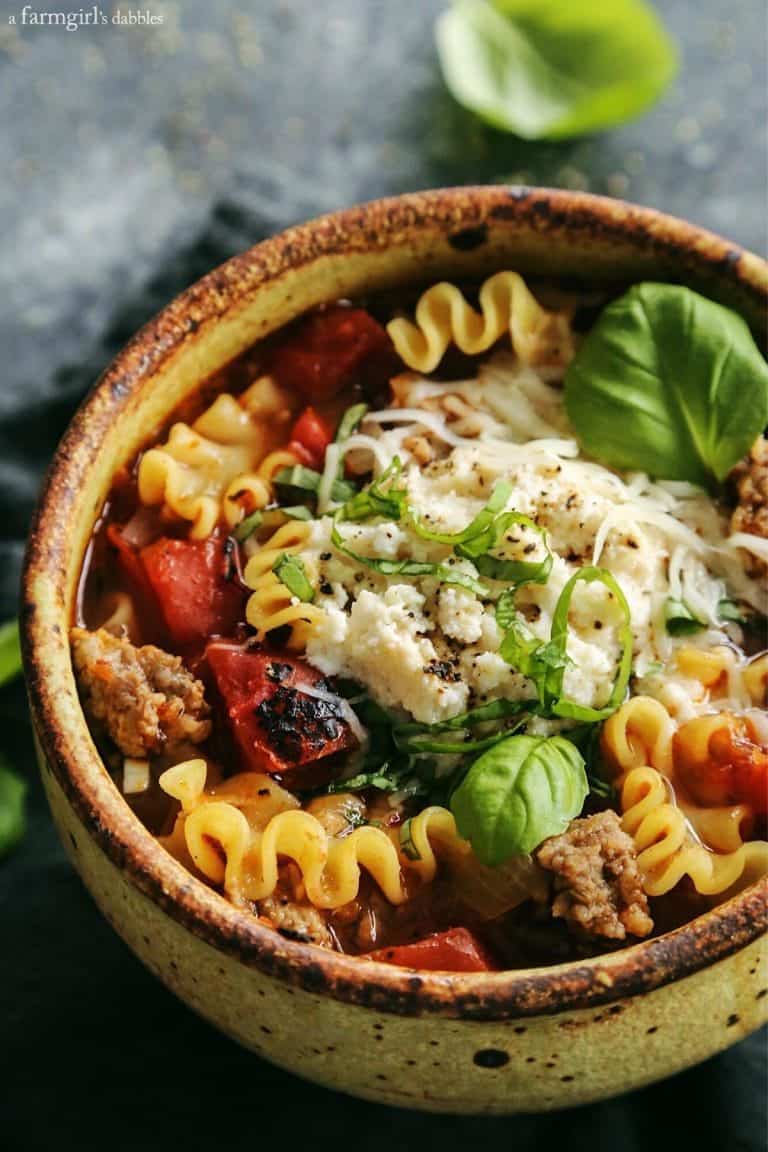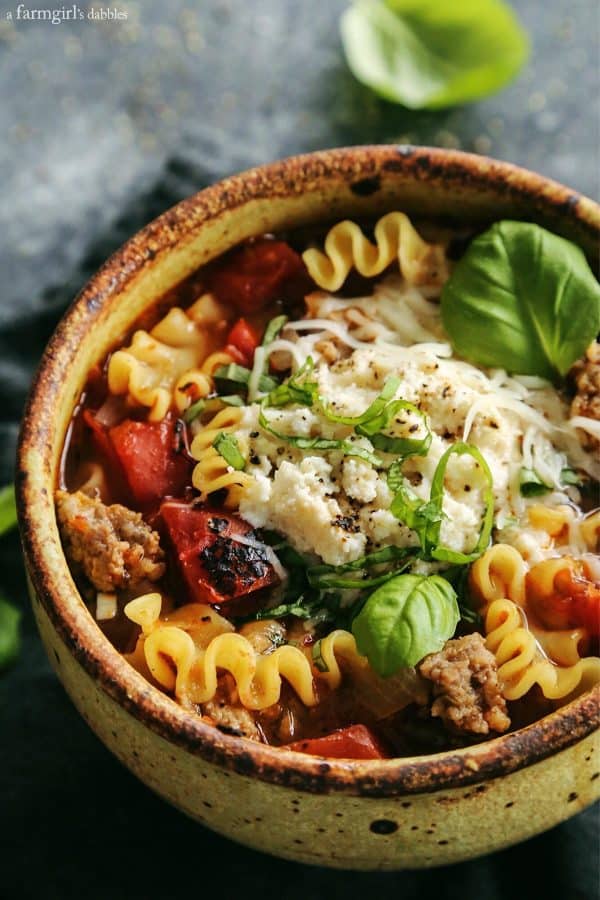 CLICK HERE to save recipe to Pinterest!
Heading into winter, I see the search for soups and comfort food recipes steadily climbing here on the blog. Besides the holiday sweets, these comforting foods are the most sought-after meals this time of year.
And this Lasagna Soup recipe has been incredibly popular since I first published it many years ago. So I wanted to bring this soup front and center again, to make sure you've seen it. I don't want anybody to miss out!
Because every time I serve this soup to guests, I get asked for the recipe. And in so many recent conversations with friends and family, I've heard, "Hey, I just made your lasagna soup again!".
This soup is gracing table after table after table for one very good reason. It's so incredibly good!!
*Here are a few more recipes I'm loving right now: Cheesy Lasagna Stuffed Peppers, such a fun and tasty way to eat stuffed peppers! This Spicy Lasagna Hotdish is a total comfort dish, and with a little kick of spicy heat. And our kids LOVE this Chicken Cheesesteak Baked Ziti!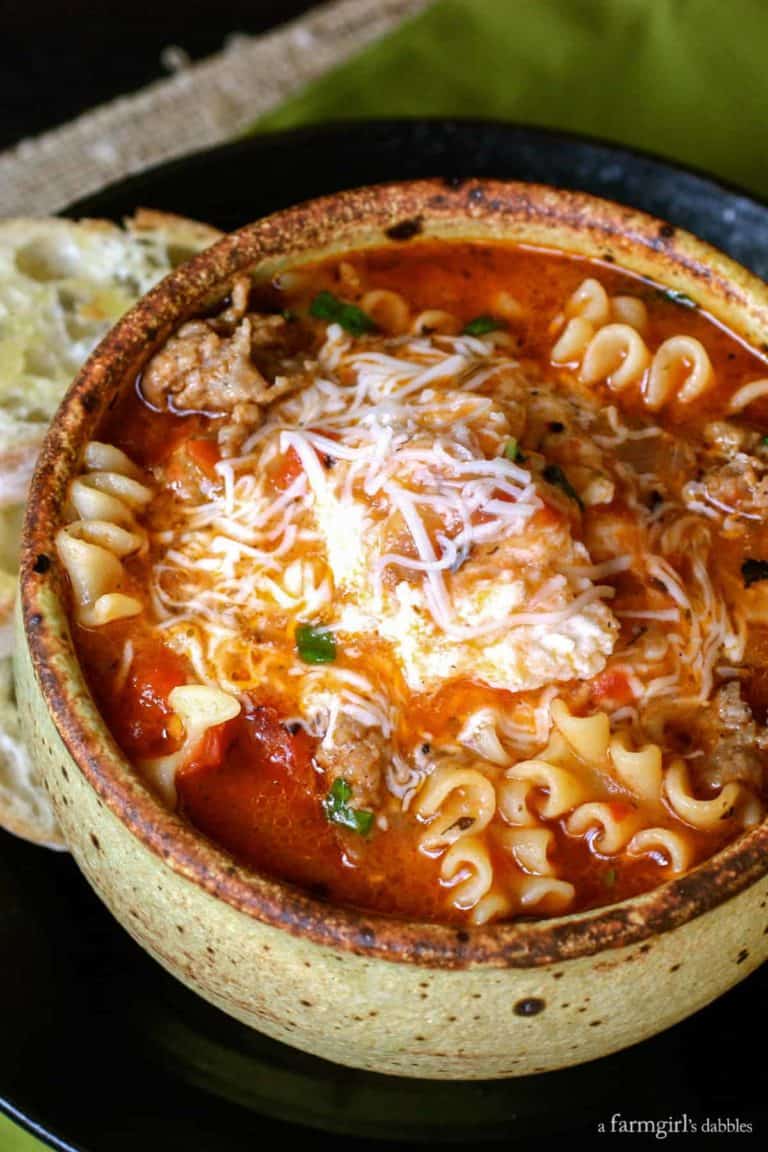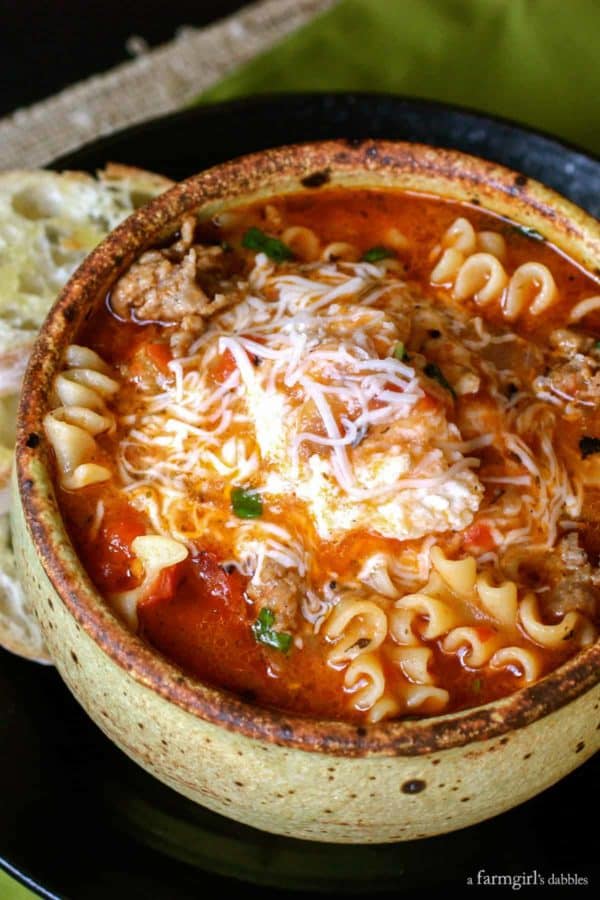 I was perusing our local Kowalski's Markets magazine, when I saw a recipe for lasagna soup, originally from the cookbook 300 Sensational Soups.
I've always had good luck with recipes that Kowalski's shares, but one thing especially caught my eye with this one. The recipe article said that Chef Sarah Molten had named 300 Sensational Soups as one of the top cookbooks of the year on Good Morning America's Top 10 List for 2008. Because I've been a long time Sarah Molten fan, this info gave extra klout to this cookbook for me.
And. One of the book's co-authors is a local Minnesotan!
I really felt the need to taste lasagna soup!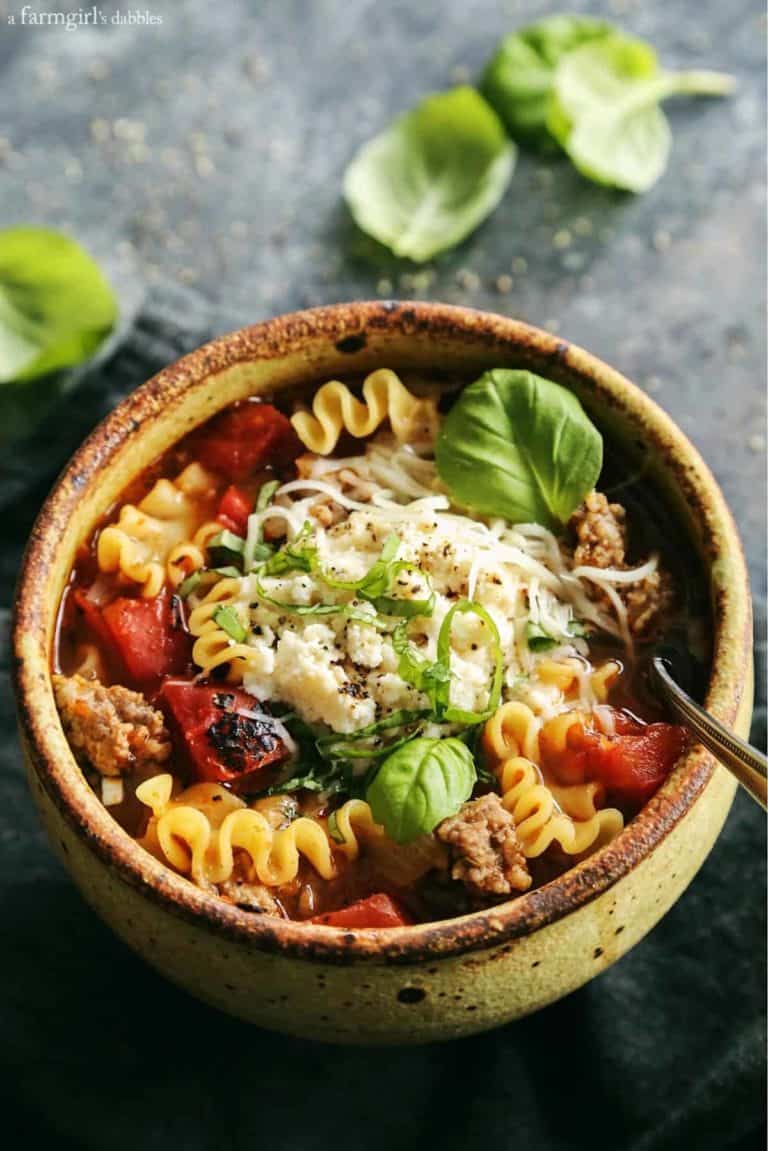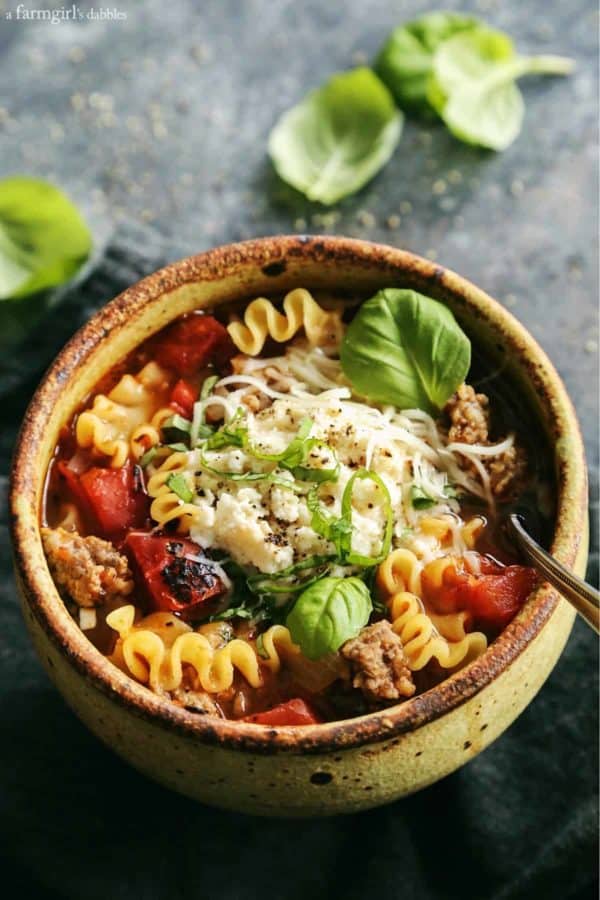 This soup is like lasagna in a bowl!
The soup is truly like lasagna in a bowl, with rich, deep flavor.
And the ricotta and Parmesan mixture that gets stirred in right before eating is total cheesy YUM. Kinda like this Chicken Tortilla Soup with its hidden mozzarella surprise. Only in Italian this time!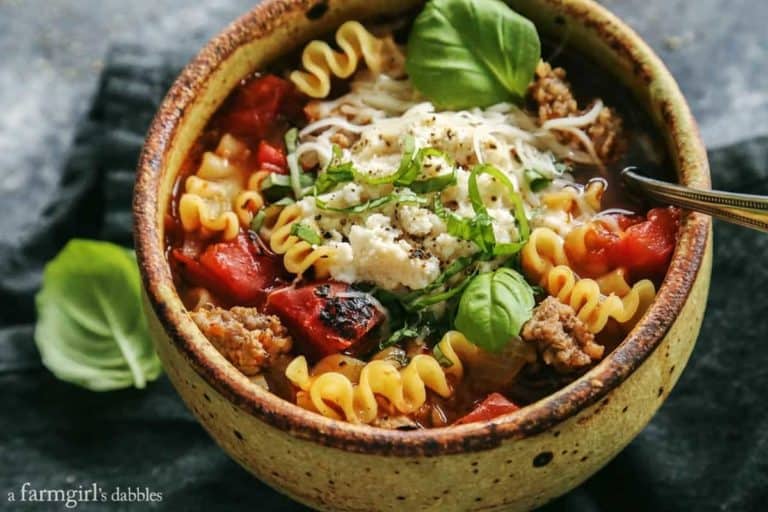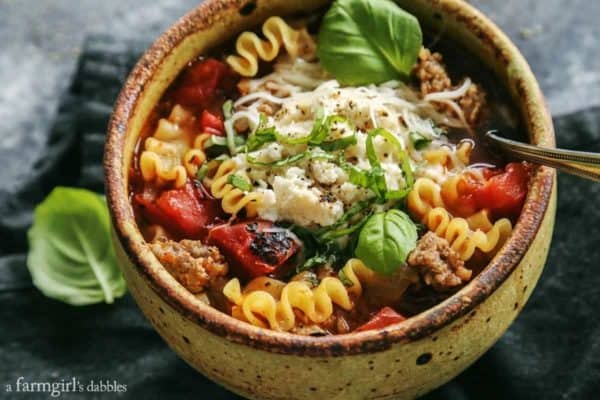 Isn't this mafalda pasta just the cutest shape? Like mini lasagna noodles, I couldn't resist!
Be sure to check out 300 Sensational Soups – if you like soup, you'll love this book!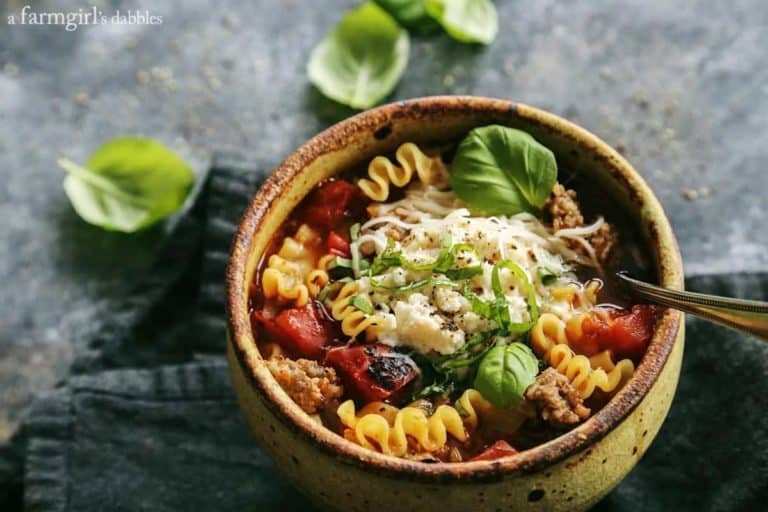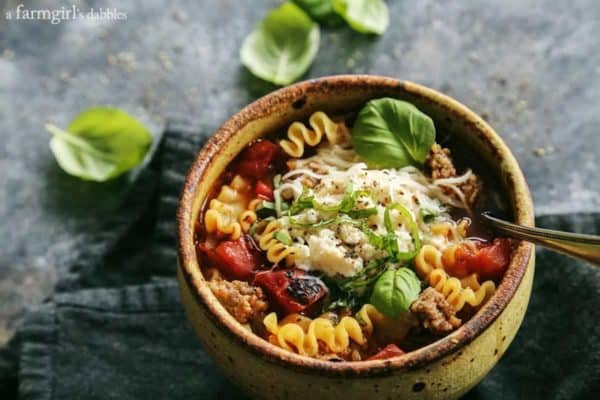 People are talking about this Lasagna Soup
This Lasagna Soup recipe has been the NUMBER ONE RECIPE on A Farmgirl's Dabbles for many years. EVERYBODY loves it!!
COMMENTS I'VE FOUND IN THE BLOGOSPHERE:
"I made this lasagna soup and holy cow was it fantastic. Insane." from Jessica at How Sweet Eats
"So when I once again stumbled across my friend Brenda's meaty version of Lasagna Soup and who I'm pretty sure introduced the blogosphere to this Italian-style phenomenon—and FINALLY, gave us another reason to love lasagna noodles—I got all inspired to give Lasagna Soup a whirl." from Heidi at Foodie Crush
"This recipe is so good, the internet is swimming with imitations. As far as I know, this is the original. I've made it and it falls in the "evil genius" category." from Amanda
"The best version I saw was from A Farmgirl's Dabbles, so that's the one I went with. The soup melts the cheese into this insanely addictive gooey mess that just screams out to be eaten on a windy night. It's awesome, you guys." from Jackie
COMMENTS I'VE RECEIVED FROM READERS:
"It was heavenly, let me tell you." from Sheri
"It was extra yum, full of flavor, easy to make and also a unique dinner idea." from Clare
"I made this for dinner last night and it was a huge hit! It was the best lasagna soup I've ever had!" from Kristen
"I rave about this Lasagna Soup. Om nom nom! is all I can say. It is perfection in a bowl." from Megan
People Reeeeeeeally love this soup!
"You made an influence on me – my friend made your lasagna soup recipe and now I've made it 40 TIMES in the last year. It's that good." from Biz
"I've made this recipe so many times, and am finally coming back to leave a comment. My whole family loves this – kids included." from April
"I made this once for family soup night and it was the first pot to disappear. It's the perfect amount of cheese to pasta to meat to soup ratio to satisfy even my husband's carnivorous ways." from Megan
"I've seen your lasagna soup repinned so many times on Pinterest with excellent reviews attached so we had to try it. I made it for dinner last night and the hubby and I were impressed, it was SO yummy." from Alicia
"This Lasagna Soup is an A+. My whole family loves, loves, loves, this soup. Everyone wants the recipe." from Lynn
"I consider myself somewhat of a 'soup whisperer'. I make soups all the time and made your lasagna soup this weekend. It was FAB-you-lous." from Edie
And don't forget the cheesy yum!
"I googled Lasagna Soup and made sure to add Cheesy Yum to the search bar so that I found yours, it's our favorite. :) Need to write this one down, or at least take a screenshot so I never forget it." from Jesse
"I found it to be fabulous, and the so called cheesy yum to put in the soup, made it come together wonderfully." from Sandra
PEOPLE ARE DITCHING THEIR TRADITIONAL LASAGNA RECIPES!
"Lasagna Soup – I have heard of this, I tried this recipe….never again with a 9 x 13 inch baking dish. Add great bread and a simple salad! My new favorite!!!" from Erin
"Similar tastes to lasagna in less than half the time." from Taylor
"I found the perfect, quick alternative to making a whole lasagna: Lasagna Soup!" from Ellen
QUITE SIMPLY…
"Your lasagna soup rocks!" from Anna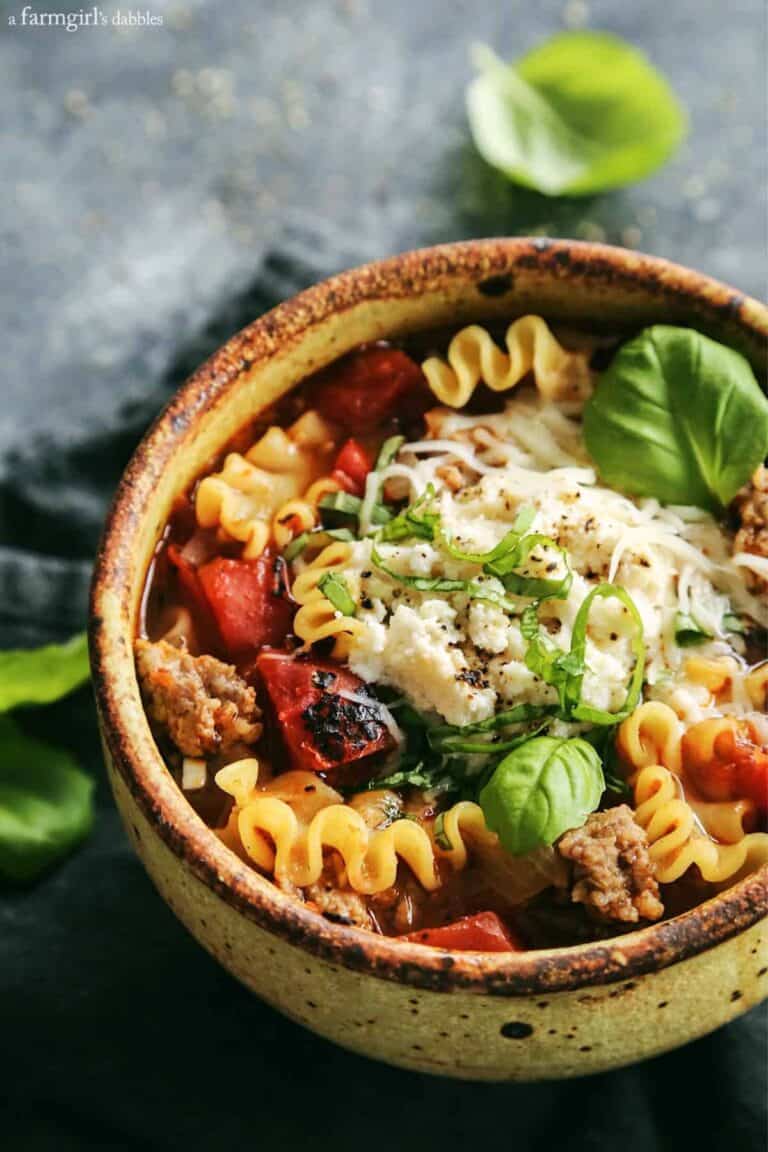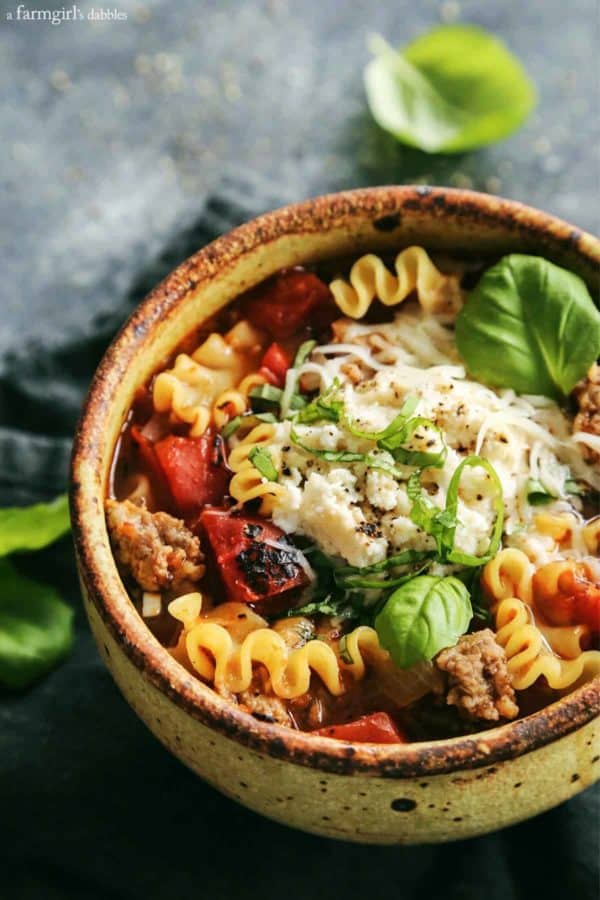 I promise. You're gonna love it!!
Pin this recipe to save it for later!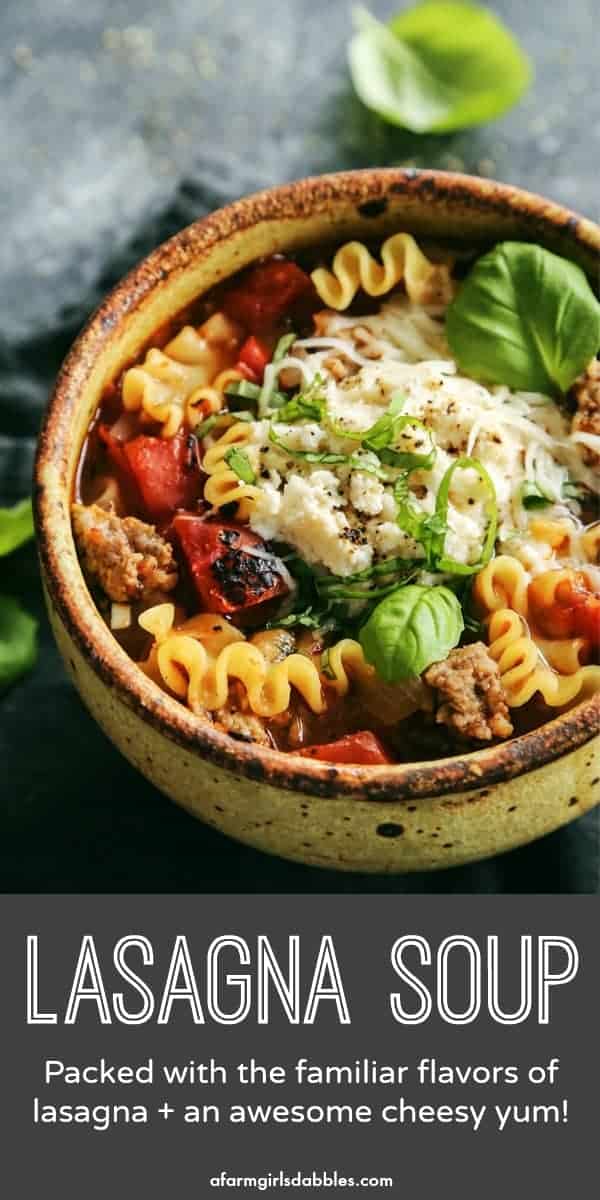 Like this recipe? Here are a few more you might like:
I've had this Summer Italian Spaghetti Salad recipe set aside to try – from Reluctant Entertainer. This Chicken Alfredo Ravioli Lasagna with a creamy white sauce from Inside BruCrew Life looks awesome good. And I want to sit down to this Seafood Lasagna from The Cookie Rookie!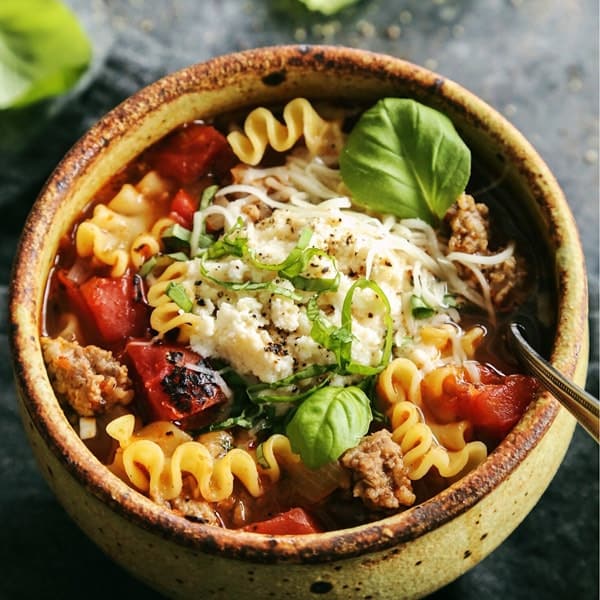 Lasagna Soup
This soup is truly like lasagna in a bowl. It's packed with the familiar flavors of lasagna, with an ooey-gooey cheesy concoction that gets stirred in right before eating. Total cheesy YUM!
Ingredients
for the soup:
2 tsp. olive oil
1-1/2 lbs. Italian sausage
3 c. chopped onions
4 garlic cloves, minced
2 tsp. dried oregano
1/2 tsp. crushed red pepper flakes
2 T. tomato paste (add 1 whole 6-ounce can for a deeper, richer tomato flavor)
29 oz. (two 14.5-ounce cans) fire roasted diced tomatoes
2 bay leaves
6 c. chicken stock
8 oz. mafalda or fusilli pasta
salt and freshly ground black pepper, to taste
1/2 c. fresh basil leaves, sliced thinly
for the cheesy yum:
8 oz. ricotta
1/2 c. grated Parmesan cheese
1/4 tsp. kosher salt
freshly ground black pepper, to taste
additional cheesy yum:
2 c. shredded mozzarella cheese
Instructions
for the soup - Heat olive oil in a large pot over medium heat. Add sausage, breaking up into bite sized pieces, and brown for about 3 minutes. Add onions, garlic, oregano, and red pepper flakes, and cook until onion is softened and sausage is browned, about 7 more minutes. Add tomato paste and stir well to incorporate. Cook until tomato paste has darkened in color, about 2 minutes.
Add fire roasted diced tomatoes, bay leaves, and chicken stock. Stir to combine. Turn up heat to bring to a boil, and then reduce heat and simmer for 15 minutes. Add uncooked mafalda pasta and cook until al dente. Do not over cook or let soup simmer for a long period of time at this point, as the pasta will get mushy and absorb all the soup broth. You may even want to consider cooking the noodles separately, and then adding some to individual bowls before ladling the soup over them. This would be an especially smart move if you are anticipating any leftovers. Right before serving, stir in the basil and season to taste with salt and freshly ground black pepper.
for the cheesy yum - While the pasta is cooking, prepare the cheesy yum. In a small bowl, combine the ricotta, Parmesan, salt, and pepper.
to serve - Ladle soup into bowls and top each bowl with a bit of shredded mozzarella and a good dollop of the cheesy yum. Finish with some freshly ground black pepper over the top and a small scattering of fresh basil.
Recommended Products
As an Amazon Associate and member of other affiliate programs, I earn from qualifying purchases.
Nutrition Information:
Yield:
10
Serving Size:
1
Amount Per Serving:
Calories:

438
Total Fat:

28g
Saturated Fat:

11g
Trans Fat:

0g
Unsaturated Fat:

18g
Cholesterol:

65mg
Sodium:

1025mg
Carbohydrates:

21g
Fiber:

2g
Sugar:

8g
Protein:

26g
Nutrition information is automatically calculated by Nutritionix. I am not a nutritionist and cannot guarantee accuracy. If your health depends on nutrition information, please calculate again with your own favorite calculator.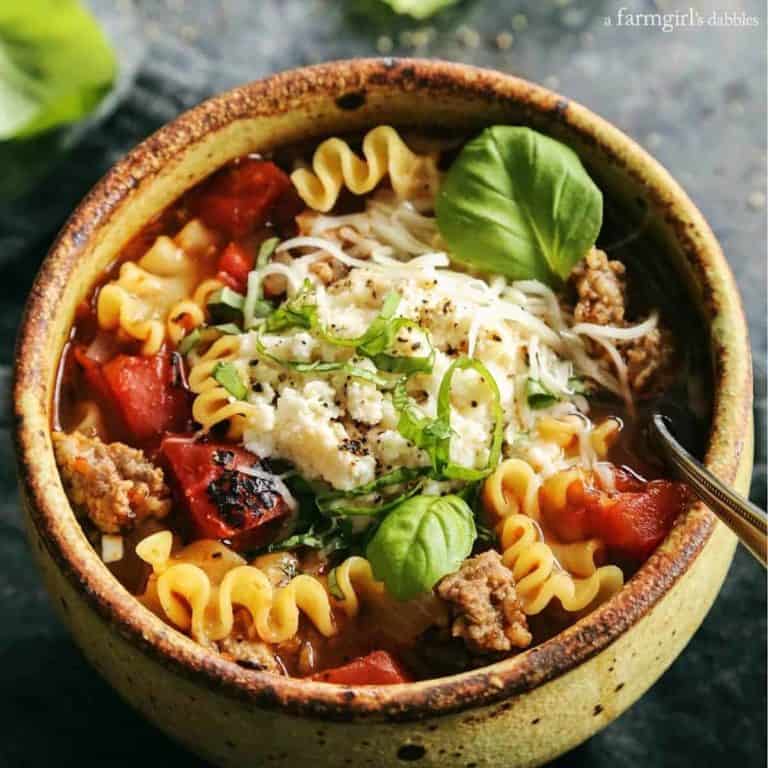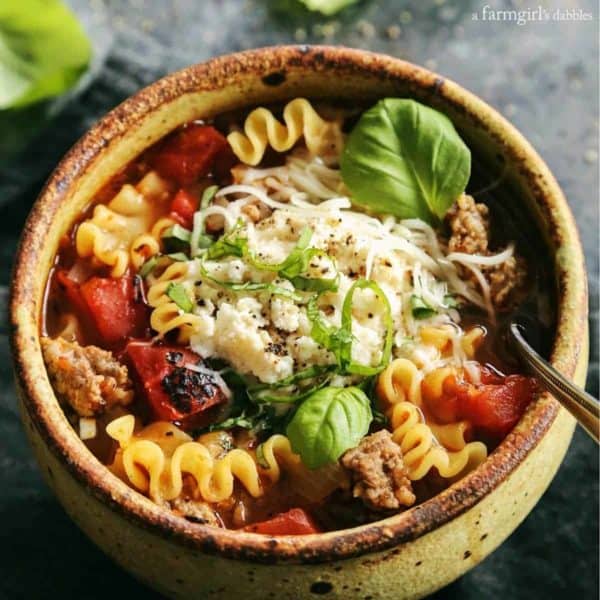 This post was previously published March 2011. Some of the photographs and text were updated December 2017.
We participate in the Amazon Services LLC Associates Program, an affiliate advertising program designed to provide a means for us to earn fees by linking to Amazon.com and affiliated sites. See our disclosure policy for more info.