Creamy Homemade Ricotta with Honey and Herbs
This Creamy Homemade Ricotta Cheese with Honey and Herbs is incredible. It's creamy, delicious, and makes the perfect flavorful cheese dip!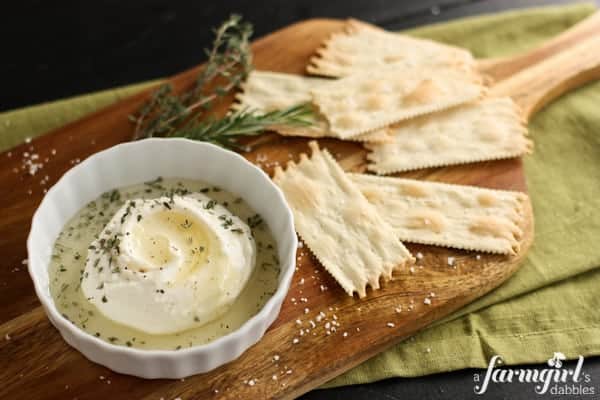 Homemade Ricotta Recipe with Honey and Herbs
From the moment I first walked through the door at Black Sheep Pizza (St. Paul) a couple months ago, when that better-than-the-usual smell of pizza first intoxicated me, I knew this place was going to turn into a tradition. Nestled down a few steps from street level and so unassuming, the room was extremely simple, yet warm, with an open kitchen view to their coal fired pizza oven. A few of my closest girlfriends were with me, and we were doing a little celebrating. It was The Birthday Girl's suggestion that we share some pizza and catch up on life, and I'm ever so thankful for her Black Sheep Pizza recommendation.
Since that evening, I've introduced my own family to this little shop on the corner, and we've been enjoying some really great pizza nights. In fact, it was recently the birthday pizza request of our oldest daughter, too!
(My favorite Black Sheep pizza? No question about it, #7 on their current menu, a combo of oyster mushrooms, smoked mozzarella, rosemary, and garlic. I'll gladly drive a few extra miles just to eat this pizza!)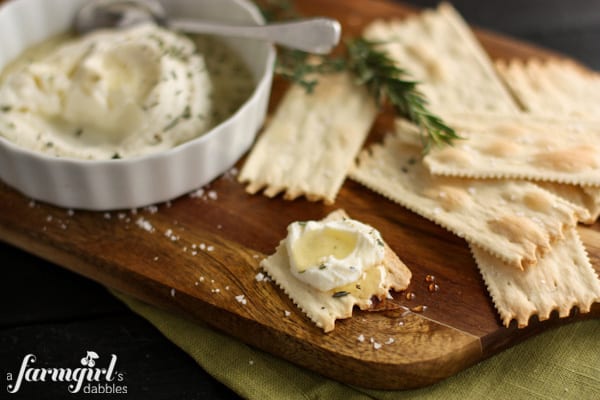 Easy Ricotta Cheese Recipe
This Creamy Homemade Ricotta with Honey and Herbs is directly related to our daughter's birthday celebration, when we ordered a similar appetizer at Black Sheep.
I've bought little tubs of ricotta before, incorporating it into different pasta dishes and such, with those experiences always rating somewhere just around "average". But that appetizer my family shared that evening…well it changed my view of ricotta, and I knew I had to find me some of that fabulous stuff!
Little did I know, until I read Shaina's post, that it's super easy to make at home. And TONS better!
I ended up making three different versions of ricotta, as part of my experimentation process. Each recipe used varying amounts of whole milk and heavy cream. Shaina's version, with the largest percentage of whole milk, was the lightest in both taste and heft, with a more pronounced curd (although the curd was still small). It was delicious, and perfect for slathering on a toasted baguette for breakfast or as an accompaniment to a fresh salad.
The version I'm sharing here is a very slight adaptation from Deb. Of the three recipes I tried, this one leaned heaviest on the richness of cream. Deb's post, as always, is a great read, and takes you through her trials to result in her goal of a super dense and creamy ricotta. Its flavor and texture are much like a very soft and mild cream cheese. This luxurious creation is the Rolls-Royce of my ricotta experimentation, a very special treat. It was super hard for me to share…I wanted to eat it ALL!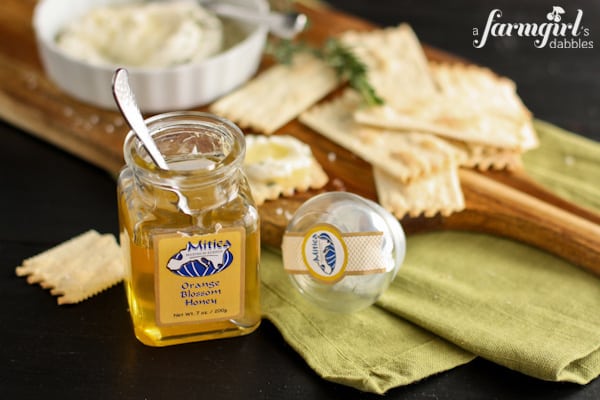 When I remade the Black Sheep's appetizer at home, I used a lovely Spanish honey that I found at our local Kowalski's (also available on Amazon). It's light, yet flavorful, with just the slightest hint of orange blossom, and I would completely recommend it for this dish. This particular honey would also be fabulous in another favorite of ours, the Sweet-and-Salty Honey-Cheese Spread, with a sprinkling of fresh juicy blackberries.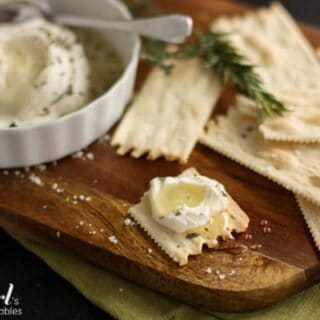 Creamy Homemade Ricotta with Honey and Herbs
Yield: 4-6 servings
Prep Time: 20 minutes
Cook Time: 15 minutes
Total Time: 35 minutes
This Creamy Homemade Ricotta Cheese with Honey and Herbs is incredible. It's creamy, delicious, and makes the perfect flavorful cheese dip!
Ingredients
3 c. pasteurized whole milk
1 c. pasteurized heavy cream
1/2 tsp. kosher salt
3 T. freshly squeezed lemon juice
a delicate and flavorful honey (I recommend Mitica Orange Blossom Honey)
fresh thyme, chopped
fresh rosemary, chopped
flaky sea salt
freshly cracked black pepper (ground fine)
Instructions
Add milk, cream, and salt to a medium saucepan. Cook over medium to medium-high heat, stirring frequently to prevent scorching, until milk reaches 190° F. Remove pan from heat and add the lemon juice, then stir it just once or twice, gently and slowly, to incorporate. Let pan sit undisturbed for 10 minutes to let curds form.

Wet a double layer of cheesecloth and ring out. Lay cheesecloth over the inside of a fine mesh strainer or colander that is set over a large heatproof bowl. Pour the curds and whey into the colander and let the curds strain for at least an hour, for very tender and loose ricotta. Strain for an additional hour or two for a ricotta that is firmer, like a very soft and tender cream cheese. Discard whey or save it for another use. Remove ricotta from the cheesecloth and enjoy immediately or store refrigerated in an airtight container for up to 3 days.

To serve the ricotta with honey and herbs...in a small dish with sides, mound some of the ricotta in the center. Drizzle a bit of honey over and around the ricotta and then scatter lightly with fresh thyme and rosemary. Finish with a sprinkling of flaky sea salt and freshly cracked black pepper. Serve immediately with crisp salty crackers. Some blackberries would be lovely with this, too!
Notes
Appetizer inspired by a celebratory birthday meal at Black Sheep Pizza. Homemade ricotta very slightly adapted from Smitten Kitchen, originally from Salvatore Bklyn via Tasting Table.
Nutrition Information:
Yield: 5
Serving Size: 1
Amount Per Serving:
Calories: 267
Total Fat: 22g
Saturated Fat: 14g
Trans Fat: 1g
Unsaturated Fat: 7g
Cholesterol: 69mg
Sodium: 427mg
Carbohydrates: 13g
Fiber: 0g
Sugar: 12g
Protein: 6g
Nutrition information is automatically calculated by Nutritionix. I am not a nutritionist and cannot guarantee accuracy. If your health depends on nutrition information, please calculate again with your own favorite calculator.