Grilled Pork Tenderloin with Peach Glaze and Orange-Habanero Mojo
This post may contain Amazon or other affiliate links. As an Amazon Associate I earn from qualifying purchases.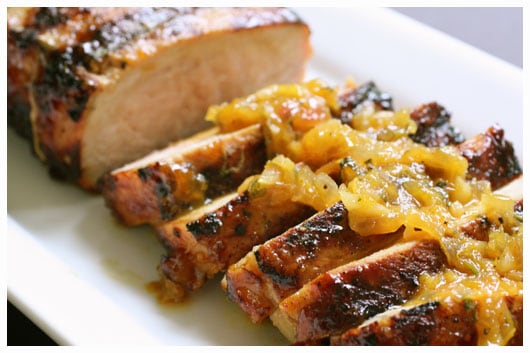 There are different ways to pronounce "mojo", and numerous definitions for the word. But the one I'm talking about right now is this:
mo-jo (moh-hoh) n. any sauce in Cuban cooking that is made with oil, garlic, onions, and citrus juices, especially lime and sour orange juices
And, may I add to this definition, super duper flavorful?! The orange-habanero mojo strewn across this grilled pork tenderloin has so much going on. A bright citrusy yumminess, some oniony-garlicky goodness, a touch of habanero heat. Trust me, it's fantastic.
Now layer that mojo over a perfectly moist and delicious grilled pork tenderloin that has been glazed in a sticky, sweet peach sauce…oh, baby! Words cannot describe.
The recipe comes from Bobby Flay's "Boy Gets Grill", a cookbook packed with recipes we return to over and over again. If you're looking for some fun, interesting, and mega flavorful grilling, you will not be disappointed with what Bobby pumps out.
This is definitely one of my favorite meals that we make at home. It does have a number of steps to it, but none of it is difficult, so please don't let that stop you from enjoying this incredible dish. It works great for entertaining, as the glaze and mojo can be prepared ahead of time, and the presentation is beautiful and fun. And if you have some mojo left over (we always do), do not throw it away! We found that it makes a wonderful glaze for a grilled ham steak. We especially love the ham steaks from Hagberg's in Lake Elmo. They're a bit smokey and taste the way ham is meant to taste!
So, go ahead, get your mojo on and make this! In this statement, "mojo" is said differently. Here's another "mojo" pronunciation and definition for you:
mo-jo (moh-joh) n. slang for self-confidence; power
And with that, our word lesson here today is done. Happy grilling!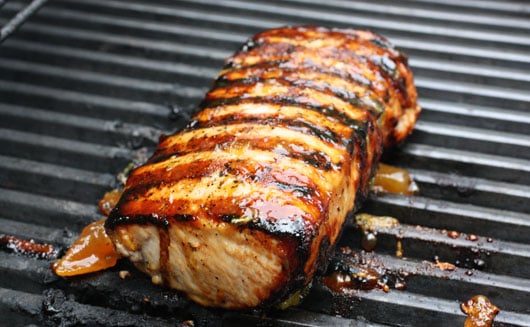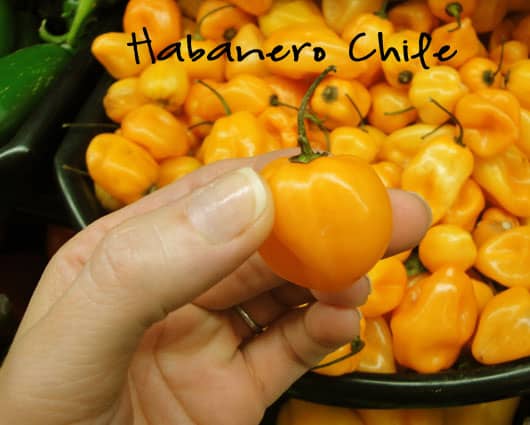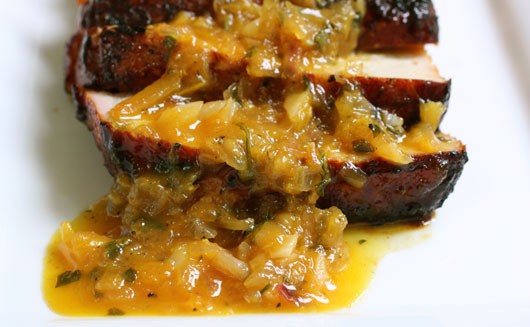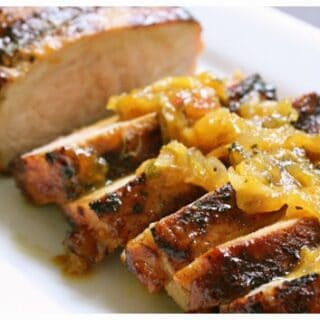 Grilled Pork Tenderloin with Peach Glaze and Orange-Habanero Mojo
Yield: 6 to 8 Servings
Prep Time: 30 minutes
Cook Time: 27 minutes
Total Time: 57 minutes
The orange-habanero mojo strewn across this grilled pork tenderloin has so much going on.
Ingredients
for the glaze:
1 c. peach jam
.25 c. Dijon mustard
.25 c. freshly squeezed orange juice
salt and freshly ground black pepper
for the mojo:
2 T. mild vegetable oil, such as canola
1 small red onion, finely chopped
4 cloves garlic, finely chopped
3 c. freshly squeezed orange juice
.5 c. freshly squeezed lime juice
.5 habanero chile, seeded and very finely chopped
(These are VERY hot little chiles! You may want to use
gloves when chopping.)
2 T. chopped fresh cilantro leaves
1 tsp. ground cumin
salt and freshly ground black pepper
for the pork:
2 pork tenderloins, about 1.5 lbs. each
2 T. mild vegetable oil, such as canola
salt and freshly ground black pepper
Instructions
For the glaze:
Whisk all ingredients together, seasoning to taste with salt and pepper. (The glaze can be made a few days in advance, covered, and kept refrigerated. Bring to room temperature before using.)
For the mojo:
Heat the oil in a saucepan over medium-high heat. Add the onion and garlic and cook, stirring, until soft, about 5 minutes; do not brown.
Add the orange juice, lime juice, and habanero and bring to a boil. Cook until reduced by half. It will be nice and thickened. Whisk in the cilantro and cumin and season to taste with salt and pepper. (The mojo can be made a few hours in advance and set aside at room temperature.)
For the pork:
Heat your grill to high. Set aside a few tablespoons of peach glaze for brushing the cooked pork at the end.
Brush the pork with oil and sprinkle with salt and pepper. Grill 5 to 6 minutes per side to sear. Don't peek! Back off the heat to medium-high. Every 3 minutes, brush with the glaze and flip, for 15 minutes. Total cooking time should be 25 to 27 minutes.
Use an instant-read meat thermometer to check your temperature. Blake pulls the tenderloins off when they reach an internal temperature of 155° F or so, which is under the recommended guidelines for pork. But the meat will continue to cook as it rests in the next step. This will ensure a very juicy tenderloin.
Remove the pork from the grill, brush with the reserved peach glaze, and let rest for 10 minutes to let the juices settle in and the meat further cook. Cut into 1/2″-thick slices and arrange on a serving platter. Drizzle with habanero mojo and serve immediately.
Nutrition Information:
Yield: 8
Serving Size: 1
Amount Per Serving:
Calories: 363
Total Fat: 11g
Saturated Fat: 2g
Trans Fat: 0g
Unsaturated Fat: 8g
Cholesterol: 62mg
Sodium: 378mg
Carbohydrates: 42g
Fiber: 1g
Sugar: 29g
Protein: 24g
Nutrition information is automatically calculated by Nutritionix. I am not a nutritionist and cannot guarantee accuracy. If your health depends on nutrition information, please calculate again with your own favorite calculator.
We participate in the Amazon Services LLC Associates Program, an affiliate advertising program designed to provide a means for us to earn fees by linking to Amazon.com and affiliated sites. See our
disclosure policy
for more info.