Grilled Angel Food Cake with Mom's Super Simple Rhubarb Sauce
This post may contain Amazon or other affiliate links. As an Amazon Associate I earn from qualifying purchases.
This Grilled Angel Food Cake with Mom's Super Simple Rhubarb Sauce is spring in a dessert! It's so easy to make, and it's a a foolproof family favorite!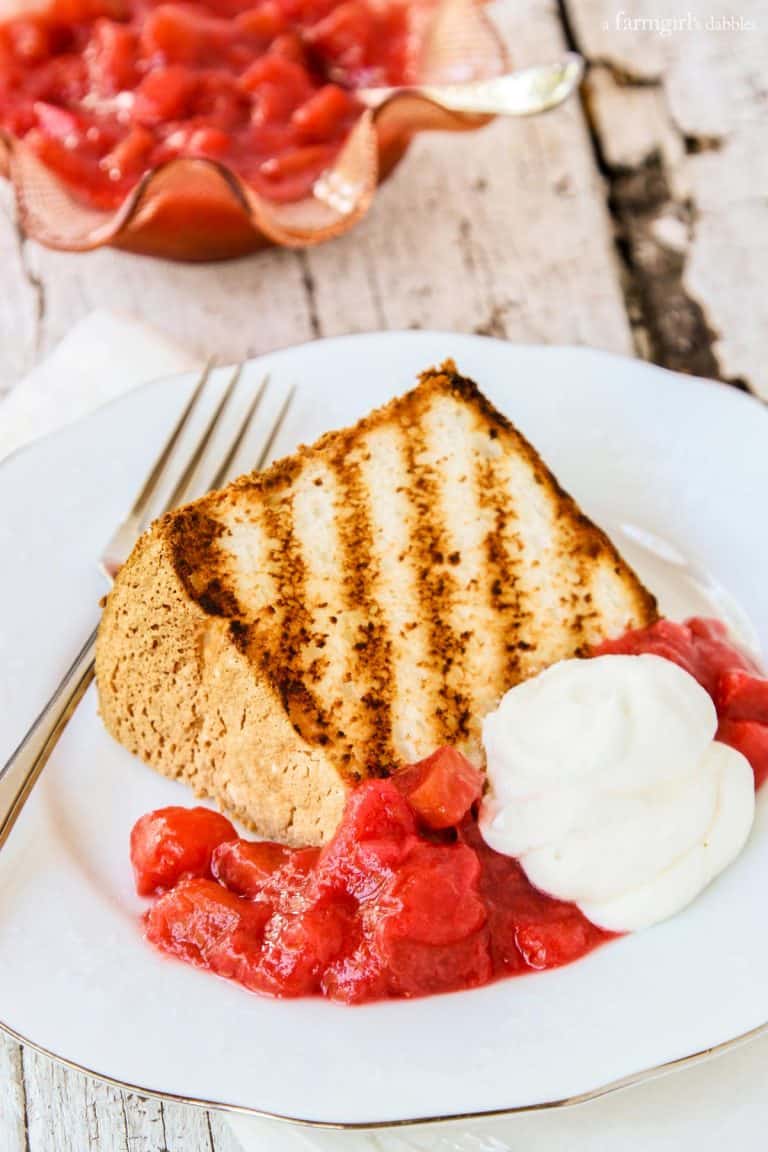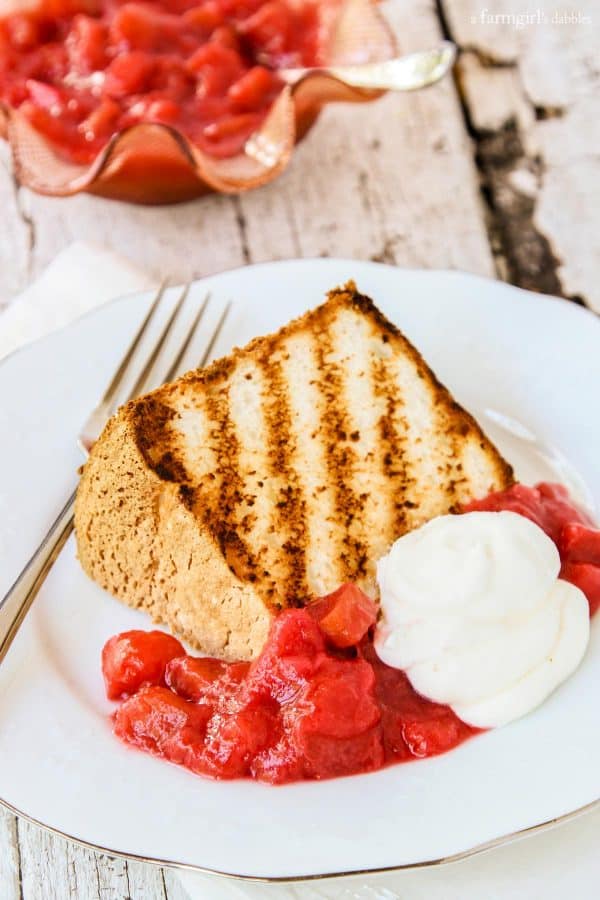 Grilled Angel Food Cake with Rhubarb Sauce
Guys! Last weekend I ate the most amazing dessert. You just have to try this easy recipe.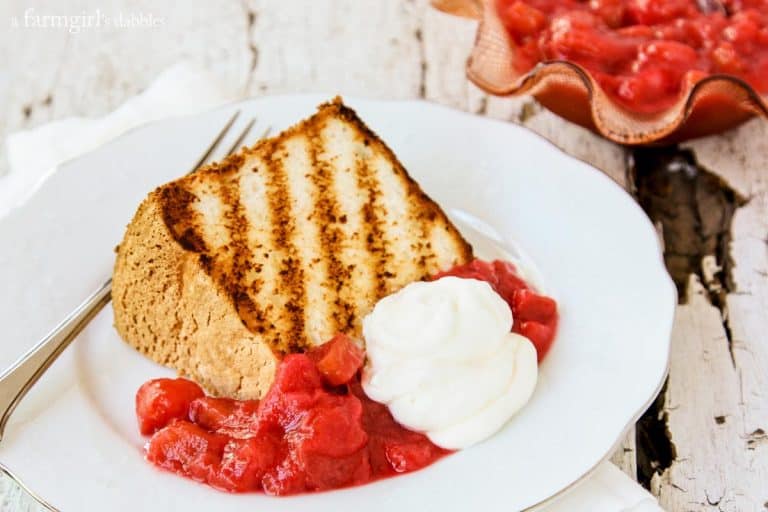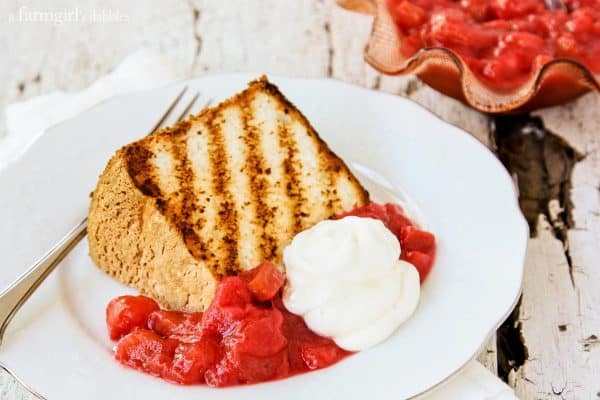 Oftentimes the simplest recipes are the best, don't you agree?
I recently texted Mom, asking her to send me the recipe for her rhubarb sauce: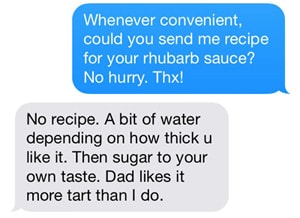 Really. This recipe that my dad special requests each spring is just that simple. And it's oh-so-good!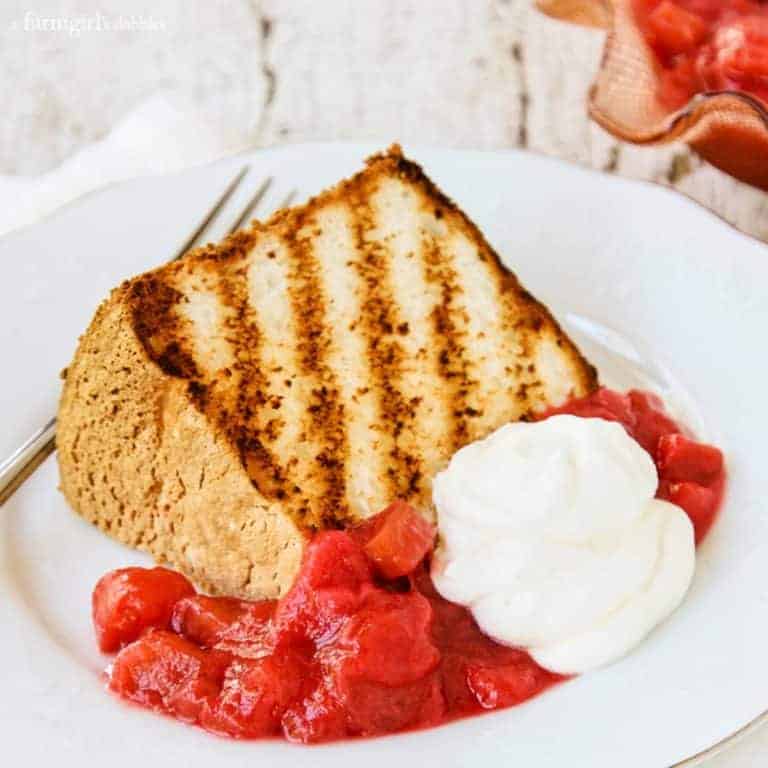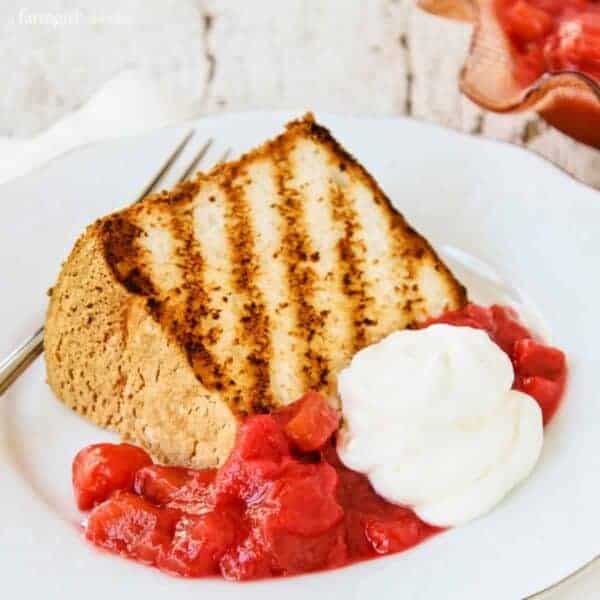 As I was stirring this rhubarb sauce on the stovetop, windows open to catch some of that fabulous cool spring morning air, my mind was trying to come up with the best way imaginable to eat it. Of course, ice cream came to mind. And I think it would be lovely stirred into yogurt. But then I remembered something I had seen quite awhile back, where angel food cake was laid on the grill. I knew this was the answer.
How to Make This Easy Spring Dessert
So I separated a dozen eggs and whipped those whites into the fluffiest angel food cake I know. The warm baked cake hanging upside down on the countertop all day (so fun!), with its soft vanilla-almond scent, was sweetest temptation.
And then, after the supper dishes were cleared from the table on our deck that evening, the magic happened. Pillowy slices of angel food cake were laid on the grill until gorgeously charred, barely two minutes per side. Then topped with fresh rhubarb sauce, perfectly sweet-tart and pretty, and a big spoon of just-whipped cream…there was no doubt in my mind that this combination of cake + sauce + cream was going to be on repeat until rhubarb season was over.
Our daughters' good friend stopped over while riding bike that Friday evening and joined us for dessert. After one bite, she leaned back and said the cake tasted just like roasted marshmallows. I looked up to find all of us grinning, because we simply had to agree. The angel food cake was delicately crispy, with an awesome hint of campfire flavor. I was surprised at how truly wonderful it was. And then the rhubarb sauce and fluffy whipped cream brought it all together with contrasting brightness and creaminess. End-of-the-week dessert perfection.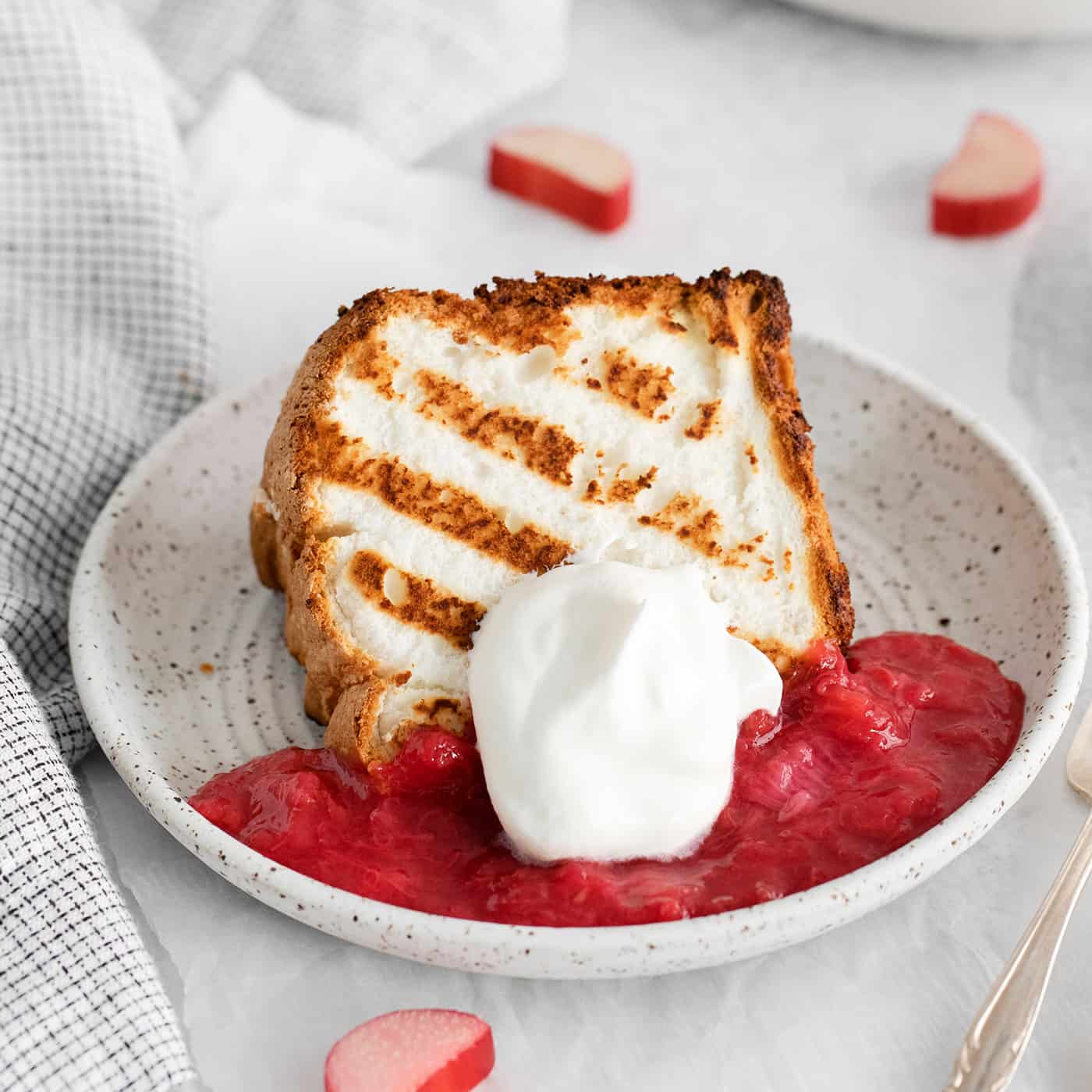 Grilled Angel Food Cake with Mom's Super Simple Rhubarb Sauce
Yield: 16
Prep Time: 20 minutes
Cook Time: 4 minutes
Total Time: 24 minutes
Grilled Angel Food Cake is a quick and easy way to elevate a simple angel food cake. Top with a sweet-tart rhubarb sauce or fresh berries and whipped cream for a foolproof family favorite dessert!
Ingredients
For the Rhubarb Sauce:
2 pounds tender, red rhubarb, cut into 1/2" pieces
1/2 cup water, or more for a looser sauce
2/3 cup sugar (use less for a tart sauce, more for a sweeter sauce)
a drop or two of red food coloring, if desired, for a richer red color
For the Angel Food Cake:
Instructions
For the Rhubarb Sauce: In a medium saucepan over medium to medium-high heat, stir together all sauce ingredients. Let mixture come to a boil and then turn heat down to medium-low and let it simmer until rhubarb is broken down but chunks still remain. This should take 10 to 15 minutes, depending on the tenderness of the rhubarb. Taste test the sauce while it is simmering, adding more sugar if you like a sweeter sauce. You can also create a thinner sauce by adding more water, if desired. If you like a little more color to your sauce, stir in a drop or two of red food coloring. Remove pan from heat and let cool completely.
For the Angel Food Cake: Bake according to recipe and let cake cool completely. Then cut into individual pieces.
Heat grill to medium-high and scrub grill grates very clean. Place cake slices onto hot grates. Cook until gorgeously charred, and then flip. This should only take a minute or two per side. The sugars in the cake can caramelize and char faster than you think, so check on the cake periodically. Take care to not let the cake char excessively. This can also be done using a grill pan on the stovetop.
To Serve: Serve slices of grilled cake with freshly whipped cream, plus fresh rhubarb sauce, raspberry sauce, or fresh berries.
Nutrition Information:
Yield: 16
Serving Size: 1
Amount Per Serving:
Calories: 225
Total Fat: 10g
Saturated Fat: 2g
Trans Fat: 0g
Unsaturated Fat: 7g
Cholesterol: 29mg
Sodium: 501mg
Carbohydrates: 22g
Fiber: 1g
Sugar: 11g
Protein: 11g
Nutrition information is automatically calculated by Nutritionix. I am not a nutritionist and cannot guarantee accuracy. If your health depends on nutrition information, please calculate again with your own favorite calculator.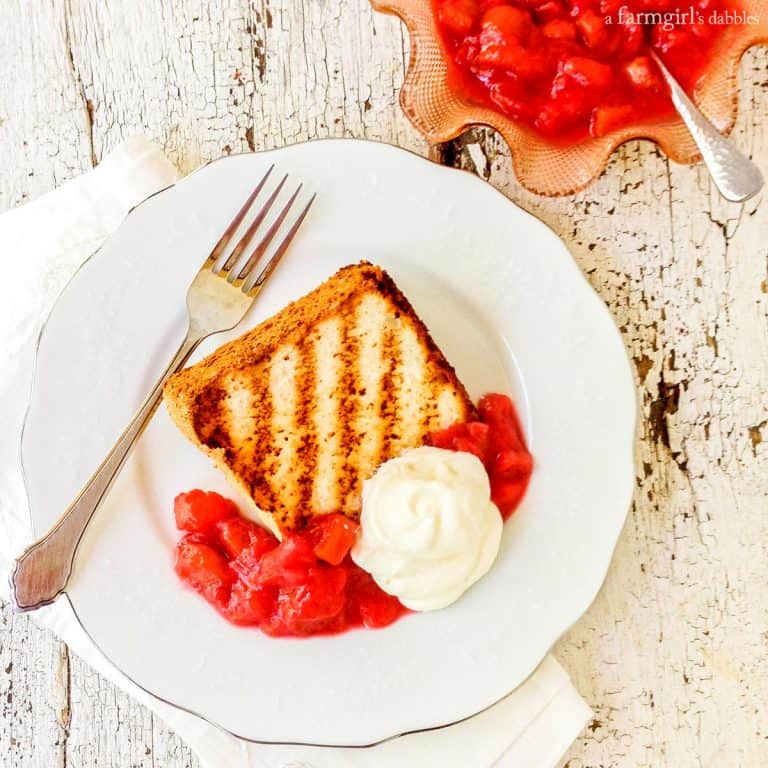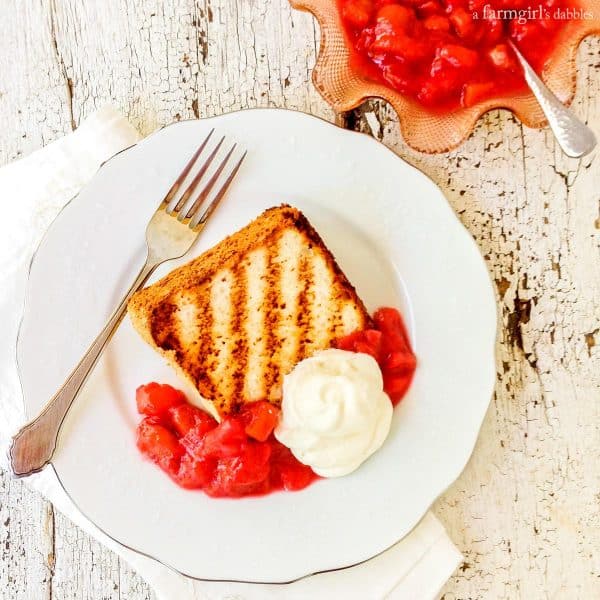 We participate in the Amazon Services LLC Associates Program, an affiliate advertising program designed to provide a means for us to earn fees by linking to Amazon.com and affiliated sites. See our
disclosure policy
for more info.