Apple Bread
A quick and easy Apple Bread recipe that's loaded with shredded apples! Spiced with cinnamon, nutmeg and vanilla, this moist apple bread is perfect for fall!
Looking for more apple recipes? Try my old fashioned apple crisp!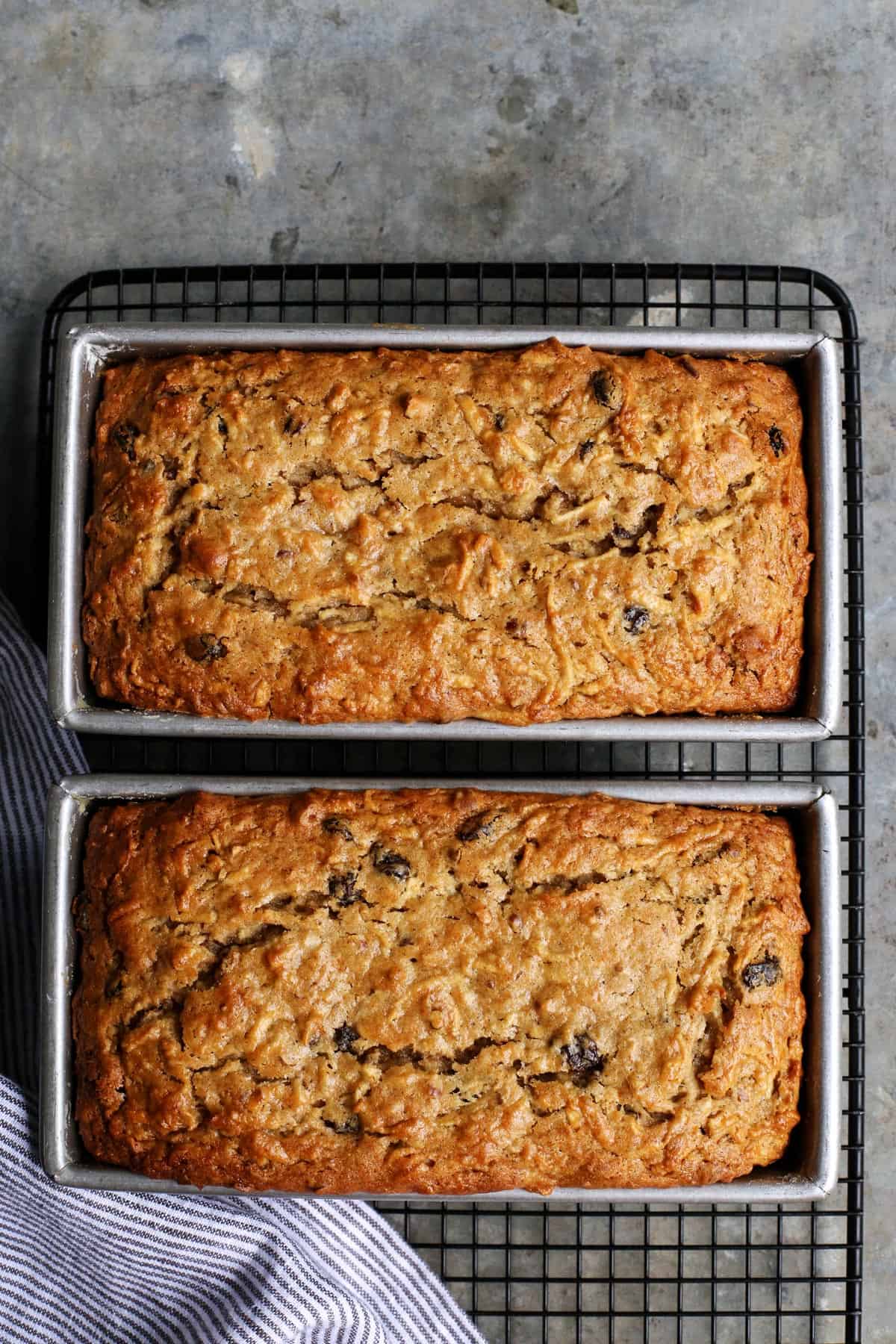 Grandma's Homemade Apple Bread
Around here, we call this Grandma Barb's Apple Bread. Because my mom has been making this apple bread for as long as our daughters can remember.
This apple bread recipe is an especially wonderful treat during the fall, when the trees of local apple orchards are hanging heavy with crisp, sweet fruit. And the bread's even better when made with apples from your very own backyard trees (right?!).
Mom has always liked to bake with apples, and this is one recipe I can count on her making every single fall. I even placed an order for a loaf when I knew she was due for a visit!
FEATURED COMMENT:

"Beautiful color and the whole house smelled liked apple pie baking. It's absolutely DELISH, this recipe totally surpasses others! It's moist and has such good flavor!"

-Susan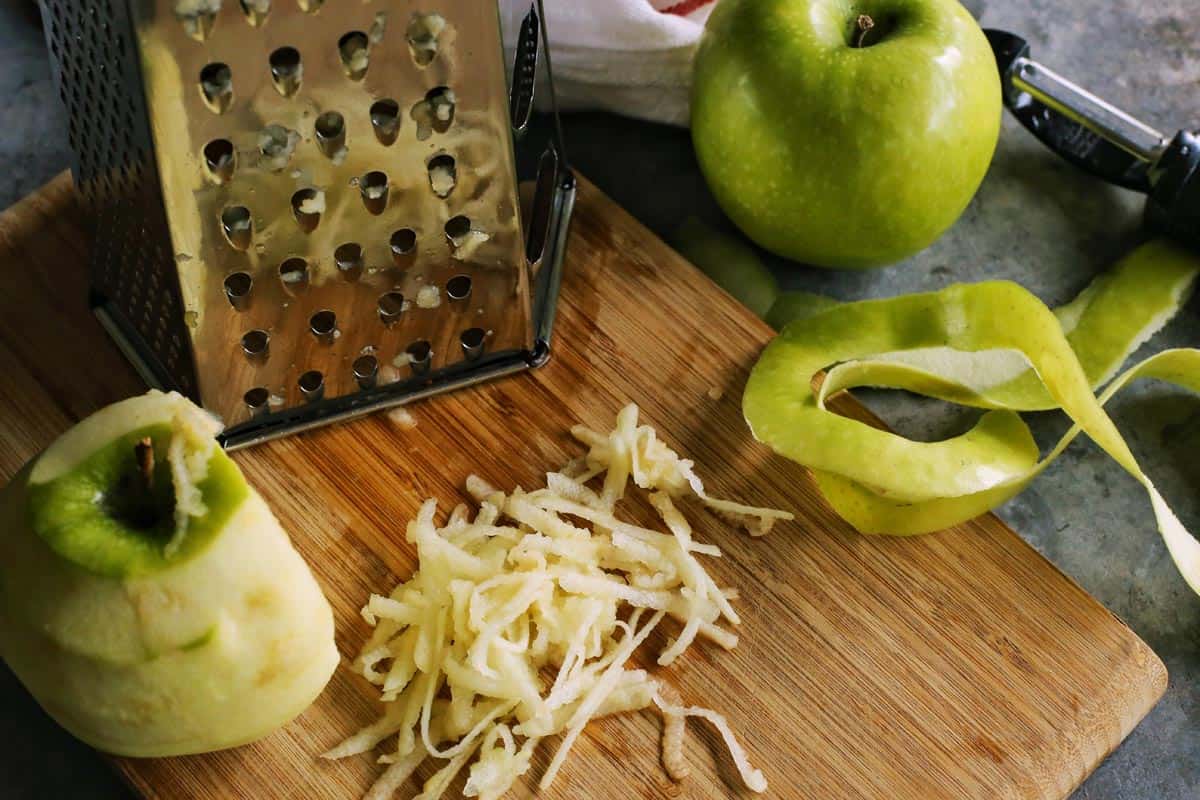 Why Are the Apples Shredded for this Bread?
At the very core of this apple quick bread is a mess of shredded apples. I recommend using an apple variety that is firm and has some tartness, such as Granny Smith, Haralson, or the sweeter Honeycrisp. Shredding the apples infuses each bite of bread with rich apple flavor. It also avoids any potential issues with diced apples, which can sometimes sink to the bottom of your bread.
If you're wondering exactly how to shred apples, all you need is a box grater. Simply peel the apples and grate them using the largest holes on the grater. It's super easy and doesn't take much time at all.
A few more awesome apple recipes for you: my favorite apple crisp is an easy and super delicious treat, Apple Cinnamon Overnight Oats is a great way to get your day started, and how about a cocktail? This Apple Sangria with Bourbon and Thyme is perfect for sitting around an autumn fire or entertaining for Thanksgiving!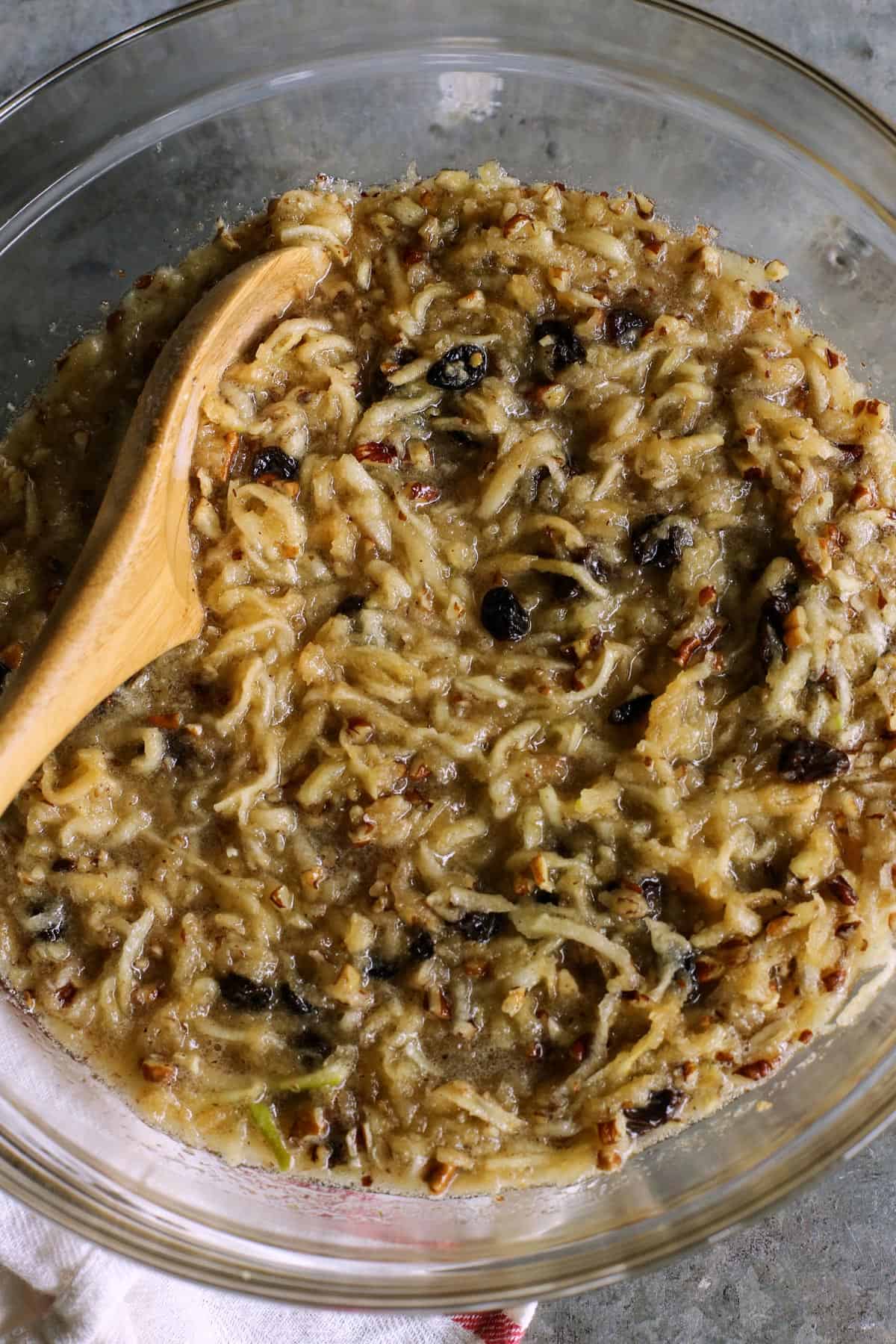 How to Make Apple Bread
I love how easily this quick bread recipe comes together. Here's how to make it. You can find ingredients in the recipe card at the bottom of this post!
Prep your tools: Preheat your oven and grease two 8×4 loaf pans.
Shred the apples: I use the large holes on a box grater for this. Just peel the apples and then shred them, discarding the cores.
Add sugar: In a large bowl, mix the shredded apples with sugar and let them sit for a bit. This will infuse each piece of apple with extra sweetness. Don't worry about the liquid that will accumulate, that's supposed to happen!
Add remaining wet ingredients: In the same bowl as your apples, add the oil, eggs, vanilla, nuts and raisins. Stir well.
Mix dry ingredients: In another bowl mix the flour, baking powder, baking soda, salt, and spices. Mix well. There's a good amount of cinnamon in the batter, which plays so fabulously with the apples and raisins.
Add dry ingredients to wet ingredients: Slowly add the dry ingredients to your wet ingredients, mixing just until you don't see any dry bits of batter anymore.
Bake: Pour the batter into your prepared pans and bake until the bread is golden and a toothpick inserted in the center comes out clean.
Cool & Eat: Let your apple bread rest in the pan for about ten minutes. Then turn out onto a rack to finish cooling. Once the bread has cooled, slice it up and dig in!
This recipe works perfectly with two 8″ x 4″ loaf pans. Here's my favorite pans – they're heavy duty and always release breads perfectly. I like their slightly smaller size, just a touch smaller than a more common 1-pound loaf pan.
Tips for the Best Apple Bread
As I've mentioned before, shred your apples. This is actually less work than dicing, the method that many apple bread recipes call for. Plus, this method distributes the apples all throughout the bread.
Don't skip any steps. It will probably be tempting to skip the step where the apples and sugar sit for a bit. It does add prep time, but trust me, it's worth it!
Don't over mix your batter. Just mix it enough so that all the dry ingredients are worked in and you don't see any bits of flour.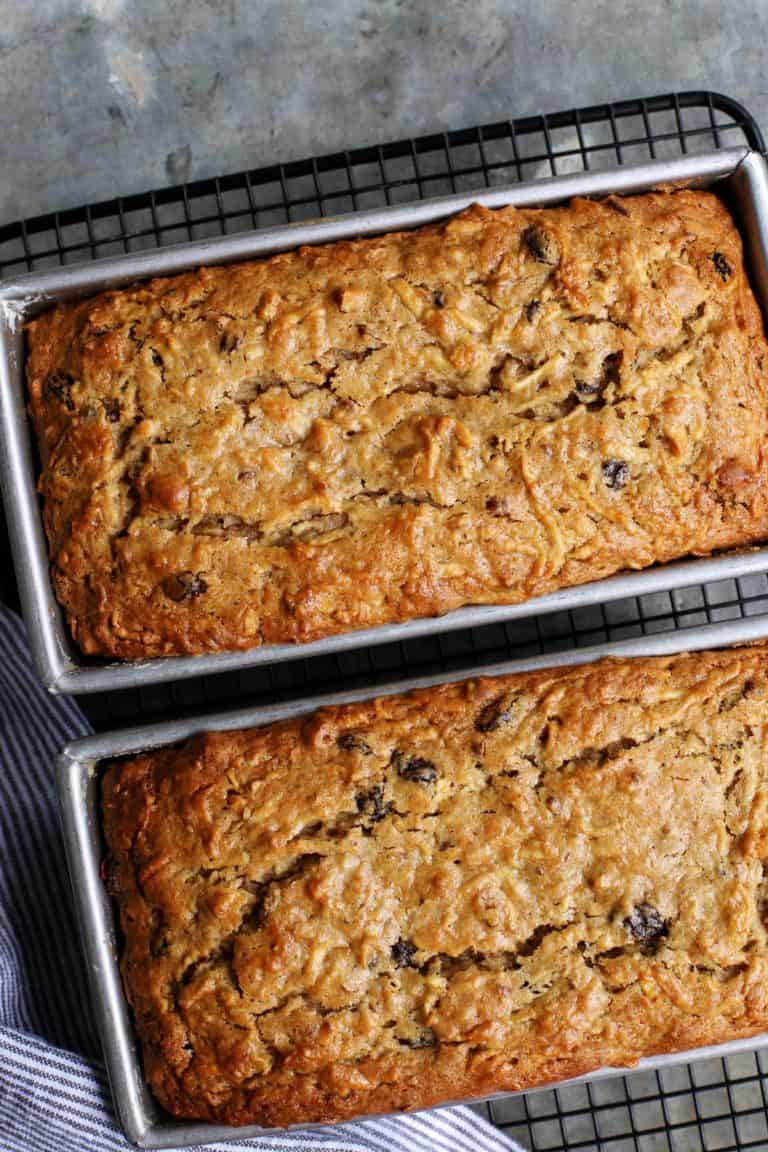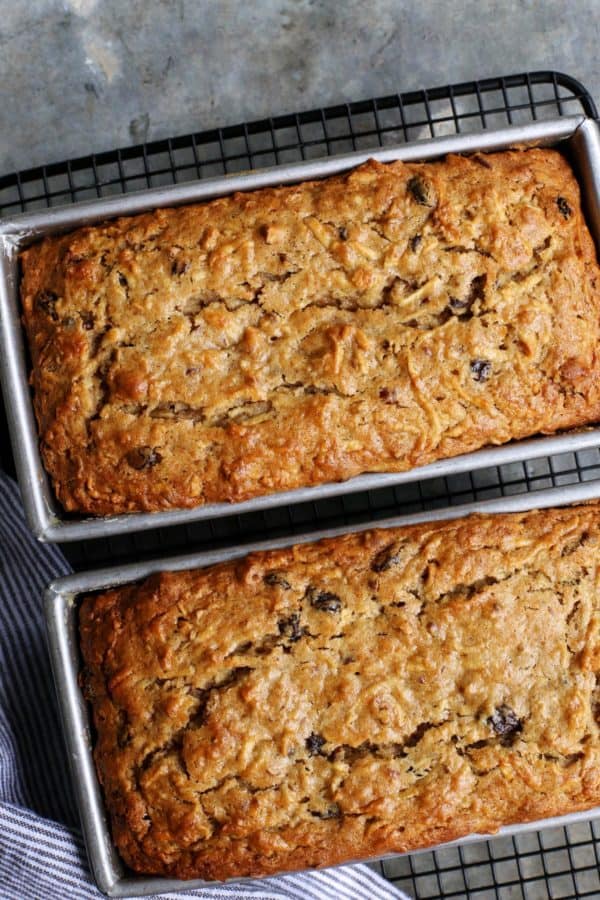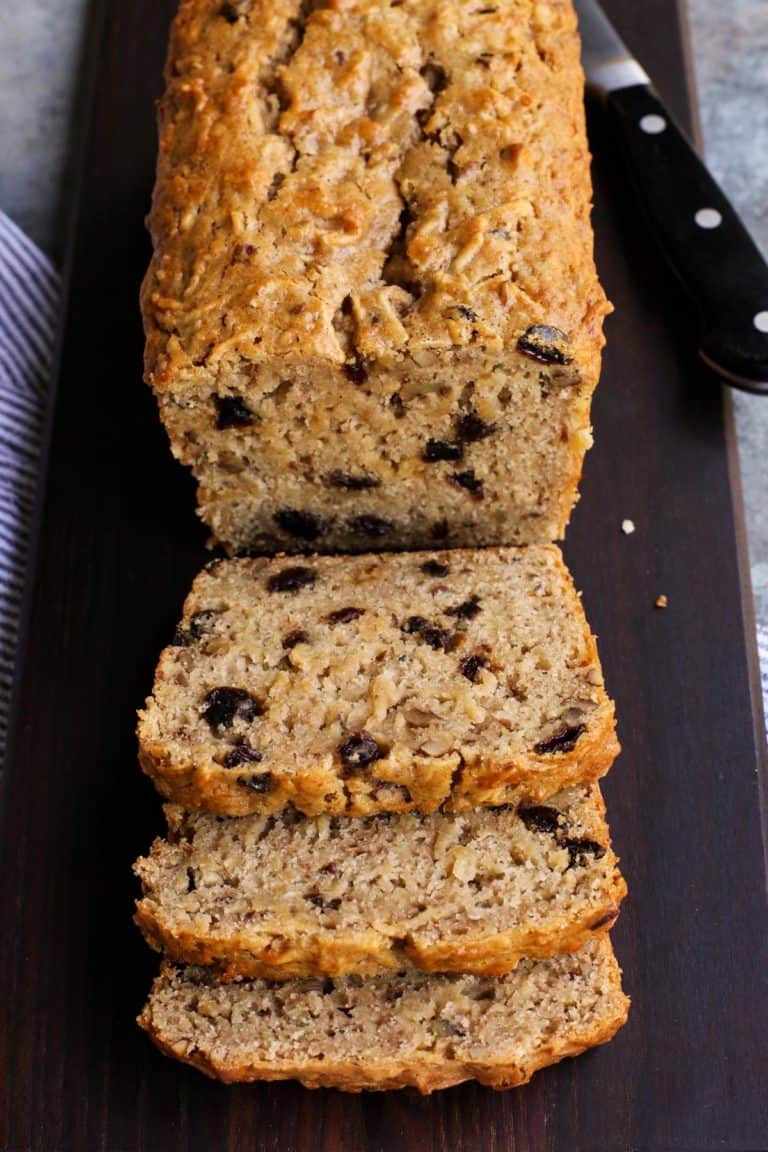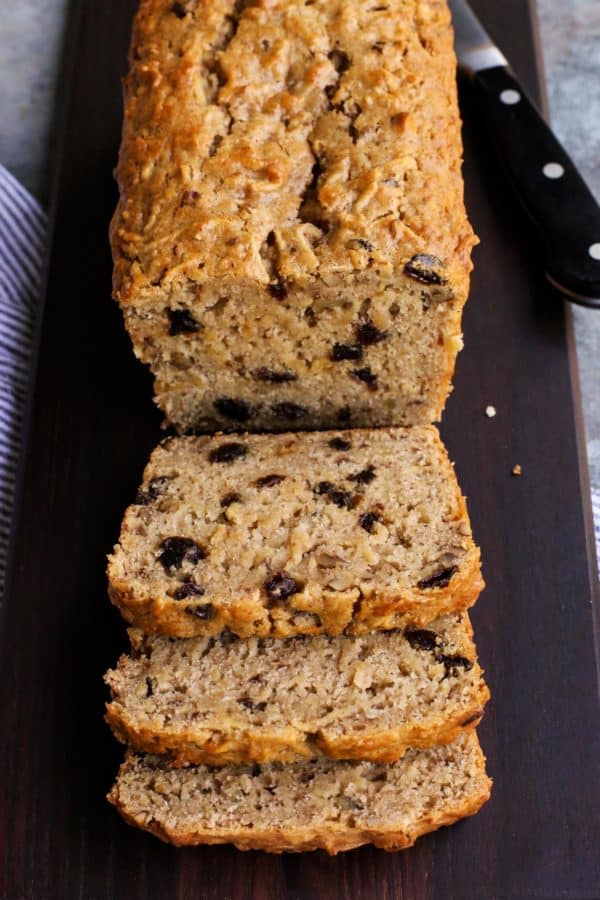 The house smells so cozy while this bread is baking. It's like a big apple-cinnamon hug.
This apple bread is a loaf of fall, packed with shredded apples. I think it's truly the best apple bread recipe, with a variety of flavor and texture in every single bite.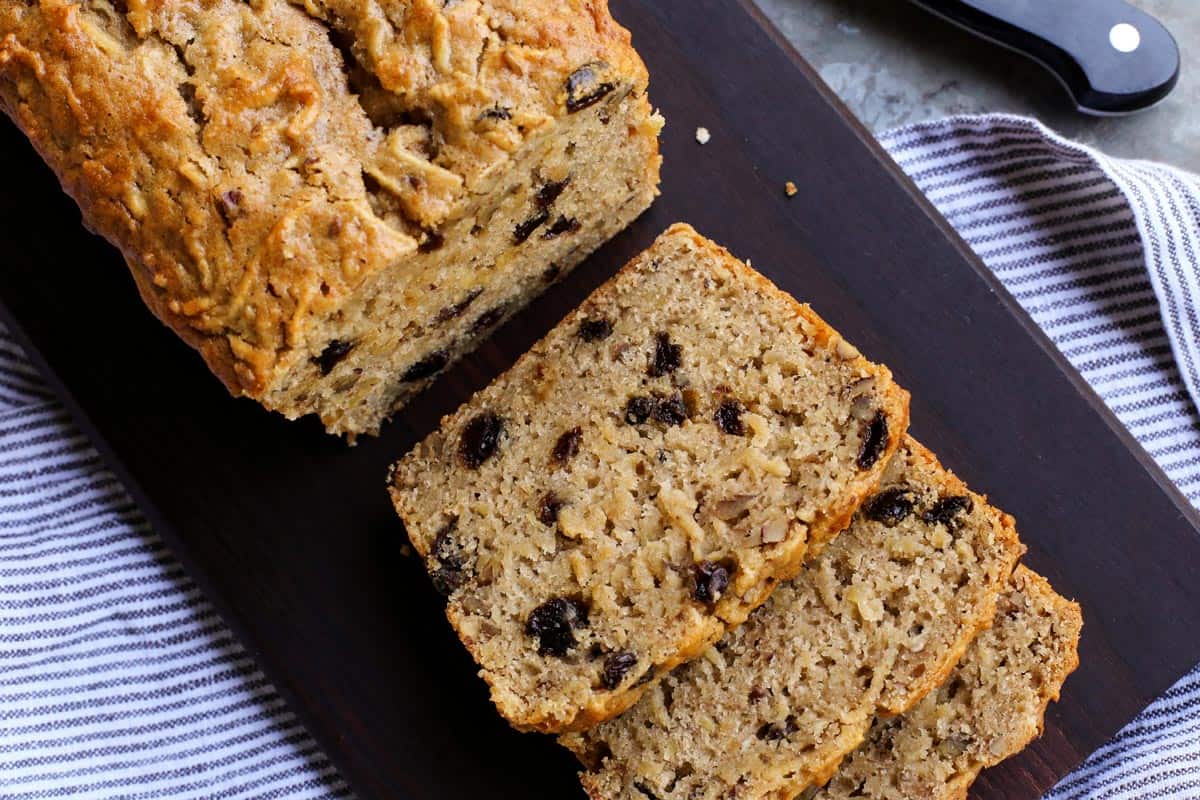 Can I Leave Out the Nuts and Raisins?
There are very few recipes where I can get away with "sneaking in" raisins, as our daughters are not the biggest fans. And this apple bread is one of those exceptions.
However, if you or anyone in your family is opposed to either nuts or raisins, just leave them out. The bread will turn out just fine. :)
Can I Freeze Apple Bread?
The bread freezes extremely well. So I like to stash one loaf away for later. This makes for an easy baked treat with only the minimal effort of taking it out to thaw.
To freeze your apple bread, let it come to room temperature. Then wrap it in a couple layers of plastic saran wrap and place it in a freezer safe ziploc bag. This bread will keep for up to 6 months. When you're ready to eat it, defrost the apple bread in the fridge overnight.
Like this apple recipe? Save it to Pinterest!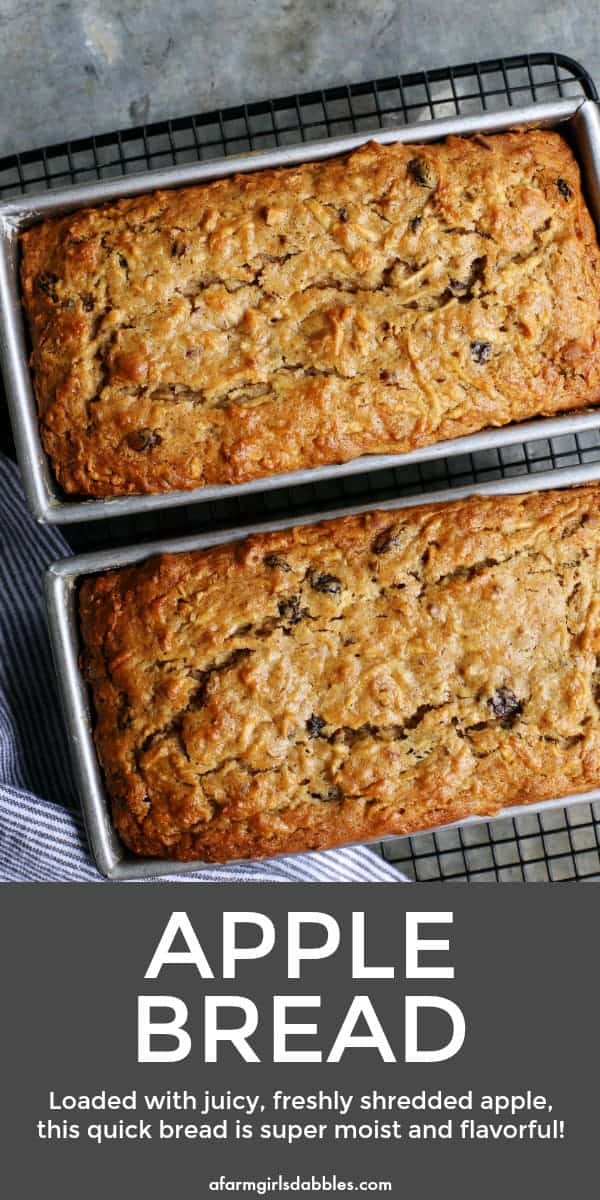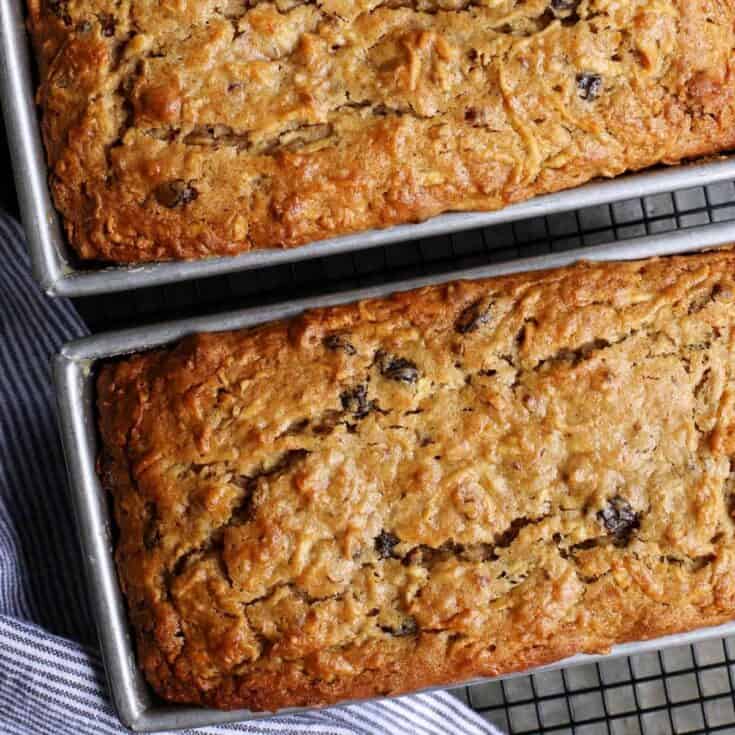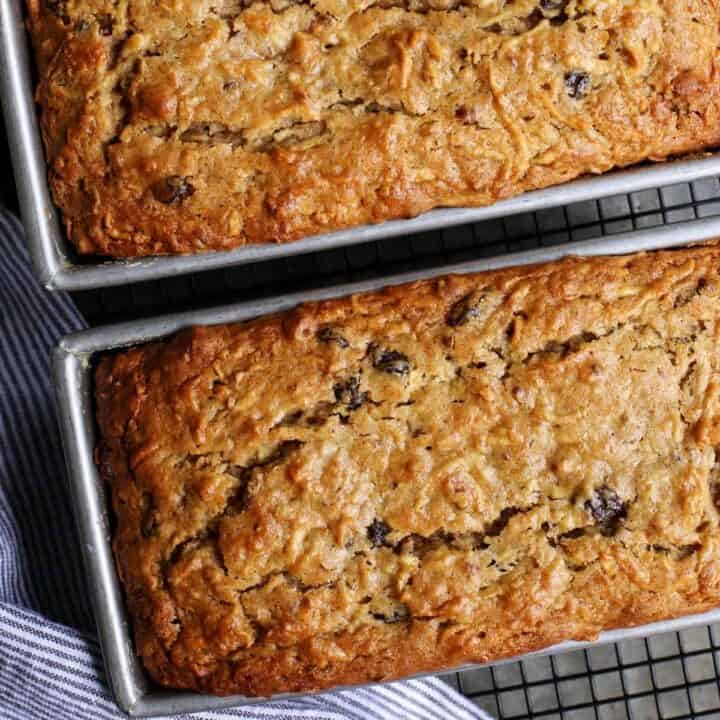 Apple Bread
Yield: 16 servings
Prep Time: 20 minutes
Cook Time: 55 minutes
Total Time: 1 hour 15 minutes
This quick and easy apple bread recipe is loaded with shredded apples, ensuring moist, delicious fresh apple flavor and texture in every bite!
Ingredients
4 large Granny Smith, Haralson, or Honeycrisp apples (or your favorite firm, tart apple variety), peeled
2 c. sugar
½ c. vegetable oil
2 large eggs
2 tsp. pure vanilla extract
1 c. chopped roasted pecans or walnuts, optional
1 c. raisins, Craisins, or chopped dates
3 c. all-purpose flour
1 T. baking powder
½ tsp. baking soda
1 tsp. kosher salt
1 T. cinnamon
½ tsp. nutmeg
Instructions
Preheat oven to 350° F. Grease and flour two 8" x 4" loaf pans. Set aside.
Using the large holes on a box grater, shred the apples (discard the cores). You should have 4 cups of grated apple.
In a large bowl, fold together shredded apples and sugar, and let sit for 15 minutes until sugar dissolves. There will be alot of liquid.
Add oil, eggs, vanilla extract, pecans, and raisins, and stir to incorporate.
In a medium bowl, whisk together flour, baking powder, baking soda, salt, cinnamon, and nutmeg. Stir dry ingredients into the apple mixture, just until mixed. Pour into prepared loaf pans.
Bake 55 minutes, or until golden and center tests done with a toothpick. Remove pans from oven to cooling rack and let cool for 10 minutes. Then turn breads out of pan onto rack to cool completely before slicing.
Notes
If you do not like nuts or raisins in your apple bread, just leave them out. The bread will turn out just fine.
Recipe from Mom's recipe box, originally from Wanda's Country Home
Recommended Products
As an Amazon Associate and member of other affiliate programs, I earn from qualifying purchases.
Nutrition Information:
Yield: 16
Serving Size: 1
Amount Per Serving:
Calories: 330
Total Fat: 8g
Saturated Fat: 1g
Trans Fat: 0g
Unsaturated Fat: 7g
Cholesterol: 23mg
Sodium: 288mg
Carbohydrates: 62g
Fiber: 3g
Sugar: 39g
Protein: 4g
Nutrition information is automatically calculated by Nutritionix. I am not a nutritionist and cannot guarantee accuracy. If your health depends on nutrition information, please calculate again with your own favorite calculator.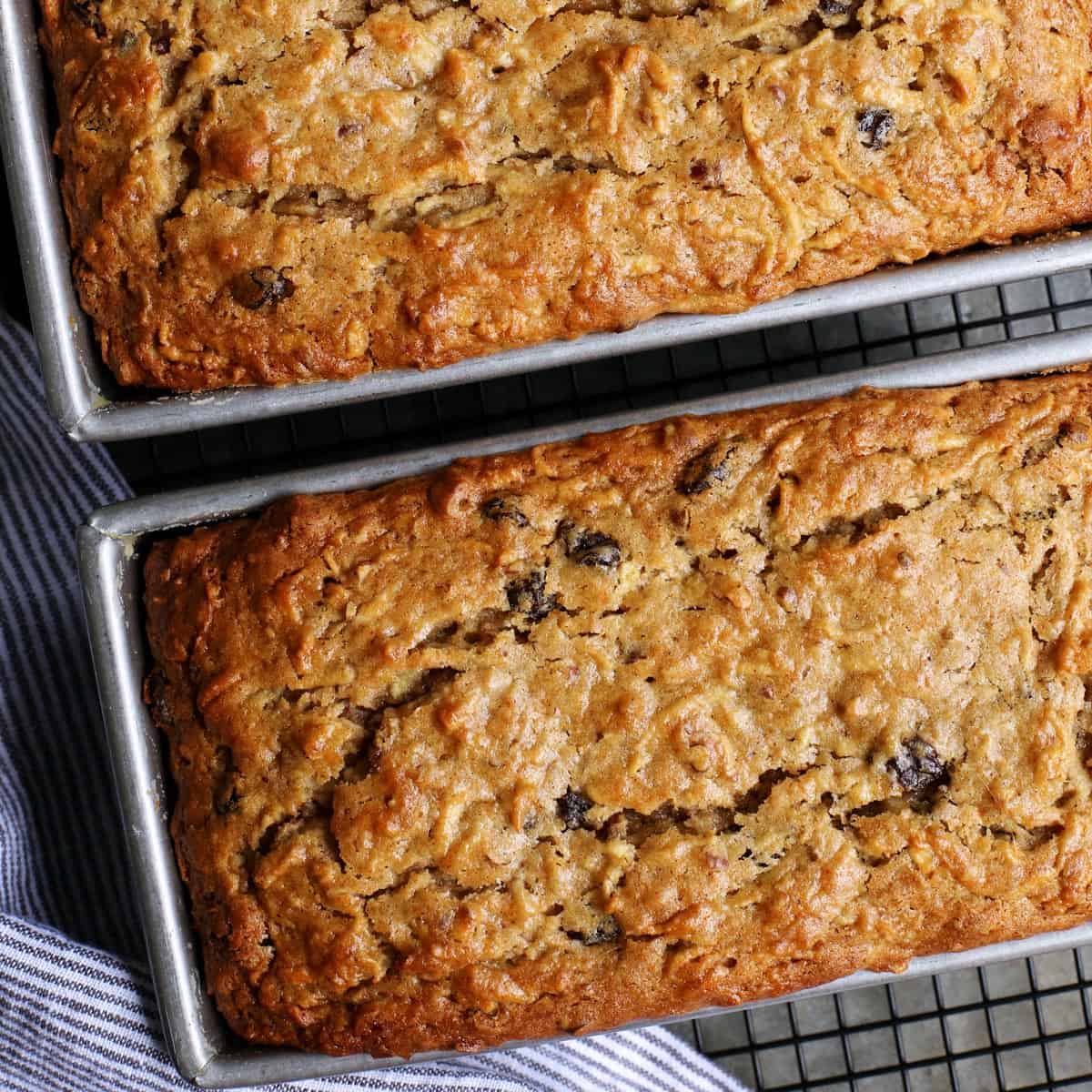 This post was originally published in 2010. I updated some of the photographs and text in September 2019.
Autumn on the farm is such a special time. To see the fruits of farm labor harvested is one of my favorite things. And I love to share the experience with our daughters, to show them how I grew up. The following photos were taken in 2010, when I had originally shared this apple bread recipe.