Cream Wafer Sandwich Cookies with Strawberry Buttercream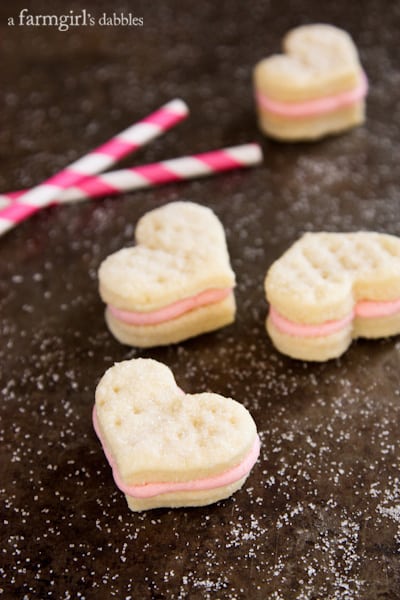 I adapted these Cream Wafer Sandwich Cookies with Strawberry Buttercream from a recipe that is a long-time Christmas tradition in our family. Between my mom and my aunt June, who both kept the sweets platters piled with little cream wafer sandwich cookies during the holidays, there was never a threat of running out of sweet buttery deliciousness.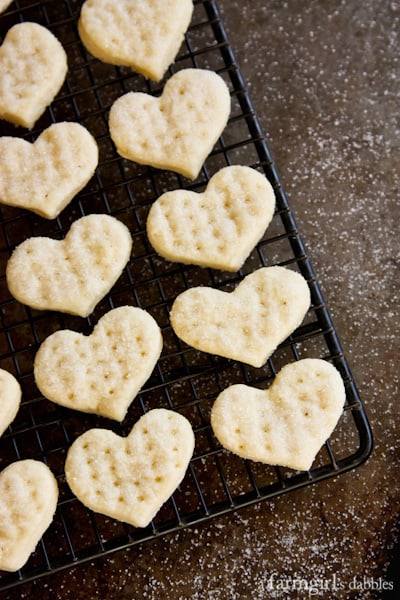 At Christmastime, the sandwich cookies are always in circular form, with a variety of colored icings. But with Valentine's Day right around the corner, I knew I had to try out hearts. With pink frosting. They turned out so sweet!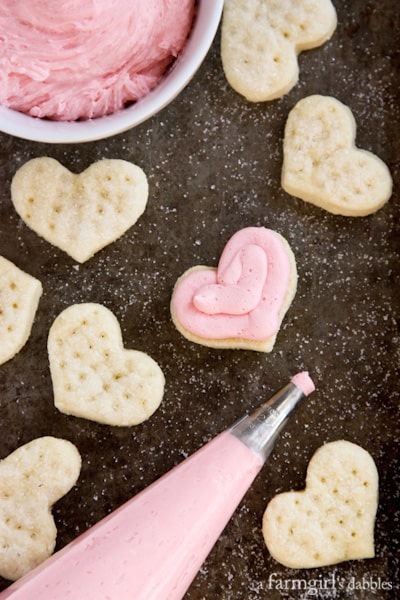 I'm ok with admitting that I ate a bit too much of this strawberry buttercream. Fresh and fluffy, still on the beater, its pretty pink strawberry looks and flavor proved absolutely irresistible.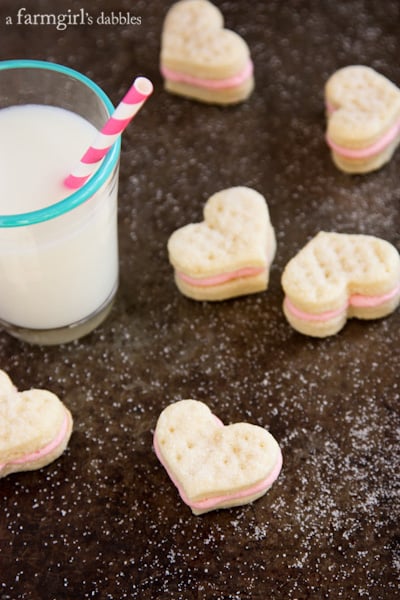 With cold glasses of milk, our daughters happily devoured a couple of these strawberry buttercream filled cookies, while telling me about their day at school. Then Blake, their non-fruity sweets lovin' dad, came home and popped a couple into his mouth, too. He thought these cookies were extra good and said, "They just melt in your mouth". Well, honey, that would be due to all the butter that's packed into this recipe!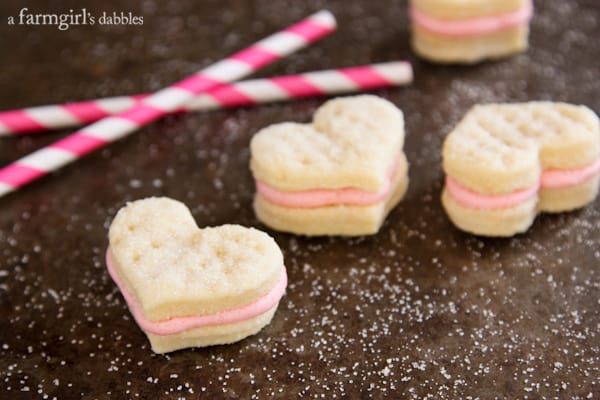 I've always loved Valentine's Day, for both the sentiment of love and for the treats. These little heart shaped cookies would make the sweetest gift, with two or three placed in a small bag, tied shut with a pale pink slippery satin ribbon. I know I'd love to receive them!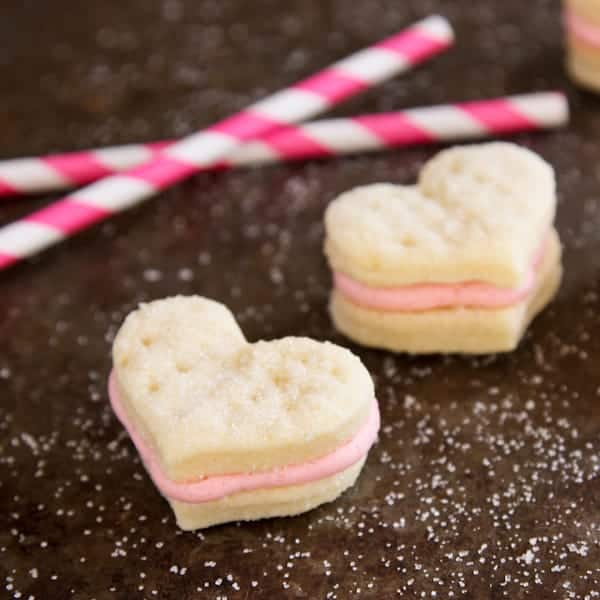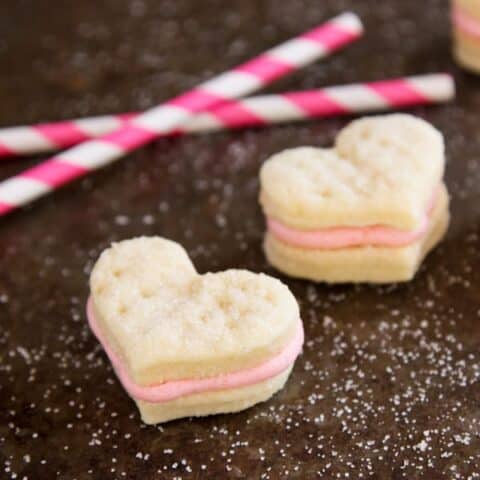 Cream Wafer Sandwich Cookies with Strawberry Buttercream
Yield: 36 small sandwich cookies
Prep Time: 20 minutes
Cook Time: 7 minutes
Total Time: 27 minutes
I adapted these Cream Wafer Sandwich Cookies with Strawberry Buttercream from a recipe that is a long-time Christmas tradition in our family.
Ingredients
for the cream wafer cookies:
2 cups all-purpose flour
1 cup unsalted butter, softened to room temperature
⅓ cup heavy whipping cream
½ cup granulated sugar
for the strawberry buttercream:
½ cup unsalted butter, at room temperature
1½ cups powdered sugar
1 tablespoon strawberry extract
a few drops of pink or red food coloring (I use Americolor gel "Electric Pink")
Instructions
For the cream wafer cookies: In the bowl of a stand mixer, mix flour, butter, and whipping cream until combined. Cover and refrigerate for at least 2 hours.
Preheat oven to 375° F. Add sugar to a separate small bowl and set aside.
Take about one-third of the cookie dough out of the refrigerator, keeping remaining dough refrigerated. On a lightly floured surface, roll out dough to a 1/8" to 3/16" thickness. Cut into hearts or circles with a cookie cutter that is about 1½" wide. Work swiftly, as the dough softens quickly as it warms. With a thin metal spatula, transfer dough wafers to the sugar, turning them over so that sugar adheres to each side - the dough will be tender. Then place dough wafers on an ungreased cookie sheet, about 1" apart.
Prick each dough wafer with a fork about 4 times. Repeat with the rest of the dough, rerolling scraps as needed. After rerolling the dough more than once, the dough will start to lose its shape faster when rolled out and baked, so try to get as many cut-outs as possible out of each initial rolling.
Bake 7 to 9 minutes, or just until set - do not let them brown. Let cool a bit on the pan to set, then transfer to a wire rack to cool completely.
For the strawberry buttercream filling: In the bowl of a stand mixer, beat butter until smooth and fluffy, about 2 minutes. Add powdered sugar and strawberry extract, and beat until smooth and fluffy again, another minute or two. Add a little bit of pink/red food coloring, and mix to combine.
To assemble the cream wafer cookies: Add strawberry buttercream filling to a piping bag fitted with a medium plain tip - or just cut off the end of the piping bag, omit the tip. Pipe a single layer of buttercream onto the back side of one cookie. Top with another cookie and press gently to secure. (If you don't want to use piping bags, you can spoon the filling onto the cookie. This gives a more casual appearance.)
Notes
Cookies store very well frozen in an airtight container, with layers of cookies separated by wax paper or parchment paper.
Adapted from Mom's recipe box, originally from Betty Crocker.
Nutrition Information:
Yield: 36
Serving Size: 1
Amount Per Serving:
Calories: 141
Total Fat: 10g
Saturated Fat: 6g
Trans Fat: 0g
Unsaturated Fat: 3g
Cholesterol: 26mg
Sodium: 2mg
Carbohydrates: 13g
Fiber: 0g
Sugar: 7g
Protein: 1g
Nutrition information is automatically calculated by Nutritionix. I am not a nutritionist and cannot guarantee accuracy. If your health depends on nutrition information, please calculate again with your own favorite calculator.
Looking for more homemade Valentine's Day treats?!