Patsy's Chocolate Covered Cherry Cordials
This post may contain Amazon or other affiliate links. As an Amazon Associate I earn from qualifying purchases.
These Chocolate Covered Cherry Cordials are fun to create, delicious to eat, and make a beautiful joy-filled statement on any holiday platter.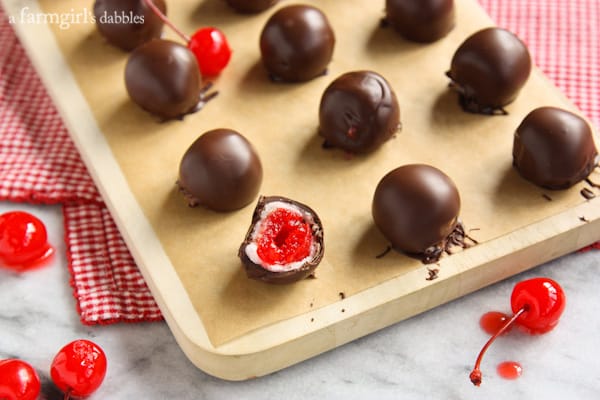 This is one of those recipes that I've been wanting to try fooooooorever. But I've been intimidated to do so. Mom said I was crazy to think I couldn't make these cherry cordials. But I've had very high standards in my head. I mean, have you ever seen my Aunt Patsy's Chocolate Covered Cherry Cordials? They're perfect. Absolutely perfect. Her chocolate covered cherries are gorgeously orb shaped, all neat and tidy, with just the right amount of chocolate shell that cracks when you bite down on them. I've always stared at them in awe whenever my aunt sets out her Christmas platter, turning one over between my fingers several times to take in their perfection before letting my taste buds explore.
But I did it. And you can, too. Just read on for the recipe, a tradition made famous in our family by Aunt Patsy.
[rss-cut]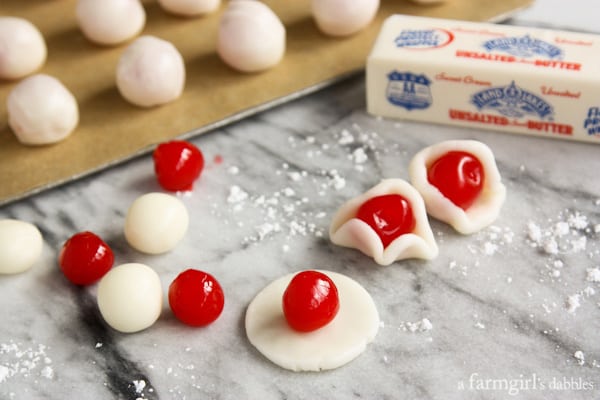 Many chocolate covered cherry cordial recipes let the maraschino cherries soak in some kind of liqueur first (hence the name "cordial"), but this recipe is alcohol-free, for all to enjoy.
A buttery fondant-like dough is created and then wrapped around each individual cherry. The fondant is easy to work, making the process both fun and therapeutic. Tessa chatted happily, rolling the balls of white, while I flattened them and encased the cherries.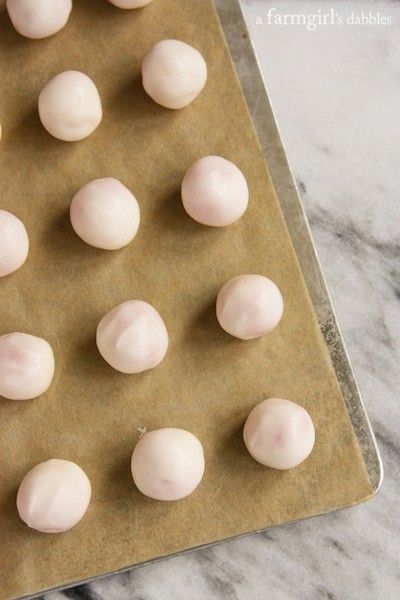 The fondant wrapped cherries are then chilled for at least a few hours. We let them chill overnight, breaking the process down a bit more to accommodate our busy schedules.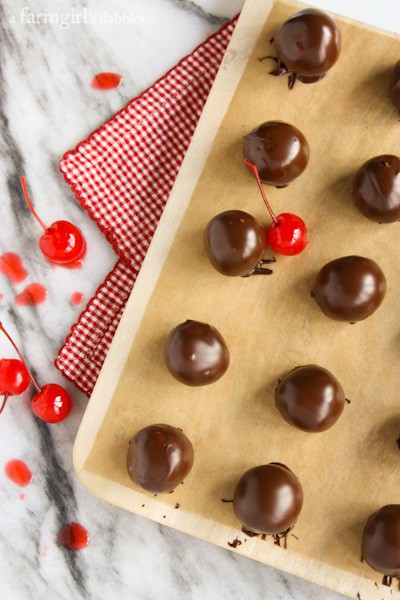 Then chocolate is melted in a double boiler and the fondant wrapped cherries are dipped in, one by one.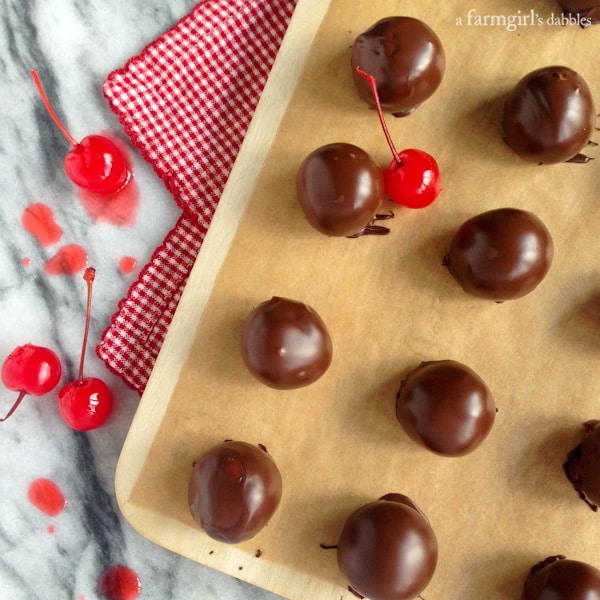 I was elated when these chocolate covered cherry cordials were finished. Although not as perfect looking as Patsy's always are, they were handcrafted-ly beautiful!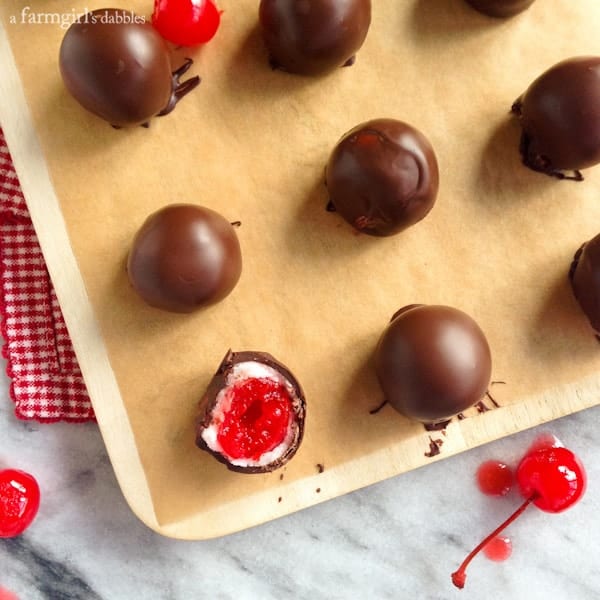 And my first taste?
Sweet and amazing! Just like I remember.
This photo that shows the cherry cordial bitten in half was snapped when the cordials were still a bit chilled. When left to sit at room temperature for awhile, the fondant will become softer, the cherries juicier.
I beg you to not let my intimidation of this recipe rub off on you. Patsy's chocolate covered cherry cordials are fun to make, delicious to eat. And they make a beautiful joy-filled statement on any Christmas sweets platter. And don't forget Valentine's Day. Make them!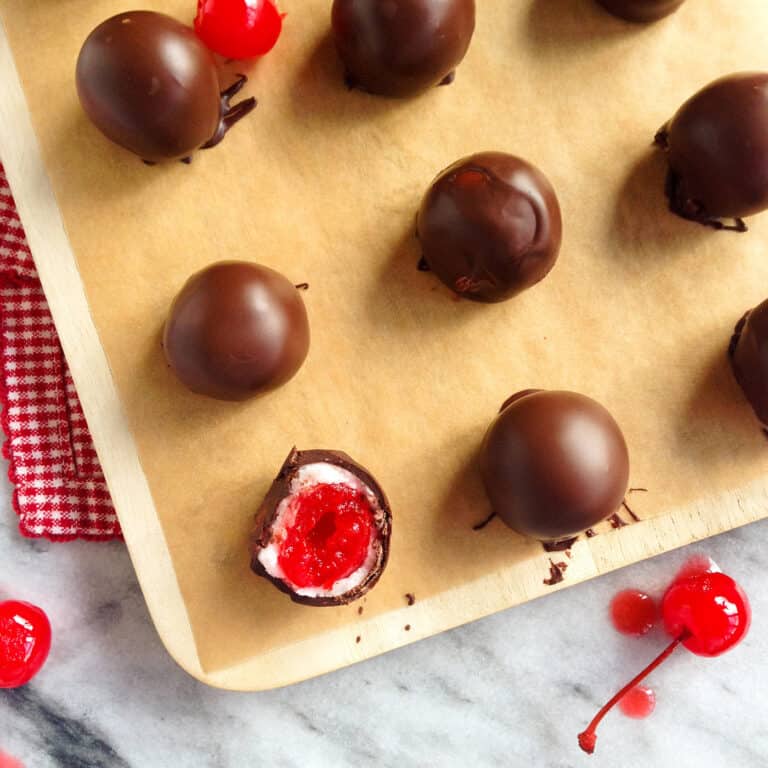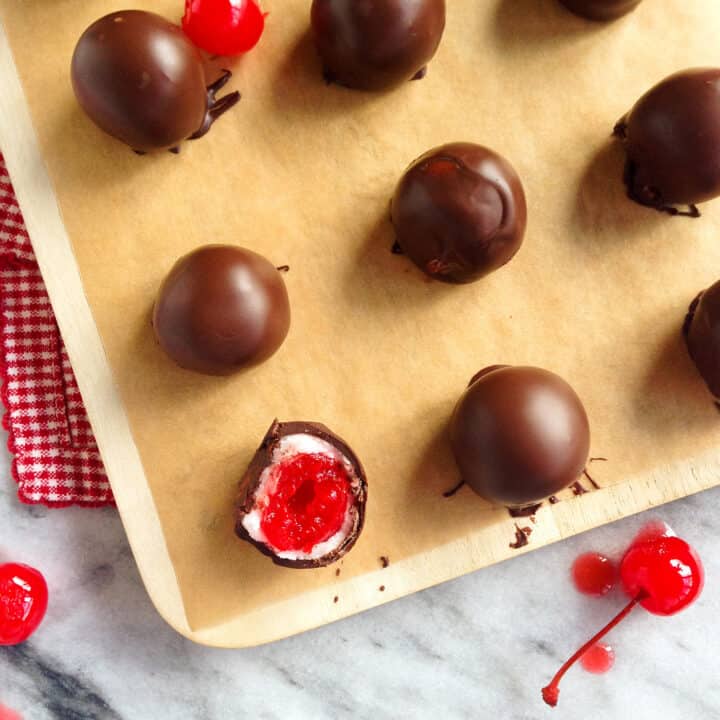 Patsy's Chocolate Covered Cherry Cordials
Sweet and tart, these Chocolate Covered Cherry Cordials are fun to create, even better to eat and make a beautiful joy-filled statement on any holiday platter. They make a beautiful edible gift for Christmas or Valentine's Day, too!
Ingredients
6 tablespoons unsalted butter, at room temperature
6 tablespoons light corn syrup
½ teaspoon kosher salt
4 cups powdered sugar
about 60 maraschino cherries, any stems removed
4 ounces unsweetened chocolate
12 ounces semi-sweet chocolate chips (I use Guittard)
a 1" x 2" x 3/4" piece of paraffin, found in the baking aisle *
Instructions
In a large bowl, mix the butter, corn syrup, salt, and powdered sugar until fully incorporated. Then knead until completely smooth. If the dough is too soft, place it in the refrigerator to chill for a bit.
Flatten a slightly mounded teaspoon of dough into a circle and shape it around each cherry. If you have very large cherries, you will probably need to use a bit more dough.
Place dough wrapped cherries on a wax paper covered cookie sheet. Chill for at least a few hours or overnight.
Drain cherries and place them on a paper towel lined platter to dry. Patsy always uses the cherries without stems. I experimented with both stemmed and stemless. The stemmed cherries take just a tiny bit more time to wrap with the dough, but a bit less time to dip in the chocolate. And they definitely have a different look, making for a really fun presentation. But I decided to make most of mine without the stem, mostly because I knew they would be easier for me to store.
Place chocolates and paraffin in a heatproof bowl set over a saucepan of barely simmering water. Stirring gently, heat until ingredients are about 75% melted. Remove bowl from heat and set on a kitchen towel on the countertop; continue to stir until completely melted.
One at a time, drop a chilled dough-wrapped cherry into the melted chocolate. Use two forks to quickly roll the cherry in the chocolate to cover it completely. Lift chocolate covered cherry out of the chocolate by setting it on top of one fork's tines, and then tapping the fork gently on the side of the bowl, letting excess chocolate drip back into the bowl. Then scrape the bottom of the fork along the rim of the bowl, removing the final excess chocolate.
Set chocolate covered cherry on a wax paper or parchment paper lined pan, using a toothpick to gently scrape it onto the wax paper. Repeat the chocolate dipping process until all chocolate covered cherry cordials are created.
..
These store very well in the refrigerator for a few weeks. Or in the freezer long-term, just be sure to chill them on the wax paper lined pan in the refrigerator first. Then transfer to an airtight container and separate layers with wax paper. To ensure juicy cordials when serving, be sure to remove them from the refrigerator or freezer to let them sit at room temperature for awhile. The cherries will get juicier with time, and having them at room temperature makes them juicier, too.
..
* The original recipe that Patsy uses calls for paraffin. She likes the sheen and the stable quality it gives to the chocolate shell on the cherry cordials, but said she has been reducing the amount she uses over the years. I experimented a bit with reducing the paraffin even more, and using other chocolate mixtures without the addition of paraffin. I really do like the texture and stability of the recipe that I have shared with you here the best, using a smaller amount of paraffin. I also tried a mixture of 1 pound good quality dark chocolate and 2 tablespoons shortening, which still offered a nice sheen. But the chocolate shell was noticeably softer, without the "crack" when you bite into the cherry cordial. Another solution would be to use a mixture of 8 ounces chocolate flavored almond bark and 8 ounces good quality dark chocolate. The almond bark helps to keep the chocolate shell harder, offering some additional stability and a bit of that desirable "crack".
Notes
Adapted from Aunt Patsy's recipe box, originally from her friend and neighbor, Teresa Schiltz.
Nutrition Information:
Yield: 60
Serving Size: 1
Amount Per Serving:
Calories: 93
Total Fat: 4g
Saturated Fat: 2g
Trans Fat: 0g
Unsaturated Fat: 1g
Cholesterol: 3mg
Sodium: 18mg
Carbohydrates: 15g
Fiber: 1g
Sugar: 14g
Protein: 1g
Nutrition information is automatically calculated by Nutritionix. I am not a nutritionist and cannot guarantee accuracy. If your health depends on nutrition information, please calculate again with your own favorite calculator.
We participate in the Amazon Services LLC Associates Program, an affiliate advertising program designed to provide a means for us to earn fees by linking to Amazon.com and affiliated sites. See our
disclosure policy
for more info.