Holiday Guacamole
This easy Holiday Guacamole is a quick and festive appetizer, with a fun mix of savory guacamole and bites of sweet/tart pomegranate seeds, pears, and grapes. Served with your favorite tortilla chips, it's the perfect holiday appetizer!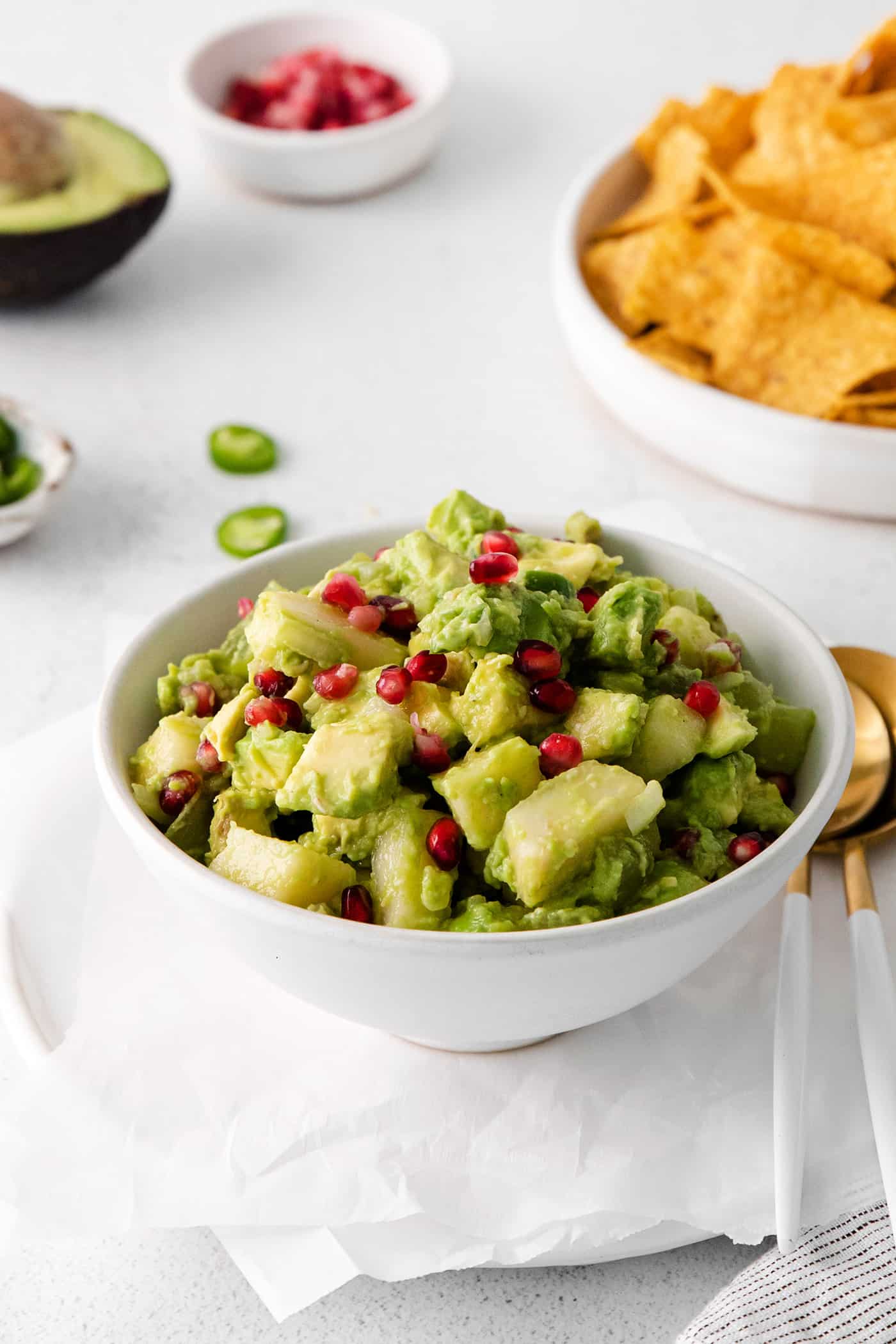 An Easy & Festive Guacamole Recipe
This Holiday Guacamole recipe turns your basic guacamole into a festive holiday appetizer. With bites of green grapes and tender pears, plus tart pops of pomegranate seeds, this guac explodes with fun, unexpected flavor!
And with all that beautiful fresh green and red color, it also looks like it belongs on a holiday table, don't you agree?!
This gorgeous pomegranate guacamole can be whipped up in very little time. Plus, it's always a nice alternative to the many cheesy, carb-loaded holiday appetizers out there. It's light, healthy, and something that even vegetarian and vegan guests can enjoy. A winner all around!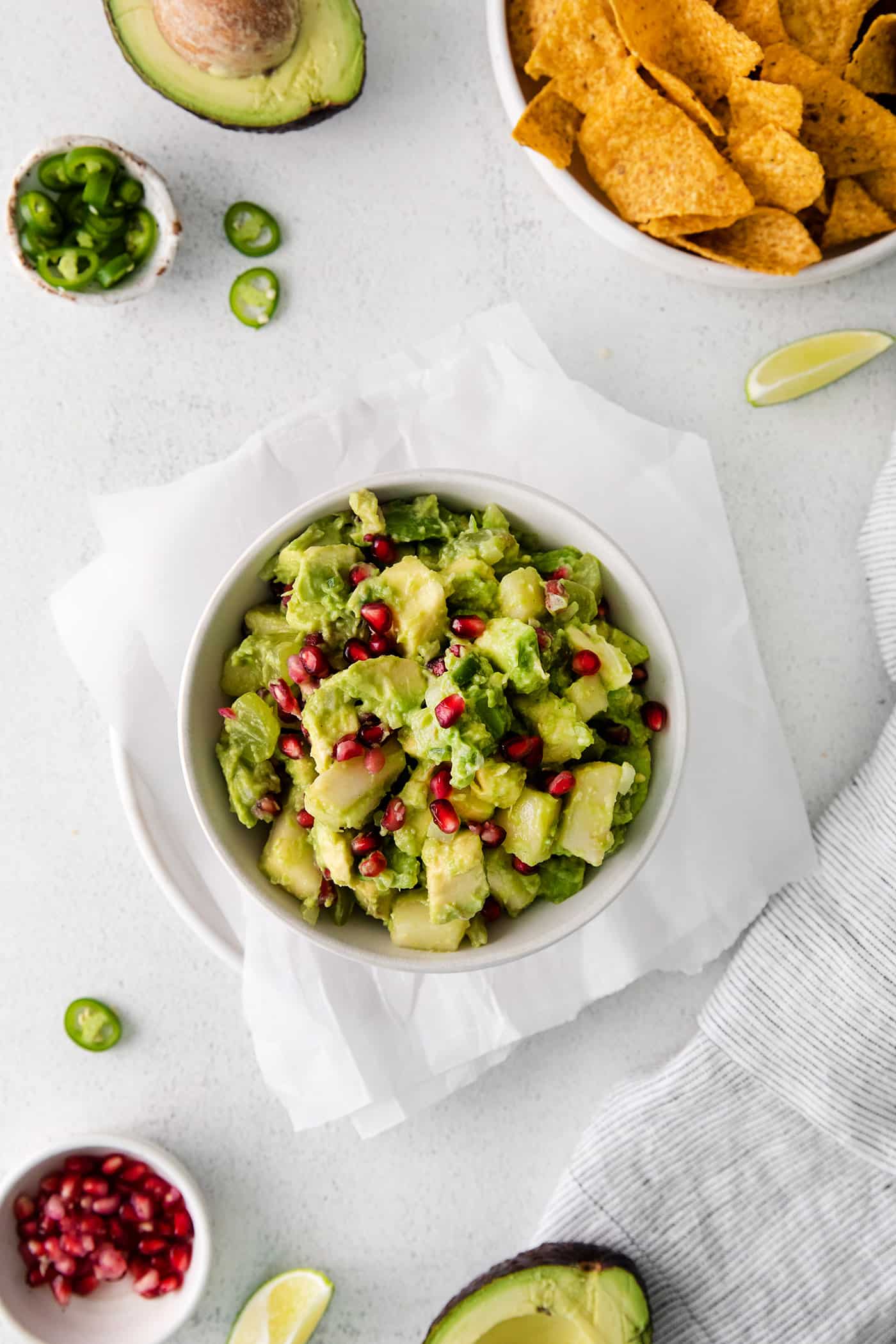 This guacamole recipe is an adaptation of one from Gourmet magazine. And I've been enjoying it for more than 20 years!
I first dipped into this guac at the office, at SALA Architects gatherings. I worked there for over 17 years, and this appetizer is one that I looked forward to at each holiday party and client open house. Jan, the wife of one of the founding principals, was known for creating some pretty amazing food for these events. Her culinary handiwork was such a treat for our office. And this holiday guacamole was my favorite!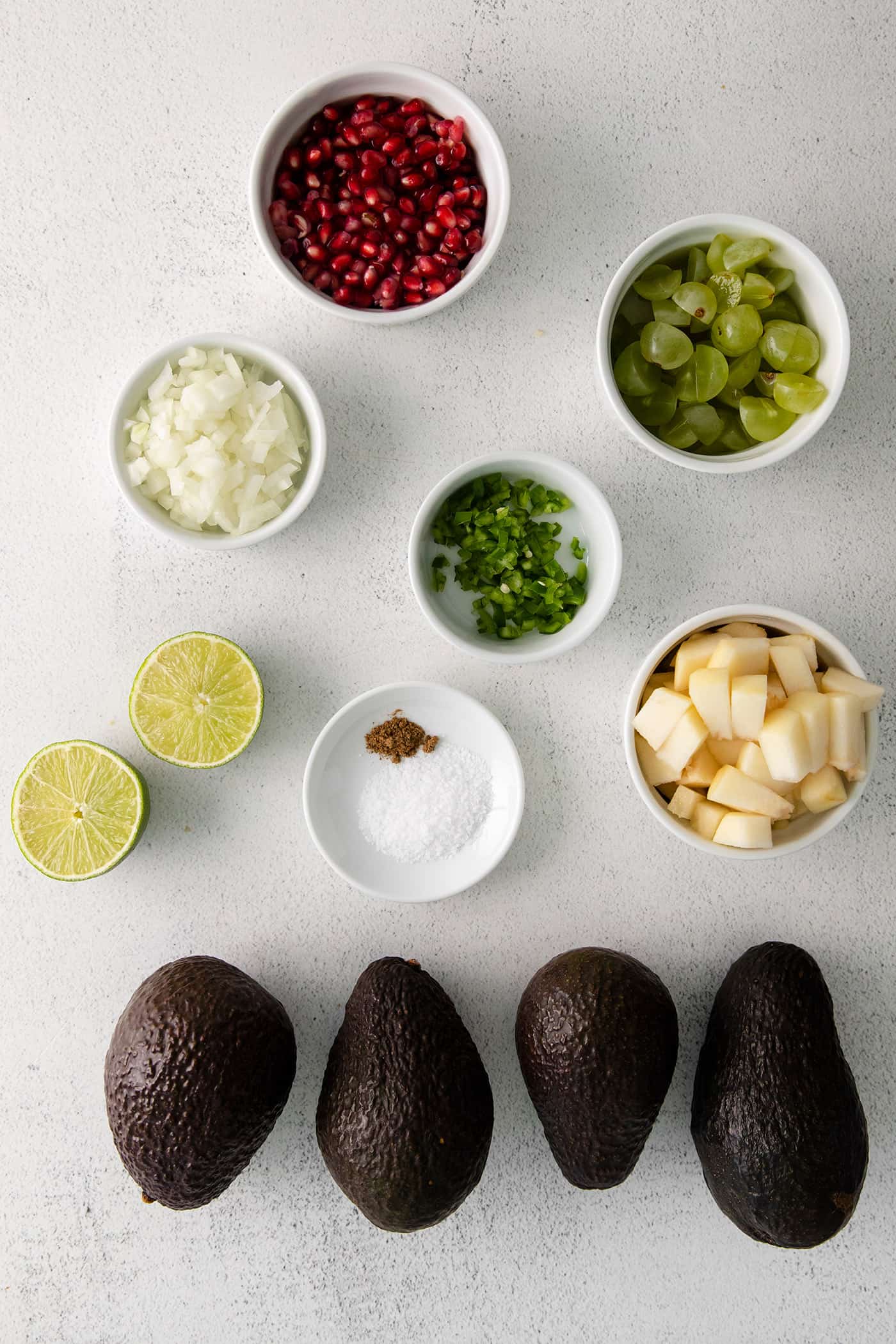 What You'll Need
With a rather short ingredients list, this holiday appetizer is easy to put together!
White onion – Finely chop the onion so it's distributed evenly with the other ingredients.
Serrano chiles – First seed them, and then mince them.
Kosher salt
Cumin – Not included in the original recipe, but I love to add cumin to ALL my guacamoles. So it's a MUST for me!
Avocados – Choose large, ripe avocados. Peel, pit, and chop them for the recipe.
Lime juice – Use only freshly squeezed lime juice for the freshest, best flavor.
Pear – Be sure to use a ripe pear with soft flesh.
Green grapes – Double check that you're buying seedless grapes!
Pomegranate seeds – These are also called pomegranate arils. Either deseed a whole pomegranate or buy a package of arils. I always prefer the flavor of the arils where I deseed the pomegranate myself.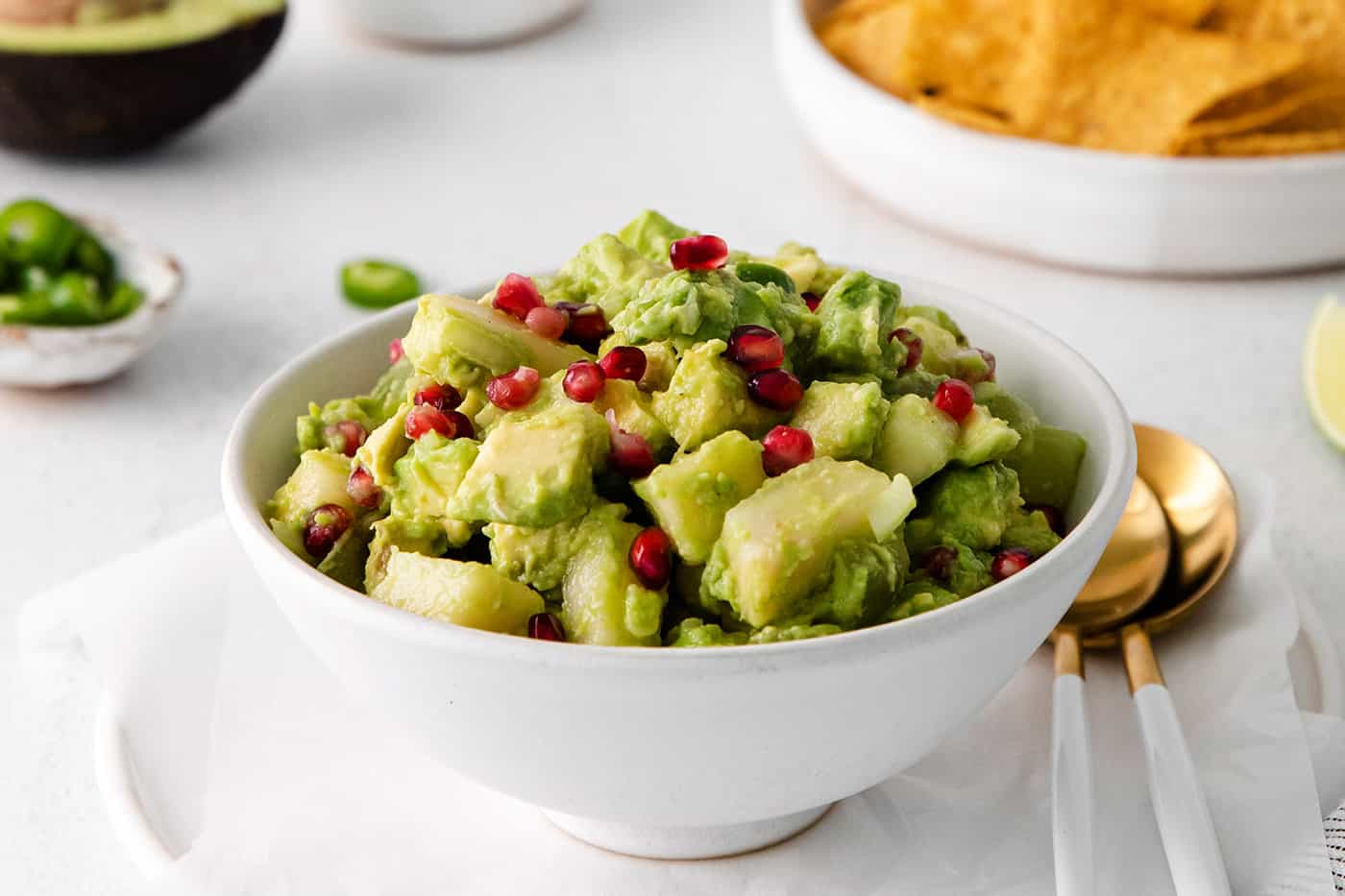 How to Pick Ripe Avocados
The most important part of this festive guacamole – or any guacamole at all – is to use ripe avocados. If you're wondering how to choose the perfect avocado at the store, here are a few tips:
Choose an avocado that yields when you squeeze gently, but isn't too soft. Perfectly ripe avocados have a medium firmness about them. Avocados that are hard and don't give at all are not yet ripe. But squishy means over-ripe and mushy.
Look for a dark color. As long as you're selecting Hass avocados (which is likely), look for a dark green to nearly black color. Light or bright green avocados are usually not ripe.
Feel the skin. Is it smooth or bumpy? Besides having dark green skin, ripe avocados will also have a bumpy texture.
Avoid bruising. If you see any bruises or cuts on the avocado, put it back. It can make the inside of the avocado go bad or at least turn it brown.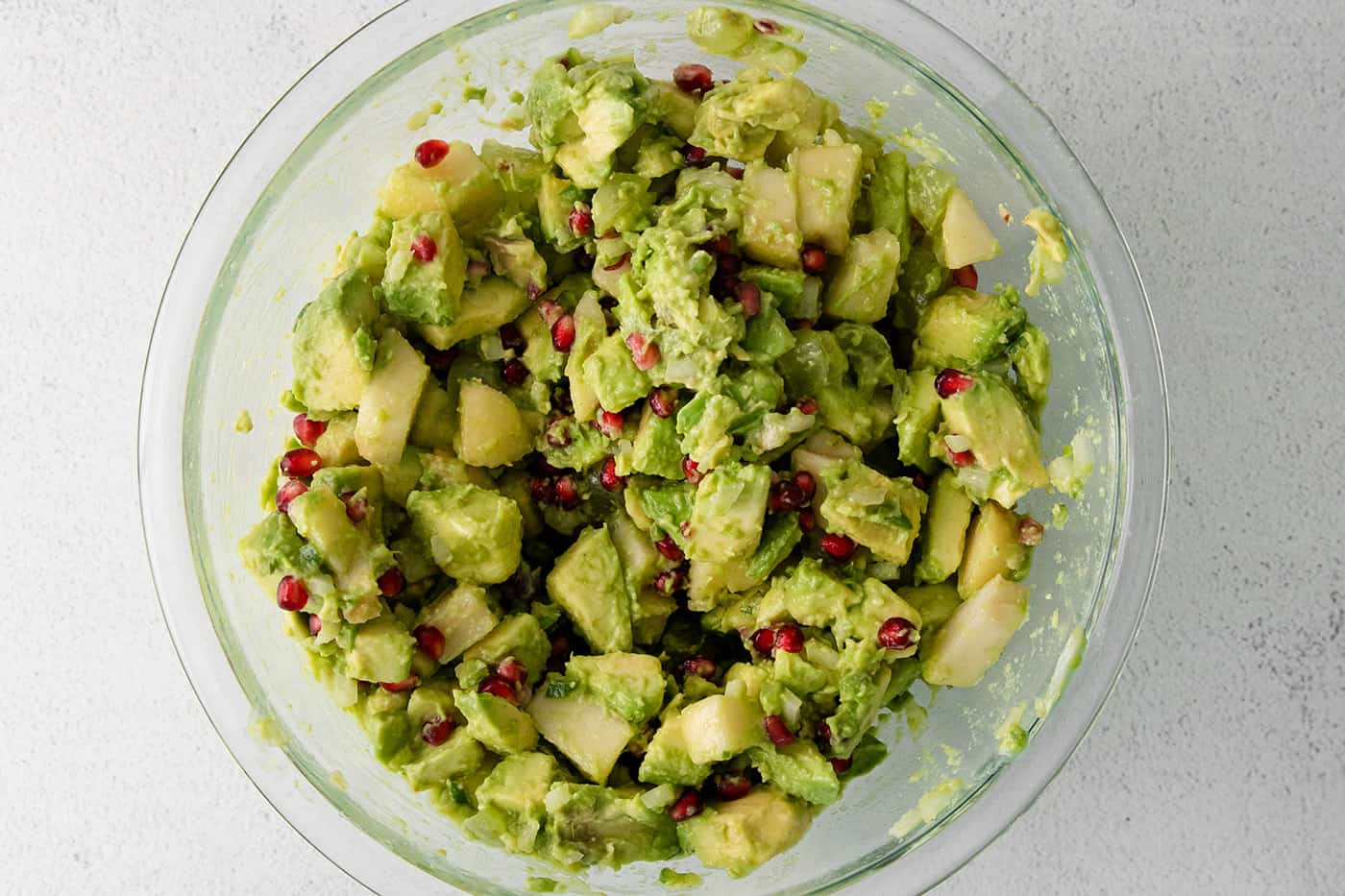 How to Make Holiday Guacamole
The best thing about this pomegranate guacamole? The only thing you need to do is mix everything together!
Combine the ingredients. Combine the onion, chiles, salt, and cumin. Then add the diced avocados and lime juice. Gently fold but don't over mix, so the avocados remain chunky. Fold in the remaining ingredients.
Serve. Garnish with additional pomegranate seeds, for that pretty jeweled effect. Then serve immediately – or cover and chill for up to a couple of hours.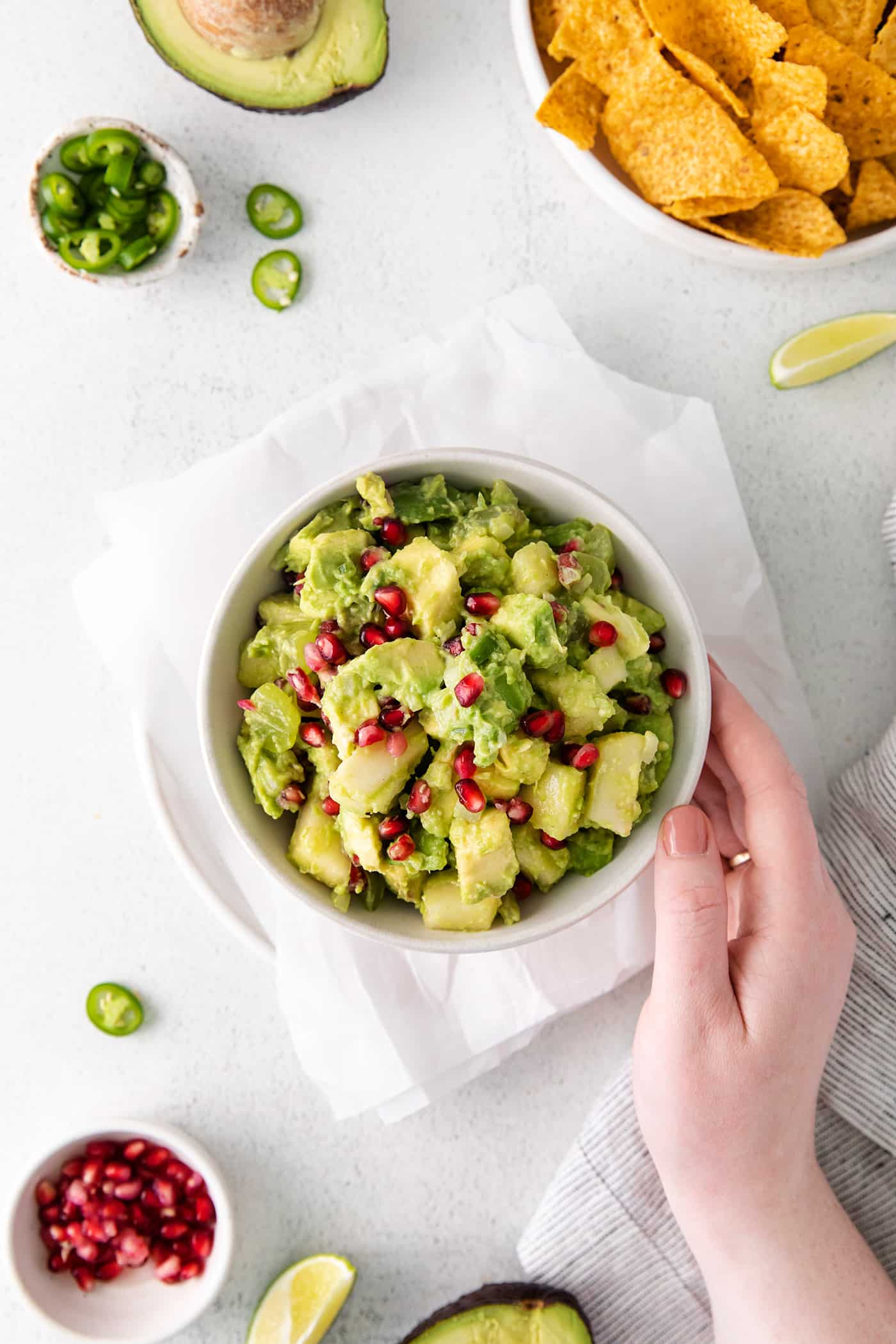 Tips for Success
For the best guacamole, follow these tips.
Use fresh, ripe ingredients. This recipe will only taste as good as the ingredients are! From the avocado to the pears, grapes, and pomegranate, all ingredients should be fresh and ripe. Also be aware to only use pears that are perfectly soft and juicy. Hard pears give this guacamole a texture that is unbecoming.
Add the lime immediately. As soon as you add the avocado, you should add the lime to ensure the avocado is coated in lime juice. This slows the oxidation process and helps to keep the avocado from browning.
Use more or less chiles. It's a good idea to test the chiles before adding them to the guac, as their level of heat can vary. I like to mince the chiles very small, so they get dispersed evenly throughout the whole bowl.
Play around with flavors. Want to switch up the flavors of pomegranate guacamole? Try adding some crumbled feta cheese or queso fresco. You could also add fresh cilantro, parsley, or garlic. Freshly ground black pepper is also good!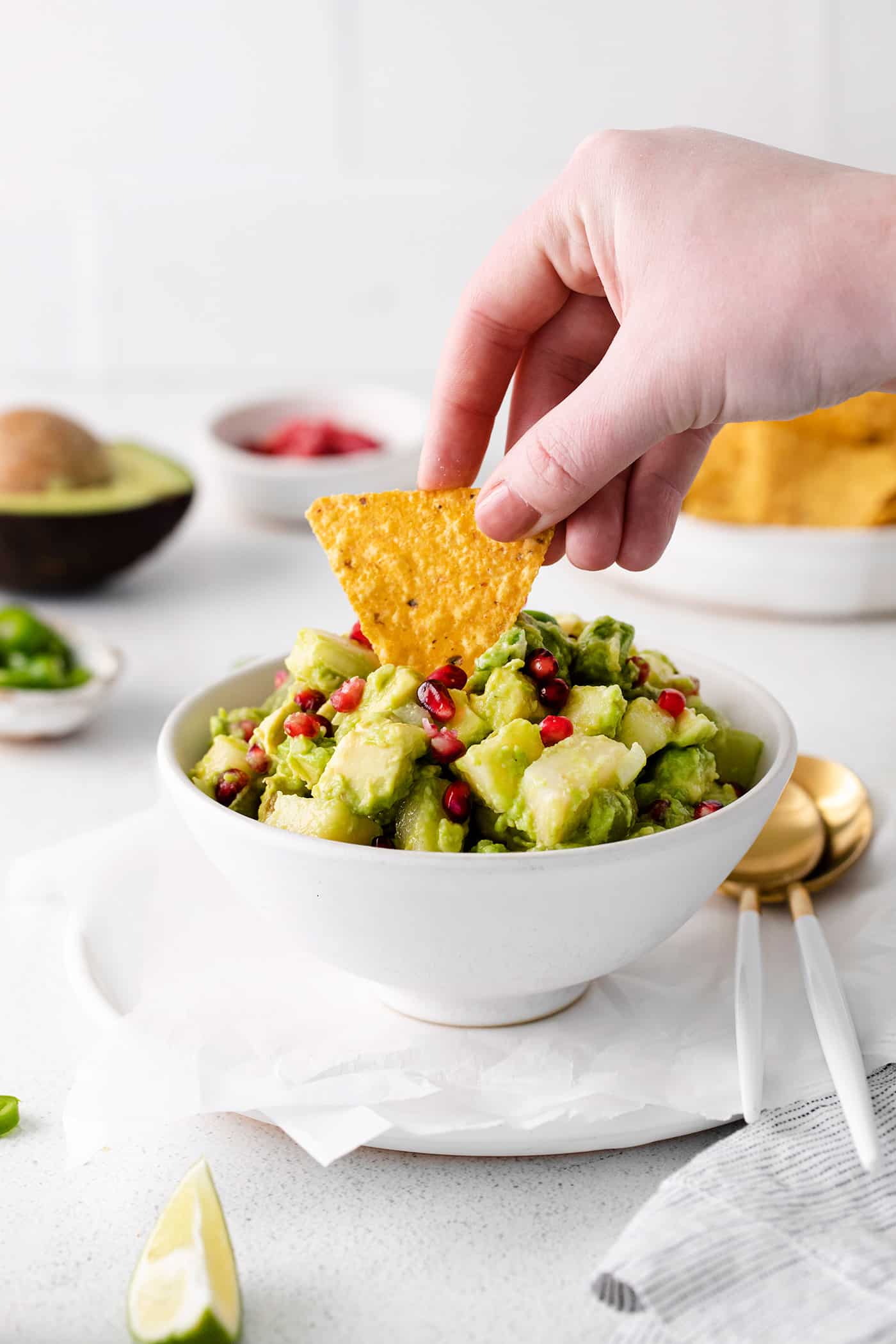 Serving Suggestions
Keep your holiday guacamole chilled in the fridge until it's time to serve. You can keep it simple and serve with just tortilla chips or a favorite crisp cracker (we really like the sweet potato crackers from Trader Joe's!). Pita chips are another good option. This is a great recipe to share as an appetizer for the table or on a party buffet. Just don't be surprised to see people hovering around the bowl. It'll disappear fast!
Of course, you should also keep this guac in mind when serving any kind of taco meal. This is a great winter guacamole, and is wonderful alongside a meal of carnitas tacos!
How to Store
Holiday guacamole is best served within a couple hours, or at least the day it's made. However, when stored properly, you can keep guacamole in the fridge for up to 2 days. Place it in a container and cover with plastic wrap, pressing the plastic down on top of the guacamole to prevent air from getting in. This will slow down the oxidation process so the avocado doesn't brown as quickly.
Like this recipe? Save it to Pinterest!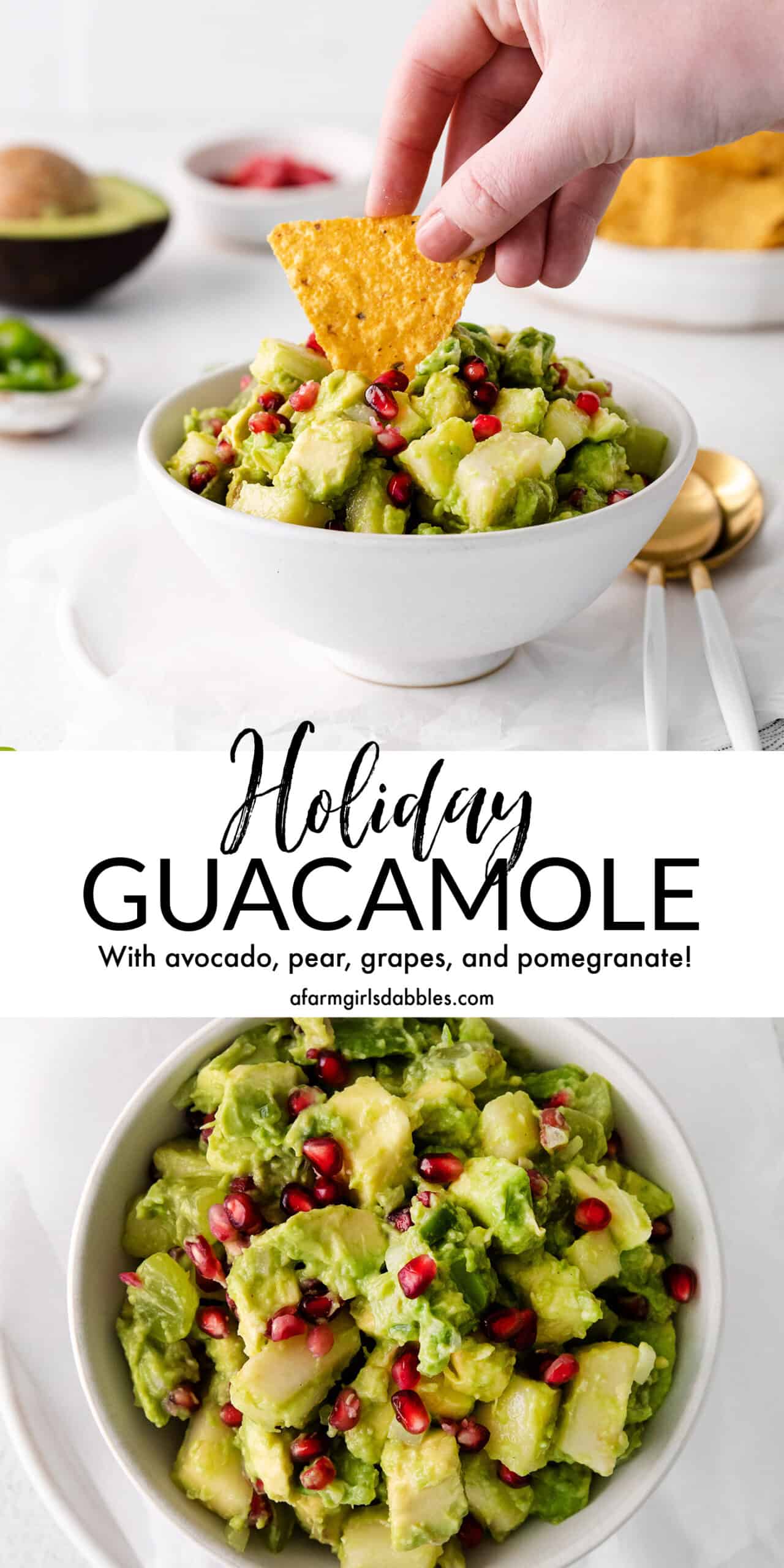 More Holiday Appetizer Ideas: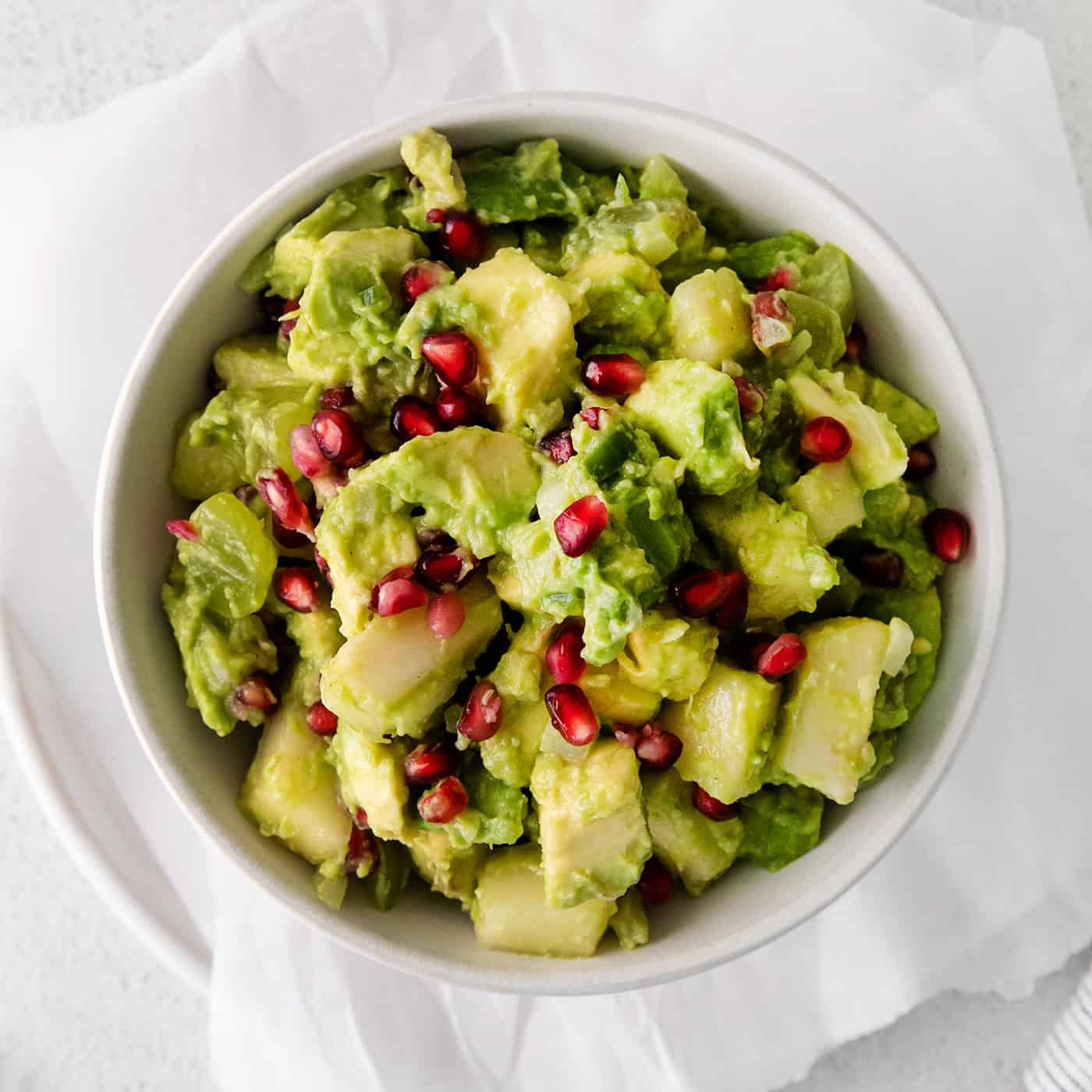 Holiday Guacamole
Yield: 8 servings
Prep Time: 20 minutes
Total Time: 20 minutes
Made with pomegranate seeds, pears, and grapes, this easy Holiday Guacamole is a quick and festive appetizer. Serve with tortilla chips for an addictive snack or appetizer!
Ingredients
1/3 cup finely chopped white onion
1 to 2 tablespoons seeded and minced serrano chiles
1 teaspoon kosher salt
1/4 teaspoon cumin
4 large avocados - peeled, pitted, and chopped
3 tablespoons freshly squeezed lime juice
3/4 cup peeled, cored, and finely diced pear - be sure to only use a ripe pear with soft flesh
3/4 cup quartered seedless green grapes
3/4 cup pomegranate seeds, plus a bit more for garnish
Instructions
In a medium bowl, combine the onion, chiles, salt, and cumin. Add the avocados and lime juice, and gently fold a few times to incorporate. You want the avocados to remain chunky. Then fold in the pear, grapes, and pomegranate.
Garnish with additional pomegranate seeds and serve with tortilla chips. Enjoy immediately or cover tightly and chill for up to a couple hours.
Nutrition Information:
Yield: 8
Serving Size: 1
Amount Per Serving:
Calories: 216
Total Fat: 15g
Saturated Fat: 2g
Trans Fat: 0g
Unsaturated Fat: 12g
Cholesterol: 0mg
Sodium: 167mg
Carbohydrates: 23g
Fiber: 9g
Sugar: 10g
Protein: 3g
Nutrition information is automatically calculated by Nutritionix. I am not a nutritionist and cannot guarantee accuracy. If your health depends on nutrition information, please calculate again with your own favorite calculator.