Pickled Squash
Pickled Squash has a fresh texture and a spicy kick. The refrigerator pickles come together in just a few minutes, with no special canning equipment needed!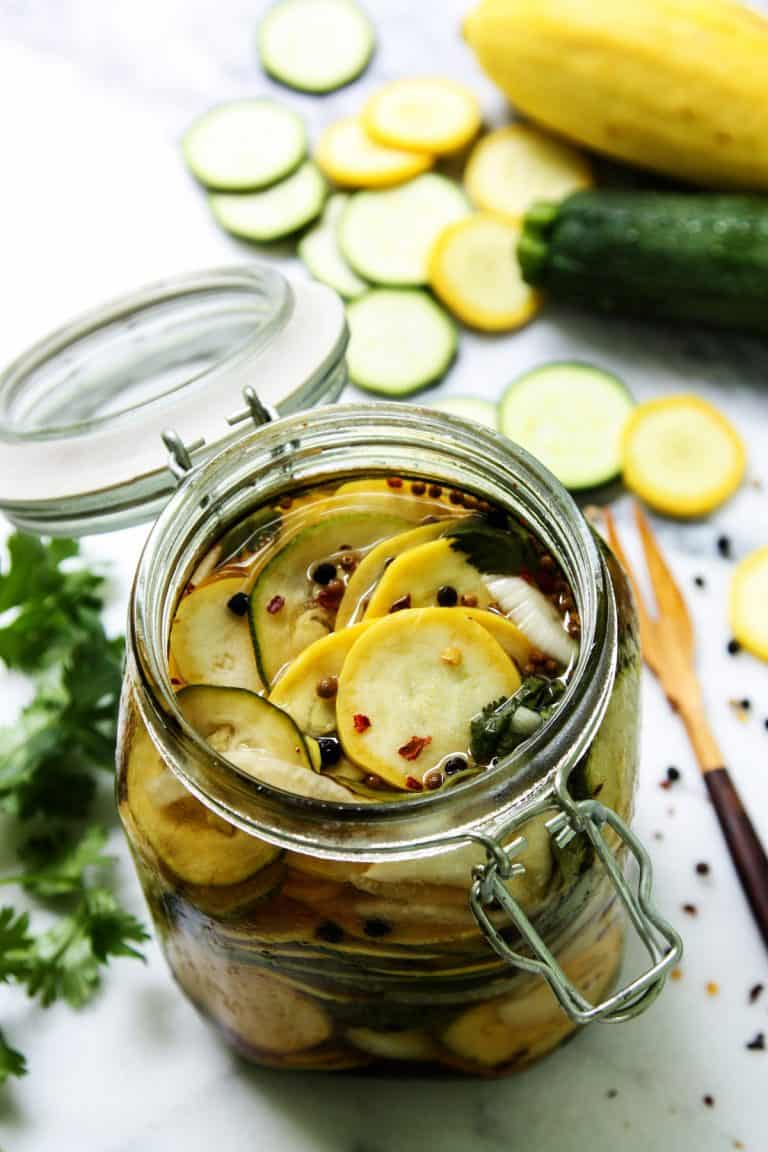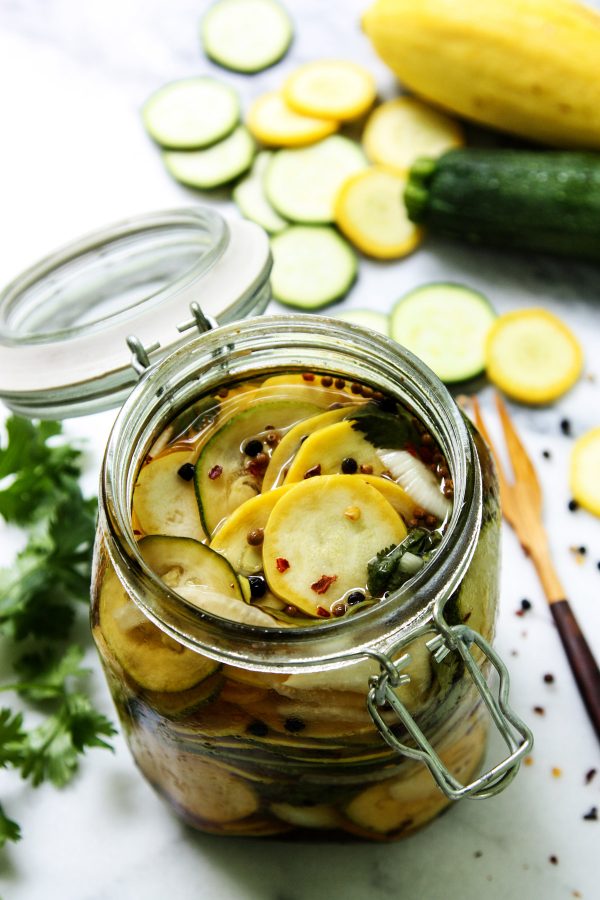 My Favorite Pickled Squash Recipe!
To say that I am smitten with this recipe for Pickled Squash would be an understatement.
I love everything about it.
First of all, it is so easy to prepare these fun little slices.
And second, they have a wonderful fresh texture and flavor, with a bonus spicy kick.
I've added this recipe to my annual summer recipe roster. It's an awesome way to enjoy the fresh bounty of summer squash, in a whole new spunky kind of way. Grab this recipe and get started!
Here are a few more quick and easy refrigerator pickles recipes I'm loving right now: This mixture of Pickled Vegetables is definitely a favorite of mine. I am rarely without a jar of these Pickled Red Onions in the fridge. And these Refrigerator Sweet Pickles – a MUST for my Slow Cooker Sloppy Joes!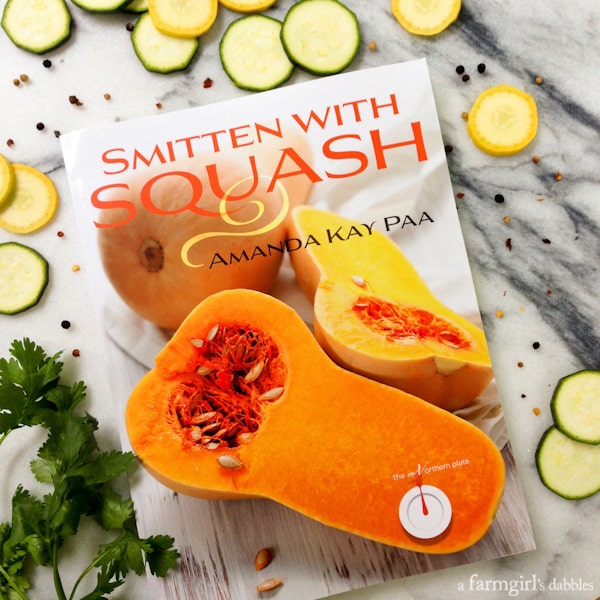 Do you know Amanda Paa from Heartbeet Kitchen? She is a friend of mine from here in Minnesota, known for her gluten-free cooking and baking. She is a bubbly, sweet person with a signature beaming smile and tinkly laughter.
If you like squash, I recommend you check out Amanda's book Smitten with Squash.
In between its covers, Amanda shares her passion for cooking with fresh ingredients, and specifically with her beloved squash. Amanda's sunny manner shines through on every page.
Along with a host of wonderful recipes, Amanda includes a bit of history from the Cucurbit (my new favorite word!) plant family of hundreds of varieties of squash and helpful kitchen tips. All of the recipes include both regular and gluten-free instructions.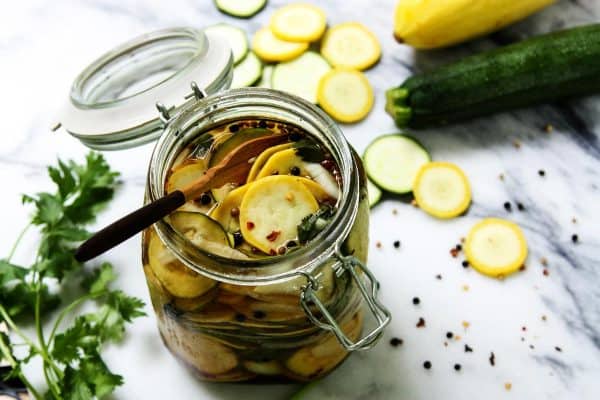 How to make pickled squash
I had never pickled squash before.
When I opened my copy of Smitten with Squash for the first time, I went straight to the section on summer squash because "tis the season". It didn't take me long to flag half a dozen recipes to try.
First up was this refrigerator pickle recipe for spicy squash pickles.
This recipe is SO EASY to make. I like to use this mandoline, for quick and uniform slices. A simple brine is heated on the stove top and then poured over the yellow squash and zucchini slices. And that. is. all. REALLY! It's that easy.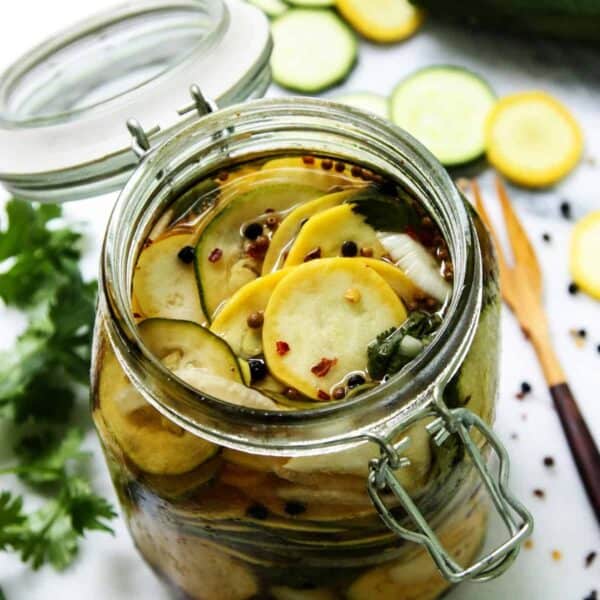 Refrigerator pickles are a fresh treat
This refrigerator pickle recipe turned out to be such a treat! If you're looking for a super easy recipe to add a little fun to your next summer spread, definitely give this pickled zucchini recipe a try.
Blake doesn't really care for all my pickling experiments, and I'm ok with that. But it was fun to come across a recipe that he actually dug into the jar for more than the required I-tasted-it-so-now-leave-me-alone taste test. He liked these squash pickles a whole lot. I see a few more jars in our future before summer ends.
Here are a few more easy pickle recipes I'd like to try: These Pickled Green Tomatoes from Mama Loves Food sound awesome. And Spicy Dill Refrigerator Pickles from All Day I Dream About Food and Easy Refrigerator Bread and Butter Pickles from That Skinny Chick Can Bake look worthy of my pickle-dreams-come-true!
Like this recipe? Save it to Pinterest!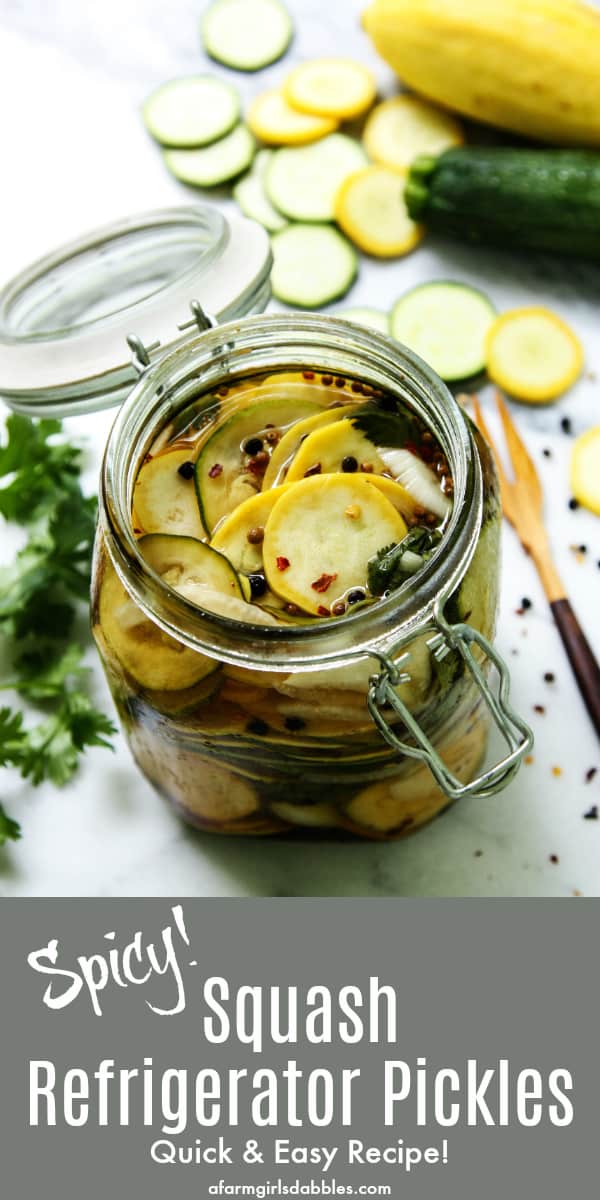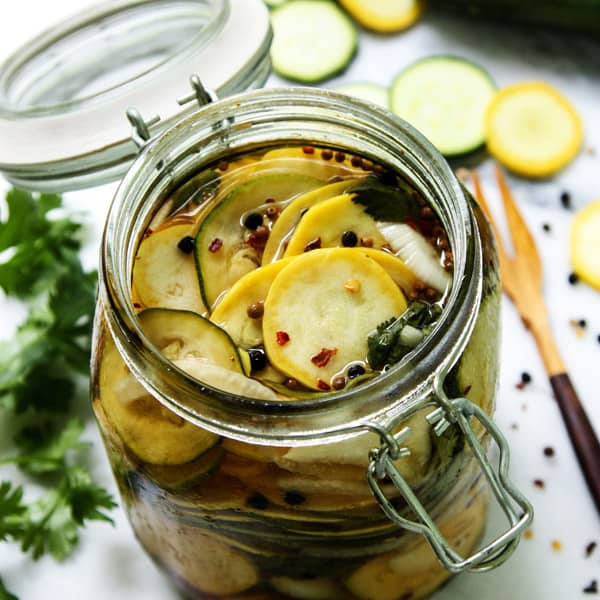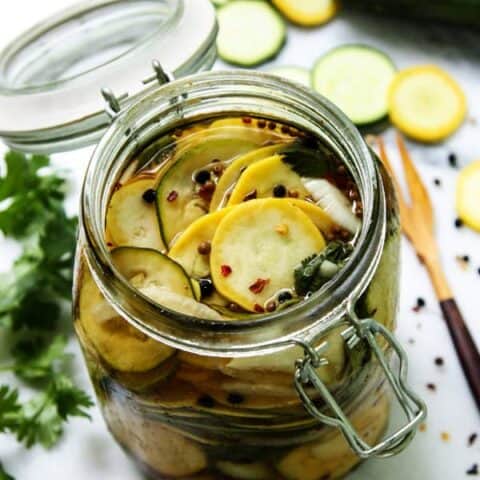 Pickled Squash
Yield: 24 servings
Prep Time: 20 minutes
Cook Time: 5 minutes
Total Time: 25 minutes
Pickled squash slices have a fresh texture and a spicy kick. The refrigerator pickles come together in just a few minutes, with no special canning equipment needed!
Ingredients
9 sprigs fresh cilantro
3 large cloves garlic, halved
3 tsp. mixed peppercorns
1-1/2 tsp. coriander seeds
3 tsp. crushed red pepper flakes
1-1/2 lbs. yellow squash and zucchini, sliced into thin rounds.
1/3 c. thinly sliced sweet onion
1-1/4 c. apple cider vinegar
1-1/4 c. water
2 tsp. kosher salt
2-1/2 T. honey
Instructions
To slice the yellow squash and zucchini, I highly recommend this mandoline. It features simple adjustments, for ultra thin or thick slices. The blade is super sharp and creates perfect slices FAST! This is one of my very favorite tools.
In a large glass jar or bowl that holds about 2 quarts, add the cilantro, garlic, peppercorns, coriander, red pepper flakes, zucchini, and onion. Set aside.
In a small saucepan over medium-high heat, bring vinegar, water, salt, and honey to a boil. Pour hot mixture over contents in the jar, pressing down on the vegetables so that brine covers them completely. Let cool on the counter to room temperature. Cover and refrigerate for at least 4 hours, or 2 days for maximum flavor. Keeps in refrigerator for 2 months.
Note: Amanda's recipe calls for using 3 pint-size jars and dividing the cilantro, garlic, peppercorns, coriander, red pepper flakes, squash, zucchini, and onion evenly amongst the three jars before pouring the hot brine into the jars. I altered the recipe to make just one larger 2-quart jar.
Recommended Products
As an Amazon Associate and member of other affiliate programs, I earn from qualifying purchases.
Nutrition Information:
Yield: 24
Serving Size: 1
Amount Per Serving:
Calories: 36
Total Fat: 0g
Saturated Fat: 0g
Trans Fat: 0g
Unsaturated Fat: 0g
Cholesterol: 0mg
Sodium: 199mg
Carbohydrates: 9g
Fiber: 1g
Sugar: 7g
Protein: 1g
Nutrition information is automatically calculated by Nutritionix. I am not a nutritionist and cannot guarantee accuracy. If your health depends on nutrition information, please calculate again with your own favorite calculator.
(This post was originally published in 2014, and remains one of my favorite quick pickled recipes. I updated some of the photos and text in 2018.)
SaveSave