Slow Cooker Hungarian Goulash
This post may contain Amazon or other affiliate links. As an Amazon Associate I earn from qualifying purchases.
This Slow Cooker Hungarian Goulash is a humble stew loaded with chunks of tender, melt-in-your-mouth beef and vegetables. It features a rich, beefy broth flavored with sweet paprika – authentic comfort food at its best!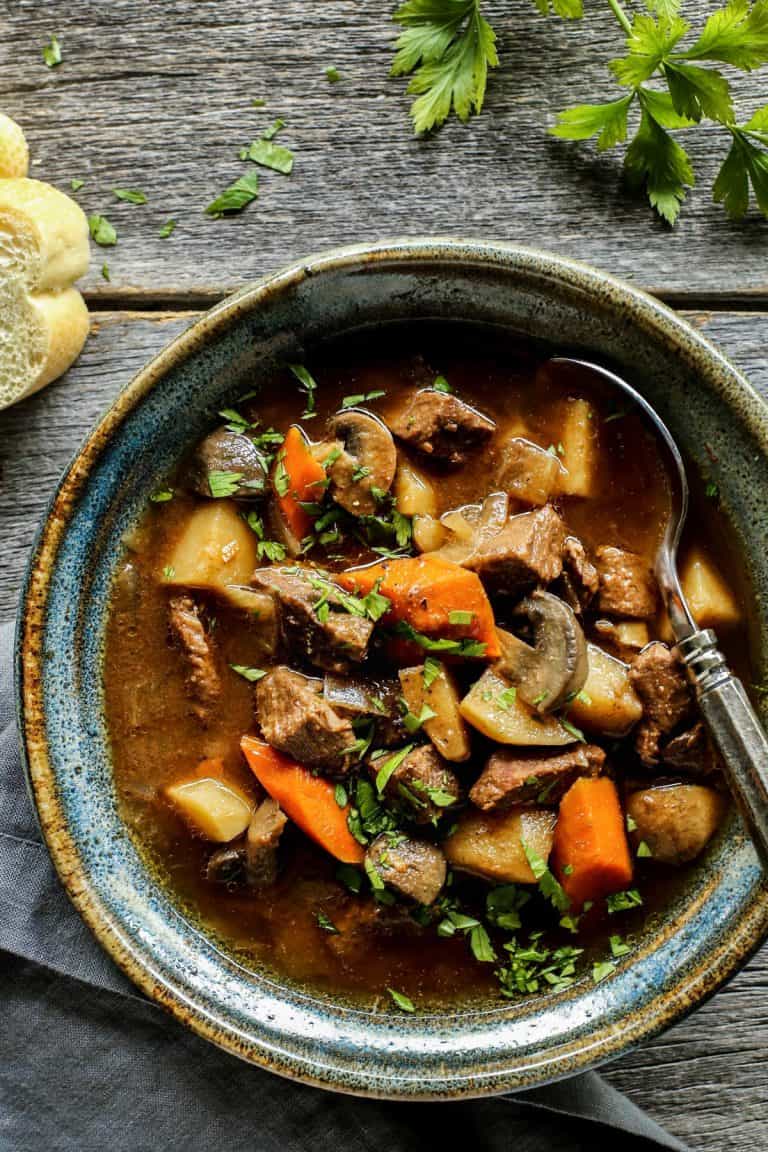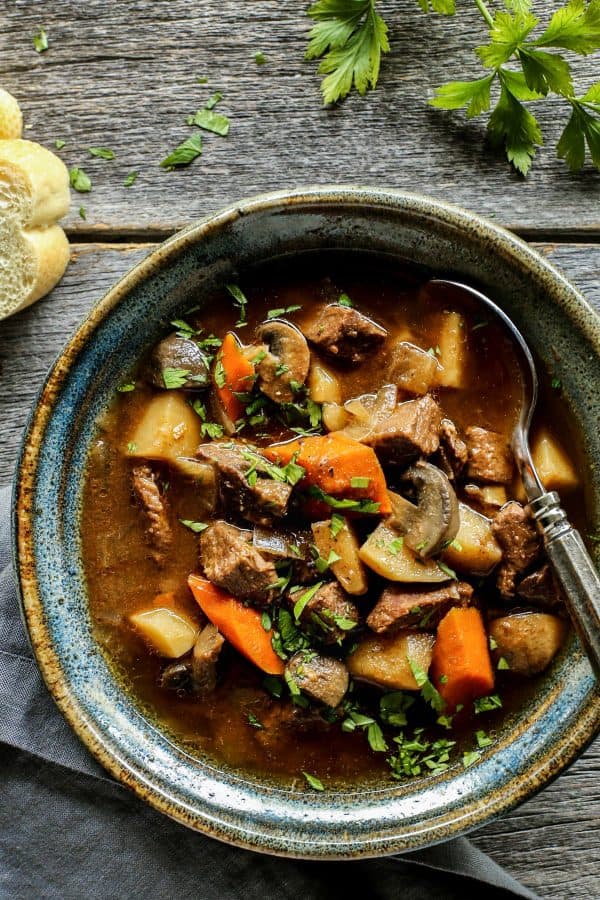 Authentic Hungarian Beef Goulash
A while back, Mom shared a recipe with me for Hungarian goulash. She said that it tasted very similar to the beef goulash they ate in Hungary while they visited my sister's family in Romania. I tucked the copy away with my pile of saved recipes, knowing that some day I'd give it a try.
When I was craving a comfort meal recently, I studied that goulash recipe Mom gave me years ago. Her handwritten notes told how she had altered the recipe to better mimic the bowls of stew they had enjoyed in Hungary.
I also asked my sister Cheryl about her own Hungarian goulash recipe memories, as I knew her family ate this stew regularly while they lived in that area. Cheryl embellished upon Mom's recipe notes and then gave me a little background on how they used to enjoy goulash.
I have since created this recipe for Slow Cooker Hungarian Goulash. It's hearty, rich in beef flavor, and oh-so comforting – absolutely perfect for a chilly day.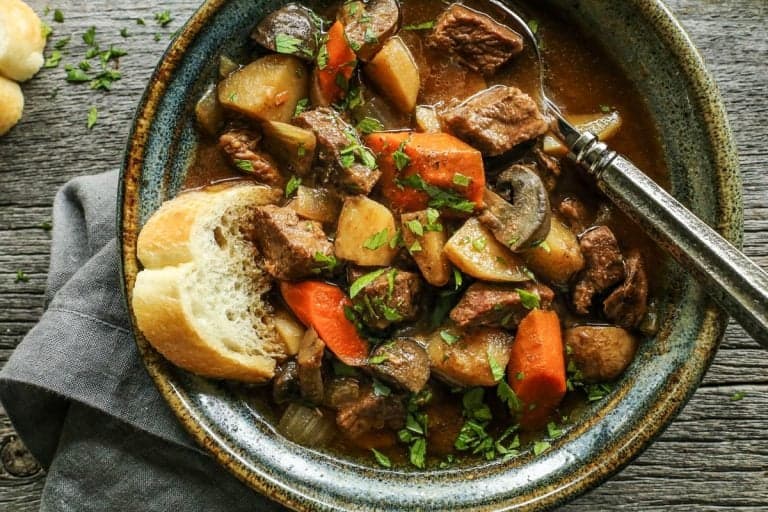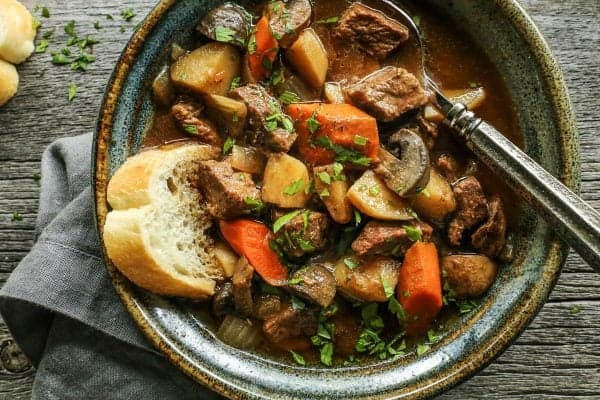 My Family's First Taste of Hungarian Goulash
My sister and her husband Dave and two young kids lived in Oradea, Romania for two years. Cheryl shared that whenever they traveled from the airport in Budapest, Hungary to Oradea, they would stop at a certain small roadside panzió (Hungarian for boarding house, small hotel, or bed and breakfast) along the way for a bowl of their hot goulash.
Romanian friends had recommended this particular panzió to Cheryl and Dave. The owners cooked the goulash in a large cast iron pot over the fire (the most authentic way to make goulash), and then served the humble stew with loaves of fresh, crusty bread for dunking and swiping up every last drop of goodness.
I asked Mom and Cheryl to send me a few pictures from the time they spent together visiting Budapest and Vienna, Austria that summer, when my parents ate their first Hungarian goulash. I am sharing a few of those photos after the recipe, if you'd like to take a look.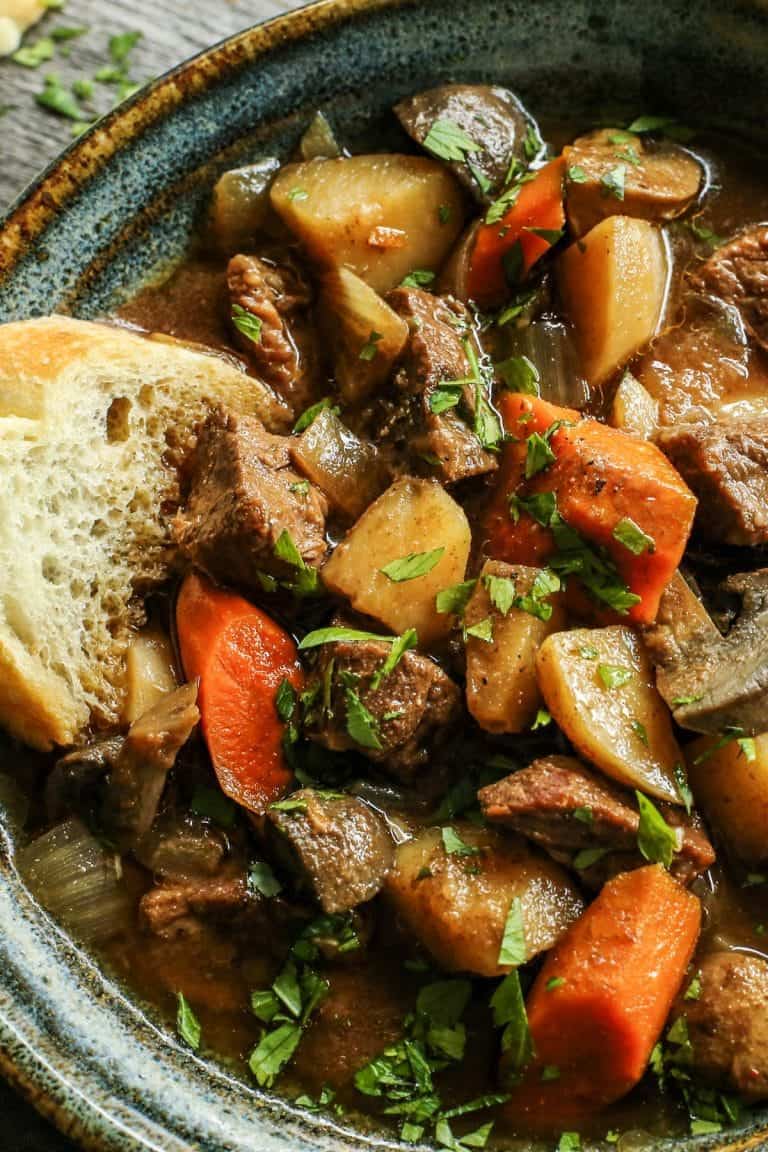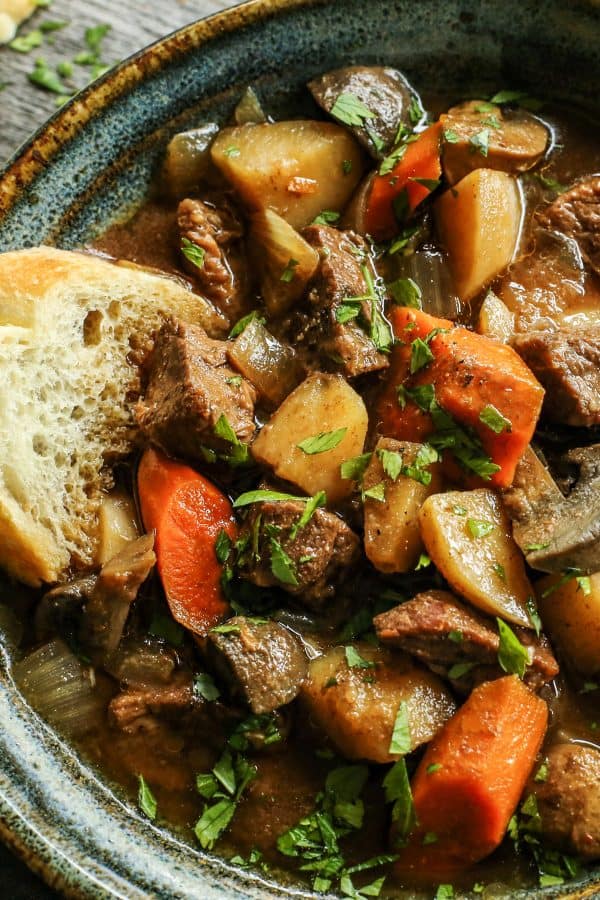 What is Goulash?
Goulash is a simple stew of beef and vegetables, with a good dose of Hungary's trademark paprika.
Its origin can be traced back to the 9th century, to stews eaten by Hungarian shepherds. The name originates from the Hungarian gulyás. The word gulya means 'herd of cattle' in Hungarian, and gulyás means 'herdsman' or 'cowboy'.
Goulash is a common meal of Central Europe, and one of the national dishes of Hungary. Hungrian goulash is different from American goulash as well. The American version usually has noodles, whereas the Hungarian version focuses more on meat and potatoes, and is also spiced with paprika.
Recipe Ingredients
Beef Chuck Roast, cut into cubes
Carrots, cut into thick slices
Red Potatoes, cut into cubes
Mushrooms, quartered
Yellow Onion, chopped
Garlic, minced
Beef Broth – I recommend a low-sodium broth, so you can control the amount of salt.
Tomato Paste – Just a little bit adds rich flavor to this dish!
Worcestershire Sauce – This adds beautiful depth to the beef flavor.
Hungarian Sweet Paprika – I know the amount seems like alot, but just trust me!
Brown Sugar
Dry Mustard
Salt & Pepper
How to Make Hungarian Goulash
This stew could be simmered for hours on the stovetop – or in a big kettle over an open fire, if you want to be truly authentic.
But I chose to let the slow cooker do the work!
Here's how to make this SUPER EASY Hungarian Goulash recipe:
Place beef in slow cooker, and then cover with carrots, potatoes, mushrooms, onion, and garlic.
In a bowl, whisk together the remaining ingredients and then add mixture to the slow cooker, stirring to combine.
Cover slow cooker and cook on high for 4 to 6 hours, or until beef is ultra tender.
Tips for the Best Slow Cooker Hungarian Goulash
This is a simple dish and I have just a few simple tips for you!
Use a flavorful cut of beef. An inexpensive cut is best – beef chuck is my #1 choice. It's full of flavor and the slow cooker will magically transform this otherwise tough cut of meat into irresistible, fork-tender bites of beefy heaven. If you can't find chuck, top round would be my second choice.
ALWAYS include Hungarian paprika! There are many different kinds of paprika, but I always look for "Hungarian sweet paprika" for this recipe. If you use a spicier paprika, you will probably want to cut back on the quantity (unless you LOVE all things SPICY!).
Don't skimp on the cook time. The slow cooking process produces a stew with an intense, well-rounded flavor and fabulously tender chunks of beef. My recipe states a cook time of 4 to 6 hours – and while it usually doesn't take 6 hours for the beef to become fork-tender, I always allow that time to ensure the best flavor and texture.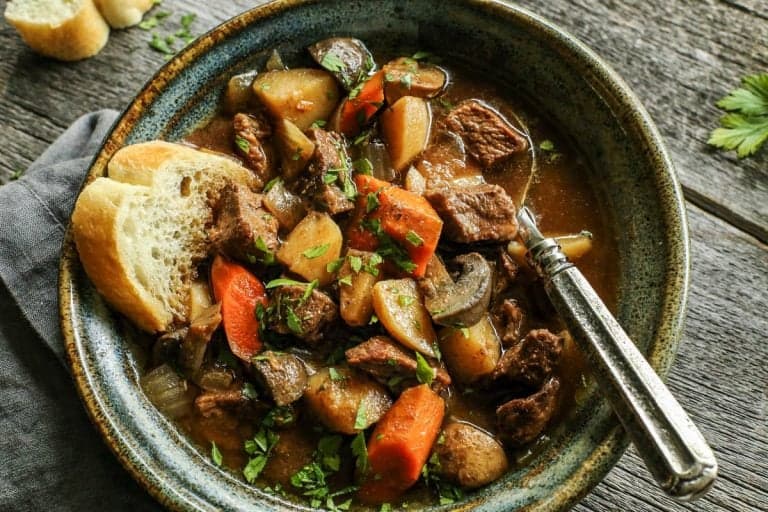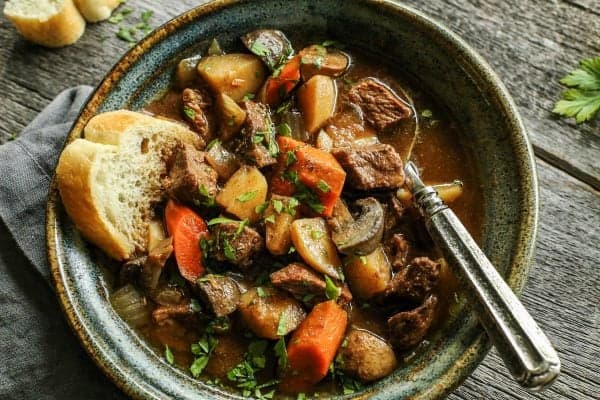 Serving Suggestions
The broth is wonderfully rich and beefy, with a hint of tomato flavor. It just begs to be sopped up by some warm, crusty bread or tender biscuits. For a little different twist on bread, try these honey cornbread muffins – my family goes crazy for them!
This stew would also be wonderful ladled over the top of steaming hot mashed potatoes. Although I might then alter the goulash recipe to delete the chopped potatoes and add more carrots and mushrooms.
Noodles would also be great. I would recommend some wide egg noodles, cooked just to al dente. Add some of the hot noodles to a plate or bowl and then ladle the goulash over the top.
How to Store and Reheat Leftovers
Hungarian goulash makes great leftovers…and you know how I live for leftovers!!
This homemade stew recipe will keep very well for a few days when stored in an airtight container in the refrigerator. Simply reheat single or multiple servings in the microwave or in a saucepan on the stovetop.
Goulash also freezes perfectly. Use either larger freezer-safe containers or smaller single-serving freezer containers, and then thaw them in the fridge overnight before reheating. It's so wonderful to have goulash on hand for a quick, delicious homemade meal!
A few more soups and stews you might like! Try my Slow Cooker Beef and Barley Stew, this Slow Cooker Beef and Sweet Potato Soup, and the always popular Lasagna Soup!
Like this homemade stew recipe? Save it to Pinterest!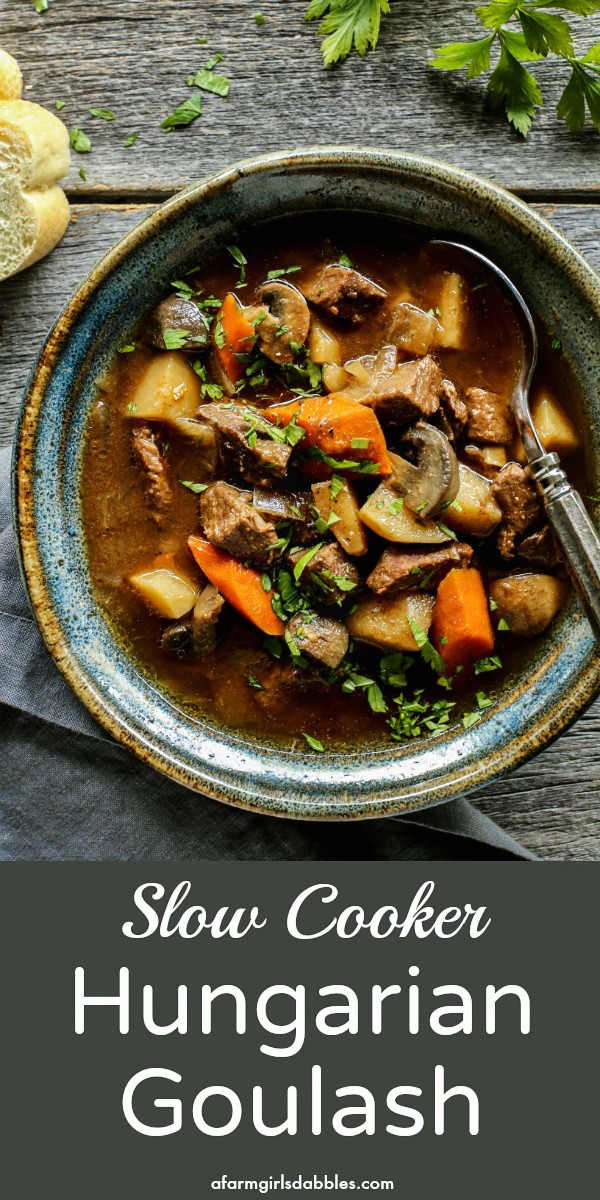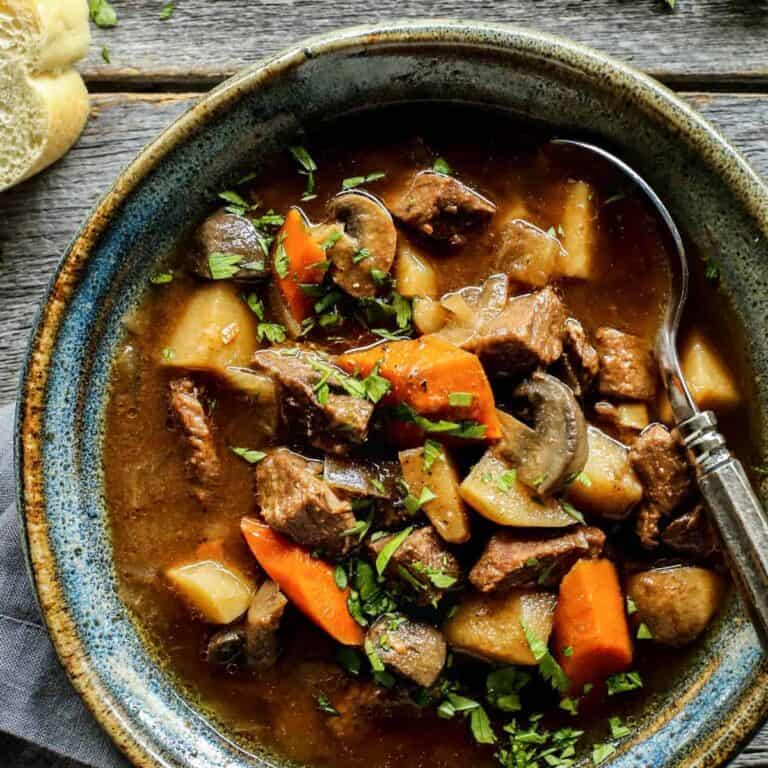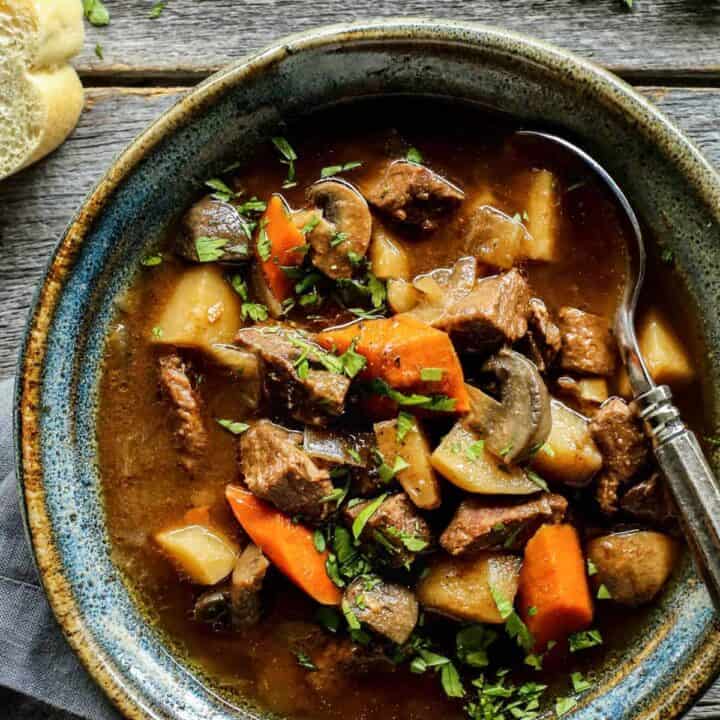 Slow Cooker Hungarian Goulash
Yield: 8 servings
Prep Time: 25 minutes
Cook Time: 6 hours
Total Time: 6 hours 25 minutes
This humble stew is loaded with chunks of tender, melt-in-your-mouth beef and vegetables. A rich, beefy broth flavored with sweet paprika makes this a true comfort meal.
Ingredients
3 lbs. beef chuck roast, cut into 1" cubes
5 medium carrots, peeled and sliced into 1/2" diagonals
4 medium red potatoes, peeled and cut into 3/4" cubes
16 oz. whole fresh mushrooms, quartered
1 large yellow onion, chopped
3 large cloves garlic, minced
4 c. low sodium beef broth
3 T. tomato paste
2 T. Worcestershire sauce
1/4 c. Hungarian sweet paprika
1/4 c. brown sugar
2 tsp. dry mustard
1 tsp. kosher salt, or to taste
1/2 tsp. freshly ground black pepper
fresh chopped parsley for garnish, optional
Instructions
Place beef in slow cooker, and then cover with carrots, potatoes, mushrooms, onion, and garlic.
In a medium bowl, whisk together remaining ingredients (except parsley, if you are using it for a garnish) and then add mixture to the slow cooker. Stir gently to combine.
Cover slow cooker and turn heat to high. Cook for 4 to 6 hours, or until beef is ultra tender (I usually plan on 6 hours).
To serve, ladle goulash into bowls and offer a warm loaf of fresh crusty bread for dipping.
Notes
From my mom's recipe box…heavily adapted from this recipe, with input from Mom and my sister Cheryl from their travels to Hungary and Austria.
Nutrition Information:
Yield: 8
Serving Size: 1
Amount Per Serving:
Calories: 562
Total Fat: 27g
Saturated Fat: 11g
Trans Fat: 2g
Unsaturated Fat: 14g
Cholesterol: 141mg
Sodium: 745mg
Carbohydrates: 34g
Fiber: 5g
Sugar: 11g
Protein: 48g
Nutrition information is automatically calculated by Nutritionix. I am not a nutritionist and cannot guarantee accuracy. If your health depends on nutrition information, please calculate again with your own favorite calculator.
And here are a few more stew recipes from my friends!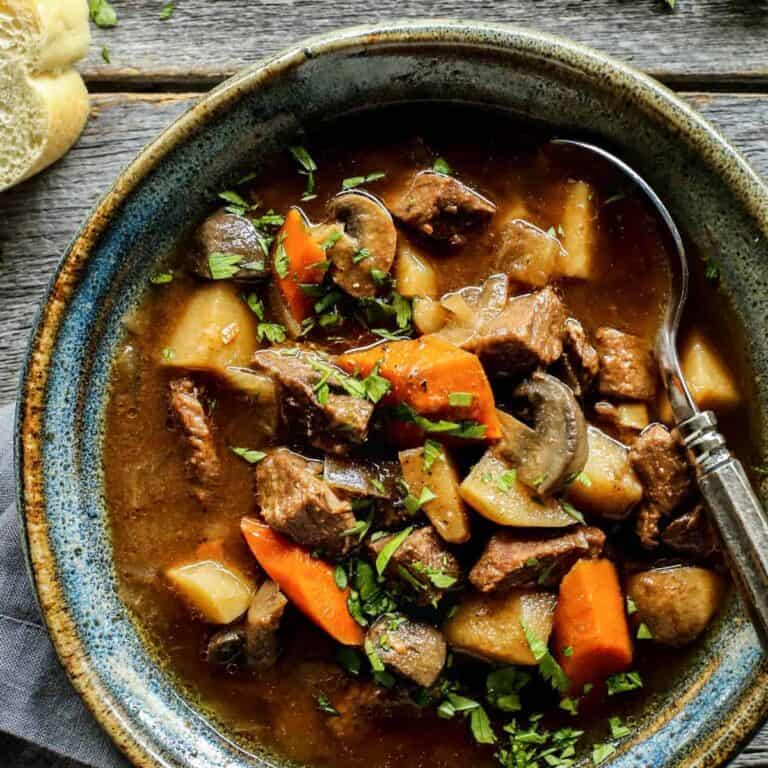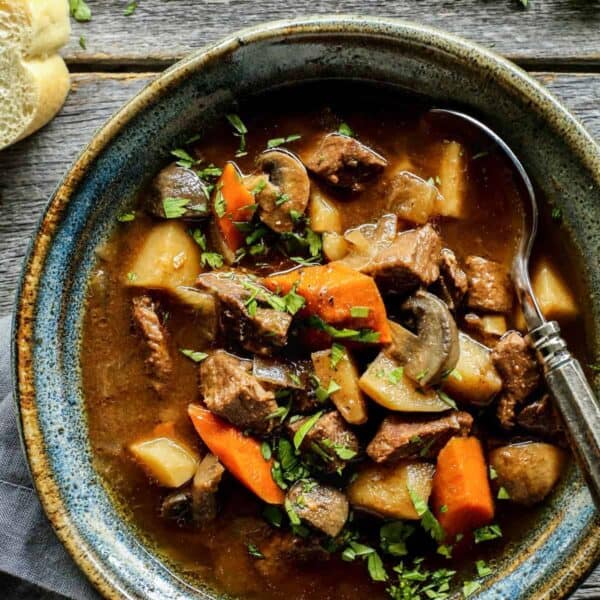 As promised, here are a few photos from when my parents visited my sister's family while they lived in Romania: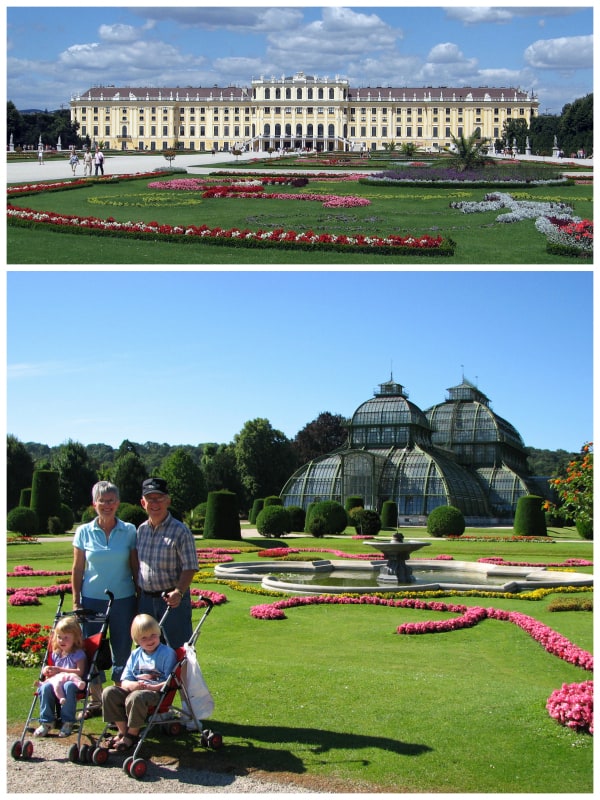 A highlight of my parents' trip was visiting Schönbrunn Palace in Vienna. A former imperial 1,441-room summer residence, it is now a major tourist attraction.
The grounds are meticulously kept, and are home to numerous gardens, pools, fountains, and sculptures…and a maze!
(Schönbrunn Palace is shown in the top photo. The Palm House, on the palace grounds, is in the bottom photo, with Mom, Dad, and Cheryl and Dave's kids in the foreground.)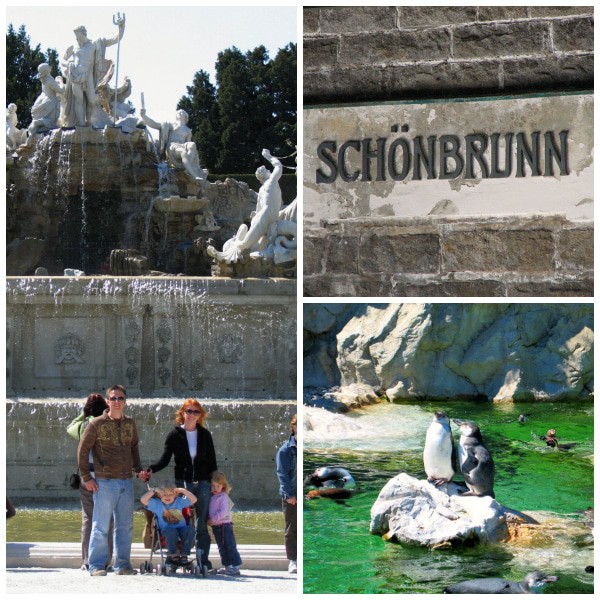 Pictured on the left are Cheryl and Dave with their son and daughter in front of the Neptune Fountain at Schönbrunn Palace. The grounds also feature the world's oldest zoo, constructed in 1752 (bottom right).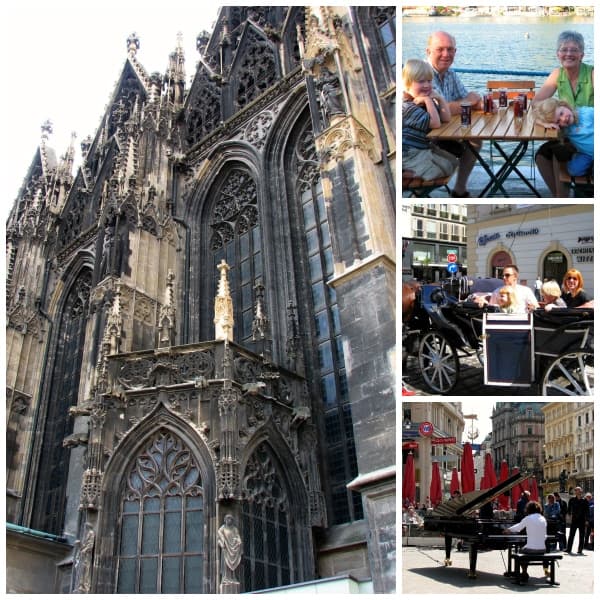 While in Vienna, they also visited St. Stephens Cathedral, a medieval limestone landmark. It was constructed in 1147 and named after the first known Christian martyr. Massive in size, sitting atop underground tombs, catacombs, and crypts, it houses 18 altars in the main part of the church, plus more in various chapels.
I found information on the Schönbrunn Palace and St. Stephens Cathedral completely fascinating. As my dad always says, "google it". The history on these places is amazing.
(Left photo is of St. Stephens Cathedral. Top right photo is of Dad, Mom, and Cheryl and Dave's kids sitting along the Danube River. Middle right photo is of Cheryl and Dave's family taking a carriage ride in Vienna. And the bottom right photo is of a pianist playing in the street near the cathedral.)
Thank you to Mom and Cheryl for sharing your memories and your photos. This post was previously published in 2014. Photographs and some of the text were updated in 2018 and 2020.
We participate in the Amazon Services LLC Associates Program, an affiliate advertising program designed to provide a means for us to earn fees by linking to Amazon.com and affiliated sites. See our
disclosure policy
for more info.