Oreo Surprise-Inside Cake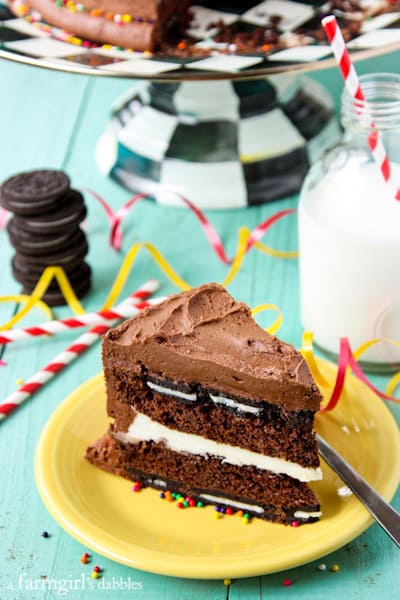 Our daughter lucked out with a couple of pretty awesome sweets to celebrate her birthday with this year, both delightfully chocolate. The Chocolate French Silk Pie with Salted Pecan Crust was her special request, and earned the highest ranking from all of us. And we cut big slices of this fantastic Oreo Surprise-Inside Cake for an early celebration to include family who wouldn't be around on her birthday. The cake recipe comes from the new book from Amanda Rettke of i am baker, and it's scrumptious and so much fun!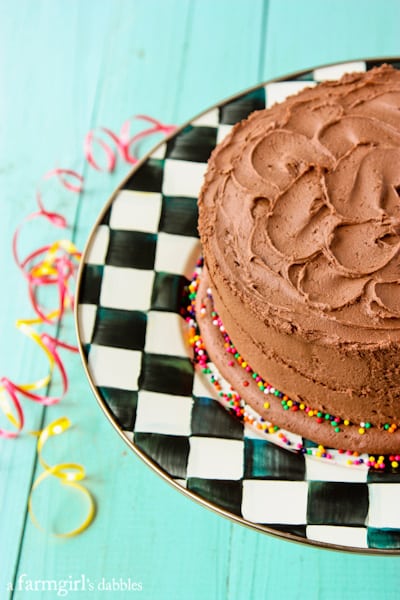 I stayed up late one night assembling this cake, to give it ample time to chill overnight so we could slice it up the following day. When Hatti opened up the refrigerator the following morning, her eyes got huge as 5o-cent pieces as she gasped out loud and asked, "Is that MY birthday cake?!" She was so excited to have one of Amanda's cakes made for her, after admiring all of Amanda's incredible creations online.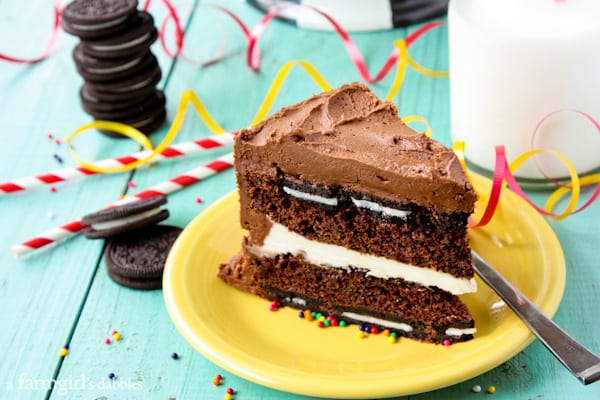 This cake is just too much fun. It's like a giant Oreo that's stuffed with Oreos!
Every element of this cake is wonderful, but just like Oreos, we all had to agree that the thick slab of Oreo filling (could we just call this Double Stuf?!) running through the middle was the very best part. It's thick and creamy and wonderfully flavored. Not that I didn't eat my fair share of that creamy chocolate buttercream as I was assembling the cake. I canNOT resist chocolate buttercream or Oreos. This was one yummy cake that made all of us happy.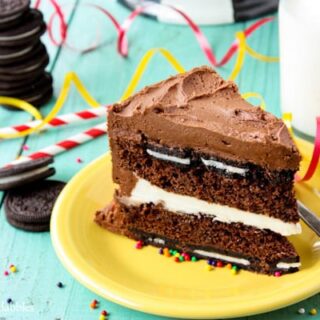 Oreo Surprise-Inside Cake
Yield: 16 servings
Prep Time: 30 minutes
Cook Time: 30 minutes
Additional Time: 6 hours
Total Time: 7 hours
This Oreo Surprise-Inside Cake is the ultimate chocolate cake recipe! Made with chocolate buttercream frosting, homemade Oreo filling, and actual Oreos stuffed inside, this cake may just put you in sweetness overload!
Ingredients
FOR THE CHOCOLATE CAKE:
3/4 c. unsweetened cocoa
1-1/2 c. sugar
1-1/2 c. cake flour
1 tsp. baking soda
pinch of salt
2 large eggs, at room temperature
1 c. sour cream, at room temperature
2 tsp. pure vanilla extract
1/2 c. hot coffee
4 oz. finely chopped milk chocolate
FOR THE OREO FILLING:
1/4 c. unsalted butter
1/4 c. shortening
3 c. powdered sugar
2 to 3 T. milk
2 tsp. pure vanilla extract
FOR THE CHOCOLATE BUTTERCREAM:
1 c. unsalted butter, at room temperature
1 c. unsweetened cocoa powder
2 tsp. pure vanilla extract
8 c. powdered sugar
1/2 c. milk
Instructions
FOR THE CHOCOLATE CAKE:
Set a rack in the center of the oven. Preheat oven to 350°. Spray two 9″ round cake pans with non-stick cooking spray and then lay 19 Oreos in an even layer on the bottom of each pan. Set pans aside.
In the bowl of a stand mixer, using a paddle attachment, blend the cocoa, sugar, cake flour, baking soda, and salt on a low speed for 30 seconds. Add eggs, sour cream, and vanilla and mix for 1 minute on medium-low speed. Remove bowl from the mixer. In a small bowl, whisk together hot coffee and chocolate until chocolate is fully melted. Add coffee/chocolate mixture to the stand mixer bowl and stir by hand with a spatula until all ingredients are fully incorporated.
Divide batter evenly between the two prepared pans, covering the Oreos completely. Bake for 25 to 32 minutes, or until toothpick inserted into the center comes out clean. Remove pans from oven and let cool on a wire rack for 10 minutes. Run a knife around the outer edge of each pan and carefully remove cakes from their pans, setting them on wire racks until they cool to room temperature.
FOR THE OREO FILLING:
In the bowl of a stand mixer, using the paddle attachment, mix butter and shortening until fully combined. Add the sugar, one cup at a time, alternating with the milk and vanilla. The filling should be very thick, but you can add more milk if you need to thin it a bit.
FOR THE CHOCOLATE BUTTERCREAM:
In the bowl of a stand mixer, using a paddle attachment, cream the butter, cocoa, and vanilla at medium speed for 1 to 2 minutes. Add the powdered sugar one cup at a time, adding in milk whenever the frosting gets too stiff or the mixer starts to struggle. After the last of the powdered sugar has been added, add the rest of the milk and mix until the frosting is smooth and silky, about 2 minutes. For a stiffer consistency, add more powdered sugar, 1/4 cup at a time. If the frosting is too stiff, add in more milk, 1 tablespoon at a time. I made a larger batch of chocolate buttercream and used a different technique to finish the cake than Amanda did (she covered hers in Oreo cookie crumbs), and would recommend adding just a little more milk to make the buttercream easier to work with in creating a finished frosted look.
TO ASSEMBLE THE OREO SURPRISE-INSIDE CAKE:
Place one cooled layer on a cake stand or large platter, Oreo cookie side down. Using an offset spatula, cover the top with the Oreo filling, in an even layer. Top with the remaining layer of cake, Oreo cookie side up. Then frost the sides and top with the chocolate buttercream. You may or may not use all the chocolate buttercream, depending on your preference for frosting quantity. If you want the same look as in my photos, I used all but about 3/4 cup of the frosting. I also added a wide tube of frosting around the base of the cake using a large plain pastry tip, and then sprinkled the base with colorful sprinkles. The buttercream sets up pretty quickly, so add the sprinkles as soon as you get done with the frosting.
Amanda recommends freezing her finished cakes for at least 6 hours before serving, to ensure ease of slicing and preservation of the surprise-inside designs. Then use a sharp knife, dipped in a tall glass of hot water and dried, to cut your slices. Dip and dry the knife after each cut. Enjoy!!
Notes
Adapted slightly (I added more chocolate buttercream and finished the outside of the cake differently) from Amanda Rettke's new book, Surprise-Inside Cakes.
Nutrition Information:
Yield: 16
Serving Size: 1
Amount Per Serving:
Calories: 763
Total Fat: 25g
Saturated Fat: 14g
Trans Fat: 0g
Unsaturated Fat: 8g
Cholesterol: 74mg
Sodium: 126mg
Carbohydrates: 132g
Fiber: 2g
Sugar: 109g
Protein: 6g
Nutrition information is automatically calculated by Nutritionix. I am not a nutritionist and cannot guarantee accuracy. If your health depends on nutrition information, please calculate again with your own favorite calculator.