Orange Poppy Seed Drops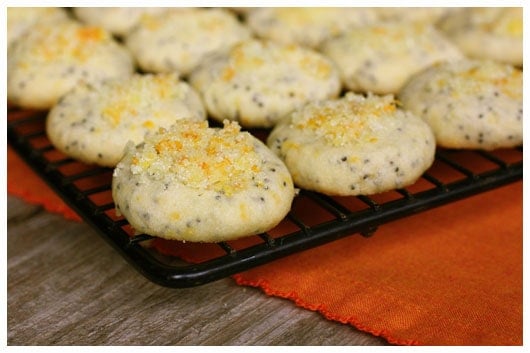 These Orange Poppy Seed Drops make me a happy girl.
I not only like to say "orange poppy seed drops" (c'mon, give it a try – it rolls off your tongue in such a cheery way!), but I also like to pop their cute smallness into my mouth. They are wee in size, but big on fresh, citrusy flavor. The texture is tenderly light and crunchy.
And did you see that lovely orange sugar on top? That's what makes me happiest of all!
I received an email from Lisa Zwirn, a Boston Globe correspondent and the author of Christmas Cookies – 50 Recipes to Treasure for the Holidays, just a few days after Thanksgiving this past year. She wrote that she had been reading my blog, and wondered if I might accept a copy of her book.
We emailed back and forth a few times. And then a great story came to be.
Lisa said she found me after I left a comment and photo on the Bon Appetit site when I blogged about these ridiculously wonderful Cappuccino Brownies. And then she wowed me by saying SHE created that recipe for Bon Appetit.
You have no idea how many people in my life that brownie recipe has taken prisoner! It's that good! I owed it to Lisa, myself, and my family and friends, to have a look at this book. So, of course, I told her I would love to receive it.
The book is very well written and beautifully photographed, featuring many traditional Christmas cookie recipes. But, as you can see, some of Lisa's recipes can easily extend past the holiday season. I think these Orange Poppy Seed Drops could be made year 'round. I'm also looking forward to trying the Iced Lemon Rounds and Chocolate Shortbread Wedges.
And, of course, we'll be baking from this book when Christmas rolls around again. If the number of recipes flagged by our oldest daughter are any indication, we'll be making quite a few batches, in fact!
And a final thought…I would be doing a disservice if I didn't tell you more about the orange sugar. When making these cookies, you should have some left over, and it would be downright wasteful to throw that happy stuff away! Here are a few ways to further enjoy it:
Sprinkle on blueberry muffins before popping them into the oven to bake. Yum!
Swirl some into your tea. Heavenly!
Sweeten up your bagel's cream cheese with a scattering. Delicious!
Spoon a bit over your french toast before you flip it on the griddle. Oh me, oh my!
Enjoy, my friends. Enjoy!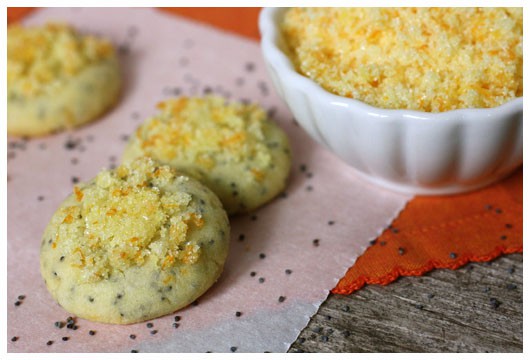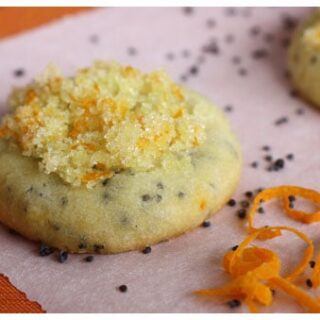 Orange Poppy Seed Drops
Yield: 50 cookies
Prep Time: 20 minutes
Cook Time: 15 minutes
Total Time: 35 minutes
Orange Poppy Seed Drops are bite-sized cookies topped with tangy orange sugar! If you're looking for something sweet to snack on during the day, these orange poppy seed cookies are just right.
Ingredients
FOR THE COOKIES:
2 c. all-purpose flour
3 T. poppy seeds
1/4 tsp. salt
1/2 lb. (2 sticks) unsalted butter, softened
1/2 c. sugar
2 large egg yolks
1 tsp. vanilla
2 tsp. finely grated orange zest
FOR THE ORANGE SUGAR:
1/3 c. sugar
1-1/2 tsp. orange zest
Instructions
Preheat oven to 350°. Line 2 cookie sheets with parchment paper and set aside.
Whisk together the flour, poppy seeds, and salt in a medium bowl. Set aside.
Using an electric mixer, beat the butter and sugar in a large bowl until creamy. Beat in the egg yolks. Mix in the vanilla and orange zest. With the beaters on low speed, mix in the flour mixture just until the dough starts to come together. Using your hands, work the dough into a ball.
To make the orange sugar, whisk the sugar and orange zest in a small bowl. Set aside.
Pinch off small clumps of dough and roll into balls about 1″ in diameter. Place on the prepared cookie sheets, about 1-1/2″ apart. Press down on the balls with your fingers to form rounds that are a scant 1/2″ thick. Spoon 1/4 to 1/2 teaspoon of orange sugar onto the top of each round (I liked the 1/2 teaspoon amount), pressing down gently so the sugar adheres.
Bake for 13 to 15 minutes, or until the edges are golden and tops feel mostly firm. Transfer the cookies to a rack to cool completely.
Notes
These cookies keep very well. Layer between sheets of wax paper in an airtight container for up to 10 days.
Adapted from Christmas Cookies – 50 Recipes to Treasure for the Holiday Season, by Lisa Zwirn.
Nutrition Information:
Yield: 50
Serving Size: 1
Amount Per Serving:
Calories: 41
Total Fat: 1g
Saturated Fat: 0g
Trans Fat: 0g
Unsaturated Fat: 0g
Cholesterol: 11mg
Sodium: 16mg
Carbohydrates: 8g
Fiber: 0g
Sugar: 4g
Protein: 1g
Nutrition information is automatically calculated by Nutritionix. I am not a nutritionist and cannot guarantee accuracy. If your health depends on nutrition information, please calculate again with your own favorite calculator.