Lemon Buttermilk Sherbet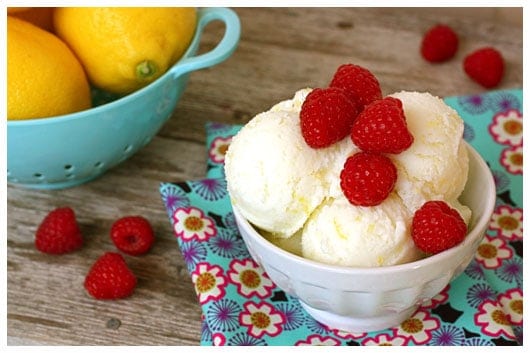 This Lemon Buttermilk Sherbet is a refreshing dessert that makes the perfect summer treat. It's quick and easy to make with just 3 simple ingredients.
Lemon Buttermilk Sherbet
This has been a slow spring, you've probably heard me say it once or twice before. There are several areas in our yard where the snow is still two feet deep. And out of complete defiance of our slow thaw, this morning I happily let our three year-old put on the new sundress I picked up for her last week. She's been begging to wear it. And with the forecast finally predicting a high in the low 40's, how could I possibly continue to refuse her sweet pleas?
When my daughter and I made this lovely Lemon Buttermilk Sherbet over the past weekend, it had us all dreaming about the warmth of spring and summer ahead. It just couldn't be helped. Light and refreshing, and ultra tangy from the buttermilk and lemons, this is a dessert that screams summer!
Why I Love This Sherbet Recipe
The sherbet is icier and less creamy than ice cream. Which equals super refreshing. When it's hot outside, that icy texture is something I crave.
I first served this about 4 or 5 hours after I had made it and put it in the freezer. It was perfectly scoop-able and held its form beautifully. The girls & I enjoyed a scoop as an evening snack, sprinkled with fresh berries. I was interested for their reaction to the recipe's buttermilk flavor, and their answer to that was, "Can we have more, please?" Yes, that please was included. I knew they were serious!
The following evening, we had some more. But the experience was different. After spending a day in the freezer, the sherbet had frozen quite hard. It was more like shave ice. And that's when our girls really gobbled it up. They loved it even more!
Our family likes to make all kinds of homemade ice creams, sorbets, and sherbets, but we had never made anything that used buttermilk before. So I was definitely intrigued by this recipe from my friend Michelle's new cookbook, The Whole Family Cookbook. Michelle blogs at What's Cooking with Kids and is the founder of a children's cooking school that teaches families about fresh and healthy eating.
I completely agree with Michelle's philosophy that teaching kids to eat healthy foods comes from cooking and eating together at home. Both her blog and her new cookbook are filled with kid-friendly food, aiming to bring family members side by side in the kitchen. My sisters and I have been beyond blessed to have a mom who got us involved as young kids in cooking. I am incorporating this in our own family as well, and Michelle's book is a wonderful example of how to do just that. The book is very visually appealing to kids and the recipes are simple and easy to follow.
For a little taste of The Whole Family Cookbook, and to see Michelle and her family in action, here is a short video to introduce you. Enjoy!
A Giveaway!!
Michelle has graciously provided one of her new cookbooks for me to give away!
All you have to do is leave a comment here and you're entered for a chance to win!
Simply let me know your favorite easy and refreshing summertime treat.
The giveaway will end Tuesday, April 5th at 7:00 pm CST.
And the winner is…
Carina!
Congratulations to you! I will email you for more information.
Thank you to EVERYONE for entering!!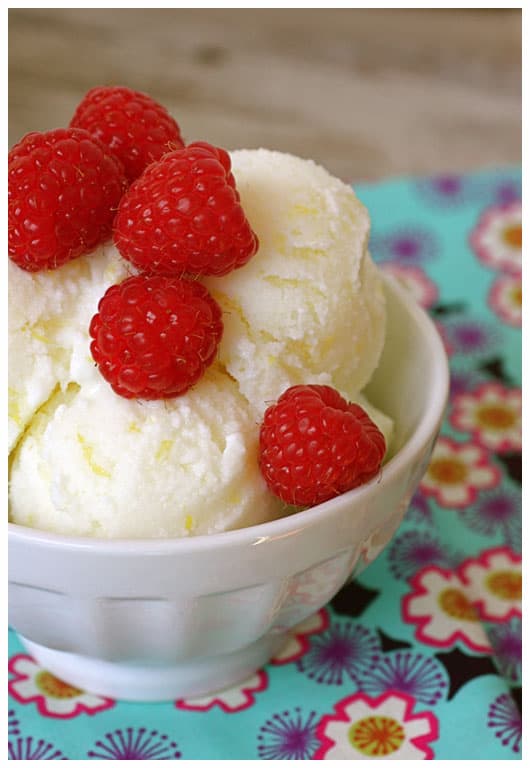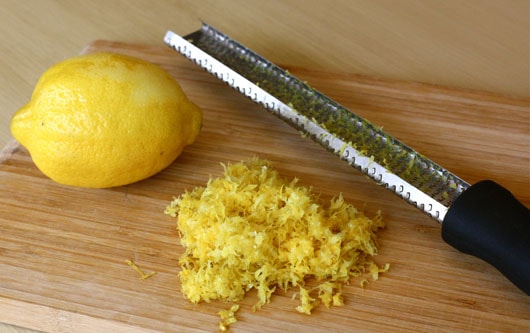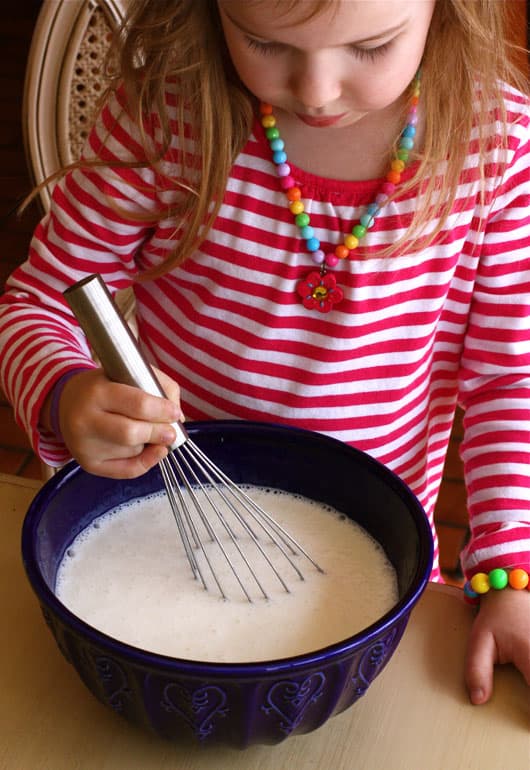 Lemon Buttermilk Sherbet
Yield: 6 servings
Prep Time: 1 hour
Total Time: 1 hour
This Lemon Buttermilk Sherbet is a refreshing dessert that makes the perfect summer treat. It's quick and easy to make with just 3 simple ingredients.
Ingredients
1 qt. low-fat buttermilk
4 large lemons
1/2 c. sugar
Instructions
Before starting this recipe, make sure that the bowl for your ice cream maker is frozen.

Measure the buttermilk and pour into a medium-sized measuring bowl (ideally, one with a spout).

Zest the lemons. If using a peeler that gives you large pieces of zest, be sure to cut the zest into small pieces with a knife.

Cut the lemons in half and juice them to measure 1/2 cup of juice. Be sure to remove any stray seeds. Pour the lemon juice into the buttermilk. Add the sugar and whisk to incorporate.

Refrigerate for about 15 minutes, or until the mixture is very cold and sugar has dissolved. Pour the cold mixture into the frozen bowl of your ice cream maker and process for 20 minutes, or according to the manufacturer's directions. Add the lemon zest and continue to process for another 10 minutes.

If you don't have an ice cream maker, pour the mixture into a sturdy bowl or container and put it in the freezer. Remove from the freezer and stir vigorously every 45 minutes, for up to 3 hours.

Store in an airtight container in the freezer for 2 weeks. Be sure to take the sherbet out of the freezer about 20 minutes before scooping.
Notes
Adapted slightly from The Whole Family Cookbook by Michelle Stern – check it out!!
Nutrition Information:
Yield: 6
Serving Size: 1
Amount Per Serving:
Calories: 97
Total Fat: 1g
Saturated Fat: 0g
Trans Fat: 0g
Unsaturated Fat: 0g
Cholesterol: 2mg
Sodium: 79mg
Carbohydrates: 24g
Fiber: 2g
Sugar: 20g
Protein: 2g
Nutrition information is automatically calculated by Nutritionix. I am not a nutritionist and cannot guarantee accuracy. If your health depends on nutrition information, please calculate again with your own favorite calculator.