Italian Vinaigrette
Italian Vinaigrette – This homemade Italian dressing is fresh and flavorful with its extra dose of garlic, plus red wine vinegar and lemon juice acidity. It reminds me of Olive Garden dressing…although I'd say this recipe is even better!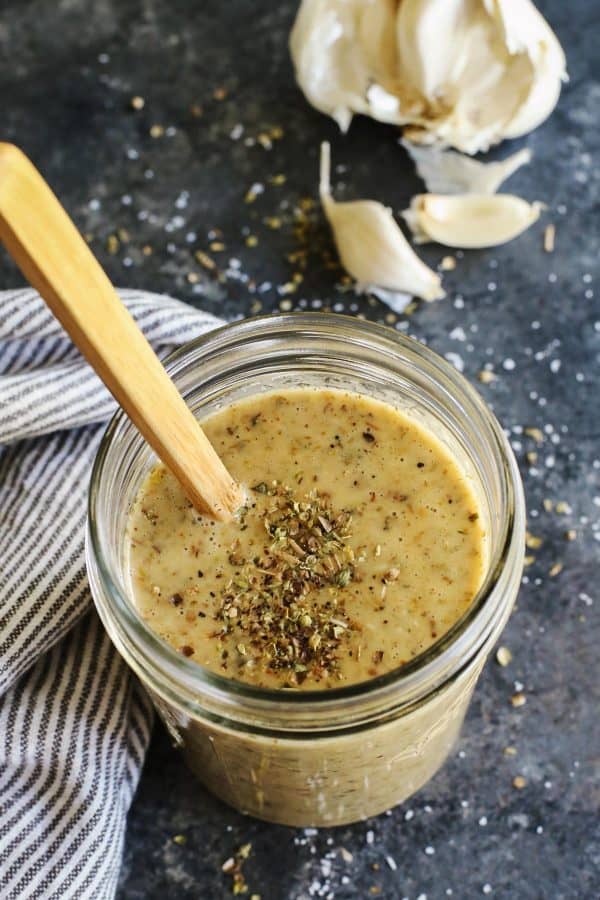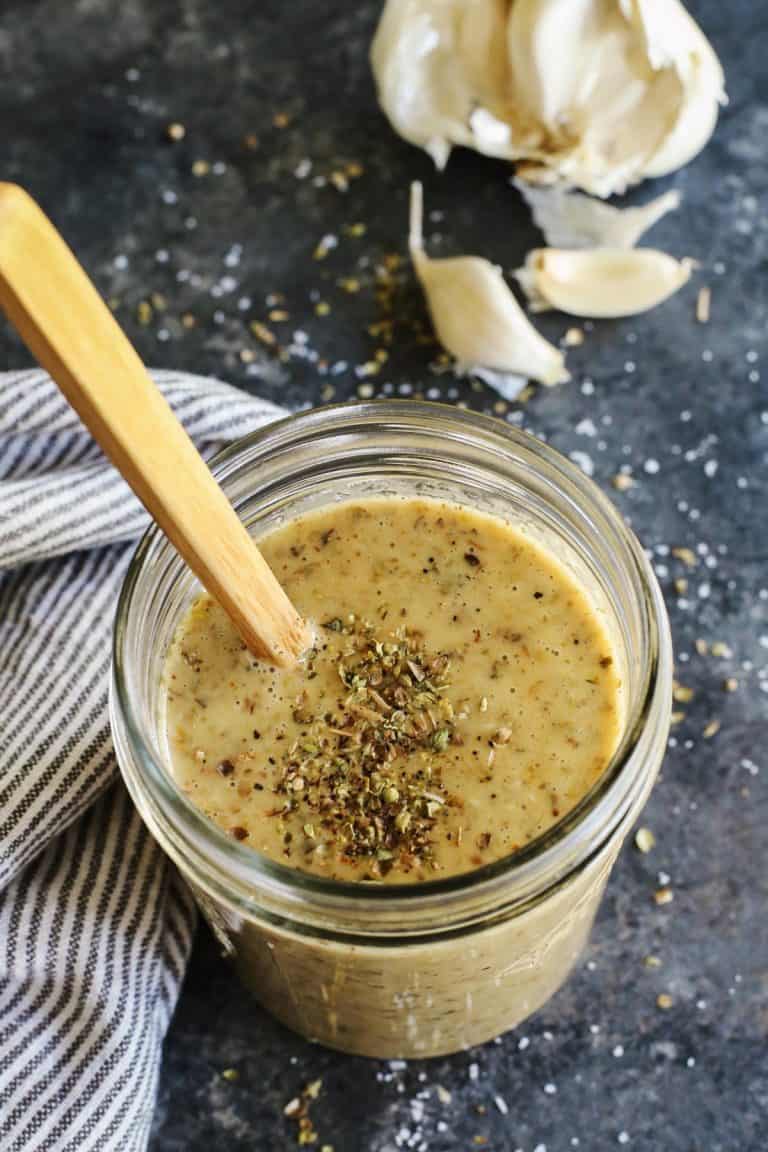 Italian Vinaigrette is a family favorite
I've been playing around with creating the best Italian dressing recipe for quite some time now. Not day in and day out, mind you. But every once in awhile, tweaking on it. Getting it juuuuust right.
This Italian Vinaigrette has become a recipe that my family turns to again and again. It's a favorite recipe of ours that's nearly always in our fridge.
The dressing is fresh and flavorful with its extra dose of garlic, plus red wine vinegar and lemon juice acidity. You might say it's a huge Italian flavor bomb for salad. It reminds me of the one at Olive Garden…although I'd say this homemade Italian dressing is even better!
"Oh my goodness! This is the best dressing I've ever had! I could eat it by the spoonful! Delicious! This is going to be my new dressing recipe that I make regularly. Do not skip the blender and go by the exact recipe. You will be amazed."

J J
Why make a homemade Italian dressing?
When it comes to salad dressings, my preference will always be to whip it up myself. While there are a few bottles I'm ok with buying at the store, I always think the homemade ones just taste better. And it's no secret that I try to stuff all the fresh, bold flavors inside each and every one.
Like this Herby Lemon Vinaigrette. This Homemade Buttermilk Ranch Dressing. This Honey Chipotle Vinaigrette. My grandma's Fresh Ginger Dressing. And now, this new Italian vinaigrette.
Great dressings give me all the more reasons to eat fresh salads. And I count that as a win. Healthier, tastier main dish salads and side salads for me and my family, I vote Y.E.S.!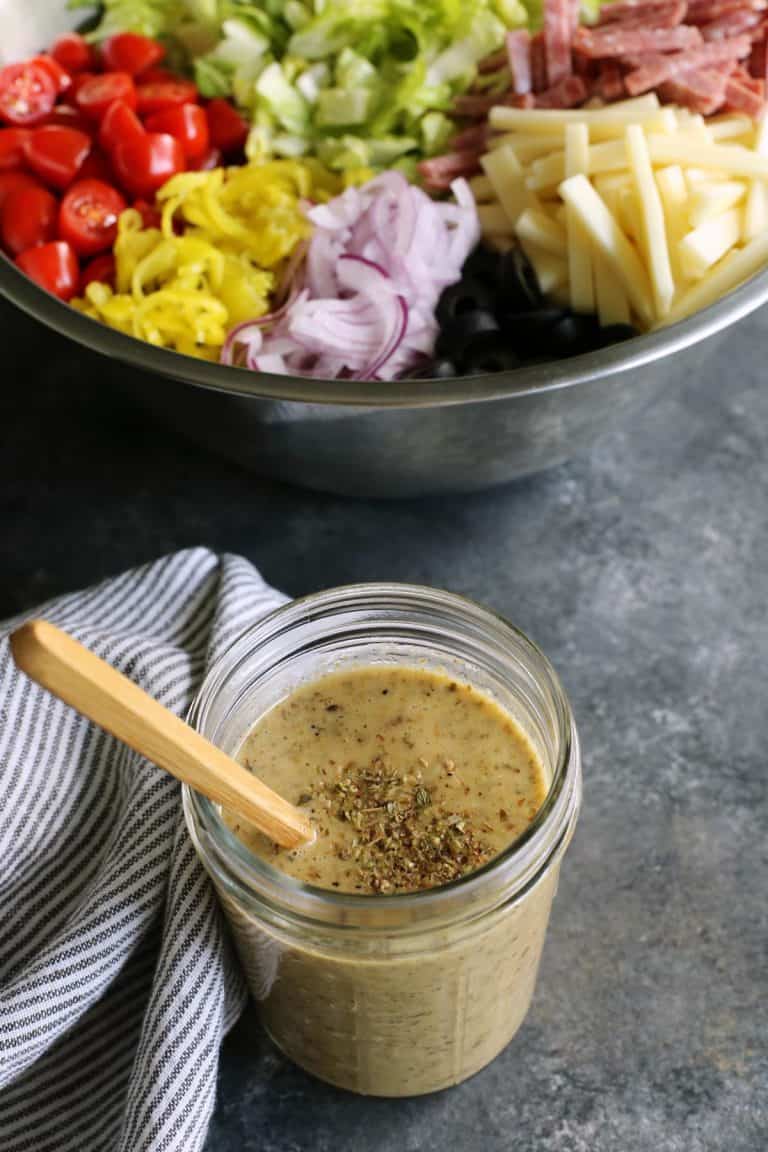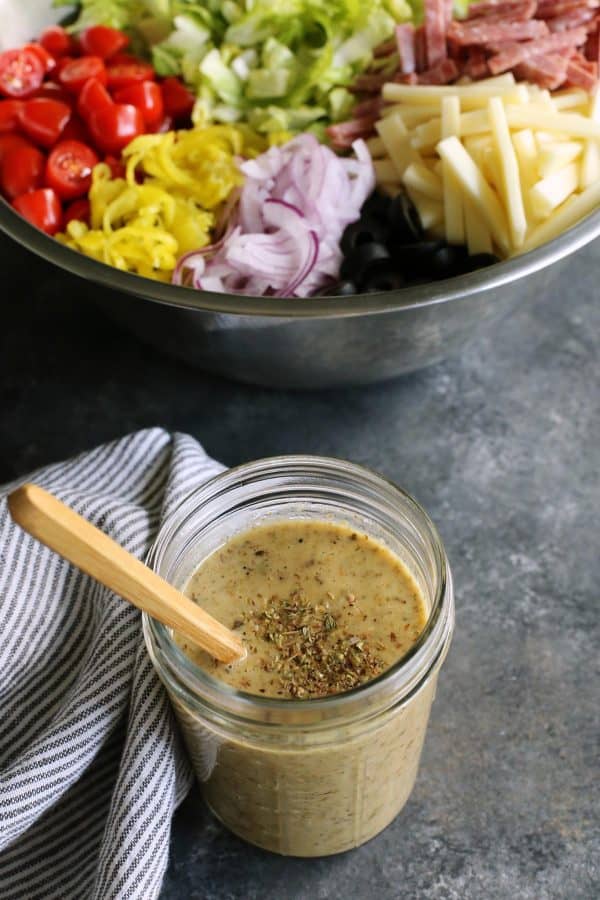 Italian dressing ingredients
When my family makes this vinaigrette, we almost always double the quantity. It keeps well in the refrigerator for at least a couple weeks, so why not?!
This recipe takes just a few ingredients:
fresh garlic
olive oil
red wine vinegar
fresh lemon juice
dried oregano
Dijon mustard
sugar
salt & pepper
How to make this Italian vinaigrette? It's easy!
Just combine the minced garlic (Yes, four cloves is the correct amount! Decrease the quantity only if you absolutely must.), dried oregano (Again, that quantity of 2 tablespoons is correct. Just trust me. I know that seems like alot.), olive oil, red wine vinegar, freshly squeezed lemon juice, Dijon mustard, a little sugar, plus some kosher salt and black pepper.
I recommend using an immersion blender to thoroughly combine and emulsify. But if you don't have one, just shake it all very vigorously in a tightly sealed jar or container.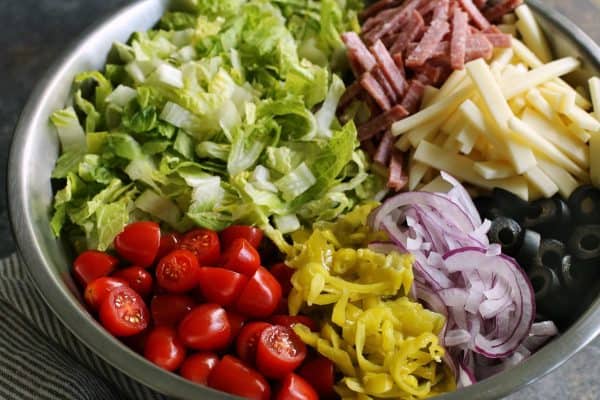 How to serve this Italian salad dressing?
With this spunky vinaigrette, all roads lead to a big bowl of Italian Chopped Salad. This fresh salad is loaded with a plethora of Italian goodies. It's light, yet hearty – great as a larger main dish or a smaller side salad.
This chopped salad is a family favorite that's in regular meal rotation around here. I hope you like it, too!
Like this recipe? Save it to Pinterest!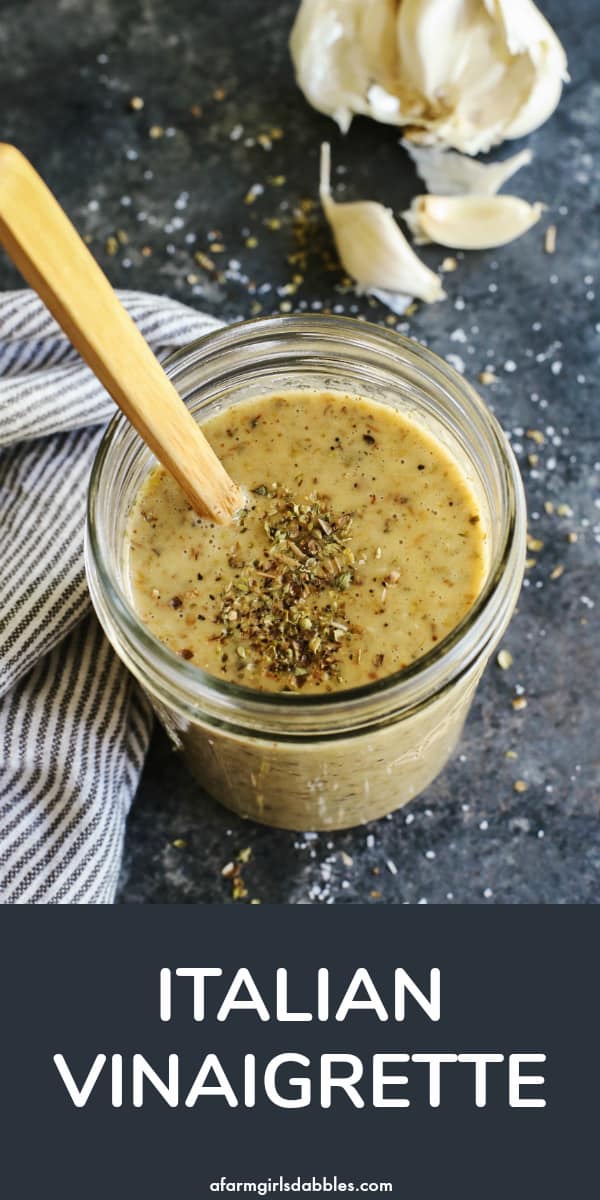 A few more salad dressing recipes for you!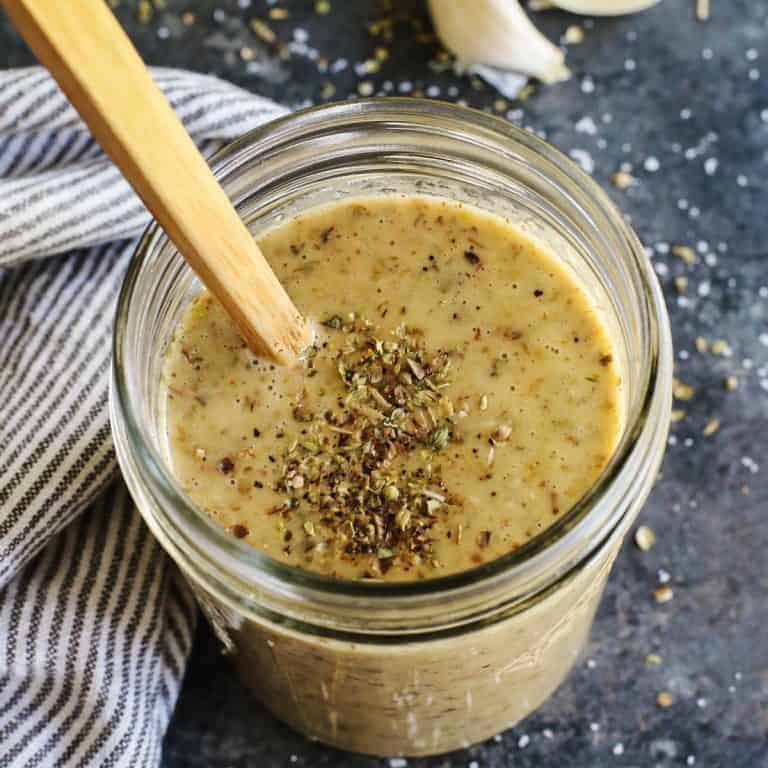 Italian Vinaigrette
Yield: 10 servings
Prep Time: 15 minutes
Total Time: 15 minutes
This is one of my family's favorite vinaigrettes. It's fresh and flavorful with an extra dose of garlic, plus red wine vinegar and lemon juice acidity. It reminds me a bit of the dressing at Olive Garden...although I'd say this Italian vinaigrette recipe is even better!
Ingredients
4 medium cloves garlic, minced
1/4 c. extra-virgin olive oil
1/4 c. red wine vinegar
2 T. freshly squeezed lemon juice
2 T. dried oregano
1 T. Dijon mustard
1-1/2 tsp. kosher salt
1 tsp. sugar
1/4 tsp. freshly ground black pepper
Instructions
Place all ingredients in a small bowl or tall jar. Use an immersion blender to combine and emulsify. If you don't have an immersion blender, cover jar tightly and shake ingredients vigorously (just know that there will be more noticeable pieces in the vinaigrette).
Serve with this Italian Chopped Salad.
This recipe can be made a day or two prior to serving. Store in the refrigerator, in a container with a tight-fitting lid. Remove from refrigerator 30 minutes prior to using, to let oil come to room temperature. Shake vigorously to combine.
Yield: about 2/3 cup of vinaigrette
Recommended Products
As an Amazon Associate and member of other affiliate programs, I earn from qualifying purchases.
Nutrition Information:
Yield: 10
Serving Size: 1
Amount Per Serving:
Calories: 56
Total Fat: 6g
Saturated Fat: 1g
Trans Fat: 0g
Unsaturated Fat: 5g
Cholesterol: 0mg
Sodium: 391mg
Carbohydrates: 2g
Fiber: 0g
Sugar: 1g
Protein: 0g