Christmas Kitchen Sink Cookies
This post may contain Amazon or other affiliate links. As an Amazon Associate I earn from qualifying purchases.
These Christmas Kitchen Sink Cookies have so much going on >>> sweet + salty + chewy + crunchy. They're fun and festive and awesomely delicious!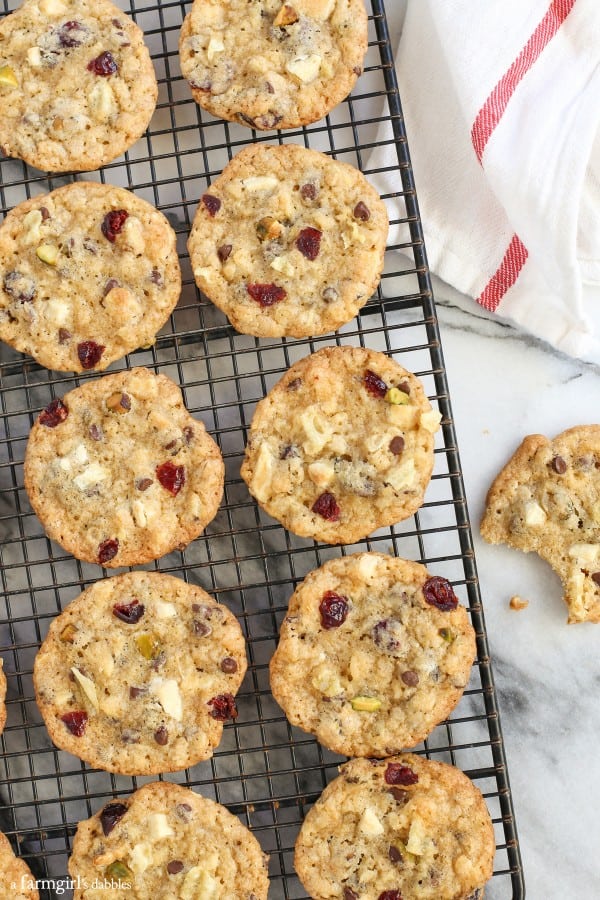 Kitchen Sink Cookies. Compost Cookies. Garbage Cookies. Whatever you want to call a buttery-rich cookie that's chock-full of a hodgepodge of ingredients is fine by me. But I'm calling these my Christmas Kitchen Sink Cookies. They are full of so many wonderful flavors and textures, with a nod to the holidays coming from dried cranberries, chopped pistachios, and chunks of white chocolate. A little red, green, and white, if you will.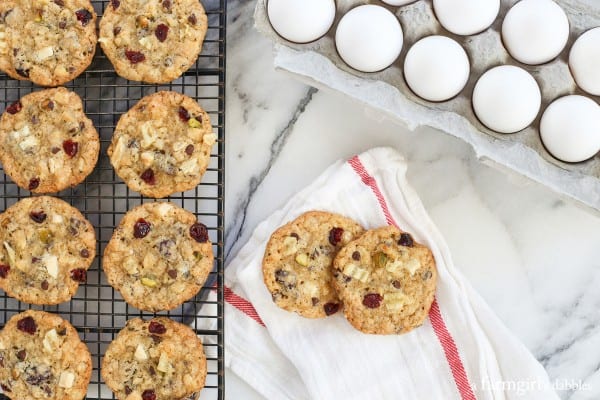 For the past two years, I have been sharing about the goodness of eggs with you, in collaboration with the American Egg Board. And they came to me with a request for the holidays. They asked if I would create a kitchen sink/compost cookie recipe to share with you.
Follow the hashtag #RecipeEggchange to share your own recipes and learn tips and holiday hacks from the American Egg Board. You can find them on Facebook, Twitter, Pinterest, and Instagram!
Needless to say, I was all over that idea. Our girls already get a thrill throwing random ingredients into our batches of cookies. And after visiting Milk Bar last summer and tasting one of Cristina Tosi's famous compost cookies (and her awesome cereal milk ice cream – which I didn't think I'd even like, but it turns out that I LOVE!), I couldn't wait to get started!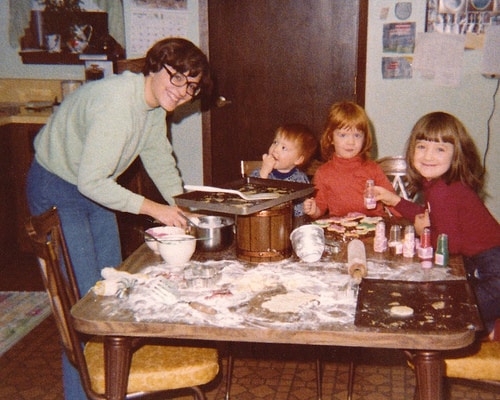 Christmas baking has always been a treasured tradition in my family. Mom always was, and still is, a great baker who has loved to share her homemade treats with family and friends. I love that I am passing along this tradition to our own girls, who are quick to don an apron, soften some butter, and crack a few eggs, all for the sake of baking together and sharing the goodies over glasses of cold milk.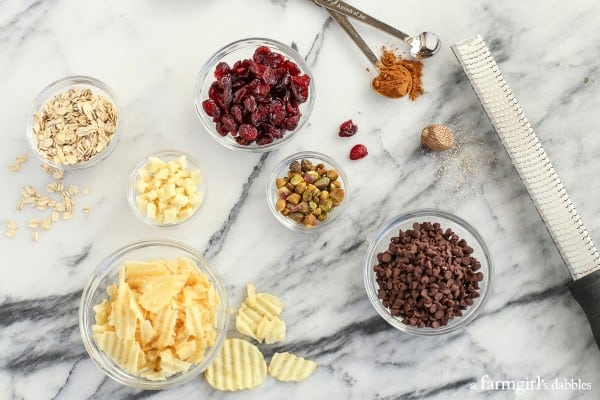 Cristini Tosi shares her compost cookie recipe on their Milk Bar website, and that's where this recipe got its kick-start.
I am especially fond of the combination of dried cranberries, pistachios, and white chocolate, which worked perfectly into this Christmas themed cookie. Add in a little cinnamon and freshly ground nutmeg for warmth, plus the awesome salty crunchiness of thick rippled potato chips (an ingredient from the original compost cookie recipe)…and you have one pretty incredible Christmas kitchen sink cookie going on!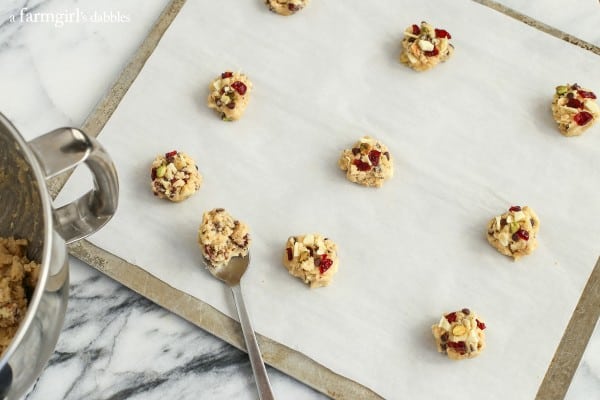 As much as I love eyeing up one of those mega-sized cookies found at some restaurants and bakeries, at home I prefer to make cookies that are portioned considerably smaller. This batch of dough, portioned into cookies as you see here, will give you about five dozen cookies. Which makes for alot of bargaining at cookie exchanges this time of year!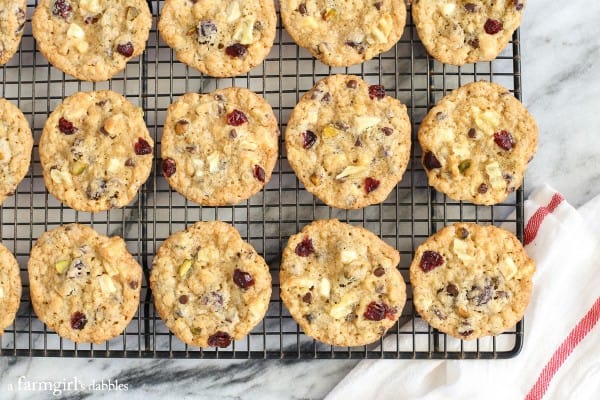 These cookies spread out nicely, leaving you with a chewy center and lightly crisp edges. The butter is evident in each bite, creamy and sweet.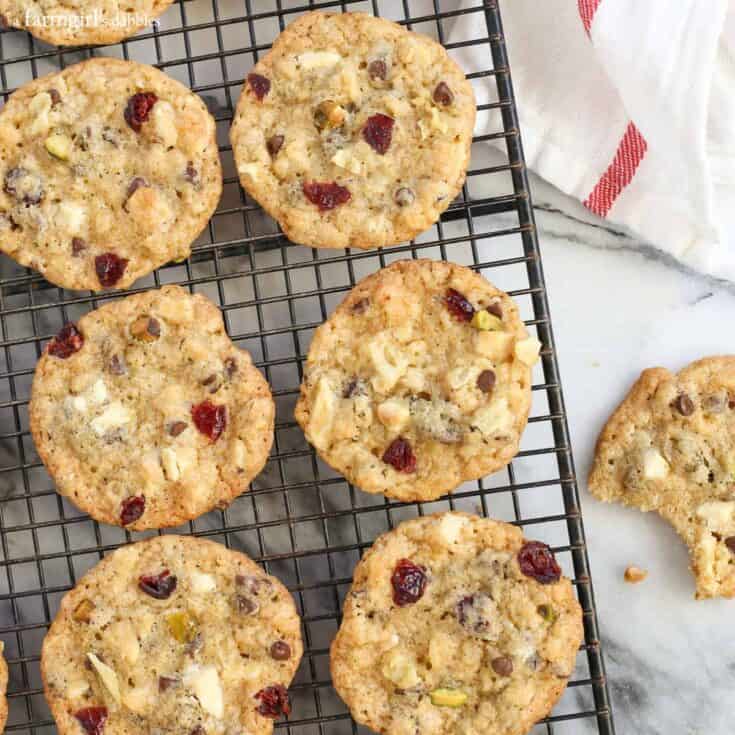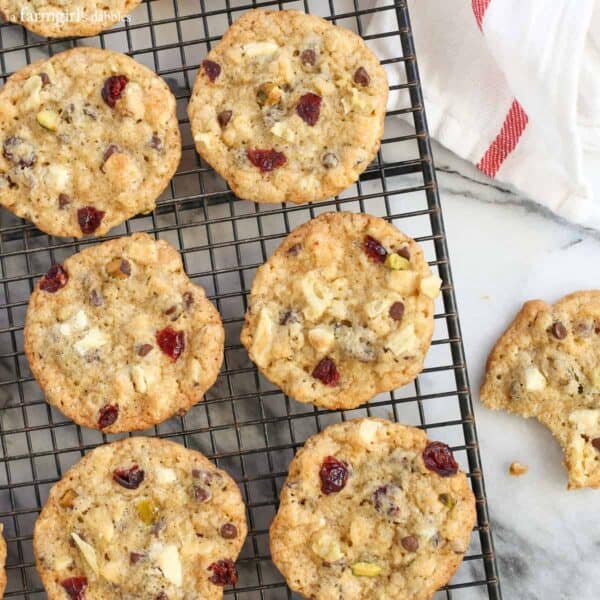 But the very best part is all the little nuggets of different flavors and textures. Everything but the kitchen sink. Sort of.
This cookie has so much going on >>> sweet + salty + chewy + crunchy.
Every bite is fun and festive, and most importantly, super yummy.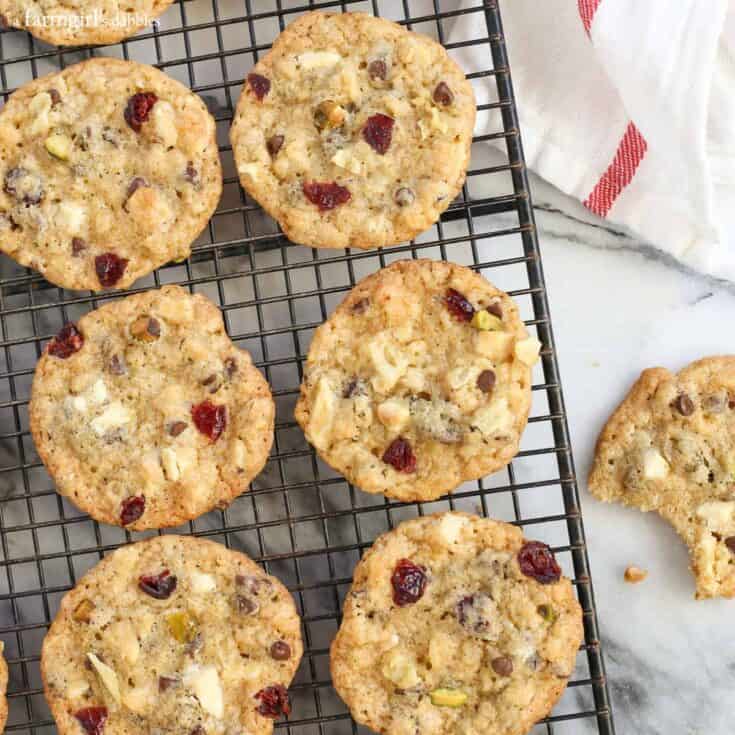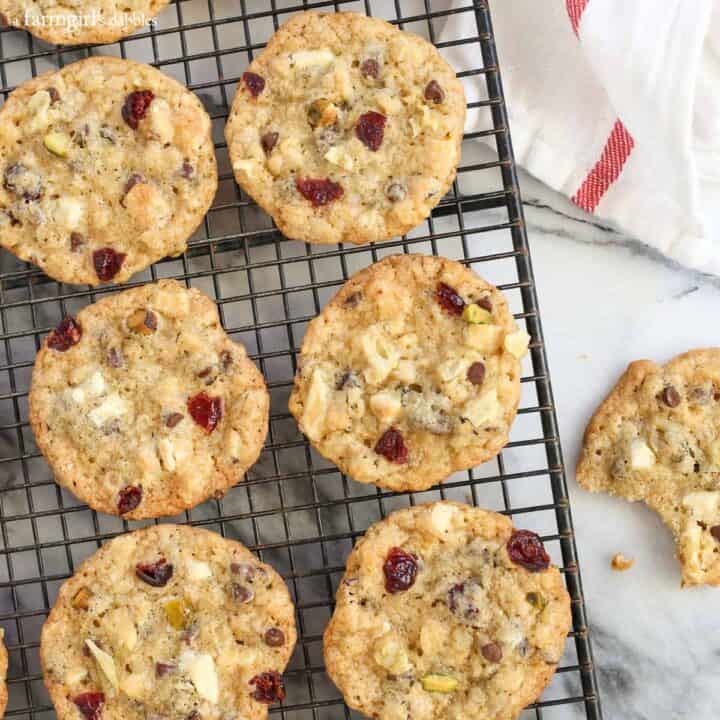 Christmas Kitchen Sink Cookies
Yield: 5 dozen cookies
Prep Time: 20 minutes
Cook Time: 11 minutes
Total Time: 31 minutes
These Christmas Kitchen Sink Cookies have so much going on >>> sweet + salty + chewy + crunchy. They're fun and festive and awesomely delicious!
Ingredients
1 c. unsalted butter, at room temperature
1 c. sugar
2/3 c. tightly packed brown sugar
1 T. light corn syrup
2 large eggs
2 tsp. pure vanilla extract
2 c. all-purpose flour
1/2 tsp. baking powder
1/2 tsp. baking soda
1 tsp. kosher salt
1/2 tsp. cinnamon
1/4 tsp. freshly ground nutmeg
1/2 c. mini chocolate chips
3 oz. good quality white chocolate bar, chopped into 1/4" pieces, plus more for poking into the top of cookie dough
1/2 c. dried cranberries, plus more for poking into the top of cookie dough
1/2 c. old fashioned oats
1/3 c. roughly chopped pistachio nuts, plus more for poking into the tops of cookie dough
1 c. crushed thick rippled potato chips (aim for 1/4" to 1/2" pieces), plus more for poking into the top of cookie dough
Instructions
In the bowl of a stand mixer, with the paddle attachment, cream together the butter, sugar, brown sugar, and corn syrup on medium-high speed for 2 to 3 minutes. Scrape down the sides of the bowl and add the eggs and vanilla extract. Beat for another 7 to 8 minutes.
In a medium bowl, whisk together flour, baking powder, baking soda, salt, cinnamon, and nutmeg. Add dry ingredients to bowl of stand mixer and mix on low speed just until the dough comes together. Do not over mix. Scrape down the sides of the bowl and then add chocolate chips, chopped white chocolate, cranberries, oats, and pistachios. Mix just until incorporated. Do not over mix. Add the crushed potato chips and gently fold them in with a rubber spatula. Place dough in refrigerator to chill for one hour.
Heat oven to 375° F.
Using a teaspoon, drop chilled dough onto parchment paper lined baking sheets in smallish mounds. These cookies are on the smaller side - only about 1 generous tablespoon of dough per cookie. Do not try to smooth out the surface of the dough - leave it as rough looking as possible. If desired, poke in some additional mini chocolate chips, white chocolate, cranberries, pistachios, and potato chips into the tops of the dough. This will let the "kitchen sink" ingredients appear more obviously on the top of the cookie!
Bake for about 11 minutes, or until cookies are golden brown at the edges. Let cookies cool on the baking sheet for a couple minutes before transferring them to a wire rack to cool completely.
Nutrition Information:
Yield: 60
Serving Size: 1
Amount Per Serving:
Calories: 107
Total Fat: 5g
Saturated Fat: 3g
Trans Fat: 0g
Unsaturated Fat: 2g
Cholesterol: 15mg
Sodium: 74mg
Carbohydrates: 14g
Fiber: 1g
Sugar: 9g
Protein: 1g
Nutrition information is automatically calculated by Nutritionix. I am not a nutritionist and cannot guarantee accuracy. If your health depends on nutrition information, please calculate again with your own favorite calculator.
This post is sponsored by the American Egg Board. I am happy to be partnering with them again this year, bringing you delicious recipes powered by eggs. All opinions are 100% my own. Thank you for supporting the brands that help make this site possible!
We participate in the Amazon Services LLC Associates Program, an affiliate advertising program designed to provide a means for us to earn fees by linking to Amazon.com and affiliated sites. See our
disclosure policy
for more info.