Chocolate Covered Strawberries
These Chocolate Covered Strawberries look fancy and elegant, but are actually quick and easy to make with just 3 ingredients! Perfect for gift-giving or any time you want a special, easy treat.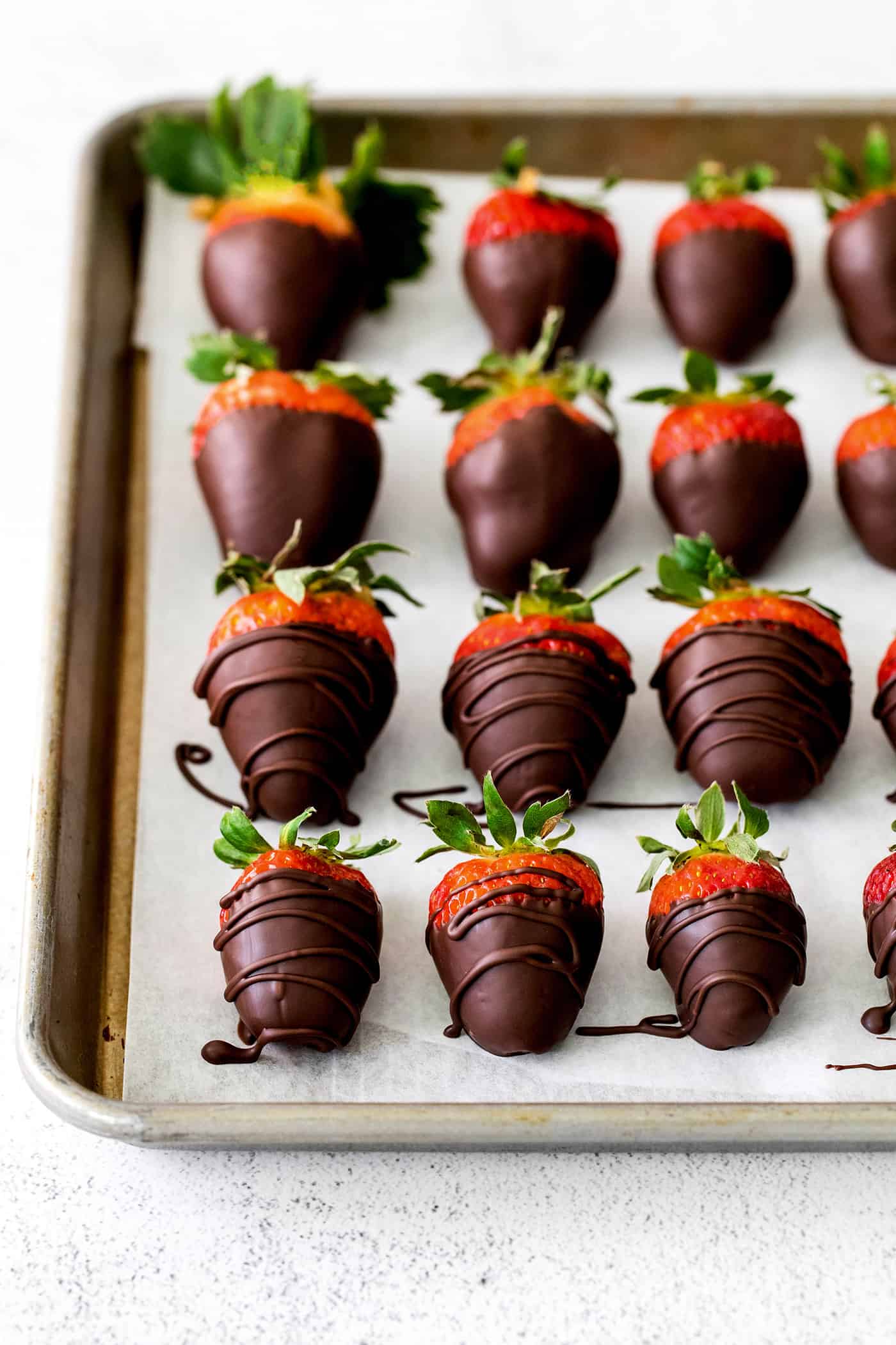 Easy Chocolate Dipped Strawberries
I just love it when restaurants give you a chocolate covered strawberry at the end of your meal. Our local Lake Elmo Inn is famous for this, and even the very casual chain Cafe Zupas does this. It always feels like such a treat!
Well who knew those fancy looking Chocolate Covered Strawberries were so simple to make at home? With this quick & easy recipe, you can have fancy, delicious chocolate dipped strawberries any time you want!
Make them for Valentine's Day, Easter, or Mother's Day – or for graduation and anniversary parties – or baby and bridal showers. This is one of our daughter Hatti's favorite desserts – I'm sure she'd even welcome a platter of chocolate dipped strawberries as her "birthday cake"!
Now that I know just how easy these chocolate strawberries are, you can bet we'll be making some come summer. Each June, when the local u-pick strawberries are plentiful, this is gonna be one epic treat.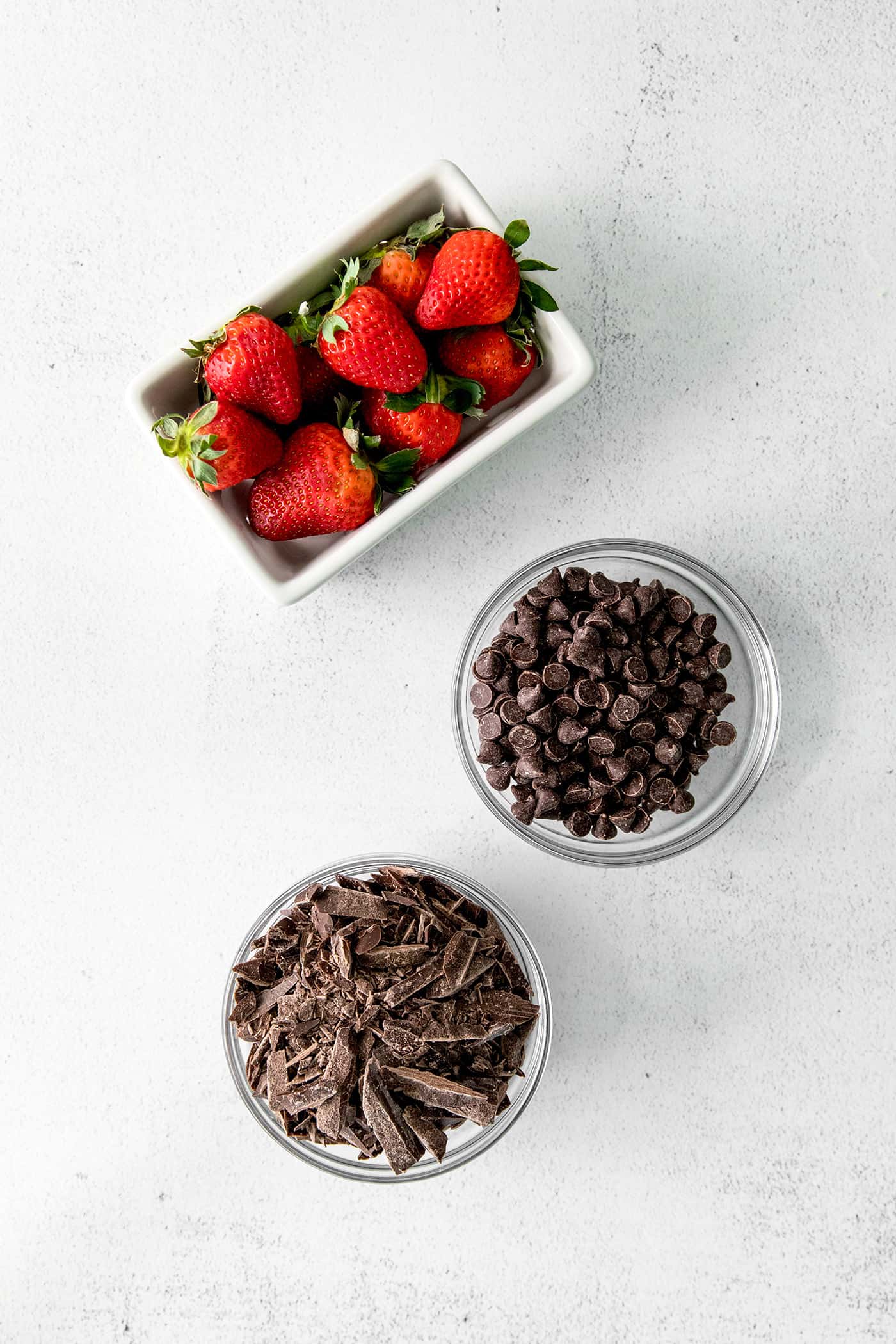 What You'll Need
You only need 3 ingredients to make really great chocolate dipped strawberries. Here's a quick overview. Be sure to scroll down to the recipe card for specific amounts.
Chocolate almond bark – Chocolate bark can also be called almond bark or chocolate candy coating – look for it in the baking aisle near the chocolate chips.
Semi-sweet chocolate chips – Be sure to use a good quality brand so the chocolate dip on the strawberries has truly great chocolate flavor. My favorite is Guittard.
Fresh strawberries – Look for medium to large berries that are ripe yet firm, bright red, and don't have large white spots. They'll be even more delicious if they're in season!
What type of chocolate should I use for chocolate covered strawberries?
For the best chocolate covered strawberries, I like to use a combination of chocolate bark and chocolate chips.
The chocolate bark gives stability to the chocolate coating, so it hardens well and doesn't melt easily. It's also an easy trick that helps keep chocolate bloom (those little white spots that appear on melted chocolate) away. Note that chocolate bark is also called almond bark or chocolate candy coating. You can usually find it in the baking aisle near the chocolate chips.
For the chocolate chips, be sure to use a quality brand, as this will give the best texture and flavor. My favorite chocolate chips are Guittard semisweet chocolate chips. We have them in our pantry at all times!
Can I use white, dark or milk chocolate?
As far as flavor, you can use this recipe to make any kind of chocolate-covered strawberries you desire, whether you prefer dark, milk, or white chocolate. Just note that if you use white chocolate chips, you'll want to use white almond bark as well.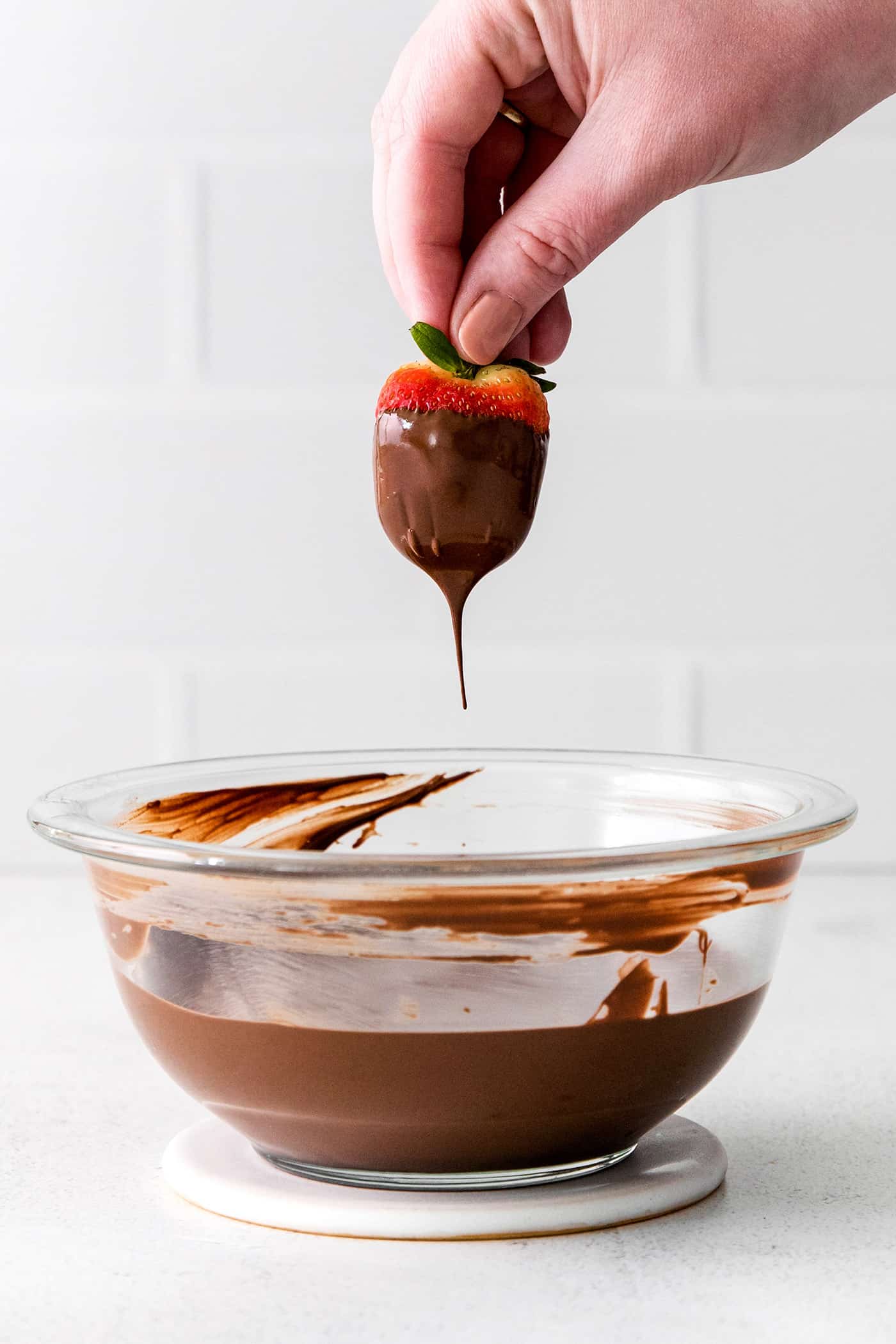 How to Make Chocolate Covered Strawberries
There are just 3 simple steps to making these homemade chocolate strawberries:
Melt the chocolate. Melt the chocolate in a double boiler, or in a heatproof bowl over a saucepan of simmering water (here's how to make your own double boiler). Stir often, until the chocolate is fully melted. Remove from heat.
Dip the strawberries. Hold the green top of the strawberry and dip it into the chocolate, leaving a bit of the red strawberry showing. Allow excess chocolate to drip off, then place the strawberry on wax or parchment paper. Repeat with remaining strawberries.
Allow the chocolate to set. If you are adding toppings, do so immediately after dipping each strawberry. Then place the dipped berries in the fridge for 10 minutes to set. Once set, you can enjoy them right away or place them in an airtight container in the fridge.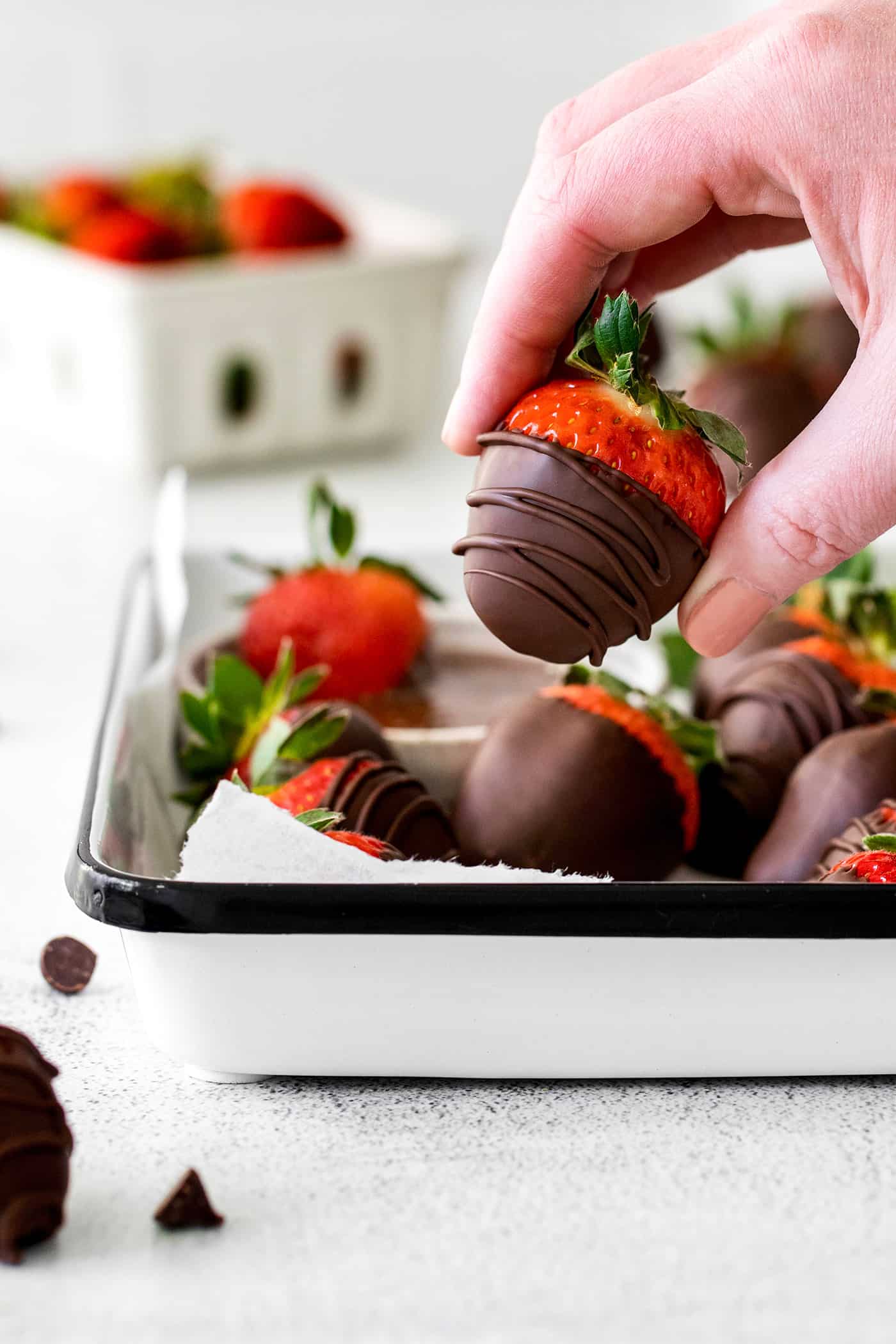 Chocolate Dipped Strawberry Topping Ideas
If you want to get creative and add some toppings to your strawberries, be sure to add them before the chocolate sets. Here are a few fun ideas of things to add:
Sprinkles – Any color, for any occasion.
Course sugar – For a sparkly finish!
Chocolate curls – Dark, milk, semisweet, or white chocolate.
Minced nuts – Pecans, walnuts, peanuts, pistachios, etc.
Mini chocolate chips – Any flavor
Oreo or other cookie crumbs
Toasted coconut
Graham cracker crumbs
Crushed candy bars
Want to add a chocolate drizzle?
You can also decorate the strawberries with a chocolate drizzle, like you see in these photos. Just be sure to add that after the base layer of chocolate has set. For these strawberries, I added some of the melted chocolate mixture to a small ziplock baggie and then snipped off a very small piece from the corner of the bag. Then I drizzled chocolate over the chocolate base coat on the strawberries.
You can also change up the chocolate drizzle, using melted dark, milk, or white chocolate!
Tips for the Best Chocolate Covered Strawberries
If this is your first time making chocolate dipped strawberries, here are a few helpful tips.
Use ripe, firm strawberries. The best strawberries to use are ripe and red, yet firm to the touch. And if the strawberries are fragrant, that always means better flavor and sweetness, so keep that in mind as well.
Clean and dry the strawberries before using. Be sure to dry the strawberries well after rinsing them. They should be completely dry when you dip them into the chocolate, for the best chocolate adhesion.
Use room temperature strawberries. It's also helpful to use room temperature strawberries, not ones straight from the fridge, for the best results.
Don't scorch the chocolate. While a double boiler (or double boiler method using a saucepan + bowl) absolutely helps to deter scorching the chocolate, do make sure the chocolate doesn't get overly hot. The goal is to melt the chocolates together gently.
Line your baking pan. The strawberries will stick to the pan if you don't use parchment or wax paper, or a nonstick silicone baking mat. Don't skip this step!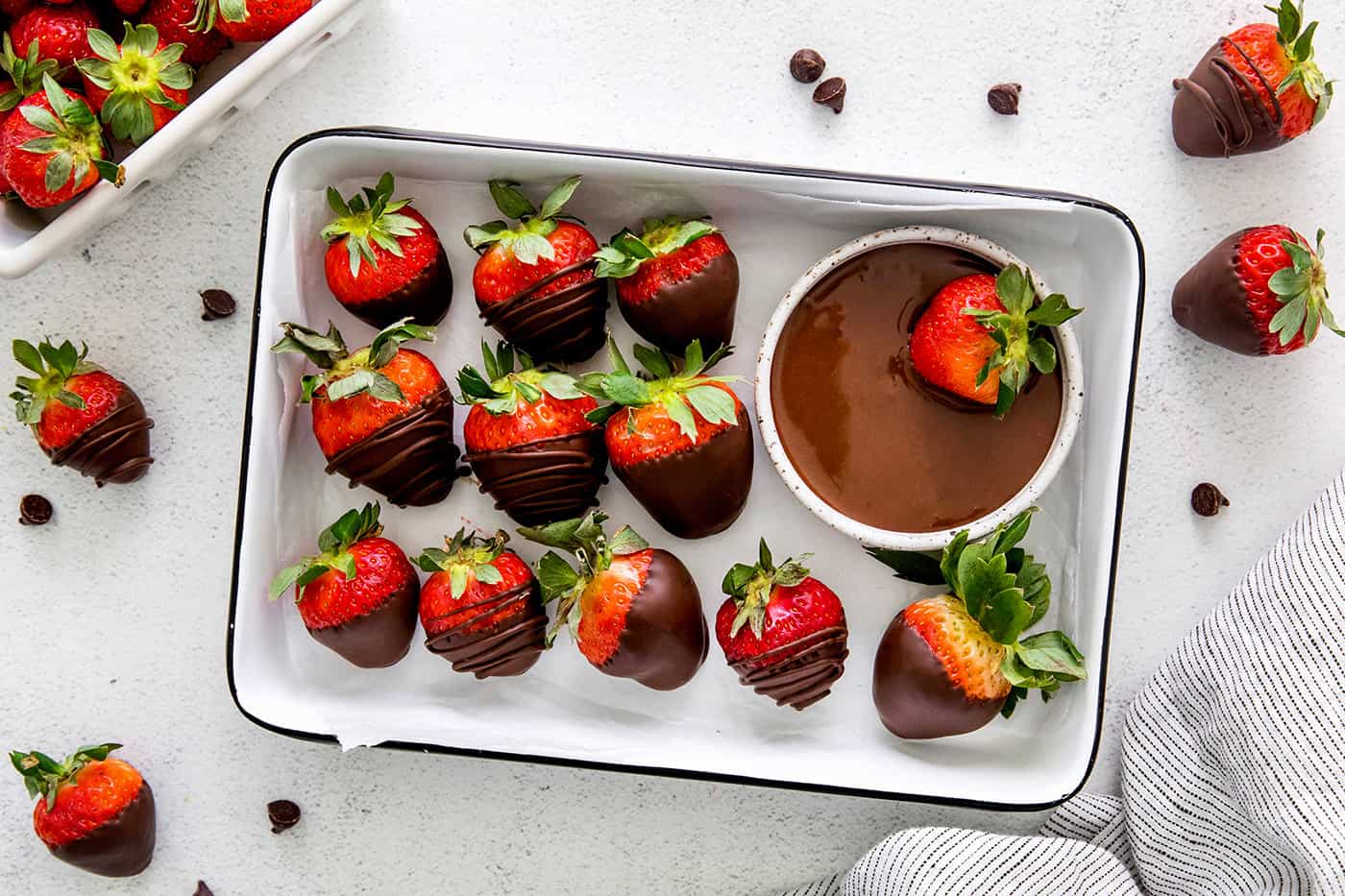 How Long Do Homemade Chocolate Strawberries Last?
For the absolute best chocolate dipped strawberries experience, enjoy them on the same day you make them – or at the very least, within 24 hours.
For short-term storage: If you're planning to eat the chocolate strawberries within a few hours of dipping them, just place them in a cool location out of direct sunlight. (If your house is warm/hot/humid, just set them in the fridge!)
For longer storage: Once they set on the parchment paper, you can transfer them to the fridge, uncovered, for up to 24 hours. If the strawberries are ripe and there's not a lot of condensation, they can sometimes keep well for up to 48 hours. But they'll certainly be at their best during that first day!
Got condensation? If you store the dipped berries in the fridge, you might see small drops of water form on the chocolate shell. Just grab a paper towel and lightly dab the chocolate to absorb the condensation.
Can I Freeze These?
Unfortunately, freezing chocolate strawberries doesn't work very well. As the berries thaw, they release moisture and ruin the chocolate coating. They are MUCH better enjoyed fresh!
More Strawberry Recipes
Like this recipe? Save it to Pinterest!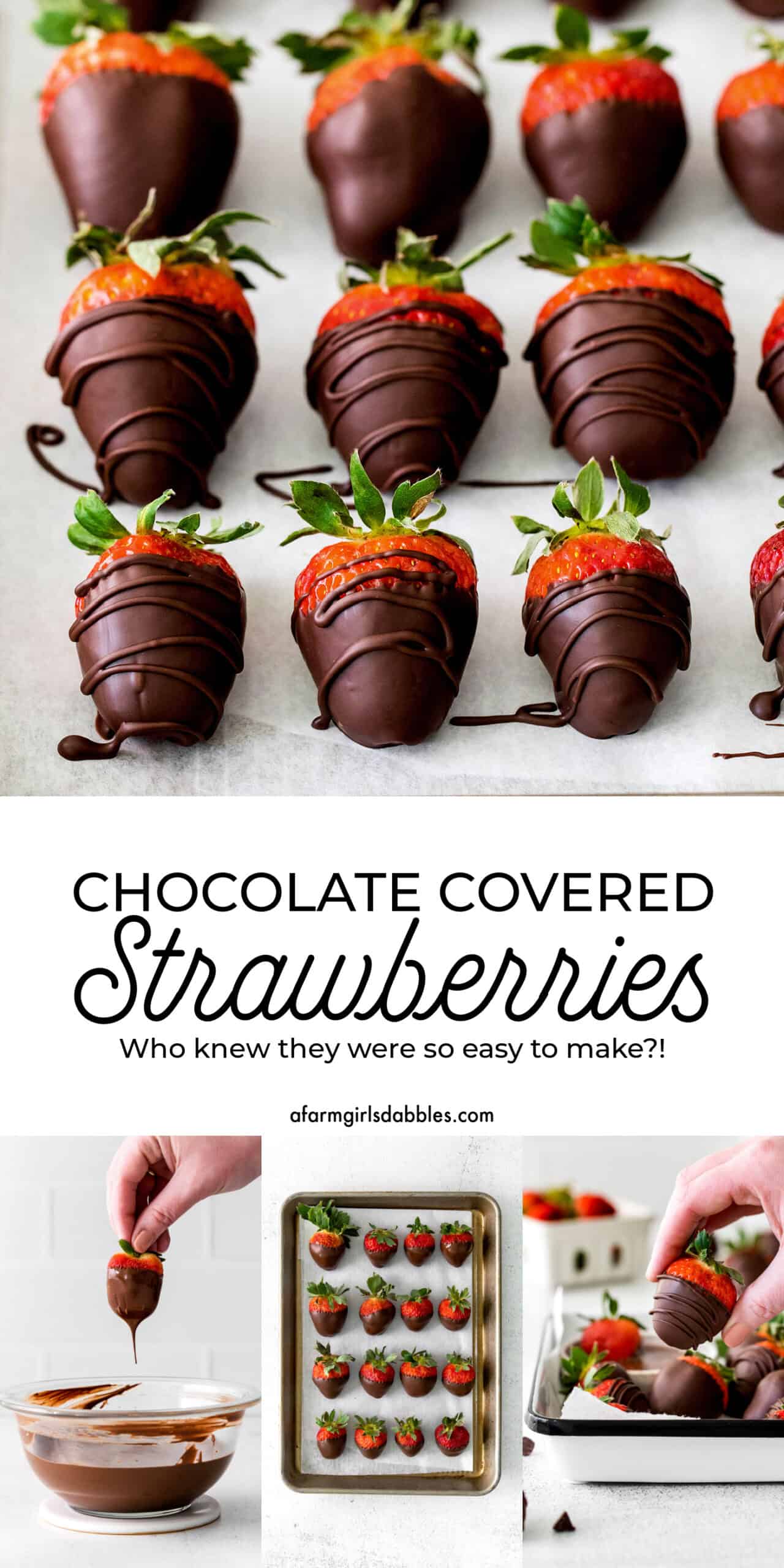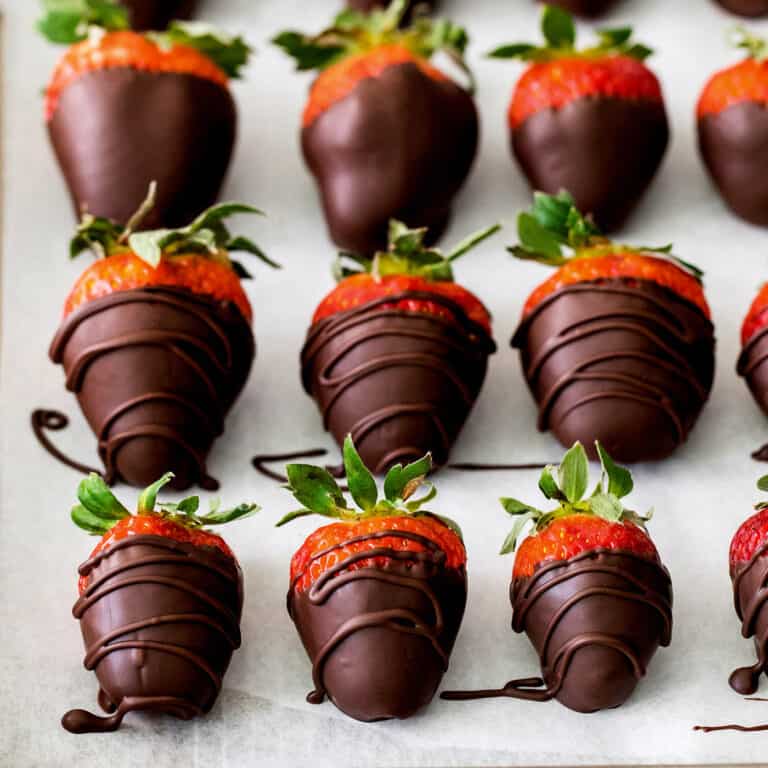 Chocolate Covered Strawberries
Yield: 12 servings
Prep Time: 10 minutes
Cook Time: 5 minutes
Additional Time: 10 minutes
Total Time: 25 minutes
These Chocolate Covered Strawberries look fancy and elegant, but are actually quick and easy to make, with just 3 ingredients! Perfect for gift-giving or any time you want a special, easy treat.
Instructions
Set up a double boiler, or make your own by placing a small saucepan of water over medium heat and bringing it to a simmer. Place a heatproof bowl over the pan, making sure it does not touch the surface of the water.
Add the chocolate almond bark and chocolate chips to the bowl. Allow the chocolate to melt, stirring often. It should take about 5 to 10 minutes. When the chocolate has fully melted, remove the saucepan from the heat.
Hold the green top of one strawberry and dip it into the chocolate, leaving a small amount of red berry showing at the top. Allow excess chocolate to drip off and then place the strawberry on a piece of wax or parchment paper to set. Repeat with the remaining strawberries. To speed up the setting time, place the dipped strawberries in the fridge for 10 minutes.
Store the strawberries in an airtight container in the fridge for up to 24 hours.
Notes
Chocolate covered strawberries are best eaten on the day they are made.
Recommended Products
As an Amazon Associate and member of other affiliate programs, I earn from qualifying purchases.
Nutrition Information:
Yield: 12
Serving Size: 1
Amount Per Serving:
Calories: 245
Total Fat: 17g
Saturated Fat: 5g
Trans Fat: 0g
Unsaturated Fat: 11g
Cholesterol: 0mg
Sodium: 97mg
Carbohydrates: 24g
Fiber: 5g
Sugar: 17g
Protein: 5g
Nutrition information is automatically calculated by Nutritionix. I am not a nutritionist and cannot guarantee accuracy. If your health depends on nutrition information, please calculate again with your own favorite calculator.