Whole Wheat Raspberry Drop Scones
This post may contain Amazon or other affiliate links. As an Amazon Associate I earn from qualifying purchases.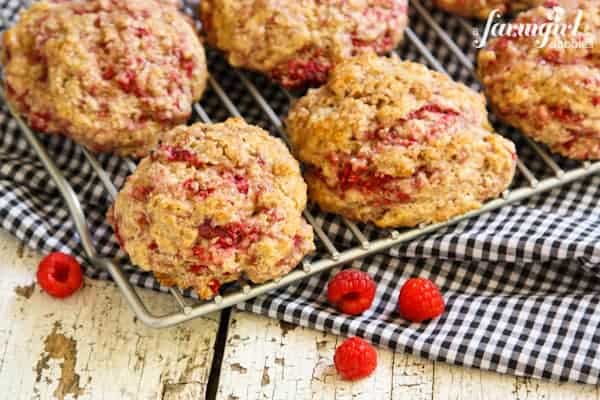 I confess to baking way too many batches of raspberry scones last summer, when our garden patch was producing like crazy, but never quite getting the recipe right. Fresh raspberries, with their tender and giving form, proved to be quite messy in dough, and I just couldn't get nice form in my baked scones. They tended to resemble little puffy pancakes instead. :)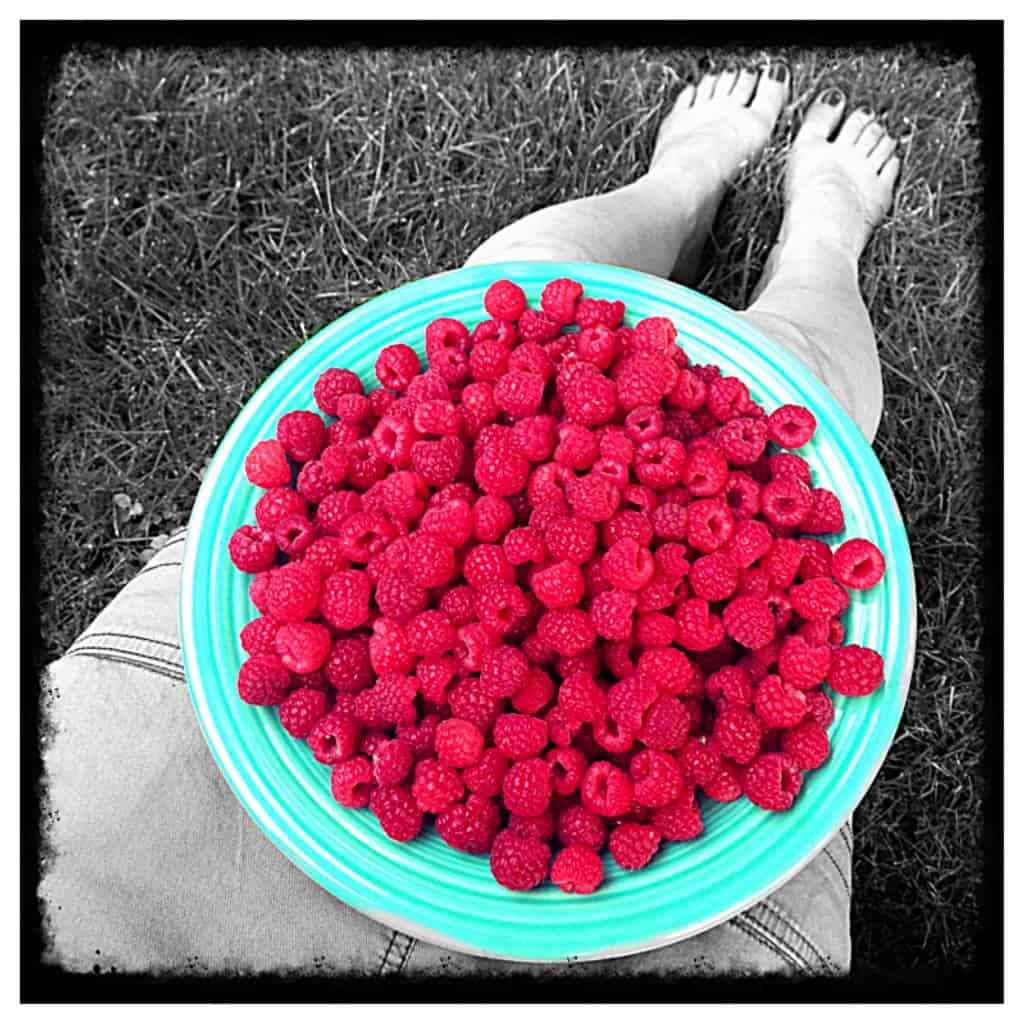 Fast forward another year, and I was still determined to master those babies. With all the gorgeous berries we're picking right now, I could afford to play around a bit more. Right?!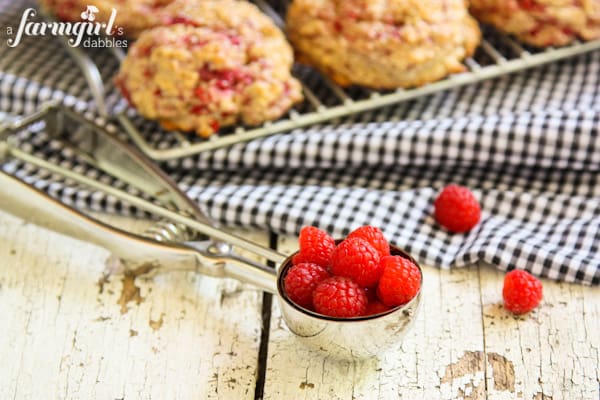 I had an "aha moment" a couple weeks ago as I was using one of my beloved scoops from The Pampered Chef to fill muffin tins with batter. I got excited at the prospect of scooping the raspberry scones dough straight from the mixing bowl, rather than patting the dough out on the counter top, and then cutting it into individual portions.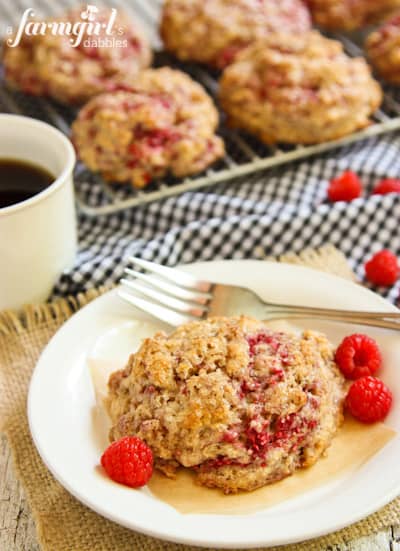 As you can see with your own eyes, this technique worked beautifully. I had to play around with the recipe a bit more, and the dough was still a messy one, but the scoop did the trick. It proved itself worthy of a higher standing in our kitchen.
These Whole Wheat Raspberry Drop Scones, with ribbons of red berries throughout, are sweet (but not too sweet!) summer joy. They are moist on the inside, with a thin crackly raw sugar outer crust. So worth the wait.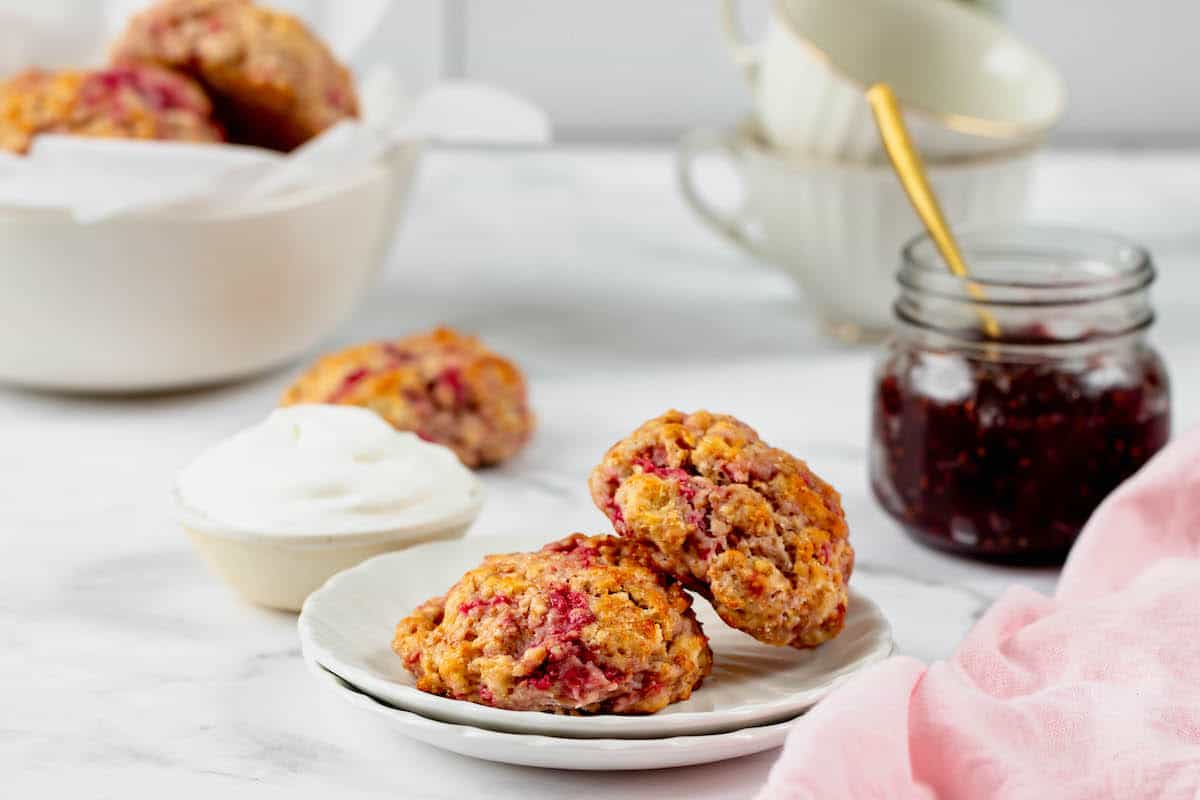 Whole Wheat Raspberry Drop Scones
Yield: 9 scones
Prep Time: 25 minutes
Cook Time: 13 minutes
Total Time: 38 minutes
Moist in the inside with a thin, crackly raw sugar crust, these Whole Wheat Raspberry Drop Scones are a sweet (but not too sweet) summer joy! Enjoy as an easy grab-and-go breakfast or dessert all summer long.
Ingredients
1 c. whole wheat flour
1 c. all-purpose flour
1 T. baking powder
1/2 tsp. salt
1/4 c. sugar
4 T. cold, unsalted butter, cut into 1/2'' pieces
3/4 c. fresh raspberries
1/2 c. buttermilk
1 large egg, lightly beaten
1 egg white
2 T. raw sugar
Instructions
Preheat oven to 425° F. Line a baking sheet with parchment paper and set aside.
In a bowl, stir together flours, baking powder, salt, and sugar.
With a rigid pastry blender, cut in butter until mixture resembles a coarse meal with larger pea size pieces. Add raspberries and fold gently to coat. Make a well in the center and then add buttermilk and egg. Stir just until combined, taking care to not over mix. The dough will be very soft.
Put a bit of flour in a bowl and coat your hands. Knead the dough 2 or 3 times, right in the bowl, coating your hands with additional flour as needed. The dough will be very loose. Using a large scoop (I used the "large" Pampered Chef scoop), transfer scones to prepared pan, dividing into 9 equal portions. It works best to slightly compress the dough into the scoop using the side of the bowl, so the dough is compact. With the scoop I use, the dough is a big rounded scoop.
Brush tops of dough with egg white and sprinkle with raw sugar. Bake until scones are golden brown, about 13 minutes. Let cool on pan for 5 minutes and then remove to a wire rack. Serve slightly warm or at room temperature.
These are definitely best eaten the same day. But a great trick for eating them the next day? Simply preheat a baking stone in a 300° F oven and then set already baked scones onto the stone for 3 to 5 minutes. The scones will be almost like fresh baked!
Notes
from a farmgirl's dabbles
Nutrition Information:
Yield: 9
Serving Size: 1
Amount Per Serving:
Calories: 194
Total Fat: 6g
Saturated Fat: 4g
Trans Fat: 0g
Unsaturated Fat: 2g
Cholesterol: 35mg
Sodium: 334mg
Carbohydrates: 31g
Fiber: 3g
Sugar: 9g
Protein: 5g
Nutrition information is automatically calculated by Nutritionix. I am not a nutritionist and cannot guarantee accuracy. If your health depends on nutrition information, please calculate again with your own favorite calculator.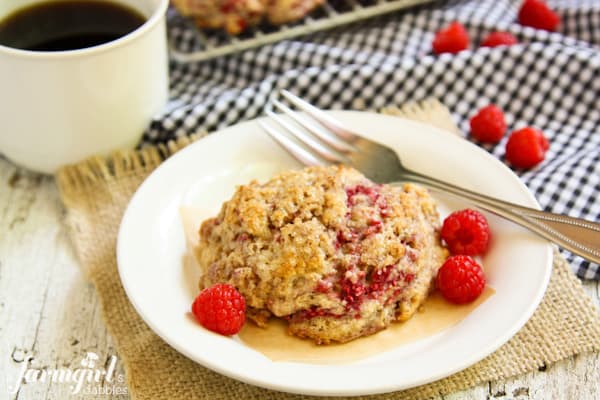 I am giving away a few of my favorite kitchen tools from The Pampered Chef!!

One person will win all four items:
The scoops are made of heavy-duty stainless steel and make portioning batters for muffins, cupcakes, and cookies a breeze. Their squeeze-action handles are super convenient for one-handed use, and they wash up beautifully in the dishwasher. I love having all three sizes!
And the Scoop and Spread?! I guarantee you'll never get a jar of peanut butter as cleaned out as I do with this fabulous gadget! One end is made of flexible silicone, and has a slight scooped shape. That's the end that gets the peanut butter jar clean. The other end is more rigid, with a serrated edge, perfect for cutting sandwiches and spreading on butter, cream cheese, and jam. It's a little tool that thinks big!
You definitely want to get your hands on these!
Enter this giveaway using the Rafflecopter widget below.

Disclosure: The Pampered Chef provided me with these tools, plus the giveaway package for one winner. I was not compensated to write about them. I just love using them and wanted to share them with you! All opinions are my own.


Some other raspberry deliciousness you might enjoy:
We participate in the Amazon Services LLC Associates Program, an affiliate advertising program designed to provide a means for us to earn fees by linking to Amazon.com and affiliated sites. See our
disclosure policy
for more info.