Triple Lemon Baby Cakes with Lemon Pudding Cream
These Triple Lemon Baby Cakes with Lemon Pudding Cream are the zesty dessert of your dreams. They're super moist mini lemon cupcakes garnished with lemon jelly beans!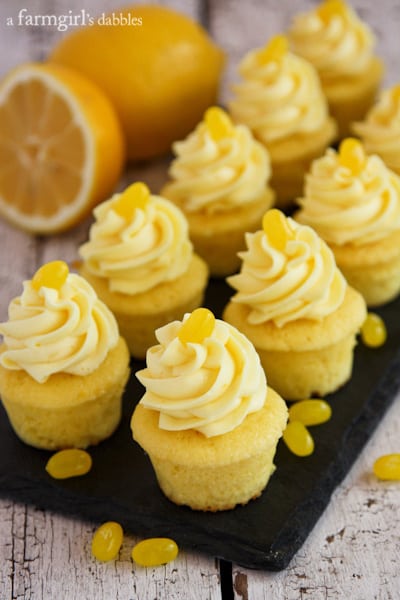 Triple Lemon Baby Cakes with Lemon Pudding Cream
As our youngest daughter's birthday approaches each April, my mind turns to lemon desserts. Lemon is her flavor and yellow is her color, and it all fits quite appropriately into the arrival of spring each year. I've always had a heart for bright lemon in early spring, and can't imagine a better way to celebrate our sweet girl.
These Triple Lemon Baby Cakes with Lemon Pudding Cream are ultra moist and wonderfully lemony. Tessa fell in love with the vibrant little bites of lemon cake I made for her birthday last year, so I knew I needed to make them for her again, but this time with triple the lemon goodness!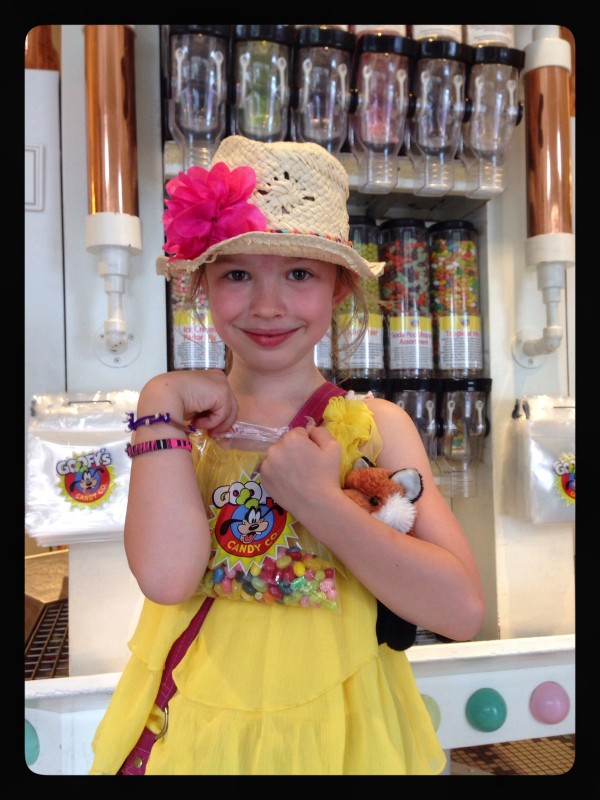 Tessa turned seven today. This photo of her was taken almost a year ago, when our family traveled to Orlando together so I could attend Food Blog Forum at Walt Disney World. While staying at the Grand Floridian (it IS grand!), where the conference was held, we hopped on the monorail for a super short ride over to Magic Kingdom for a day. And anyone who is part of my family knows that you simply must make a stop at the Main Street Confectionary when visiting this awesome park. It's a tradition, one that I've been upholding with my own family since my parents took me there throughout my childhood.
When we walked inside the Main Street Confectionary last spring, Hatti headed straight for the homemade confections under the glass pastry cases, most of which were dipped in chocolate and in the shape of a mouse with two large ears. But Tessa? She found the giant Jelly Belly jelly bean dispenser in the middle of room, and she hung tight. Jelly Belly jelly beans are one of her deepest candy loves.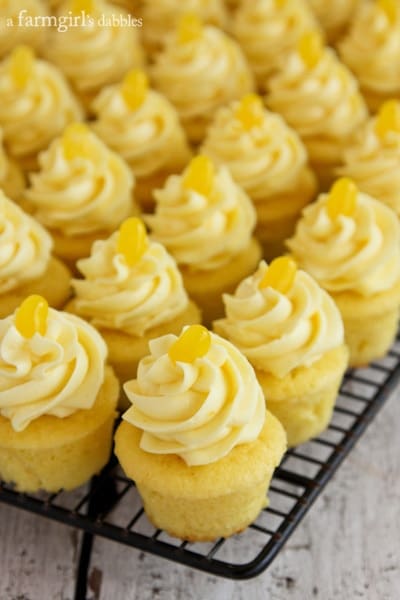 The Ultimate Lemon Dessert Recipe
And that is exactly why these mini cupcakes are topped with a Jelly Belly jelly bean. No other brand will do. You already guessed that they're lemon flavored, right?!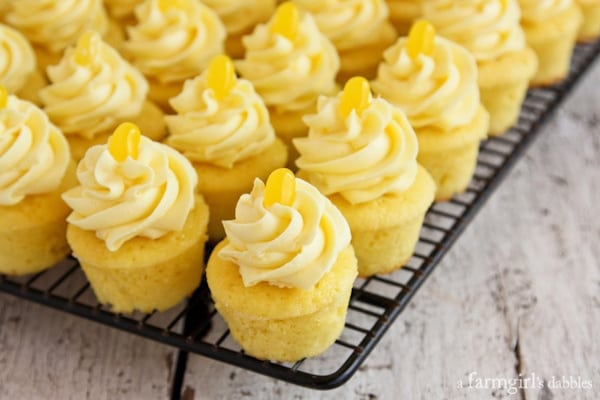 Lemon miniature cupcakes
"Lemon Drop" Jelly Belly jelly beans
Lemon pudding cream
The lemon pudding cream swirled onto the tops is really quite lovely, with a super smooth texture and lightly lemon flavor. After I discovered the stabilizing quality that dry pudding mix adds to freshly whipped cream…watch out, World! My family simply adored the chocolate chip angel food cupcakes that I recently made, topped with a vanilla cream that incorporated dry pudding mix. I've been waiting for my next opportunity to play around with this concept again. I promise you, this lemon version is awesome, too!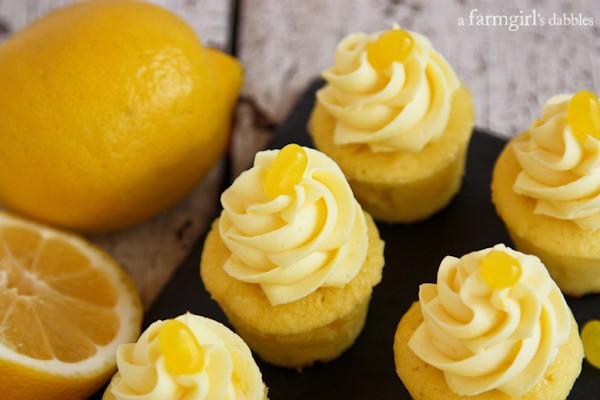 Today also marks the 4th anniversary of a farmgirl's dabbles. FOUR years, folks! Thanks for hanging out with us. We appreciate each and every one of you!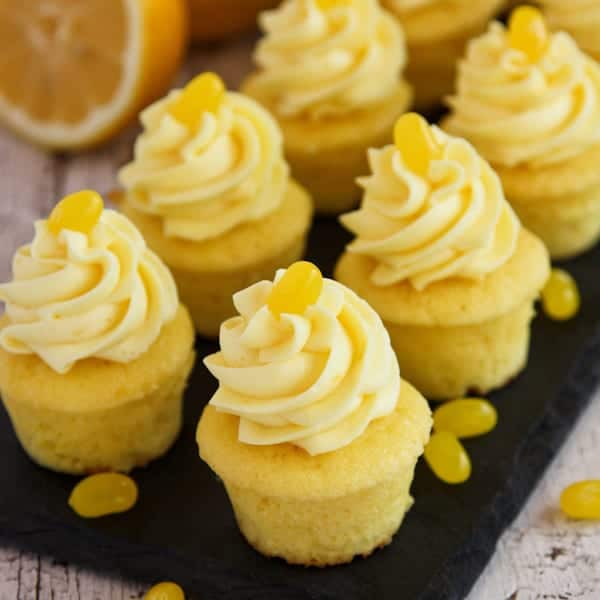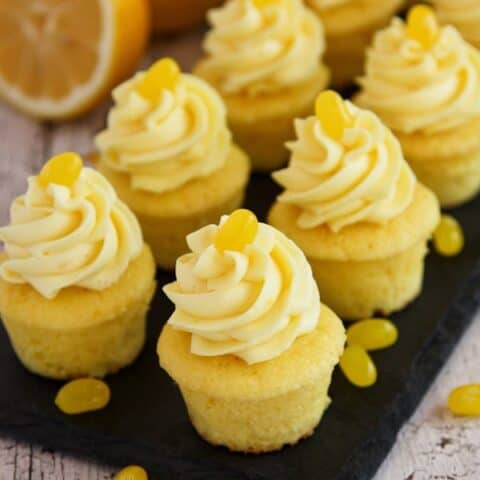 Triple Lemon Baby Cakes with Lemon Pudding Cream
Yield: 12 cupcakes
Prep Time: 20 minutes
Cook Time: 20 minutes
Total Time: 40 minutes
These Triple Lemon Baby Cakes with Lemon Pudding Cream are the zesty dessert of your dreams. They're super moist mini lemon cupcakes garnished with lemon jelly beans!
Ingredients
FOR THE LEMON BABY CAKES
3 1/2 c. all-purpose flour
2 1/4 tsp. baking powder
3/4 tsp. kosher salt
1 c. unsalted butter, at room temperature
2-1/2 c. sugar
4 large eggs, at room temperature
5 T. freshly squeezed lemon juice
2 T. finely grated lemon peel
lemon yellow food coloring, if desired, to enhance the yellow color
1-1/2 c. buttermilk
FOR THE LEMON PUDDING CREAM
3 c. heavy whipping cream
1 (3.4 oz.) package instant dry lemon pudding mix
1-1/4 c. powdered sugar
fresh lemon zest from one large lemon
1 to 2 drops Americolor #107 "Lemon Yellow", if desired
About 50 lemon jelly beans (We used "Lemon Drop" flavor by Jelly Belly.)
Instructions
For the Lemon Baby Cakes

Preheat oven to 350°.

A couple notes: I prefer to use flexible silicone mini muffin pans with no paper liners for this recipe, but you can also prepare metal mini muffin pans with paper liners. Also, I found that there are different sized mini muffin pans out there, so your yield and baking time may vary a bit. The silicone pans I used yield a little bigger mini cupcake than others, which I also happen to like.

Whisk flour, baking powder, and salt in medium bowl and set aside. In a large bowl, beat butter until smooth. Add sugar and beat to blend. Beat in eggs 1 at a time, then the lemon juice, lemon peel, and food coloring. Batter may look curdled, but that's just fine. Beat in the flour mixture alternately with the buttermilk, in 3 additions. Fill mini cupcake wells or liners a bit more than 3/4-full. Bake cupcakes until tester inserted into center comes out clean. This took about 20 minutes for me, but it will depend on the size of your pans, so pay close attention to your baking time. Cool 10 minutes and remove from pan. Cool completely before adding frosting.

For the Lemon Pudding Cream

Place whipping cream, pudding mix, and powdered sugar into a large chilled mixing bowl. Beat with a chilled whisk attachment until thick and stiff. Add lemon zest and food coloring, mixing to combine thoroughly.

to assemble the triple lemon baby cakes:

With a medium star tip, apply swirls of lemon pudding cream to the tops of each mini cupcake. Top each with a lemon jelly bean. Serve immediately or chill until ready to serve. These freeze well, but wait to add the jelly bean until right before serving.
Nutrition Information:
Yield: 12
Serving Size: 1
Amount Per Serving:
Calories: 920
Total Fat: 41g
Saturated Fat: 24g
Trans Fat: 1g
Unsaturated Fat: 13g
Cholesterol: 173mg
Sodium: 400mg
Carbohydrates: 143g
Fiber: 12g
Sugar: 86g
Protein: 14g
Nutrition information is automatically calculated by Nutritionix. I am not a nutritionist and cannot guarantee accuracy. If your health depends on nutrition information, please calculate again with your own favorite calculator.