Slow Cooker Beef Barley Stew
This post may contain Amazon or other affiliate links. As an Amazon Associate I earn from qualifying purchases.
Slow Cooker Beef Barley Stew is a hearty, flavorful soup with tender beef and vegetables, plus plump barley. It's an easy crockpot recipe that's comfort in a bowl! Watch the video!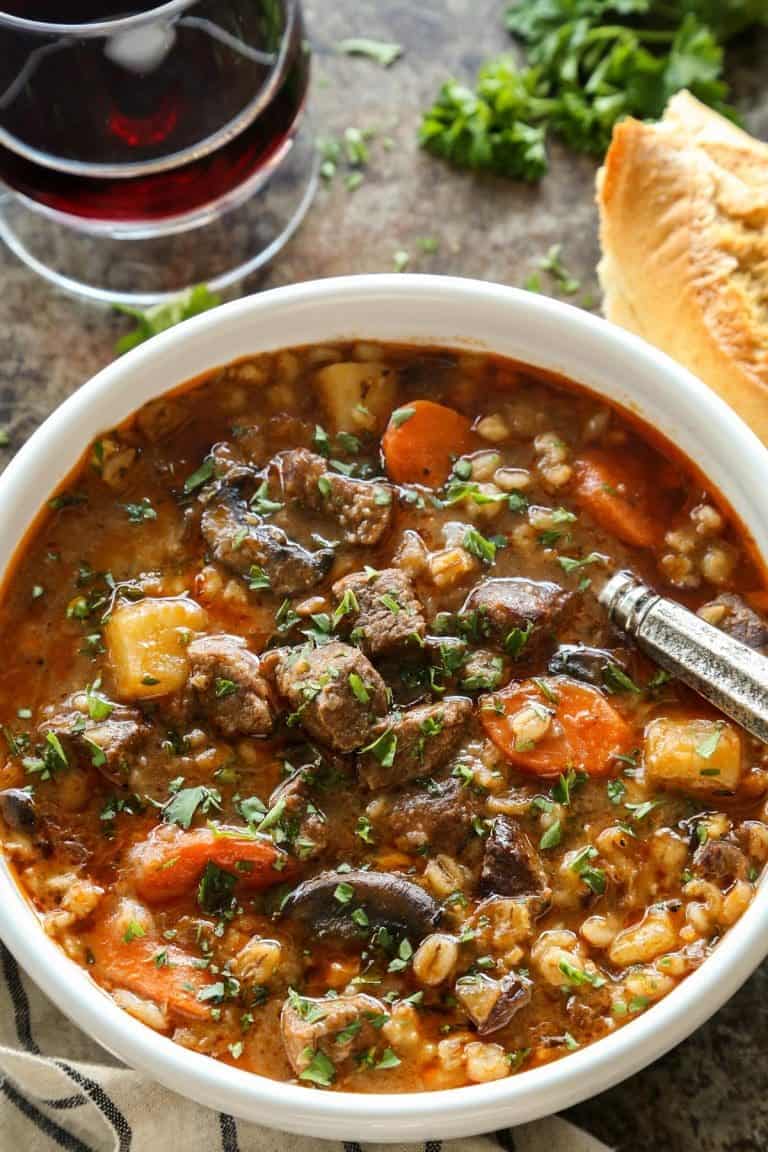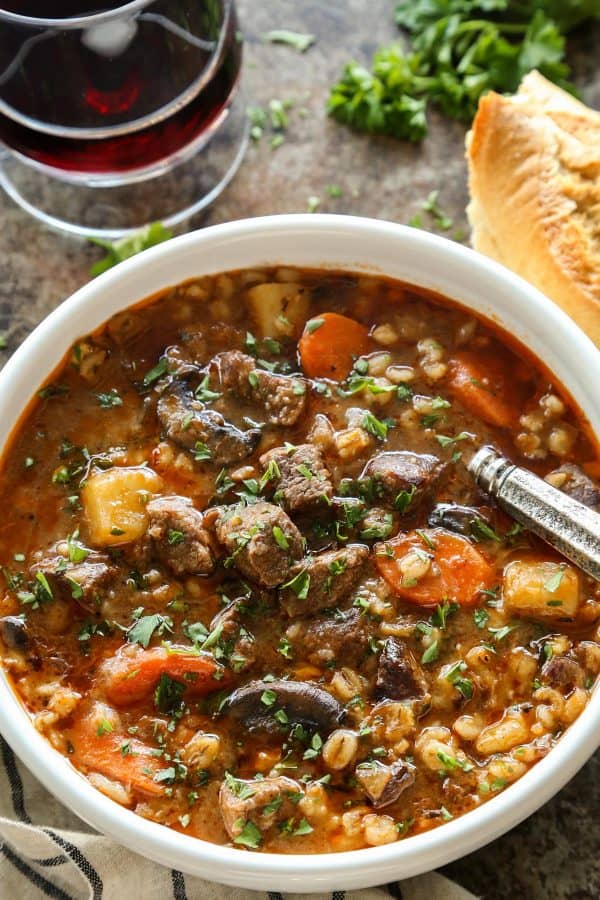 A Hearty Beef Barley Soup Recipe Made in a Slow Cooker!
I counted it out on the calendar. Just a little more than 10 weeks until the first day of spring!
Besides that being the birthday of both my dad and our first born daughter (I LOVE that they share this day together!), I'm so looking forward to springtime's warmer temps. This subzero cold spell here in the Midwest is getting mighty old!
Soon, my friends. Soon we will see green grass and blue sunny skies and temps above 30° F. I canNOT wait!
But in the meantime, to help us get through the lingering cold, we have stew.
Hearty and comforting, and ladled from the slow cooker that does all of the hardest work for you, it just doesn't get much better than this Slow Cooker Beef Barley Stew. Enjoy this recipe that's sure to take the chill out of your winter-weary bones!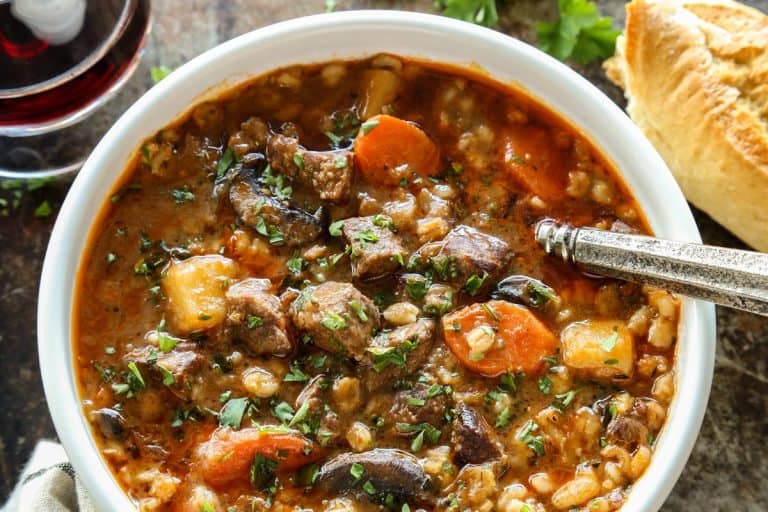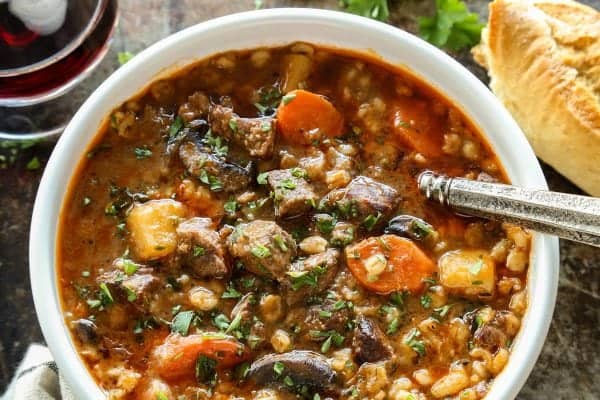 How to Make Beef Barley Soup
While the list of ingredients may seem long, this beef barley stew is incredibly easy to make. I love that, unlike my MIL's recipe for ground beef and barley soup, my recipe contains no cans of creamed soup. The wonderful, fresh ingredients in this recipe take it over the top!
I like to use a multi-cooker that allows me to brown the beef right in the pot, saute the onion, carrot, and garlic, and then easily switch over to the slow cooking function. If you don't have a slow cooker that works this way, simply prepare the beef, onion, carrot, and garlic in a skillet on the stovetop and transfer it to the slow cooker to finish.
All of the remaining ingredients are simply added to the slow cooker to cook until ultra tender and flavorful. It's so hard to resist those amazing fork-tender chunks of beef!
For more slow cooker recipes, click here.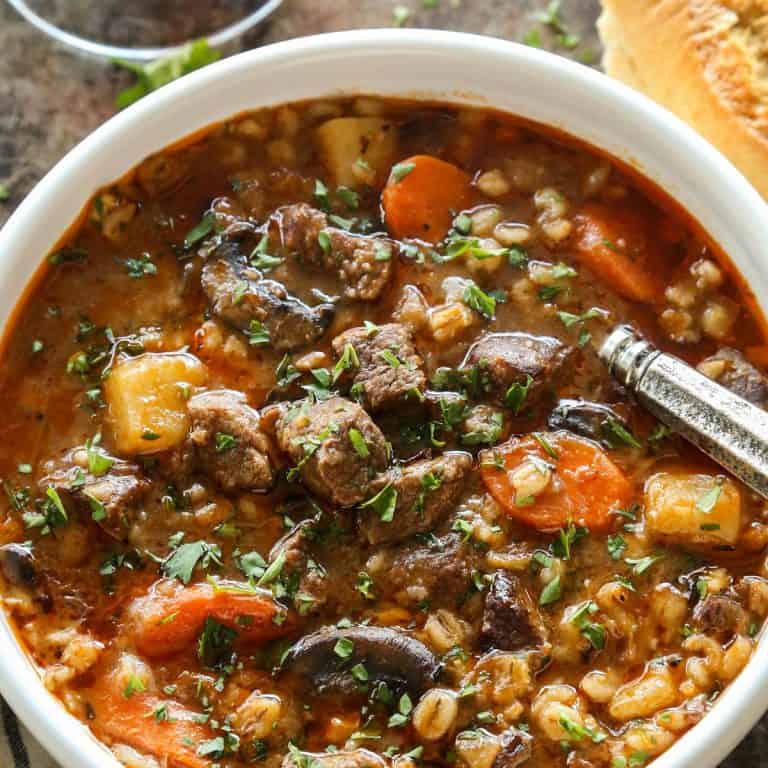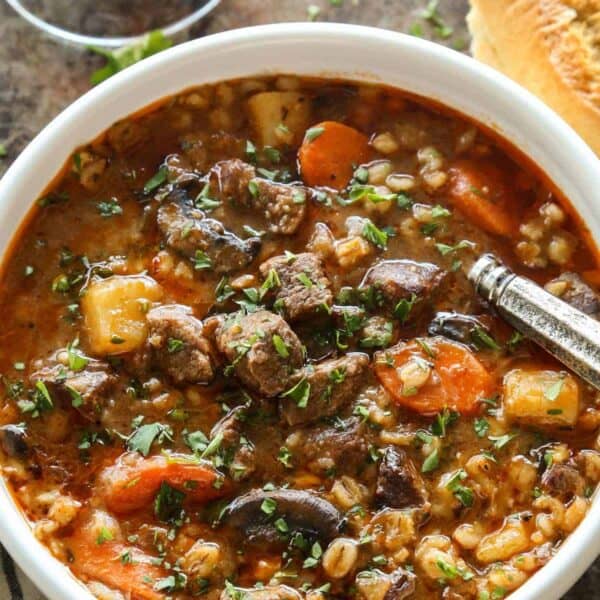 What Kind of Barley to Use for Soup?
I don't use barley very much in my cooking, but always know how much Blake liked his Mom's ground beef and barley soup when he was growing up. So this recipe has been all about recreating that familiar combination of flavors for Blake. He's a total soup guy!
Barley is a grain that is similar to brown rice in both size and texture. There are several different types of barley but the most common is pearl barley. It's especially popular in soups and stews because it cooks faster.
What is the Best Beef for Soup?
An inexpensive cut is best – beef chuck is my preference.
I look for a well-marbled piece, knowing that the fat vining its way through the beef will give my soup an incredible boost of flavor.
But an inexpensive beef cut is tougher, right? Well that's where the hard-working slow cooker comes into play. It magically transform this otherwise tough cut of meat into irresistible, fork-tender bites of beefy heaven.
Can't find chuck? Then top round would be my second choice. Just know that it will not be as good as chuck!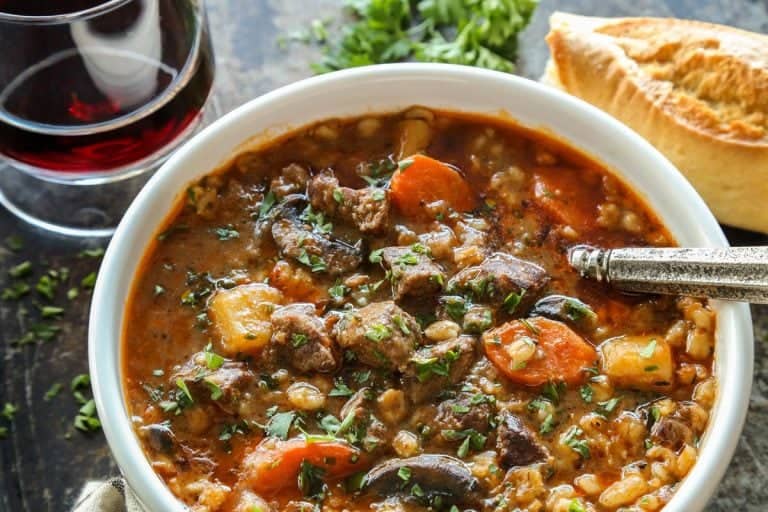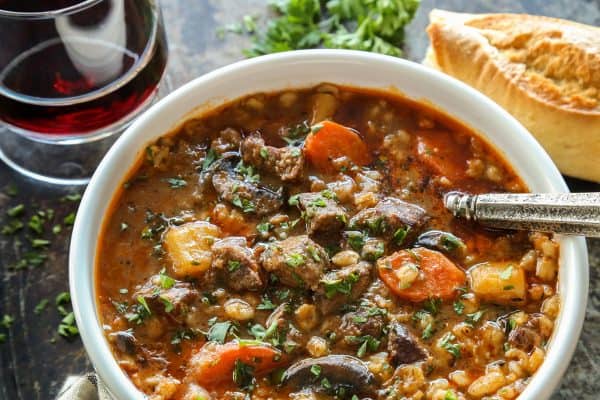 Serving Suggestions
I always find it amazing how much deliciousness comes out of the combination of beef broth, red wine, tomato paste, and a little Dijon mustard. And the flavors only intensify when set to mingle and slowly cook for the afternoon in the slow cooker.
This hearty stew just begs to be sopped up by some warm, crusty bread. Or how about steaming hot popovers? Try my traditional Popovers recipe – or if you have sourdough starter or discard, these heartier Sourdough Popovers are AMAZING!
I might also suggest, as my photo depicts, a glass of dry, robust red wine for sipping. So very lovely.
How to Store and Reheat Leftovers
Beef stew recipes always make great leftovers!
This homemade stew recipe will keep very well for a few days when stored in an airtight container in the refrigerator. Simply reheat single or multiple servings in the microwave or in a saucepan on the stovetop.
This stew also freezes perfectly. Use either larger freezer-safe containers or smaller single-serving freezer containers, and then thaw them in the fridge overnight before reheating. It's so wonderful to have these on hand for quick, delicious homemade meals!
Like this recipe? Then save it to Pinterest!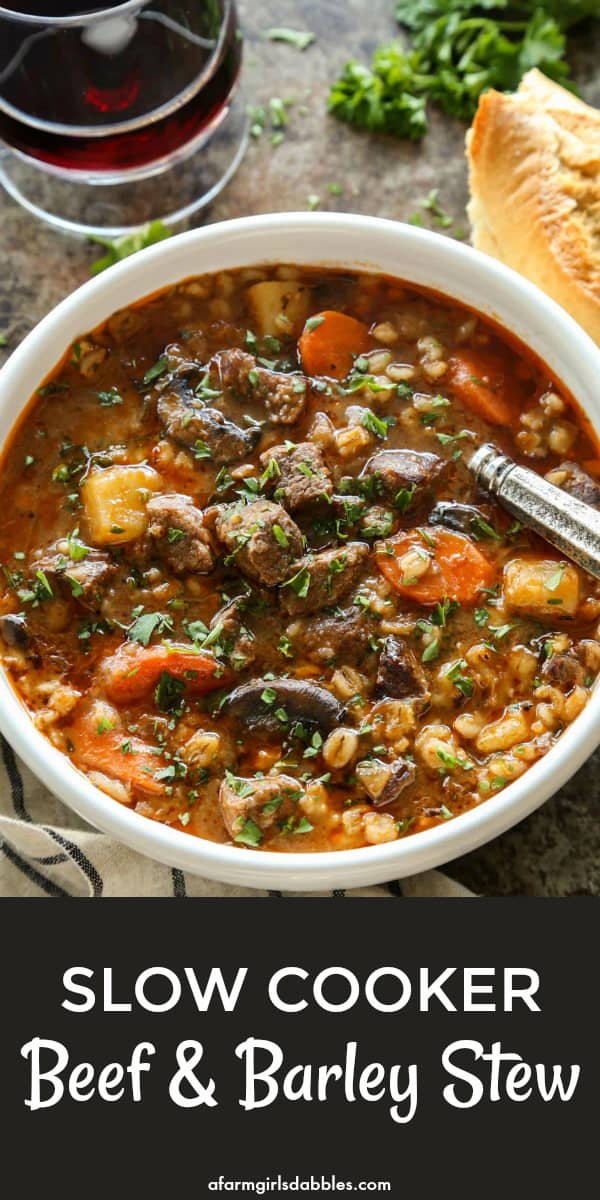 If you like this stew, you might also want to check out my Slow Cooker Beef and Sweet Potato Soup, which incorporates a bit of delicious Southwestern flair!
Here are a few more barley recipes you might like: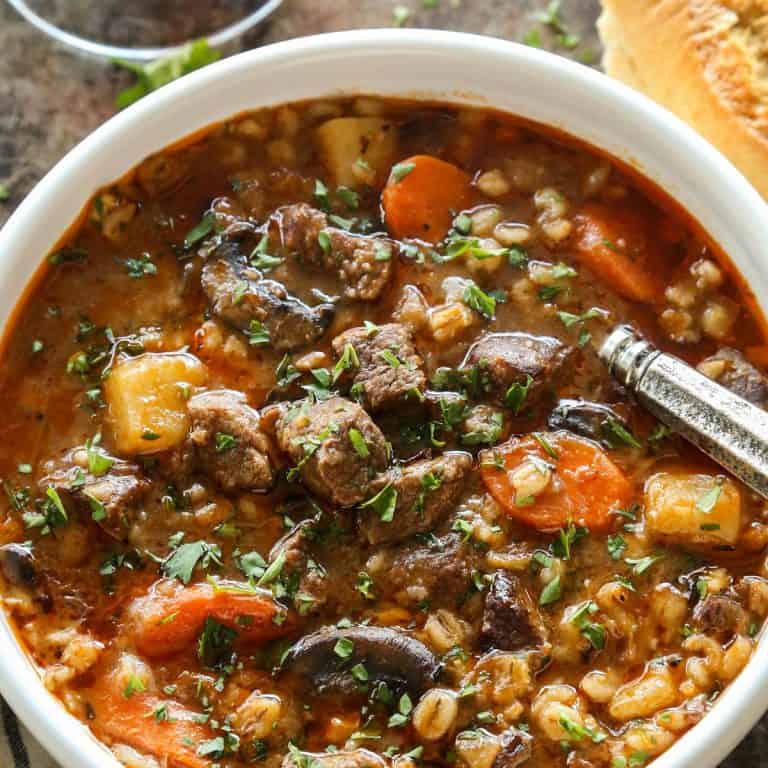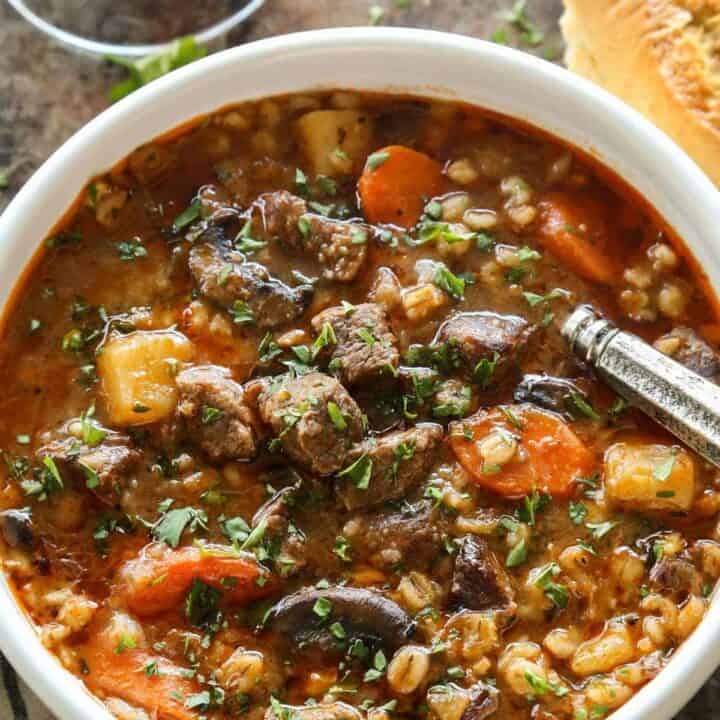 Slow Cooker Beef Barley Stew
Yield: 10 servings
Prep Time: 25 minutes
Cook Time: 6 hours
Total Time: 6 hours 25 minutes
Simple ingredients are left to mingle in the slow cooker, resulting in a rich and flavorful stew of tender beef and vegetables with barley. Total comfort!
Ingredients
1 T. olive oil
2 lbs. boneless beef chuck roast, cut into 1" cubes
kosher salt
freshly ground black pepper
8 oz. mushrooms, cut into thin slices
8 large carrots, peeled and sliced diagonally into 1/2" pieces
6 large cloves garlic, minced
4 medium-large yellow potatoes, peeled and cut into 1" cubes
1 large yellow onion, chopped
6 c. low sodium beef broth
1 c. dry red wine
1/4 c. tomato paste
1 T. Dijon mustard
1 tsp. dried thyme
3/4 c. pearl barley
1 bay leaf
chopped fresh parsley
Instructions
Sprinkle beef fairly generously with kosher salt and pepper. If you own this awesome slow cooker, where you can brown meat right in the slow cooker - add the oil to the slow cooker and then brown the beef right in the slow cooker, searing beef on all sides. Otherwise use a large skillet over medium-high heat to heat the oil and then brown the beef. Drain off fat. If using a skillet, transfer beef to slow cooker. You will need a large slow cooker for this recipe, as it makes a big quantity (ours is a 7-qt. size).
Add mushrooms, carrots, garlic, potatoes, onion, beef broth, wine, tomato paste, mustard, and thyme, and stir well to incorporate. Then stir in barley and add the bay leaf. Cover and cook on high for 4 hours. Then turn heat to low and cook for 2 hours more, or until beef is tender. Serve hot, with fresh parsley sprinkled over the top. A good, crusty bread for dipping is always welcome.
Notes
from a farmgirl's dabbles
Recommended Products
As an Amazon Associate and member of other affiliate programs, I earn from qualifying purchases.
Nutrition Information:
Yield: 10
Serving Size: 1
Amount Per Serving:
Calories: 353
Total Fat: 16g
Saturated Fat: 6g
Trans Fat: 1g
Unsaturated Fat: 9g
Cholesterol: 75mg
Sodium: 556mg
Carbohydrates: 23g
Fiber: 4g
Sugar: 4g
Protein: 27g
Nutrition information is automatically calculated by Nutritionix. I am not a nutritionist and cannot guarantee accuracy. If your health depends on nutrition information, please calculate again with your own favorite calculator.
This post was previously published February 2015. Photographs and some of the text were updated January 2018.
We participate in the Amazon Services LLC Associates Program, an affiliate advertising program designed to provide a means for us to earn fees by linking to Amazon.com and affiliated sites. See our
disclosure policy
for more info.