Mini Cream Puffs with Vanilla Pastry Cream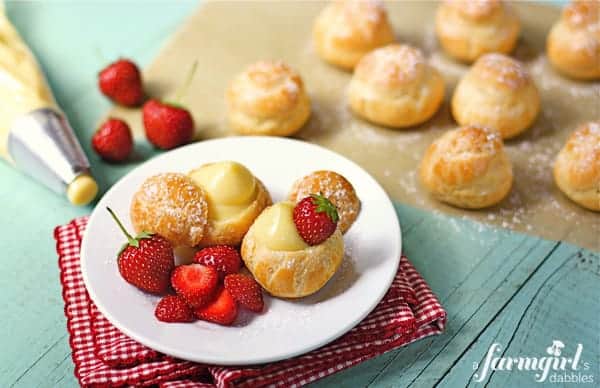 I can remember Mom making cream puffs when I was a kid. They seemed like the most perfectly fanciful dessert to ever come out of the oven, all magically puffed up and golden and hollowed out in the center, ready to be filled with a big spoonful of freshly whipped and sweetened cream.
It was such a treat for me to revisit making cream puffs again. These Mini Cream Puffs with Vanilla Pastry Cream knocked the socks off my family. We'll definitely be making them again!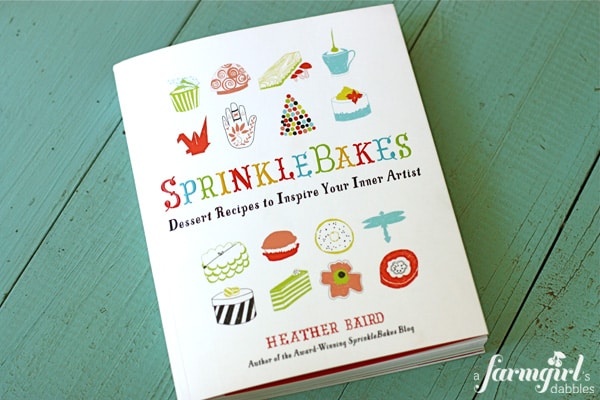 Do you know Heather Baird, the author of SprinkleBakes blog? If you do, you're already aware of the magic she concocts in her kitchen. A true artist at the core, she never ceases to amaze me with her baked creations. Of course I had to get my hands on her recently published cookbook!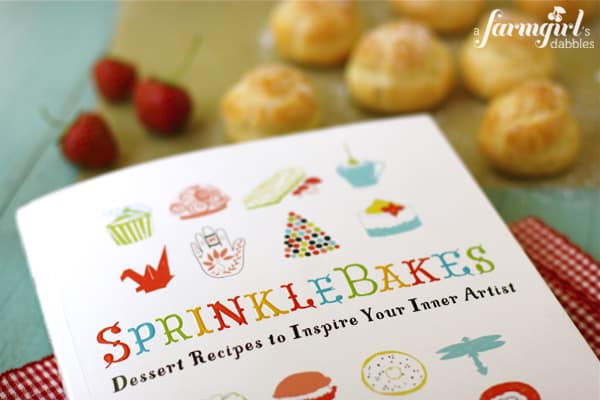 Heather's book is whimsical and extremely colorful, and manages to stretch your mind beyond the typical baking cookbook. For a peek at the incredible baked art within those pages, check out Bridget's post, where she highlighted several "wow" recipes on her own blog, Bake at 350.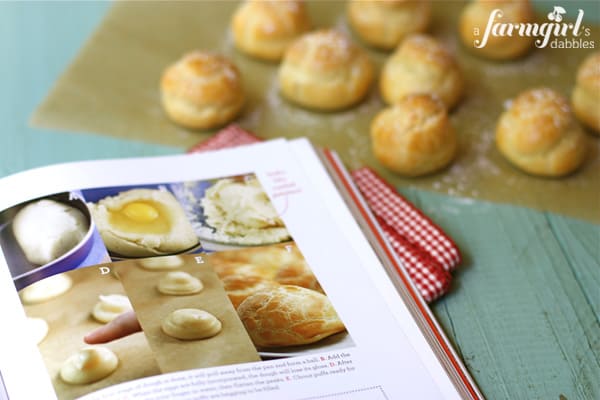 The SprinkleBakes book has been widely touted for its imagination and adventure in the kitchen, with great instructions and photos to guide everyone confidently through each recipe. But I also want you to know that it's a book that gives you freedom to be beautifully simple, too.
Take, for instance, these delightful cream puffs that knocked on my nostalgia, begging me, "Make me…make me…make me."
Filled with a thick and silky vanilla pastry cream (I literally licked the bowl clean!), it is a classic dessert that never fails to deliver sweet enjoyment. With a few fresh strawberries from our morning at the local u-pick, our little cream puffs were pure summer heaven.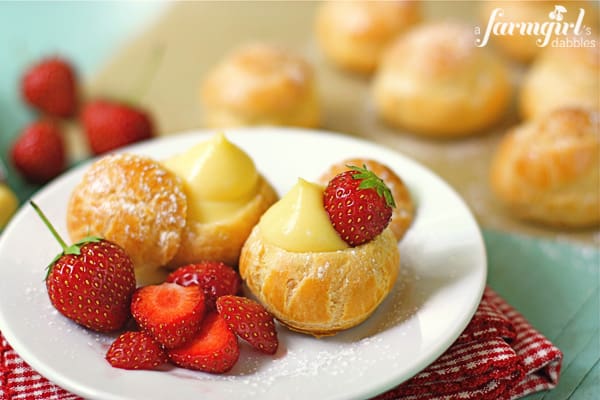 Aren't they just so cute?! I wish you could taste your screen!
Here's the recipe: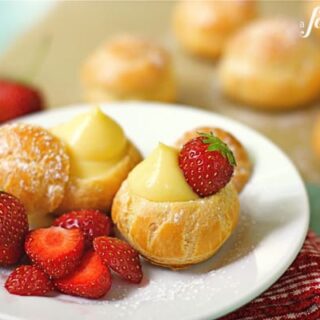 Mini Cream Puffs with Vanilla Pastry Cream
Yield: about 30 mini cream puffs
Prep Time: 35 minutes
Cook Time: 30 minutes
Total Time: 1 hour 5 minutes
A classic dessert that never fails to deliver sweet enjoyment.
Ingredients
for the mini cream puffs:
3/4 c. water
6 T. butter
1 T. sugar
1/4 tsp. salt
1 c. all-purpose flour
4 eggs
egg wash: 1 egg, lightly beaten with a pinch of salt
for the vanilla pastry cream:
2 T. cornstarch
1 c. whole milk
1 large egg
2 large egg yolks
6 T. sugar
2 T. butter
2 tsp. pure vanilla extract
Instructions
for the mini cream puffs:
Line 2 baking sheets with parchment paper. Fit a pastry bag with a large plain round tip, or snip 1/2'' off the tip of a filled disposable pastry bag.
In a medium saucepan, combine the water, butter, sugar, and salt and set over medium heat. Bring to a boil, stirring occasionally. When the mixture reaches a boil, remove from the heat and sift in the flour. Stir to combine. Return saucepan to the heat and cook while stirring constantly until the dough begins to pull away from the sides of the saucepan. Transfer dough to a bowl and stir for 1 to 2 minutes to cool it slightly.
Preheat oven to 425° F.
Add 1 of the eggs to the dough in the bowl. As you mix, the dough will break into pieces and appear loose and shiny. As the egg becomes incorporated, the dough will become coarse looking, like mashed potatoes. When this happens, add another egg and repeat the process until you have incorporated all the eggs.
Transfer the dough to the pastry bag. Pipe the dough into mounds that are about 1-1/2'' to 2'' in diameter, and about 1'' high. Space the mounds 1-1/2'' apart on the lined baking sheets. Using a clean finger dipped in water, gently press down on any peaks that formed during piping. The cream puffs should have rounded tops. Brush the tops with the egg wash.
Bake for 10 to 12 minutes, or until the cream puffs are well inflated and beautifully golden. Be sure to keep the oven door closed until the cream puffs are golden brown. Opening the door before they are golden may cause them to deflate.
Now lower the oven temperature to 350° F and continue to bake the cream puffs until they are dry, about 18 to 20 minutes more. Transfer the cream puffs to a wire rack to cool.
for the vanilla pastry cream:
In a small bowl, dissolve the cornstarch in 1/4 cup of the milk. Beat the whole egg, then the yolks, one at a time, into the cornstarch mixture.
In a saucepan, combine the remaining 3/4 cup milk and the sugar and bring to a boil, whisking constantly.
While whisking the egg mixture, slowly pour 1/3 of the boiling milk into it, to temper the eggs. Return the remaining milk in the saucepan to medium heat. Pour the hot egg mixture into the saucepan in a thin stream, whisking, to not let the eggs scramble. Whisk constantly until the mixture begins to boil. Remove from the heat and whisk in the butter and vanilla.
Pour the pastry cream into a bowl and press a sheet of plastic wrap directly on the surface so it does not form a skin. Cool to room temperature. Refrigerate until ready to use.
to fill the cream puffs:
This can be done a couple of different ways. To fill like I did, simply cut off the top 1/3 of the cream puff with a serrated knife. Fill a pastry bag fitted with a large round tip with the vanilla pastry cream and pipe some into the bottom portion of the cream puff. Alternatively, you could just use a spoon to fill the cream puff.
Or...to fill the cream puffs like Heather does in her book, pierce the side of each cream puff with a knife, making a small incision just big enough to fit a pastry tip inside. Pipe in the vanilla pastry cream and press gently to close incision.
Sprinkle with powdered sugar and serve with fresh berries.
Nutrition Information:
Yield: 30
Serving Size: 1
Amount Per Serving:
Calories: 98
Total Fat: 6g
Saturated Fat: 3g
Trans Fat: 0g
Unsaturated Fat: 2g
Cholesterol: 73mg
Sodium: 84mg
Carbohydrates: 8g
Fiber: 0g
Sugar: 4g
Protein: 3g
Nutrition information is automatically calculated by Nutritionix. I am not a nutritionist and cannot guarantee accuracy. If your health depends on nutrition information, please calculate again with your own favorite calculator.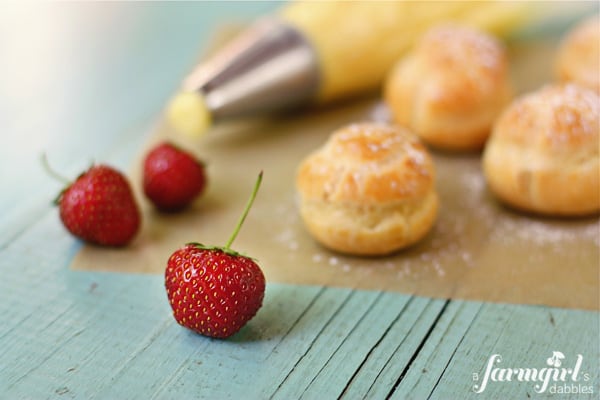 Disclosure: I received a copy of SprinkleBakes for review. All text and opinions are 100% my own.