Parmesan Dill & Garlic Popcorn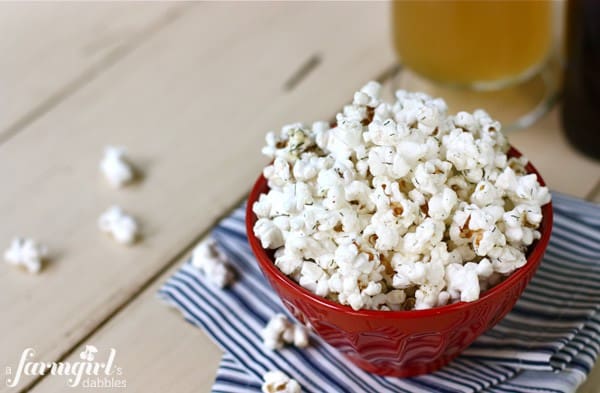 This Parmesan Dill & Garlic Popcorn is the perfect snack to munch on during movie nights! It's a super fun way to add flavor to your basic popcorn recipe.
Parmesan Dill & Garlic Popcorn Recipe
We've been popping a lot of corn lately. In a lot of different ways.
I just got tired of the too-easy-to-not-use microwave bags that only left me yearning for real butter and my own perfect amount of salt. So I set out on experimentation, trying different methods. And this is what I have happily and confidently settled upon:
by Bridget at Bake at 350
Perfecto Popcorn is truly perfect in every way. It requires no special equipment, only a pot with a lid and some oil. I've used this method many times over the past couple of weeks, and am repeatedly amazed at the small amount of unpopped kernels (0 to 3 per batch) left in the pan of perfectly popped corn. I admit that my air popper was old (college days kind of old), but the amount of kernels it left unpopped was not cool. And since finding Bridget's technique, that old air popper no longer resides in our home. :wink:
Popcorn was a regular treat in our house growing up. We used an air popper or, if we got lucky, Dad would make popcorn using the stovetop popper. If we got super duper lucky during the winter, he would pop corn in his black long-handled popper over the fire in the living room fireplace. And for our munching entertainment, the TV was probably tuned into either The Lawrence Welk Show or Hee Haw. Those were great nights in the Klein home.
Times have definitely changed, along with our TV show line-up, but popcorn still remains a favorite treat in our family. My dad and Blake's dad never tire of it, and when we're visiting each other, there's usually a big bowl of popcorn passed around during the evening.
I recently participated in a webinar hosted by Land O'Lakes and The Pioneer Woman. I was on the phone with Ree. Kind of.
She was every bit as warm and welcoming and witty as she is on her blog – and her Food Network TV show. Now that's a program I'm proud to sit my kids in front of the TV for! And that's exactly what you'll find our family watching when we're home on a Saturday morning – indulging in a little time on the ranch with cattle, horses, dogs, cats, kids, REAL cowboys and cowgirls, and amazing food. Our little Tessa is completely glued to the set the entire time, with her eyes peeled for a sighting of horses and Charlie.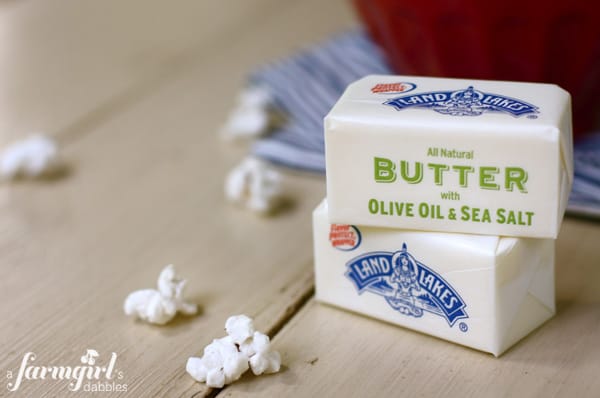 During the webinar, Ree shared all the ways she's been using the new Butter with Olive Oil and Sea Salt from Land O'Lakes. From making pan sauces to basting to sautéing, it all sounded delicious to me!
And when I tried the new butter for myself? Well, I can say that I was born again in Ree's Church of Butter. It's deliciously creamy, as butter should be, but with a slightly lighter quality from the olive oil. And the salt is subtly and beautifully perfect.
With my first taste, all I could think was…I bet this is amazing on popcorn!
And it is.
I vow to always have this new butter in my fridge, if only for the heightened enjoyment it brings to popcorn.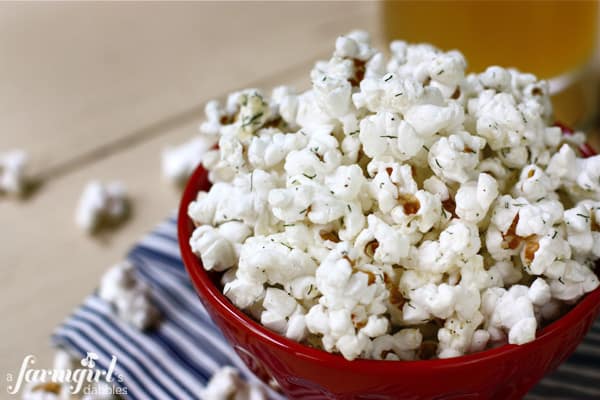 Along with all my popping technique experimentation, I have also been playing around with flavoring the popped corn. My favorite version so far is this Parmesan Dill & Garlic Popcorn, which is mostly due to my having a thing for dill lately. Sprinkled on my eggs, over my potatoes, in my salads…the dill has been making me a very happy girl. And it surely does not disappoint on popcorn.
If you're looking for a little something extra special in your popcorn bowl, give this recipe a try. It starts out with a drizzle of melted Butter with Olive Oil & Sea Salt and is finished off with a blend of Parmesan and dried dill, garlic, and onion. It's yummy. Completely yummy.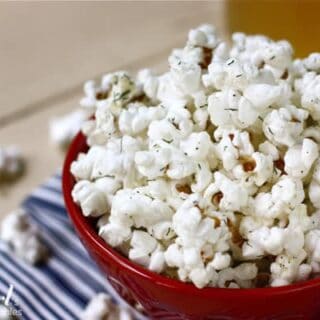 Parmesan Dill & Garlic Popcorn
Yield: 12 cups
Prep Time: 5 minutes
Cook Time: 5 minutes
Total Time: 10 minutes
This Parmesan Dill & Garlic Popcorn is the perfect snack to munch on during movie nights! It's a super fun way to add flavor to your basic popcorn recipe.
Ingredients
12 c. popped corn (from about 1/2 c. unpopped kernels)
4 T. (one conveniently sized half-stick) Land O'Lakes Butter with Olive Oil & Sea Salt, melted
1 T. grated Parmesan cheese
1 tsp. dried dill (or a bit less if using fresh dill)
1/2 tsp. garlic powder
1/4 tsp. onion powder
1/4 tsp. freshly ground black pepper
your favorite salt, if desired
Instructions
In a small bowl, stir together the Parmesan, dill, garlic powder, onion powder, and black pepper. Set aside.
While the popcorn is still warm, drizzle half the melted butter over the popcorn in a fine stream. Using a large wooden spoon, gently toss the popcorn a few times. Then repeat again with the remaining butter.
Spoon half of the Parmesan mixture over the popcorn and gently toss. Repeat with the remaining Parmesan mixture.
The Land O'Lakes Butter with Olive Oil & Sea Salt has a nice saltiness to it, but if you like your popcorn more salty, sprinkle more on at the end. And, of course, if you like it more buttery, go ahead and melt more of that delicious butter!

Enjoy!
Nutrition Information:
Yield: 12
Serving Size: 1
Amount Per Serving:
Calories: 190
Total Fat: 7g
Saturated Fat: 3g
Trans Fat: 0g
Unsaturated Fat: 4g
Cholesterol: 11mg
Sodium: 137mg
Carbohydrates: 32g
Fiber: 4g
Sugar: 7g
Protein: 5g
Nutrition information is automatically calculated by Nutritionix. I am not a nutritionist and cannot guarantee accuracy. If your health depends on nutrition information, please calculate again with your own favorite calculator.