Cream Wafer Sandwich Cookies with Winter Spiced Buttercream
This recipe for Cream Wafer Sandwich Cookies with Winter Spiced Buttercream is a twist on a favorite holiday cookie from my childhood. It's buttery delicious!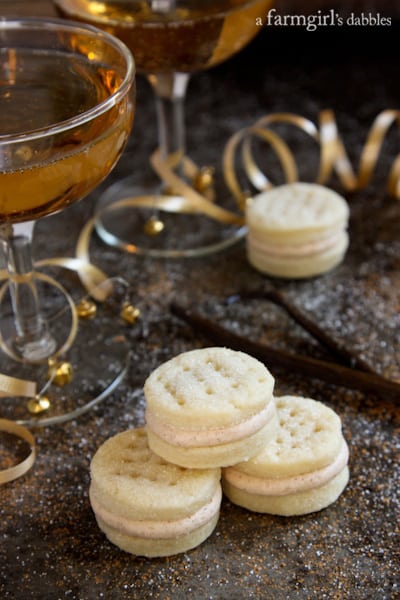 If I had to name my Top Ten in holiday cookies and sweets, cream wafer sandwich cookies would definitely make the list. I can't help but think of my aunt June, who always, always, always included those buttery little treats on her amazing holiday cookie platters. And I have fond memories of making the sandwich cookies with Mom and my sisters, gathered around the big kitchen table on the farm. We tinted the buttercream in different hues each year, ranging from pastel to bright, always colorful, with a simple sweet vanilla flavor.
So this year I decided to play around with this recipe that holds so much nostalgia for my family. I wanted to take it in a completely different direction: with warm spices. These Cream Wafer Sandwich Cookies with Winter Spiced Buttercream are a lovely twist on a classic; a new cookie for me to squeeze into my Top Ten.
It has been a joy to partner with Land O'Lakes again this past year. Our Kitchen Conversations group spent delicious quality time together at The Ranch this spring, a very memorable stay on the Oklahoma grasslands. And then we met up again during the summer here in Minnesota to visit Land O'Lakes headquarters and a local dairy farm. That time together provided an awesome peek behind the scenes of this farmer-owned co-op, the second largest cooperative in the nation.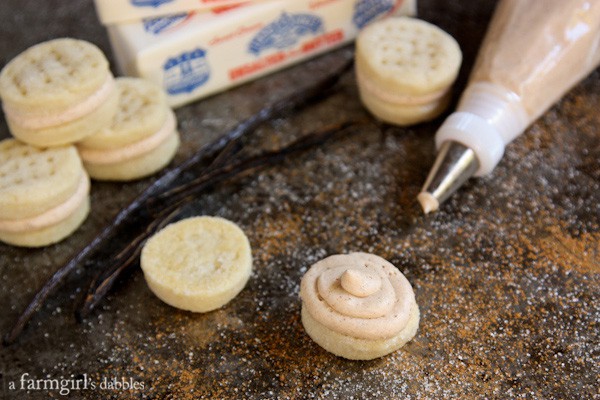 Even though these cream wafer sandwich cookies don't look quite like the ones I grew up eating each holiday season, they have the same great texture and flavor that can only come from butter. And this recipe has plenty of it — nearly a whole pound. Close your eyes for a moment and just imagine how amazing they must taste!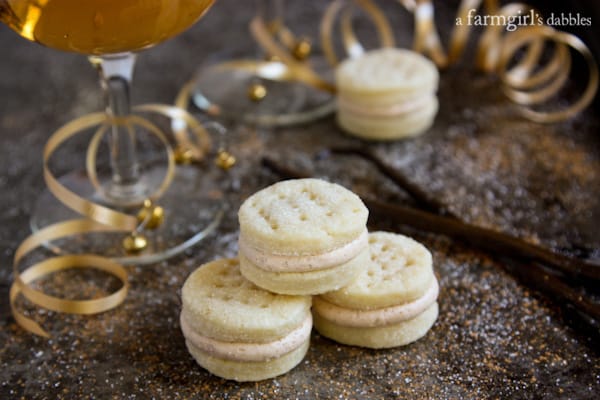 People who have never eaten cream wafer sandwich cookies are always blown away by how wonderful they are. These petite cookies are comprised of two buttery-rich and delicately flaky wafers, made from just four ingredients: butter, flour, cream, and sugar. The winter spiced buttercream is silky smooth and, of course, buttery. With a touch of almond flavoring, plus gorgeous vanilla beans, a good helping of cinnamon, and a sprinkling of nutmeg and cloves, it is a lovely, creamy contrast to the wafer cookies. If you've never before had a cream wafer sandwich cookie, there's no time like the present!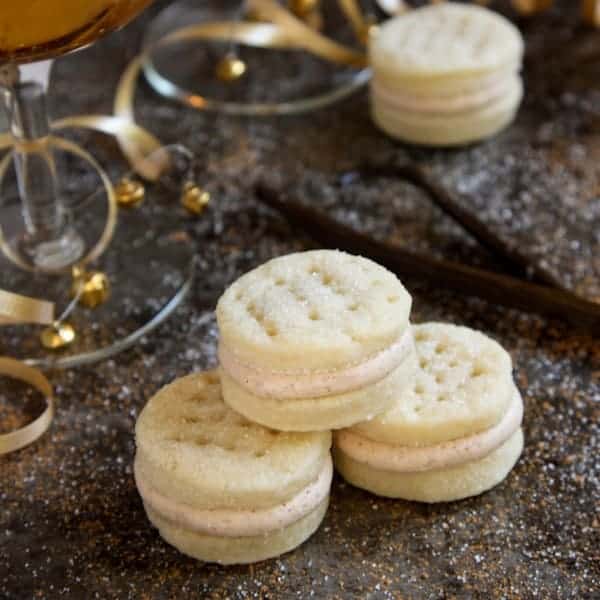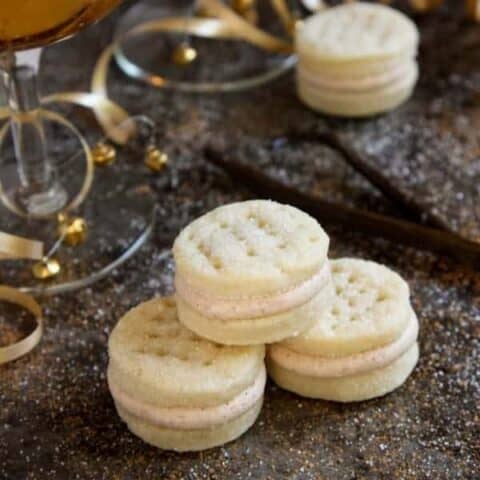 Cream Wafer Sandwich Cookies with Winter Spiced Buttercream
Yield: 40 sandwich cookies
Prep Time: 2 hours 25 minutes
Cook Time: 9 minutes
Total Time: 2 hours 34 minutes
This recipe for Cream Wafer Sandwich Cookies with Winter Spiced Buttercream is a twist on a favorite holiday cookie from my childhood. It's buttery delicious!
Ingredients
for the cream wafer cookies:
for the winter spiced buttercream:
3/4 c. Land O Lakes® Unsalted Butter, at room temperature
1/2 of a large plump vanilla bean, split in half lengthwise
2.25 c. powdered sugar
1 tsp. pure almond extract
1/2 tsp. pure vanilla extract
2 tsp. cinnamon
1/4 tsp. nutmeg
pinch of cloves
Instructions
for the cream wafer cookies:
In the bowl of a stand mixer, mix flour, butter, and whipping cream until combined. Cover and refrigerate for at least 2 hours.
Preheat oven to 375° F. Place sugar in a 9″ square pan and set aside.
Take about one-third of the cookie dough out of the refrigerator, keeping remaining dough refrigerated. Roll dough to 3/16″ thickness on a floured surface. Use a 1-1/2″ round cookie cutter to cut out cookies. You will want to work swiftly, as the dough softens quickly as it warms. With a thin metal spatula, transfer cookie rounds to your prepared 9″ pan with sugar. Turn cookie rounds over so that sugar adheres to each side. Place cookie rounds on ungreased cookie sheet, about 1″ apart.
Prick each cookie round several times with tines of a fork. Sprinkle on a little additional sugar, if desired, to get a sparkly cookie top. Repeat with the rest of the dough, rerolling scraps as needed. After rerolling the dough more than once, the dough will start to lose its shape faster when rolled out and baked, so try to get as many cutouts as possible out of each initial rolling.
Bake for about 9 minutes, or just until set, but not browned. Let cool on wire rack or countertop.
for the winter spiced buttercream:
In the bowl of a stand mixer, beat butter until very smooth. With the tip of a paring knife, scrape the seeds from the vanilla bean and add the seeds to the butter.
Add powdered sugar, almond extract, vanilla extract, cinnamon, nutmeg, and cloves. Beat until smooth and fluffy, another minute or two.
to assemble cream wafer sandwich cookies with winter spiced buttercream:
Add winter spiced buttercream to piping bag fitted with a medium plain tip. Pipe a single layer of buttercream onto the back side of one round cookie (see photo in post). Top with another round cookie and very gently press together.
You could also use a small spoon to place the buttercream on the cookie, instead of using a piping bag, which will make a more casual-looking sandwich cookie.
Cookies store very well frozen in an airtight container, with layers of cookies separated by wax paper.
Notes
Recipe is adapted from Mom's recipe box. See a similar recipe from Land O'Lakes here.
Nutrition Information:
Yield: 40
Serving Size: 1
Amount Per Serving:
Calories: 62
Total Fat: 1g
Saturated Fat: 0g
Trans Fat: 0g
Unsaturated Fat: 0g
Cholesterol: 2mg
Sodium: 1mg
Carbohydrates: 13g
Fiber: 0g
Sugar: 8g
Protein: 1g
Nutrition information is automatically calculated by Nutritionix. I am not a nutritionist and cannot guarantee accuracy. If your health depends on nutrition information, please calculate again with your own favorite calculator.
I have partnered with Land O'Lakes for an exclusive endorsement of Land O Lakes® Butter for their Kitchen Conversations blogger program. This blog post is sponsored by Land O'Lakes. Thank you for supporting the brands I love, and that I so carefully choose to partner with. All opinions are 100% my own.