Caprese Kabobs with Balsamic Vinaigrette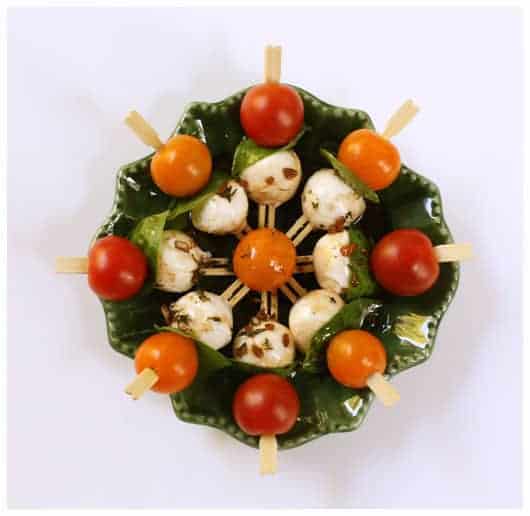 I'm not entirely ready to let summer go, if I must be honest. School is starting next week, and I'm one of those moms that gets that little jitter about the change in schedule, right along with the kiddos. I find myself sending little reminders to my brain about the wonderful aspects of fall. Like seeing pumpkin bread and apple crisp on menu boards and color on the leaves of those magestic oaks. And having the windows open again. And wearing a light sweatshirt in the evenings. I am being slowly and steadily convinced that change can be good, too.
Our tomato picking has slowed down, which I can almost say I'm thankful for. Almost. I wonder how many pounds of loot we picked over the past month! But I am sad to see the summer garden yummies coming to an end. No more lunch in the garden, popping cherry tomatoes in our mouths.
Our all-time favorite cherry tomato is the orangish-yellow gem, the Sun Sugar. Now isn't that a great name?! We make a special trip to Black's Greenhouse in Afton each spring, just for this variety. Its flesh is firm, yet yielding. Its bounty is plentiful. And, just as the name implies, it's a really sweetie.
My family likes a simple Caprese Salad, made of sliced fresh mozzarella, tomatoes, and basil, and seasoned with olive oil, balsamic vinegar, and a sprinkling of salt and pepper. This recipe for Caprese Kabobs is a fun little twist on that Italian classic. It's simple as can be to put together (our 8-year-old did the skewering), makes a pretty presentation, and is big on flavor. And who doesn't like to eat food on a stick? That skewer has a magical little way of pumping up the fun.
Caprese Kabobs with Balsamic Vinaigrette
Prep Time: 10 minutes
Additional Time: 2 hours
Total Time: 2 hours 10 minutes
This recipe for Caprese Kabobs is a fun little twist on that Italian classic.
Ingredients
fresh mozzarella cheese balls (found in deli section)
small fresh basil leaves (or large ones folded or torn)
red and/or yellow cherry tomatoes
for the balsamic vinaigrette:
1/4 c. olive oil
1/3 c. balsamic vinegar
1 T. snipped fresh thyme (or 1/2 tsp. dried)
1 tsp. sugar
1 clove garlic, minced
freshly ground black pepper, to taste
Instructions
On small wooden skewers or picks, thread on one each of the mozzarella cheese balls, basil leaves, and cherry tomatoes. Place kabobs in a single layer on a serving dish.
Whisk together all vinaigrette ingredients in a small bowl. Drizzle over kabobs. Cover and chill for at least 2 hours, turning occasionally to coat with vinaigrette. Take out of the refrigerator 15 minutes before serving.