Candied Sriracha Cashews
These Candied Sriracha Cashews are packed with flavor, with a crispy sweet shell that has just a bit of sriracha heat. The perfect nibble for holiday entertaining!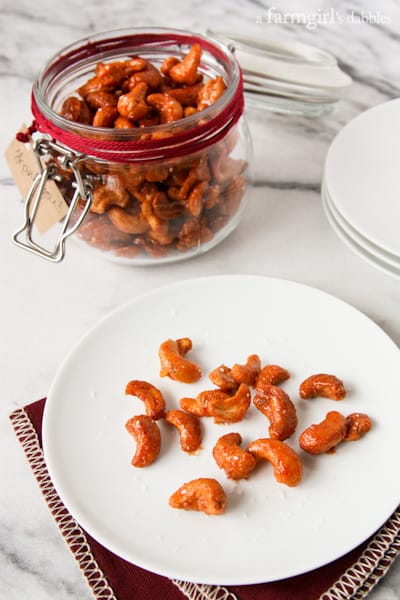 If you watched me empty the cart at the end of my grocery shopping trip each week, I'm betting you'll spy at least one container of nuts on the conveyor belt. Cashews and peanuts are our favorites, our "regulars", but you'll find a number of other nuts in our pantry as well. We go through a good amount each and every week, eating them as snacks, in salads, and on our morning oatmeal. With their combination of good fats, fiber, and vitamins and minerals, nuts are always on our family's grocery list.
So, naturally, nuts make their way onto our entertaining menus throughout the year as well. It's a rare occasion when someone isn't enticed by a bowl of fresh nuts. Especially when they're done in a new fun way. Let me introduce you to these Candied Sriracha Cashews. They'll be the hit of your holiday entertaining!
[rss-cut]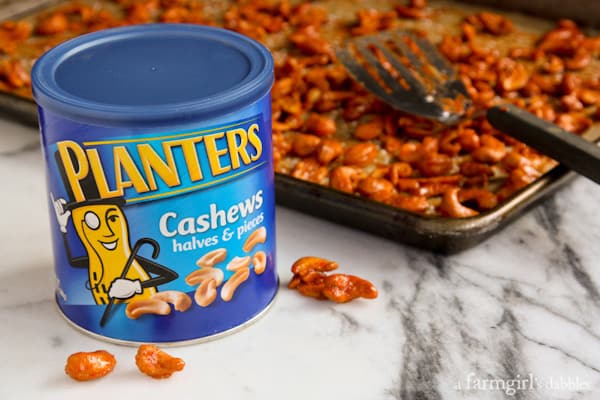 I created this sriracha cashews recipe to share with you the goodness and versatility of Planters nuts, an American favorite for over 100 years.
More often than not, I will simply place Planters Cashews, Deluxe Mixed Nuts, or Peanuts in a bowl, quick and easy and straight from the container, when we have company over. And really that's all you need. Something crunchy and a little bit salty that's easy to serve and eat.
But there are times when you want to take your menu one step further. To add in some unexpected flavor twists of fun. Nuts are the perfect tool to do just that. Check out my recipes for homemade beer nuts, spiced rosemary and thyme nuts, and Peg's sugar spiced nuts – you just can't go wrong with any of these easy recipes. And now add to that list these candied sriracha cashews, and you have a snack for every flavor craving.
Which brings up sriracha, the magical condiment that is a personal craving of my own. I've enjoyed sriracha with shrimp, lobster, deviled eggs, kebabs, and burgers. Check out those recipes here. But this was the first time I attempted mixing that awesome spiced Asian sauce with nuts. It took me a few tries to get the recipe just right to share with you (which our oldest daughter hasn't minded at all – she packs the recipe testing "rejects" in her school lunch each day, happy as can be!). But when the recipe finally came together, it was good. So good!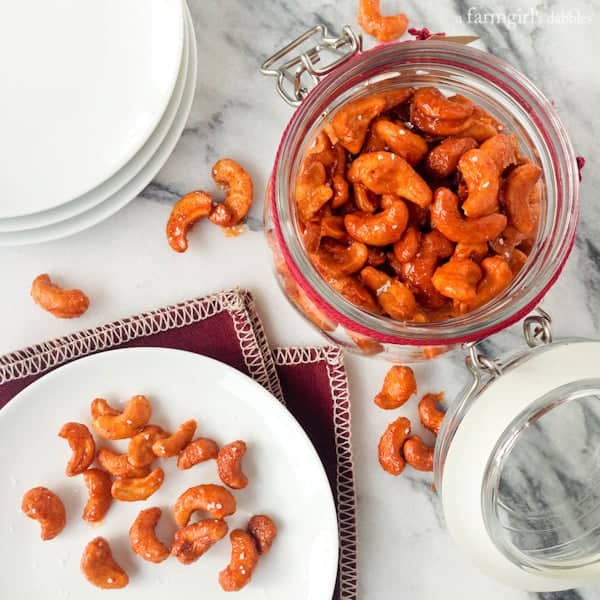 These nuts are packed with flavor, with a crispy sweet shell that has just a bit of sriracha heat. Our girls, who are not fans of sriracha, eat these nuts like they're going out of style!
Candied sriracha cashews are a welcome snack any time of day for any occasion, but don't forget to include them in your meal plans, too. They are awesome on fresh salads, whole or roughly chopped, adding flavor, texture, and visual contrast. And they make a great gift, especially during the holidays. Just place some in a jar with bright ribbon or string wound around the rim, and you have a lovely token of gratitude to place in the hands of a dinner hostess, teacher, friend, or co-worker. This particular recipe I'm sharing with you today is a super fun way to acknowledge the sriracha-crazed individuals in your life. (Pick me!)
Learn more about Planters by visiting their website and following Mr. Peanut on Facebook and Twitter. Have you tried all their new flavored peanuts? It's so much delicious fun to #GoNuts!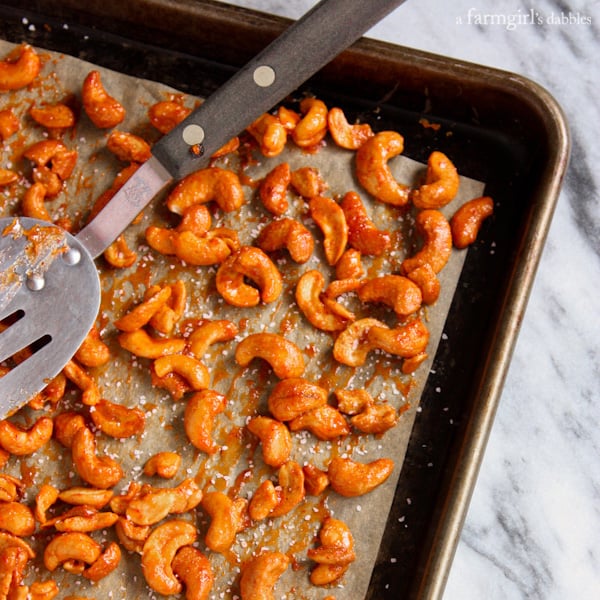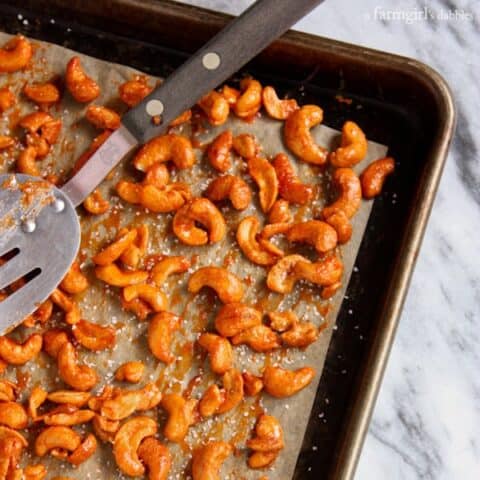 Candied Sriracha Cashews
Yield: about 14 servings
Cook Time: 43 minutes
Total Time: 43 minutes
These Candied Sriracha Cashews are packed with flavor, with a crispy sweet shell that has just a bit of sriracha heat. The perfect nibble for holiday entertaining!
Ingredients
1 egg white
1 T. water
1 tsp. kosher salt, divided
1 14-ounce container Planters Cashews halves & pieces
1/2 c. sugar
1 T. corn starch
scant 1/4 c. sriracha sauce
Instructions
Arrange two racks in the upper third of the oven and preheat oven to 300° F. Line two jelly roll pans or baking sheets with parchment paper or Silpat baking mats. Do not skip this step of lining your pans. Set pans aside.
In a medium-large bowl, whisk the egg white, water, and 1/2 teaspoon of the salt. Whisk vigorously for at least 1 minute, until the mixture is very frothy. Add the cashews and stir to evenly coat. Place a medium sized colander over a bowl and add the cashews to the colander to drain for a full 5 minutes.
While the cashews are draining, add the sugar and cornstarch to the same bowl that you whisked the egg white in. Whisk together and then stir in the sriracha sauce. Give the colander of cashews a few good shakes to remove any excess liquid, and then add the cashews to the sriracha mixture. Stir to evenly coat.
Divide cashews between the two pans, spreading them out as evenly as you can. Take the time to separate the cashews to ensure even baking and crispier nuts. There will be some sriracha liquid in the pan, but it will firm up as the cashews bake and then cool.
Place pans on separate racks in the oven and bake for 20 minutes. Remove pans from oven and stir to incorporate the sriracha mixture, spreading out and separating the nuts as much as you can. Place pans back in the oven, alternating top and bottom racks. Bake for another 20 to 23 minutes. Do not let the cashews burn.
Remove pans from oven, immediately sprinkle with the remaining 1/2 teaspoon of kosher salt, and let the cashews cool completely on the pans, for at least one hour. Allowing the nuts to air dry will keep the candied shell extra crispy. Nuts will keep well in an airtight container in a cool place for up to a week, but are crispiest when eaten during the first few days after making them.
Notes
from a farmgirl's dabbles
Nutrition Information:
Yield: 14
Serving Size: 1
Amount Per Serving:
Calories: 199
Total Fat: 13g
Saturated Fat: 3g
Trans Fat: 0g
Unsaturated Fat: 10g
Cholesterol: 0mg
Sodium: 470mg
Carbohydrates: 18g
Fiber: 1g
Sugar: 9g
Protein: 5g
Nutrition information is automatically calculated by Nutritionix. I am not a nutritionist and cannot guarantee accuracy. If your health depends on nutrition information, please calculate again with your own favorite calculator.
This post is sponsored by Planters, providers of fresh and delicious nuts that I've enjoyed my whole life. Thank you for supporting the brands that I carefully choose to work with, that help make this site possible. All opinions are 100% my own. #GoNuts!