Blue Cheese Popover Muffins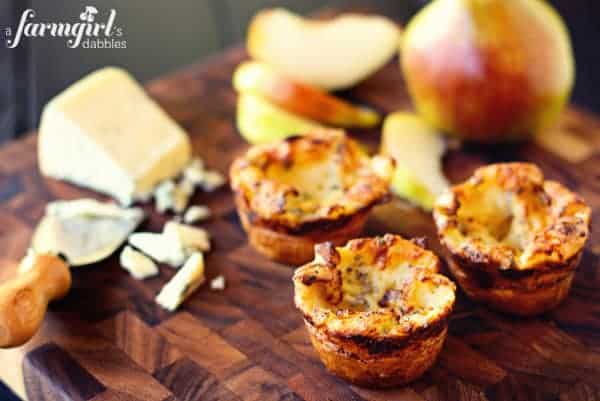 Popovers are one of my all time favorite luxuries. When served hot and steaming, with a shmear of creamy butter or sweetened cinnamon honey butter…I beg you to find me anything more wonderful and comforting. And the best part? They are incredibly easy to make! Here's my favorite no-fail recipe for basic popovers.
A few weeks ago, while we were enjoying a perfectly grilled steak, I wanted to reach for a popover and a hunk of blue cheese. But, alas, nobody had thought of adding those details to our menu. Nobody, as in "me".
And then, after enjoying quite a lot of fabulous Rogue Creamery blue cheese while visiting Harry and David in Oregon recently, I suddenly had all kinds of inspiration to incorporate more blue cheese in my diet. Trust me, that cheese is something you NEED to try! (And if you scroll on down to the end of this post, you can enter to WIN some!)
So these Blue Cheese Popover Muffins were born. They're baked in a regular muffin pan, so there's no need to run out and buy a special popover pan (although I highly recommend a popover pan in your cupboard!). These popover muffins don't rise and "pop over" the top of the cup like traditional popovers do, but they are moist, eggy, and completely delicious, just the same. With a crumbling of creamy salty blue cheese and a generous sprinkling of freshly ground black pepper, they're just the perfect detail to add to your next grilled steak meal.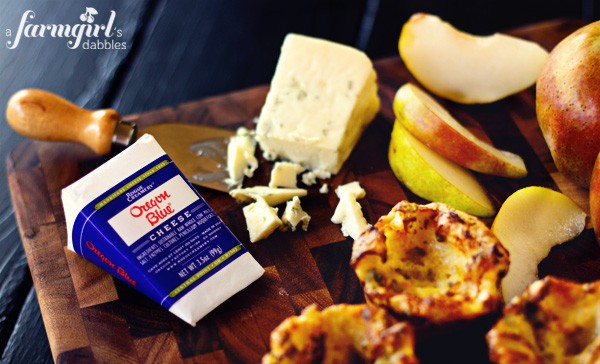 Blue Cheese Popover Muffins

Yield: 10 popover muffins

Cook Time:30 minutes

Ingredients:

2 large eggs

1 c. milk

1 c. all-purpose flour

1/2 tsp. salt

3 oz. blue cheese, crumbled

freshly ground black pepper

Directions:

Preheat oven to 450°. Generously spray a regular size muffin pan with cooking spray and set aside.

In a medium bowl, whisk eggs and milk slightly. Add flour and salt and briskly stir to incorporate. Do not overbeat. The batter will be slightly lumpy. Pour batter into 10 muffin cups, dividing batter evenly. Add blue cheese to individual muffin cups, dividing cheese evenly. With the back of a spoon, lightly dunk the cheese under the batter. Sprinkle top of batter generously with freshly ground black pepper. Bake 15 minutes. No peeking! Keep that oven door shut and the heat inside! Decrease oven temperature to 350° and bake 12 to 15 minutes longer, until deep golden brown. Immediately remove popover muffins from cups. If they stick a bit, just use a knife to circle around the edges of the individual cups.

These are best when eaten fresh and hot, with butter.
Disclosure: Thank you to Harry and David for providing this Rogue Valley Gift Box for my family to enjoy. All text and opinions are 100% my own.
We participate in the Amazon Services LLC Associates Program, an affiliate advertising program designed to provide a means for us to earn fees by linking to Amazon.com and affiliated sites. See our disclosure policy for more info.