Whole Wheat Pumpkin Muffins with Honeycomb Sunflower Kernels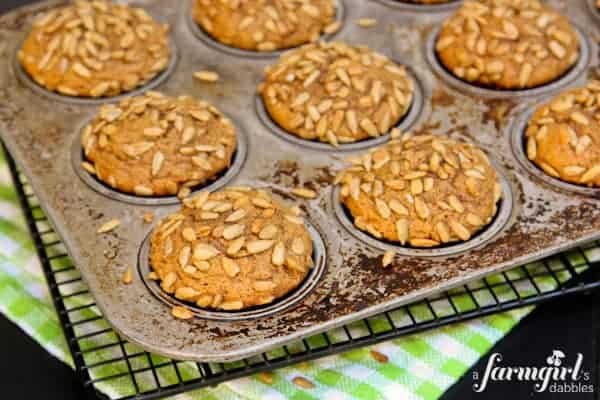 I am happy to report that, since the girls have been in school for almost a full month now, we've been sticking very tightly to our goal of packing healthy and interesting lunches and snacks. What I've found to be the key to including something fun and tasty and healthy each and every day is simply this:
Have plenty of things that meet that criteria on hand!
That does take some planning, for sure. But it is so worth the effort. The kids feel better about their food choices and themselves. And I feel better sending them out the door for the day, knowing their energy for body and mind is coming from good stuff.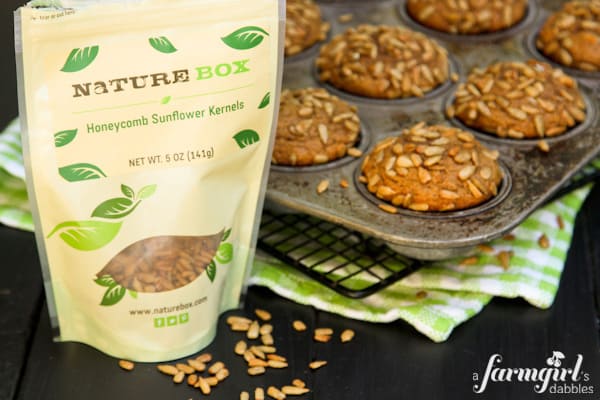 Besides purchasing a variety of fresh fruits and veggies each week, I make sure to have plenty of fun healthy snack choices in the pantry, too.
Do you know about NatureBox?
For a long time, I had been hearing alot of praise for NatureBox snacks. But it wasn't until this past summer that I actually got to munch on them, when I stopped by the NatureBox booth at the BlogHer conference in Chicago. Everything I tried there, plus the items they sent home with me for later, was very fresh and very tasty. And I got seriously excited about the variety of snacks available. There are so many awesome sounding choices; I want to try them all!!
NatureBox snacks are made from wholesome ingredients that are minimally processed, if at all. They are delivered right to your door, in easy to use resealable bags, and promise to have:
No high fructose corn syrup
No partially hydrogenated oils
No artificial sweeteners
No artificial flavors
No trans fats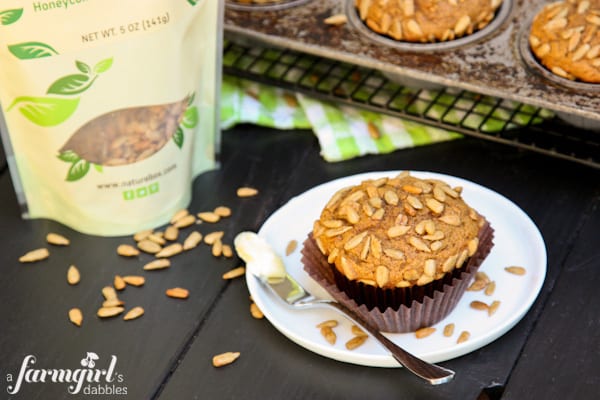 NatureBox's snacks are a perfect choice for easy and healthy snacking, but they are also great for using in recipes like this one for Whole Wheat Pumpkin Muffins with Honeycomb Sunflower Kernels. I've always had a thing for sunflower seeds, and was immediately drawn to this snack bag. As I was baking up pumpkin muffins this past week, I knew I wanted to try adding a little crunch to them. The sunflower kernels, just slightly sweetened, did the trick beautifully.
These muffins have served our family as breakfast, a lunch box snack, and an after school treat. They are moist and delicious with fall spiced pumpkin, and the honeycomb sunflower kernels make them extra tasty and a more than just a little bit fun.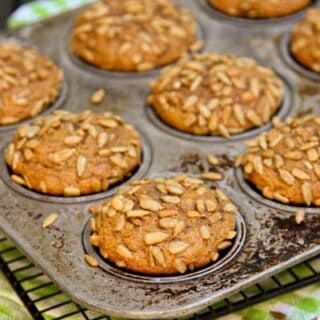 Whole Wheat Pumpkin Muffins with Honeycomb Sunflower Kernels
Yield: 12 muffins
Prep Time: 10 minutes
Cook Time: 16 minutes
Total Time: 26 minutes
These muffins have served our family as breakfast, a lunch box snack, and an after school treat.
Ingredients
1-2/3 c. white whole wheat flour
1 c. packed brown sugar
1/2 tsp. salt
1 tsp. baking soda
1/2 tsp. baking powder
2 tsp. cinnamon
1/4 tsp. ground nutmeg
1/4 tsp. allspice
1/8 tsp. ground cloves
1 cup canned pumpkin (not pre-spiced)
1/2 c. butter, melted
2 large eggs,
1 tsp. pure vanilla extract
1/2 c. NatureBox Honeycomb Sunflower Kernels
Instructions
Preheat oven to 350° F.
Spray a standard muffin pan with cooking spray or line with paper baking liners. Set aside.
In a medium bowl, whisk together flour, sugar, salt, baking soda, baking powder, cinnamon, nutmeg, allspice, and cloves. Make a well in the center of the flour mixture and set aside.
In another medium bowl, combine the pumpkin, butter, and eggs. Then stir in the vanilla. Add the pumpkin mixture to the flour mixture and stir until just moistened. Divide batter between the 12 prepared muffin cups. Sprinkle tops of muffins with NatureBox Honeycomb Sunflower Kernels, pressing them into the batter just a bit. Bake for 16 to 18 minutes, or just until a toothpick comes out clean. Do not over bake. Remove muffins from pan to cool on a wire rack.
Notes
from a farmgirl's dabbles
Nutrition Information:
Yield: 12
Serving Size: 1
Amount Per Serving:
Calories: 411
Total Fat: 15g
Saturated Fat: 6g
Trans Fat: 0g
Unsaturated Fat: 8g
Cholesterol: 51mg
Sodium: 947mg
Carbohydrates: 62g
Fiber: 8g
Sugar: 16g
Protein: 11g
Nutrition information is automatically calculated by Nutritionix. I am not a nutritionist and cannot guarantee accuracy. If your health depends on nutrition information, please calculate again with your own favorite calculator.
Disclosure: This post is sponsored by NatureBox. All opinions are my own.