White Chocolate Cheesecake Squares with Strawberry Glaze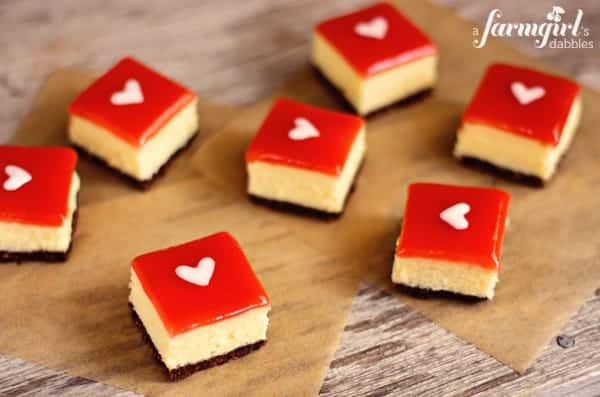 I am a total goner when it comes to cheesecake. I simply cannot resist it.
A few weeks ago, when our daughters didn't have school one Friday, I told them to choose where we'd eat lunch after running my errands. Hatti quickly blurted out, "Can we go to The Cheesecake Factory, Mom? And order cheesecake for dessert?" It didn't take Tessa long to catch on and start jumping up and down in agreeance.
And me? Well…I was all aboard that train, too.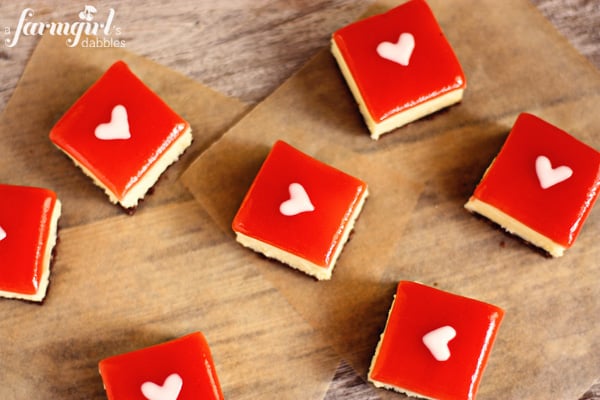 The great thing about these White Chocolate Cheesecake Squares with Strawberry Glaze is that, for such a pretty and eye catching dessert, it's pretty darn easy to put together. There are no special springform pans or water baths involved. And the strawberry glaze? It's simply a couple big spoonfuls of strawberry jam. That I bought at the store!
The little hearts, admittedly, take a little patience. But they are fun. And the cuteness factor is huge. But, if you're not up for that sort of thing, you could easily top each cheesecake square with a candy heart or a random drizzling of frosting. Or just leave them unadorned, all red and shiny and gorgeous.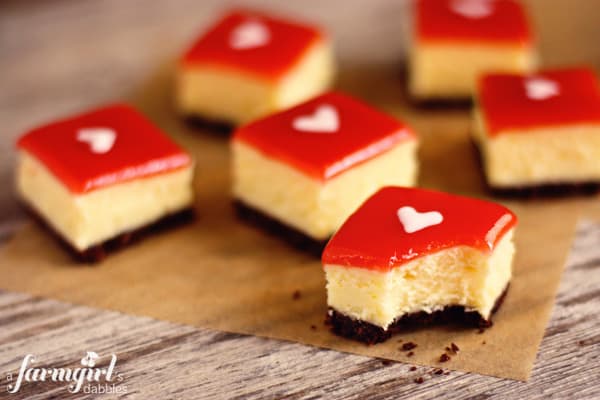 And the even greater thing about these sweet cheesecake squares? It's that they are perfectly size portioned. As much as I adore a mile-high slice, painstakingly chosen from the long glass case at The Cheesecake Factory, it really does take three or four people to comfortably consume its creamy richness.
These fun little squares, on the other hand, go down nice and easy, and with much less guilt. You might even be tempted to grab a second piece, like I'm never afraid to do. Go ahead. I'll support you all the way.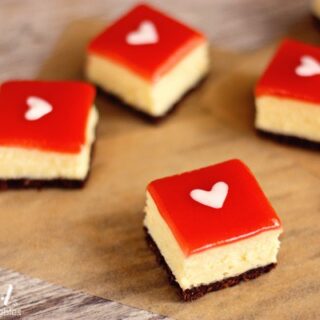 White Chocolate Cheesecake Squares with Strawberry Glaze
Yield: 25 cheesecake squares
Prep Time: 25 minutes
Cook Time: 45 minutes
Additional Time: 4 hours
Total Time: 5 hours 10 minutes
The great thing about these White Chocolate Cheesecake Squares with Strawberry Glaze is that, for such a pretty and eye-catching dessert, it's pretty darn easy to put together.
Ingredients
for the crust:
1 c. graham cracker crumbs
1/4 c. cocoa powder
1/2 tsp. espresso powder
2 T. sugar
big pinch of salt
4 T. unsalted butter, melted
for the white chocolate cheesecake filling:
8 oz. white chocolate
16 oz. cream cheese, at room temperature
2 large eggs, at room temperature
1/2 c. sugar
1 tsp. pure vanilla extract
for the strawberry glaze and white heart:
1/2 c. seedless strawberry jam (I used Smuckers brand)
1 c. powdered sugar
4 tsp. milk
Instructions
Preheat oven to 325° F.
Fold a 16'' long piece of foil to an 8'' x16'' strip and place in an 8'' square baking pan, leaving overhang on 2 sides. Repeat with another sheet of foil in opposite direction, lining pan completely. Spray bottom of foil lightly with nonstick spray and set aside.
for the crust:
In a medium bowl, stir together the graham cracker crumbs, cocoa powder, espresso powder, sugar, and salt. Add the melted butter and stir to completely combine.
Press firmly and evenly into the prepared pan. Place pan in freezer to chill.
for the filling:
In a small bowl, gently melt the white chocolate in the microwave, taking care to not let it scorch. Set aside to cool completely.
In the bowl of a stand mixer, cream the cream cheese on medium-high speed until smooth and creamy, about 1 to 2 minutes. Add the eggs and sugar and beat on medium speed until just combined. Add the cooled white chocolate (you can place in the refrigerator for a bit if it's still warm) and vanilla, and beat again. Spread mixture evenly over the cooled crust and tap the pan gently on the counter to settle it in.
Bake for 40 to 45 minutes, or until cheesecake wobbles just slightly through the center, and the edges are just a bit golden. The edges will puff up when baking, and then settle back down once cooled. Remove from the oven and cool completely on a wire rack.
for the strawberry glaze:
Briskly stir the jam until it is very smooth. Then spread evenly onto top of cheesecake. There will be a small raised edge of cheesecake filling around the pan sides, which will get cut off if you want to achieve the perfect red tops on the squares. Don't spread jam onto the raised cheesecake edges.
Place pan in refrigerator to cool completely, 4 hours or overnight.
Once set, carefully remove the cheesecake from the pan by pulling up on the foil lining. Cut off the raised edges (enjoy!) and then slice into squares, to desired size. I cut mine into 25 squares. To get clean cuts, dip knife into a warm glass of water and then wipe knife clean after each cut.
for the white hearts:
Stir together the powdered sugar and milk. You want it to be pretty thick. Place in pastry bag fitted with a small plain round tip. I used a Wilton #2 tip. Pipe a heart shape onto the center of each cheesecake square.
Once this white frosting has been piped onto the jam, it can be coaxed with a toothpick to perfect the heart shape.
Store refrigerated. Can be prepared the day prior to serving.
Notes
From a farmgirl's dabbles.
Nutrition Information:
Yield: 25
Serving Size: 1
Amount Per Serving:
Calories: 235
Total Fat: 13g
Saturated Fat: 7g
Trans Fat: 0g
Unsaturated Fat: 4g
Cholesterol: 45mg
Sodium: 108mg
Carbohydrates: 27g
Fiber: 1g
Sugar: 22g
Protein: 3g
Nutrition information is automatically calculated by Nutritionix. I am not a nutritionist and cannot guarantee accuracy. If your health depends on nutrition information, please calculate again with your own favorite calculator.