THANKFUL: Make and Takes for Kids Review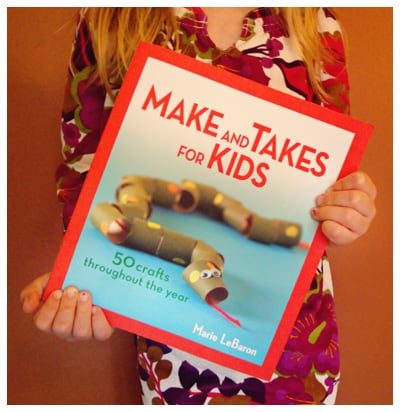 It had been awhile since I had sat down to craft an artsy project with our preschool daughter. So when Marie LeBaron's new book – Make and Takes for Kids: 50 Crafts Throughout the Year – showed up at my door…well, I was antsy to pick out an activity and dig in!
I've always admired Marie's down-to-earth crafting style on her blog, make and takes. Once a kindergarten teacher, Marie has an approach that is simple and straight-forward. Be sure to check out her site for crafty inspiration for both adults and kids. You'll be amazed by the wealth of creativity.
And her book? That's pretty amazing, too.
I like how it's arranged by the calendar. Each month features four or five fun activities, both craft and food related, in sync with the seasons and holidays. And Marie's knack for teaching kids really shines through, with learning objectives briefly outlined for each project that point out skills to be learned.
Make and Takes for Kids is filled with colorful photos of each project, along with easy step by step instructions. The crafts require little preparation and only a few supplies, providing the perfect set-up for bonding with your kids through creativity.
So, would you like to see what Tessa and I made from Marie's book?!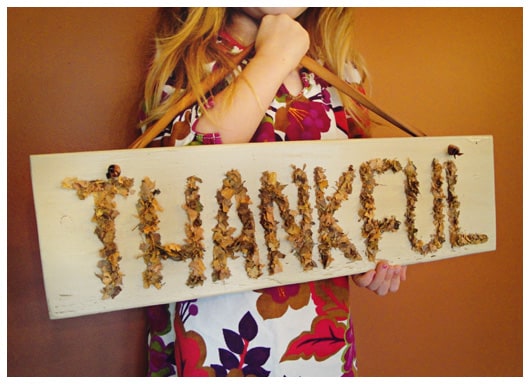 Looking at our collection of dried leaves from our latest fall nature walk, we chose to make the "Thankful Crunchy Leaves Plaque", a project listed under the month of November.
It didn't cost us a dime, as we already had a piece of wood from tearing down our fence in the yard last month. So all we needed was a little craft glue and some paint, which we found in our storage room shelved with a small arsenal of different colored paints and glazes. I also wanted to go one step further than the book and found a salvaged silky fall ribbon to hang the plaque. We were all set to craft!
Tessa painted the wood and I drilled holes to thread the hanging ribbon through. Then we crunched up our leaves and glued them on, talking about each letter as we went. It turned out to be a fun fall craft that now hangs in our dining room, a playful handmade reminder for daily gratitude. If you would like instructions for this project, see Marie's guest post on Skip To My Lou.
Disclosure: Thanks to Wiley and their creativity inspiring blog Wiley Craft, for providing me with a copy of Make and Takes for Kids. All text and opinions are my own, yessirree!