Sausage and Red Pepper Soup with Egg Noodles
Hearty and satisfying, this Sausage and Red Pepper Soup with Egg Noodles is packed with comfort and delicious flavor!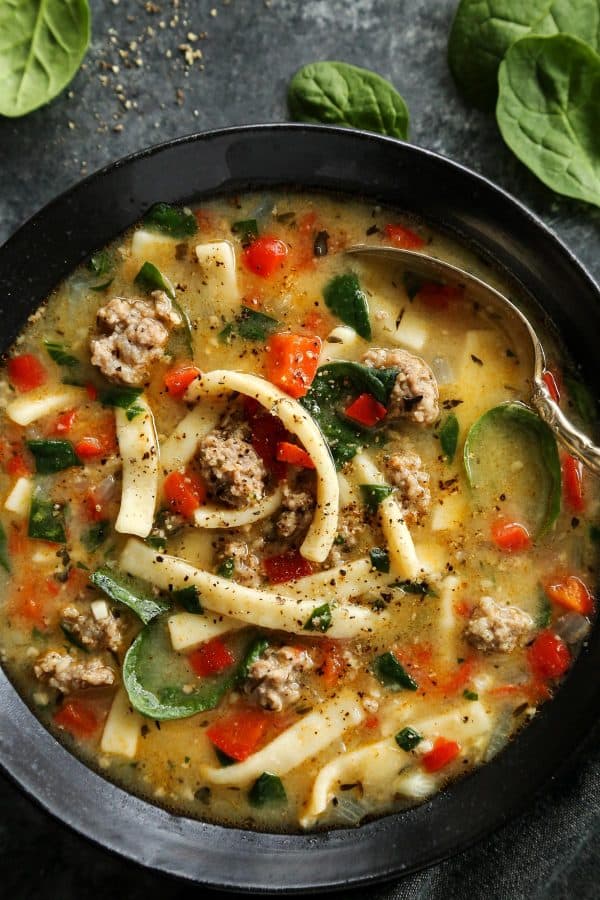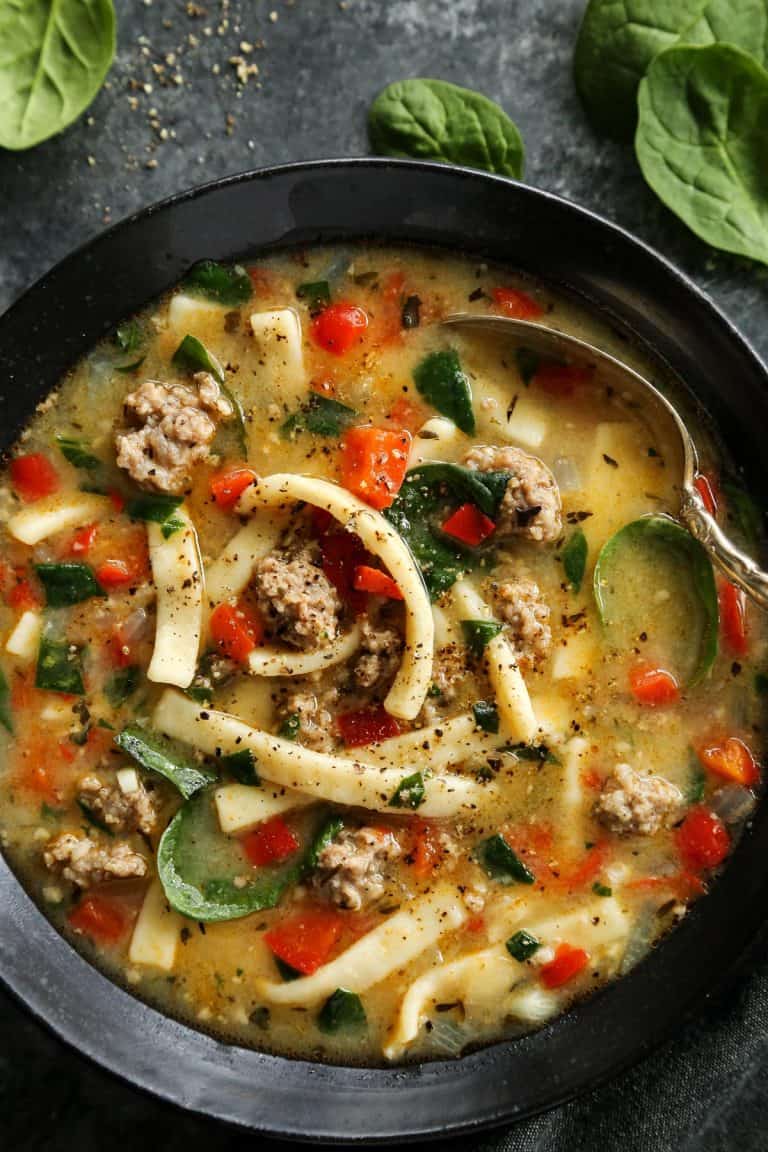 When winter decides to bring on all of its bone-chilling wrath, it can really beat on a person. Especially when the days' high temperatures never rise above zero degrees for days on end. Although it's a natural part of life here in Minnesota and the Midwest in general, it still hurts. The bitter cold literally hurts!
And this is when we have to make the better choice, the choice to not be defeated by winter. To embrace the beauty of our frozen lakes and snow covered landscapes, and to bundle up and gather with friends and family for some outdoor winter fun. Think cross-country and downhill skiing, snowshoeing, hockey, snowmobiling, and ice fishing. Our area has so much to offer for winter sports and fun.
But. The most important part…
You know it. It always circles back to the table.
In the extreme cold, we beg to be comforted with big, steaming pots of homemade soup.
Yes, this is where we find our comfort and joy this time of year. Gathered around the table, enjoying the company of those we love over a bowl of soup. I do hope you'll join me this winter in making a pot of this Sausage and Red Pepper Soup with Egg Noodles. It's pure and delicious homemade goodness.
* This is a sponsored post, created in partnership with Reames®.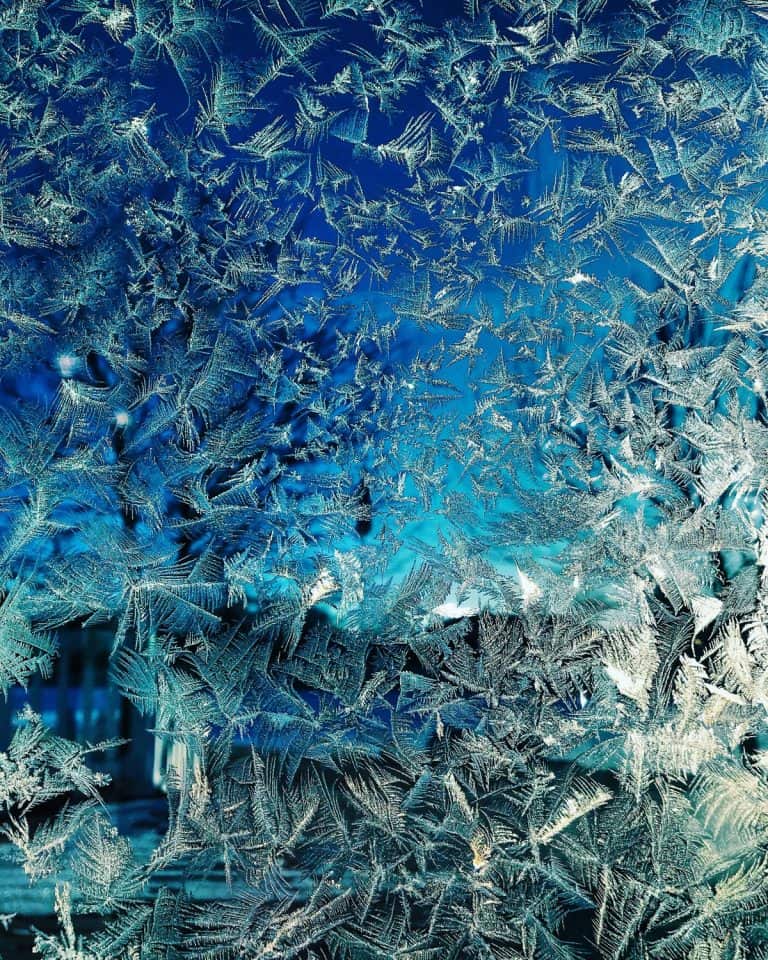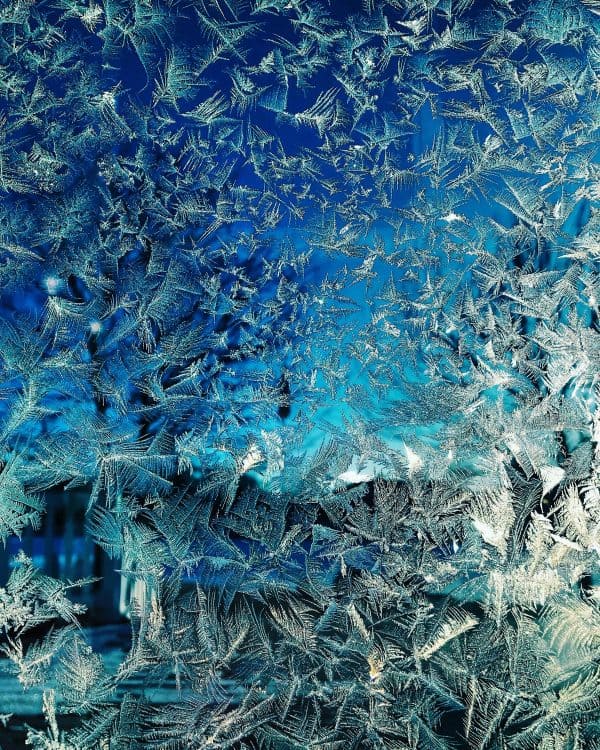 If you keep a watchful eye, to seek out the beauty in the cold, it's everywhere. This photo was taken at my parents' home in South Dakota. Frost on a screen door.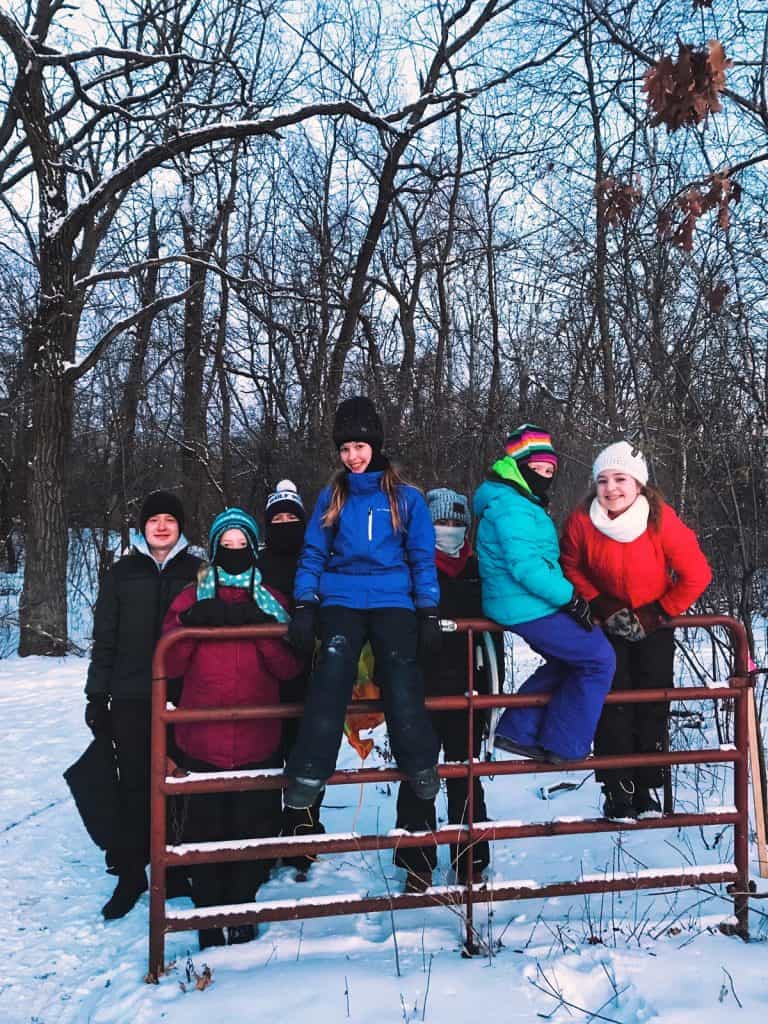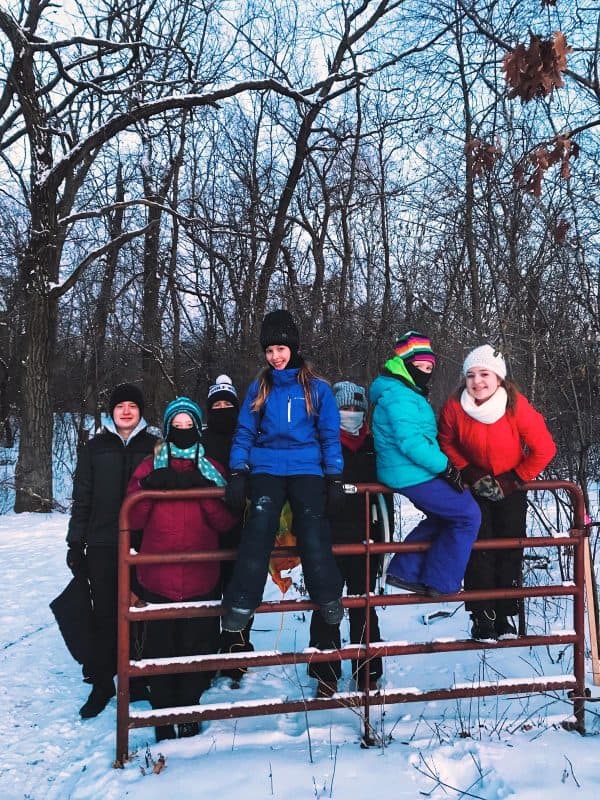 And could there be anything more winter-awesome than a group of rosy-cheeked kids, enjoying an afternoon of sledding? I think not! I snapped this photo on New Year's Eve, a shot of our two daughters with their cousins who were staying with us for a few days.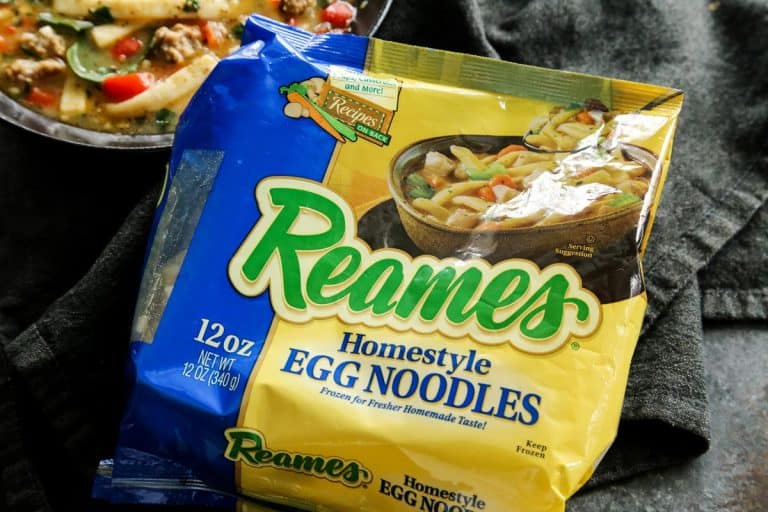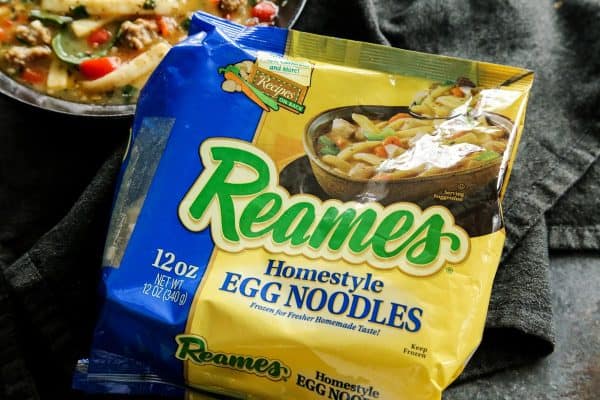 For this new soup recipe, I'm partnering once again with Reames and their frozen egg noodles. If you're familiar with these noodles, then you already know exactly why my family likes them so much. We're crazy for their chewy texture and homemade taste!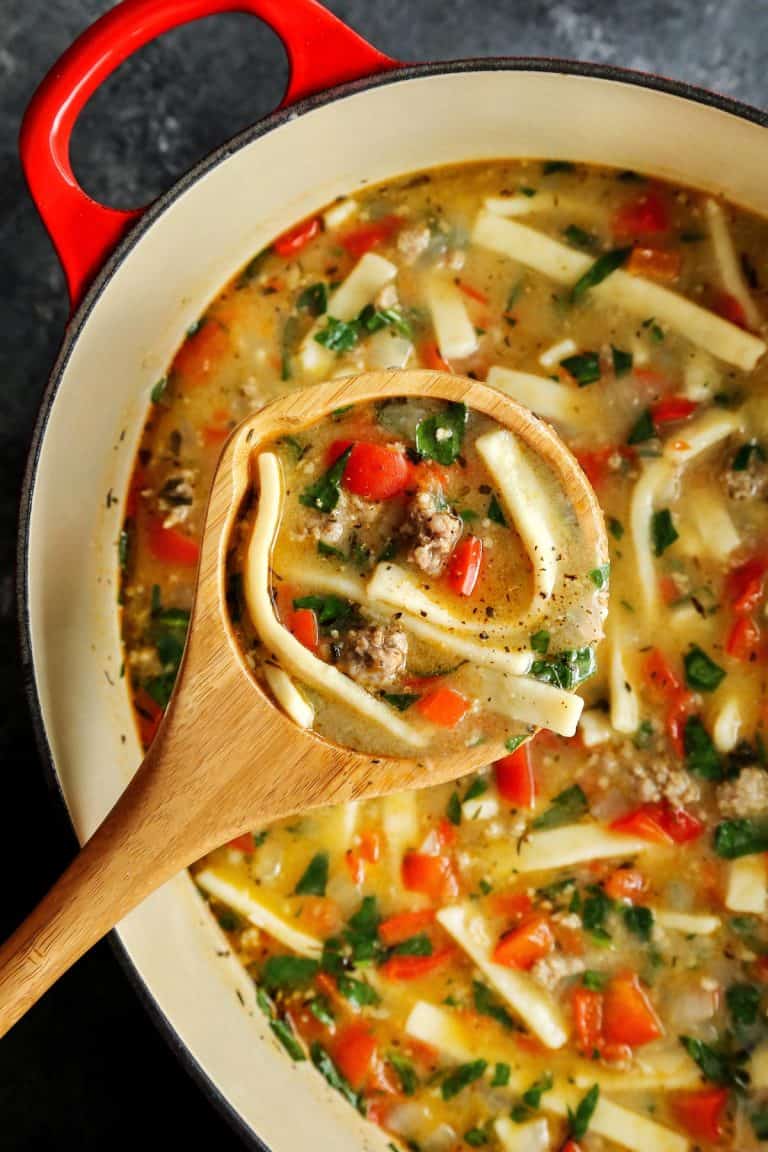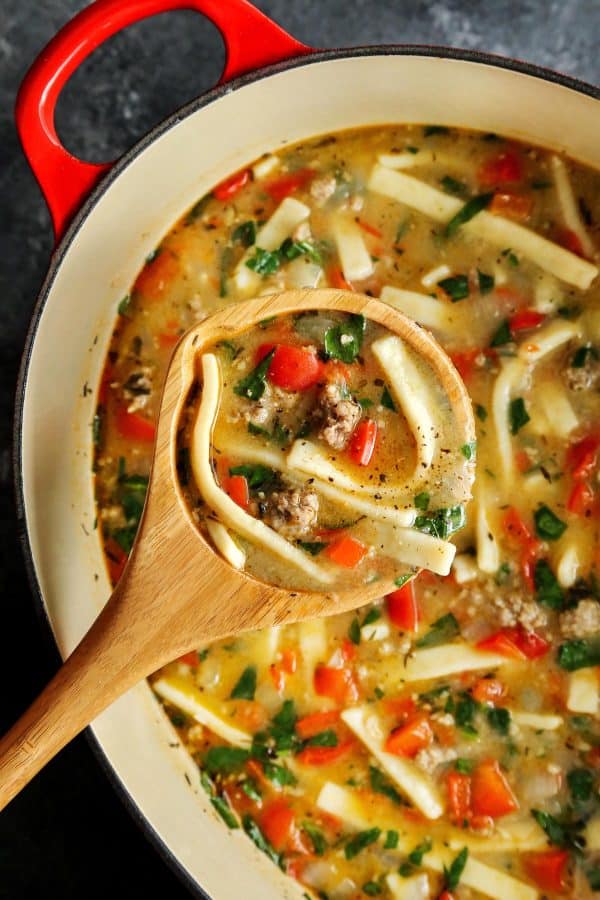 Our family's red bell pepper consumption has increased dramatically over the past year or two. It's one of the vegetables that all of us can wholeheartedly agree on.
So I take advantage of this fact whenever possible, incorporating that veggie goodness into everything from grilling to roasting to sautéing. And, of course, to soup.
This recipe is LOADED with sweet red peppers. Three large ones, to be exact. And I can't wait for you to taste the beautiful flavor that these peppers add to this sausage and red pepper soup with egg noodles!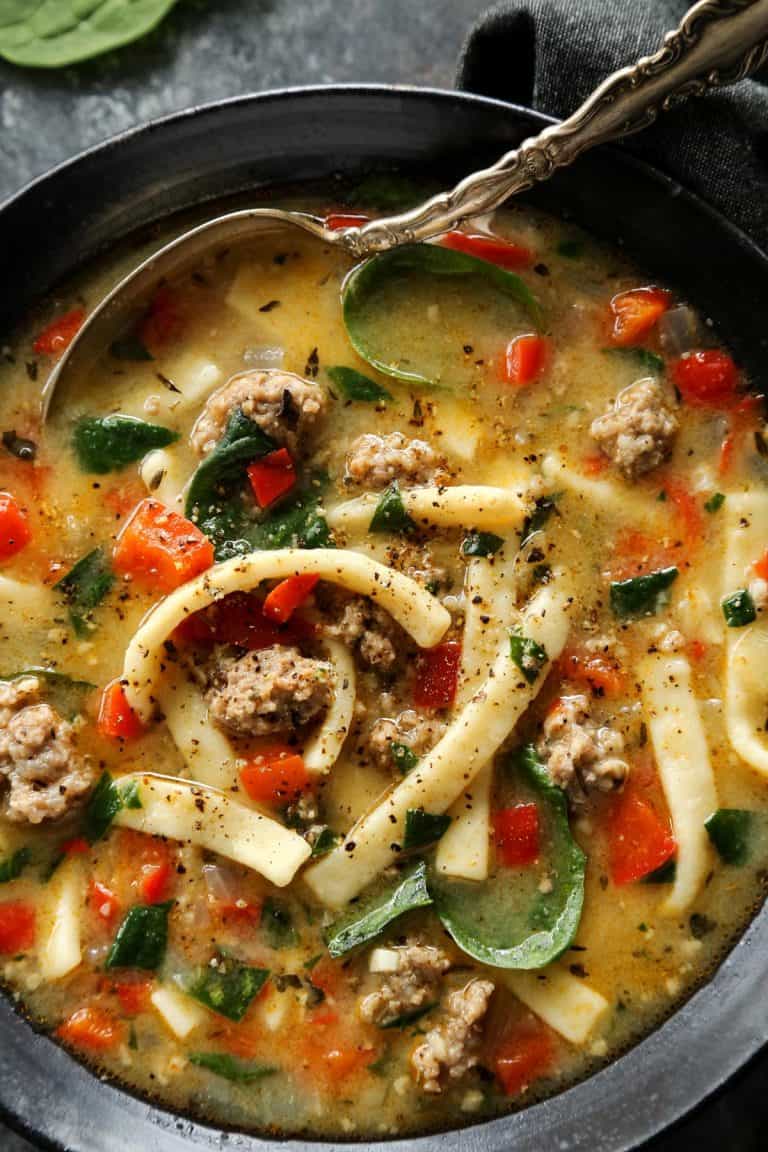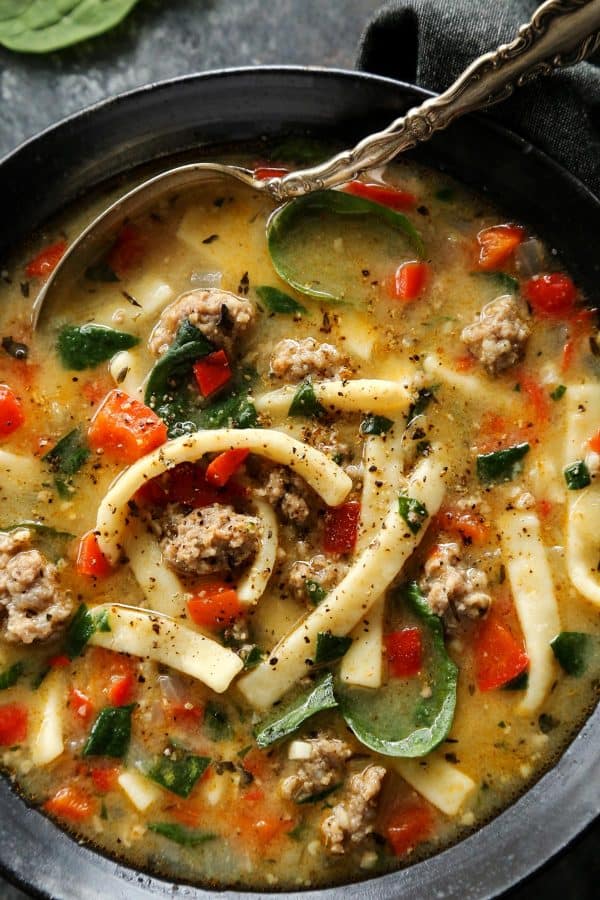 I have been a big fan of sausage since I was a kid. Growing up on the farm, one of our neighbors had his own smoke house and sausage making business. If I close my eyes, I can relive that wonderful sausage all over again. Oh, so good!
In this recipe, I list "regular pork sausage". I just buy it bulk (not in casings) at our grocery store or home town meat market, right at the meat counter. You could also buy a tube from the freezer section. And if you want to add a little more spunk to this recipe, don't be afraid to try a mild or even a hot variety of Italian sausage.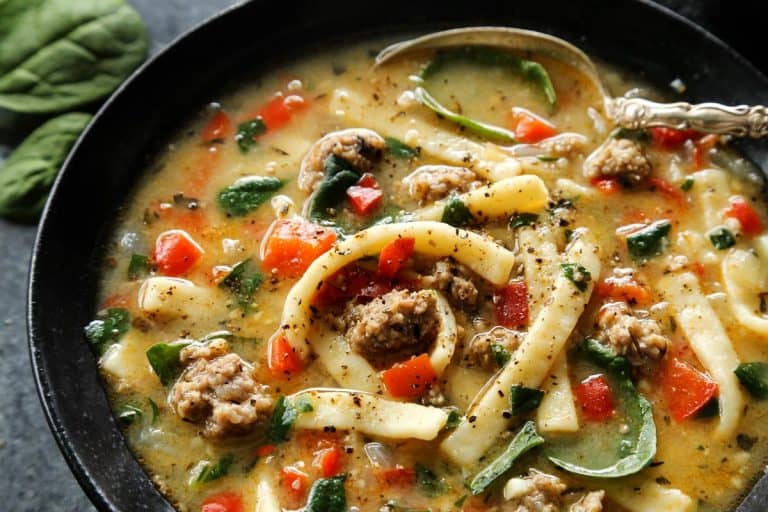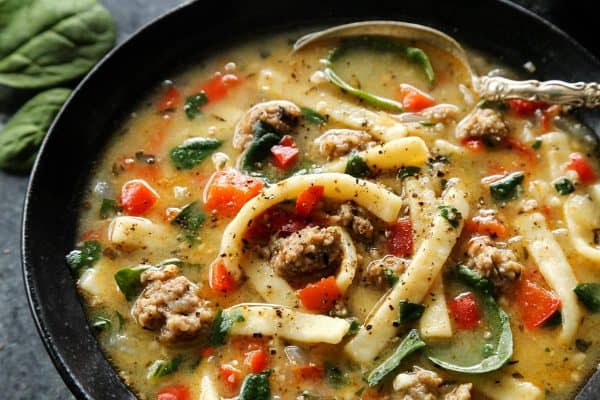 And at the very heart of this sausage and red pepper soup are those Reames egg noodles I mentioned earlier.
Made with simple ingredients – just flour, water, and eggs – these noodles are never dried. For ultimate freshness, they are frozen.
If you've never tried these noodles, you will be so pleasantly surprised by their homemade taste!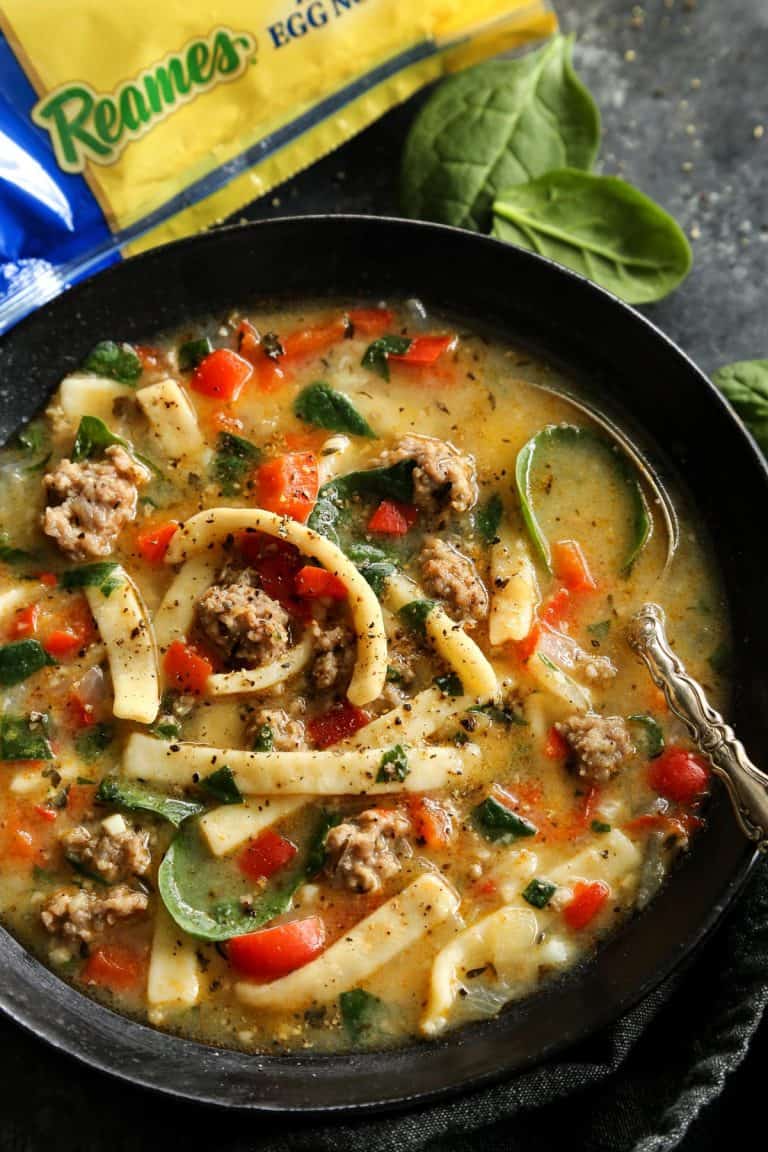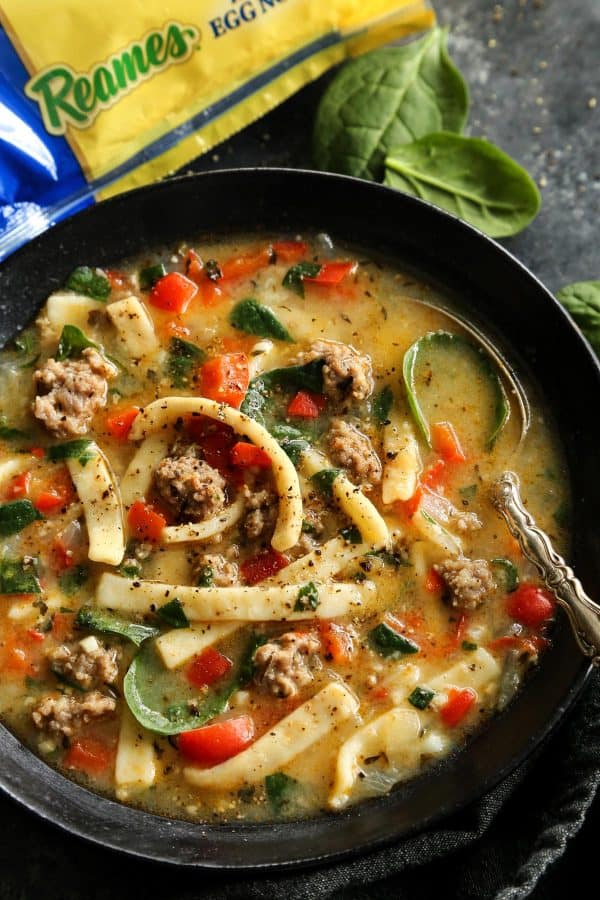 I have to add that the final ingredient I stir into this soup is one that my family definitely does not agree on. And that's spinach. Blake and I welcome it with open arms, but our girls dodge it fiercely.
But I've been experimenting with adding spinach to dishes by making sure it is cooked, where it's allowed to soften and mellow a bit. And I'm learning that I can slip spinach in every now and then using this method. I am also finding that the smaller I chop the spinach, the better. I think they're so used to me adding a good amount of fresh herbs to almost everything I make, that they think the spinach is herbs. Shhhhh…don't tell the kids!!
Like this soup recipe? Pin it!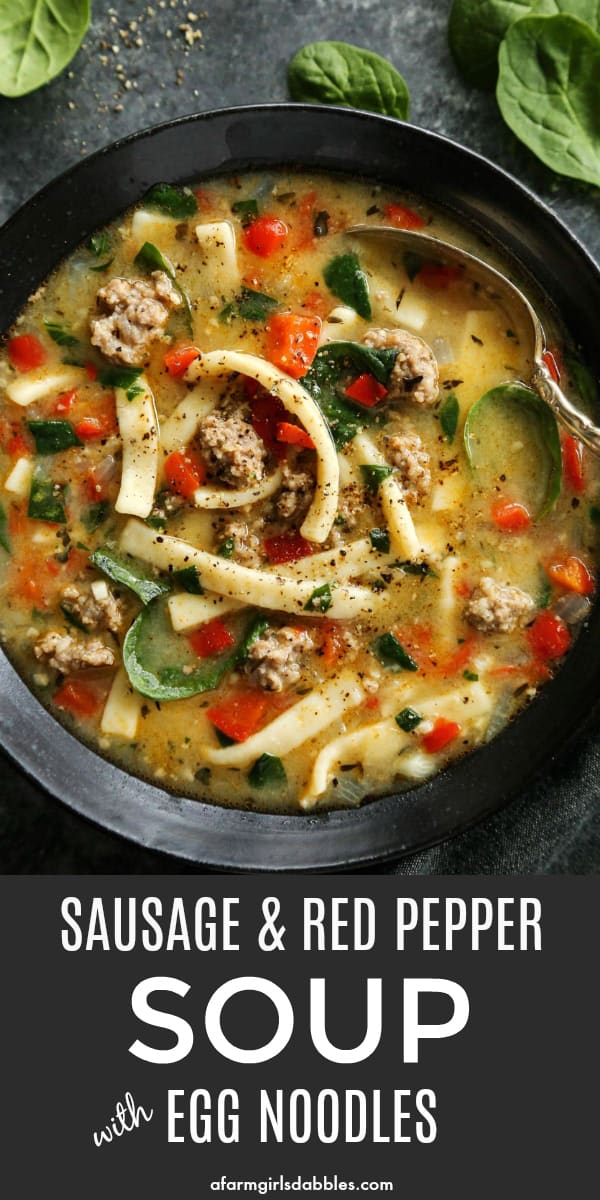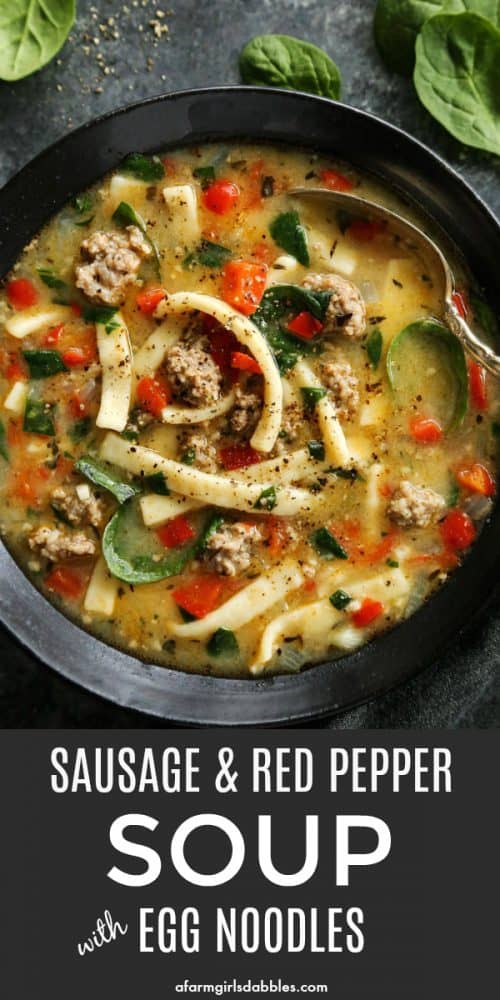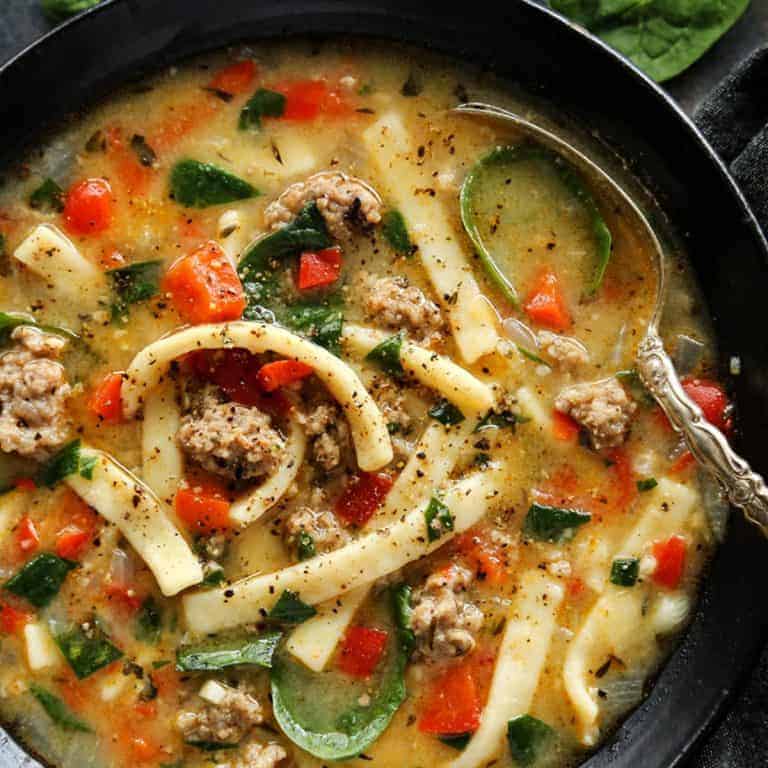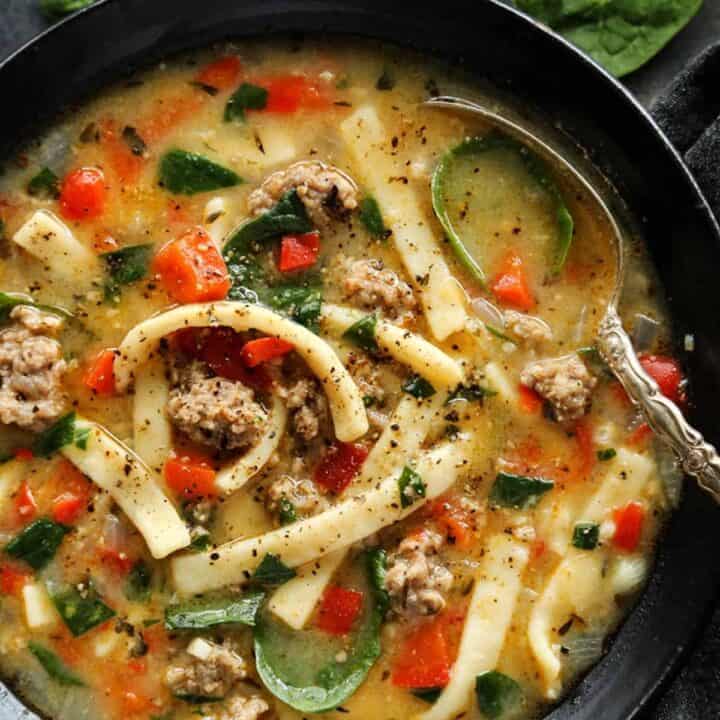 Sausage and Red Pepper Soup with Egg Noodles
Yield: 8 servings
Prep Time: 10 minutes
Cook Time: 50 minutes
Total Time: 1 hour
This hearty and satisfying soup is packed with comfort and delicious flavor!
Ingredients
1 lb. regular pork sausage
1 medium yellow onion, diced
3 large red bell peppers, diced
4 large garlic cloves, minced
2 T. unsalted butter
1/3 c. all-purpose flour
8 c. low sodium chicken broth
1 package (12 oz.) frozen Reames® Homestyle Egg Noodles
1.5 tsp. kosher salt
1 tsp. dried basil
1 tsp. dried thyme
1 tsp. dried savory
1 tsp. freshly ground black pepper
2 oz. fresh spinach, chopped (use more if you like)
Instructions
In a large pot over medium heat, brown the sausage, breaking it up into bite-sized pieces as it cooks.
When sausage is about half-way browned, add onion and red pepper. Cook until onion and red pepper are softened and sausage is nicely browned.
Add garlic to sausage mixture and cook for 1 minute more.
Now slide everything to one side of pot. Add butter to the empty side of pot. Once butter is melted, sprinkle flour over the butter, whisking to completely incorporate (a flat whisk works awesome here!). This mixture will be thick. Cook for 1 minute, whisking constantly.
Slowly add two cups of the chicken broth over the flour and butter mixture, whisking constantly to combine. Then add remaining six cups chicken broth and bring everything in the pot together. Increase heat to medium-high and bring mixture to a boil.
Add frozen homestyle egg noodles and give the mixture a stir. Once the mixture returns to a boil, turn heat down to medium/medium-high and add the salt, basil, thyme, savory, and black pepper. Simmer for 20 minutes, stirring occasionally.
Add spinach and cook for about 3 minutes more. Serve hot.
Notes
from a farmgirl's dabbles
Nutrition Information:
Yield: 8
Serving Size: 1
Amount Per Serving:
Calories: 318
Total Fat: 20g
Saturated Fat: 7g
Trans Fat: 0g
Unsaturated Fat: 12g
Cholesterol: 62mg
Sodium: 978mg
Carbohydrates: 18g
Fiber: 2g
Sugar: 4g
Protein: 18g
Nutrition information is automatically calculated by Nutritionix. I am not a nutritionist and cannot guarantee accuracy. If your health depends on nutrition information, please calculate again with your own favorite calculator.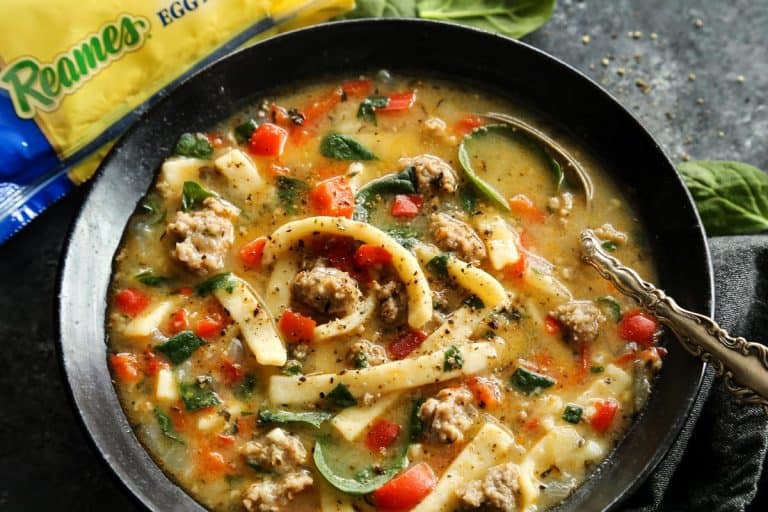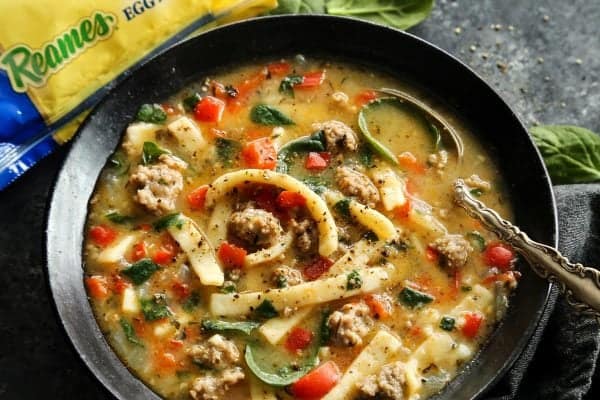 .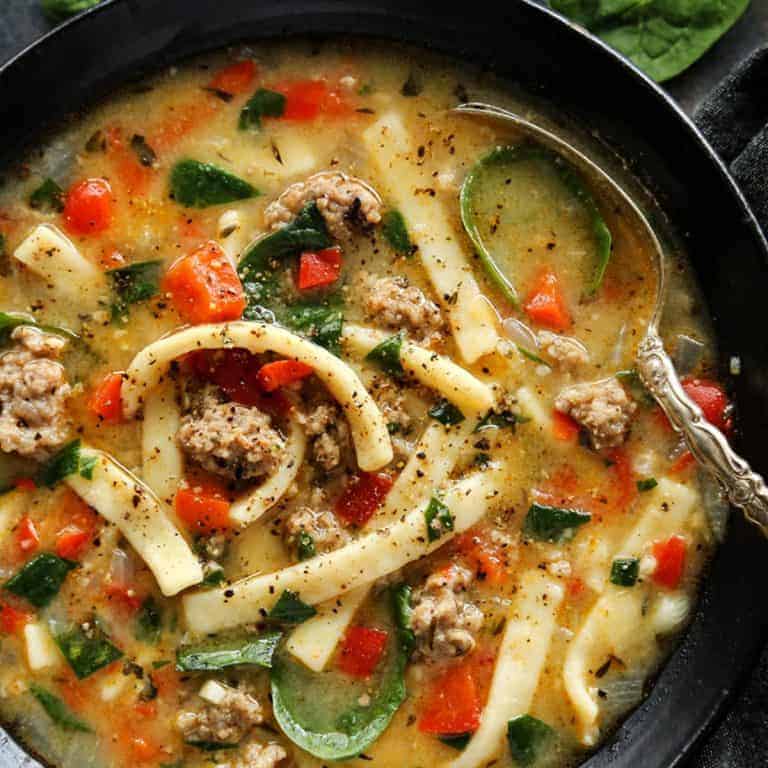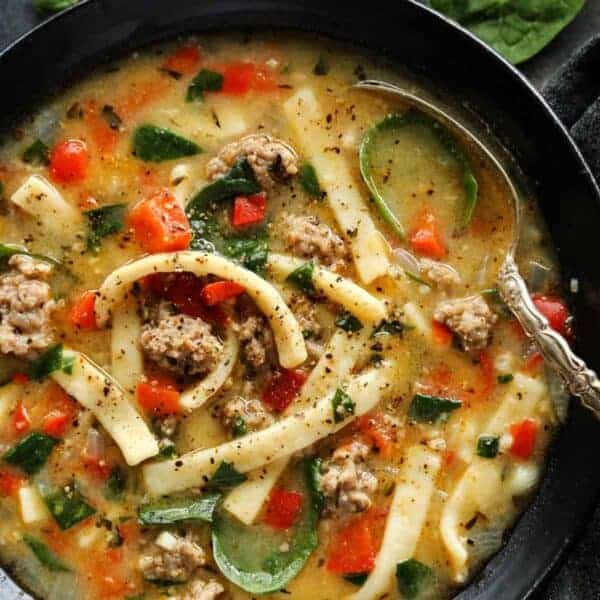 Here are a few more recipes using Reames Frozen Egg Noodles that you might like:
Connect with Reames on their website and the What's For Dinner social media channels: Facebook, Pinterest, and Instagram.
This post is sponsored by Reames®, a brand we've been proud to partner with over the past years. All text and opinions are 100% my own. Thank you for supporting the brands that help make this site possible.