Hatti's Strawberry Chiller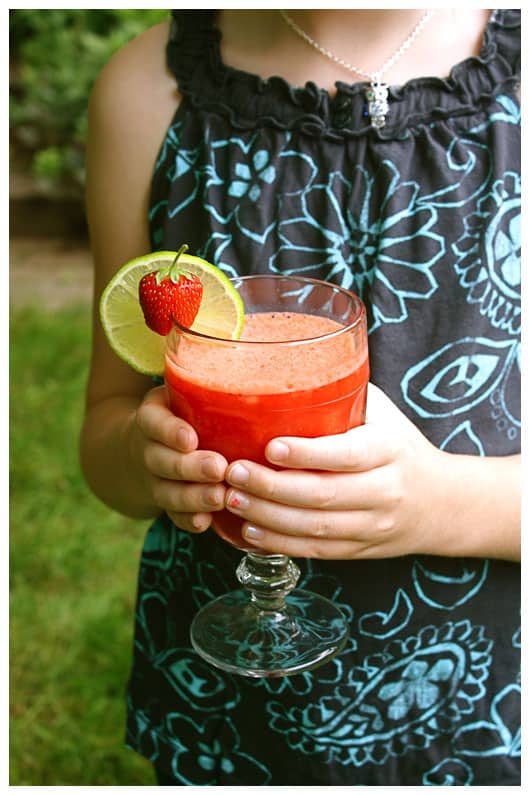 The girls and I made our annual trek to the strawberry patch last week. After missing out on picking last year, due to local hail damage, we were more motivated than ever to load our arms with boxes of luscious fragrant berries.
And we did.
As usual, my eyes out in the strawberry patch were bigger than my time and ambition back in the kitchen.
What to do with all those berries?!
We made Patsy's Strawberry Pie, a favorite family recipe from my aunt. And we made strawberry smoothies, a couple batches of freezer jam, fruit salsa, and our favorite Strawberry Lemonade in the world. What berries we didn't eat up, we tucked away in the freezer. Won't that be a fabulous treat come winter?!
As I was stirring up some fresh strawberry lemonades, I got to thinkin' about a drink that Hatti likes to mix up. She pours orange juice in a glass and tops it off with a beautiful red and bubbly streak of strawberry pop. It's a very refreshing concoction, I must admit.
But I wanted to incorporate fresh strawberries while we had them at our beck and call. I also wanted the drink to have the added tartness of lime. I asked Hatti if she was up for the challenge. And if you know Hatti, she loves a challenge…
So the two of us started pureeing strawberries and squeezing oranges and limes. We mixed up our first round and called it only "good". And that just wasn't good enough. Hatti suggested a couple measurement tweaks and a little natural sweetener in the form of honey. And woweeeee! We couldn't stop drinking it. Blended with some crushed ice, Hatti's Strawberry Chiller is a truly refreshing way to enjoy a summer day.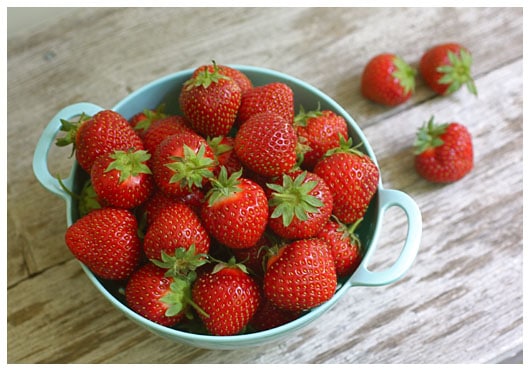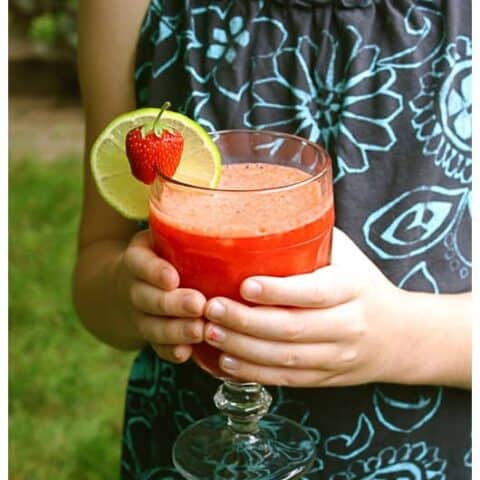 Hatti's Strawberry Chiller
Yield: 1 12-ounce drink
Prep Time: 10 minutes
Total Time: 10 minutes
Hatti's Strawberry Chiller is so refreshing on a hot summer day. Grab some fresh strawberries, orange juice, and your blender! You've got to try this fruit-filled frozen drink.
Ingredients
3/4 c. strawberry puree (just blend fresh strawberries in blender)
1/2 c. freshly squeezed orange juice
1/4 c. freshly squeezed lime juice
1 T. honey
1/2 c. crushed ice
fresh lime wedge and a whole strawberry, optional garnish
Instructions
Combine the strawberry puree, orange juice, lime juice, and honey in a blender. You can use the same blender pitcher you pureed the strawberries in, without needing to clean it up in between jobs. Pulse a couple times to combine. Then add the crushed ice and blend until ice pieces are broken up and small. Pour into a 12-ounce glass. Garnish with a fresh lime wedge and whole strawberry, if desired.
Notes
Hatti at a farmgirl's dabbles
Nutrition Information:
Yield: 1
Serving Size: 1
Amount Per Serving:
Calories: 449
Total Fat: 2g
Saturated Fat: 0g
Trans Fat: 0g
Unsaturated Fat: 1g
Cholesterol: 0mg
Sodium: 12mg
Carbohydrates: 116g
Fiber: 11g
Sugar: 91g
Protein: 5g
Nutrition information is automatically calculated by Nutritionix. I am not a nutritionist and cannot guarantee accuracy. If your health depends on nutrition information, please calculate again with your own favorite calculator.