German Chocolate Sheet Cake
This post may contain Amazon or other affiliate links. As an Amazon Associate I earn from qualifying purchases.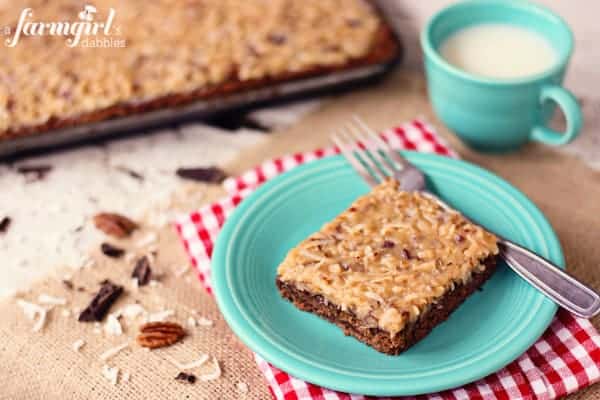 There's something so comforting about a big chocolate sheet cake sitting on the counter to cool. Its thin single layer deserves bragging rights of great proportion, but instead it chooses to humbly whisper only of nostalgia and simple home baked deliciousness. This unpretentious cake is always the biggest of winners.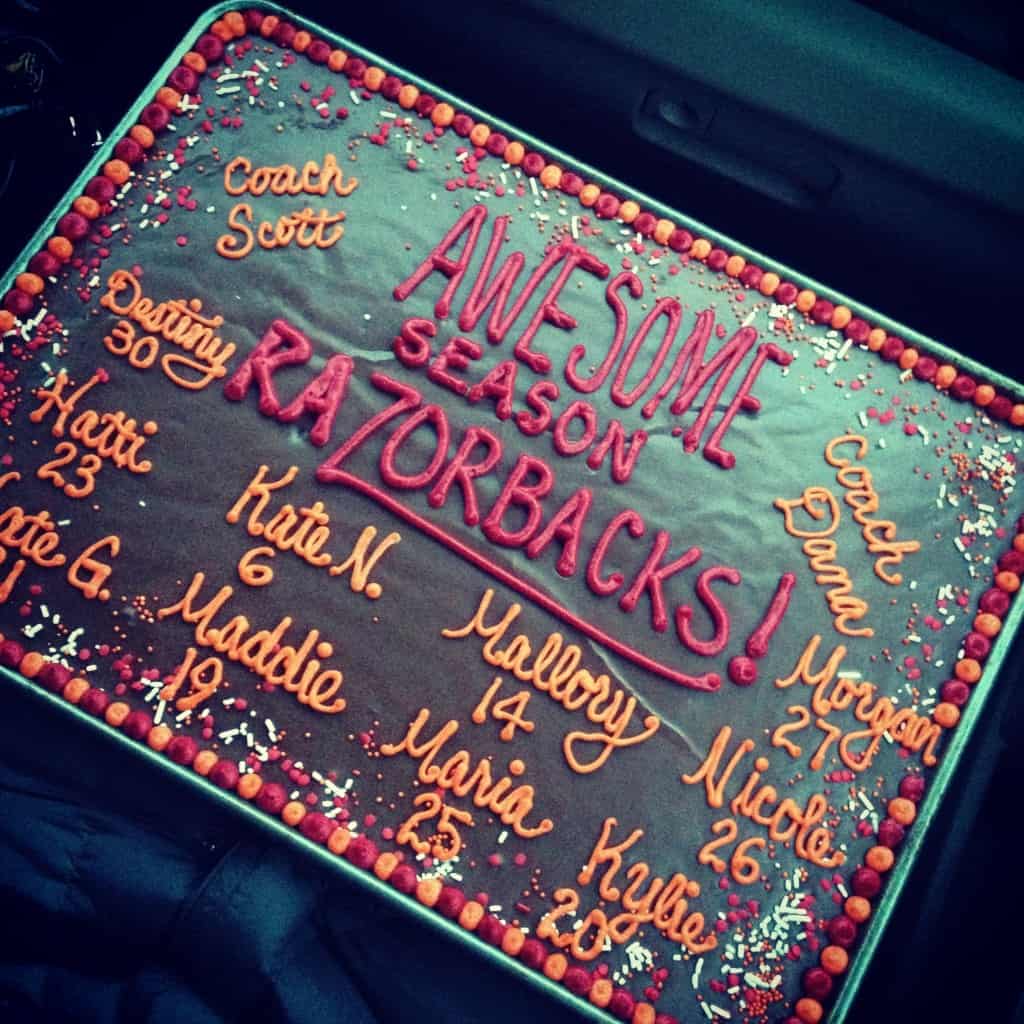 I recently baked a chocolate sheet cake (and fancied it up a bit) for our daughter's end-of-season basketball party. Her team consisted of a great group of 5th and 6th grade girls, led by two downright awesome dad coaches. The Razorbacks finished their season with a strong 2nd place trophy, definitely worthy of a king-size pan of chocolate cake. Each girl was proud to eat a piece with their own name on it. :)
And while I was baking this cake for the basketball party, I was also asking myself why I don't make sheet cakes more often. They're the perfect answer to potlucks and parties and such, as they serve a good amount of people. Plus they're easy to make and everyone loves them!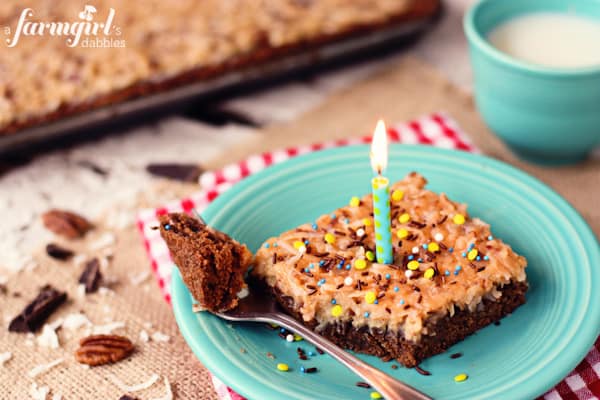 So that thinking is what brought on my baking a German Chocolate Sheet Cake to celebrate my dad's upcoming birthday. He's probably had other types of cake on his birthday over the years, but German Chocolate is his signature request. And Mom is always up for indulging him.
I took the multiple layers of Mom's German Chocolate Cake and humbled it into a single layer of sheet cake. The ingredients are unchanged, except I brushed a chocolatey glaze over the warm cake before spreading on the rich coconut-pecan frosting. The glaze intensified the chocolate flavor and ensured an extra moist cake. Although this recipe is a bit more involved than your basic chocolate sheet cake, its simplified form may just convince those who are intimidated to tackle the more common triple-layered German Chocolate cake.
Right?!
Tell me, who's going to give this one a try?!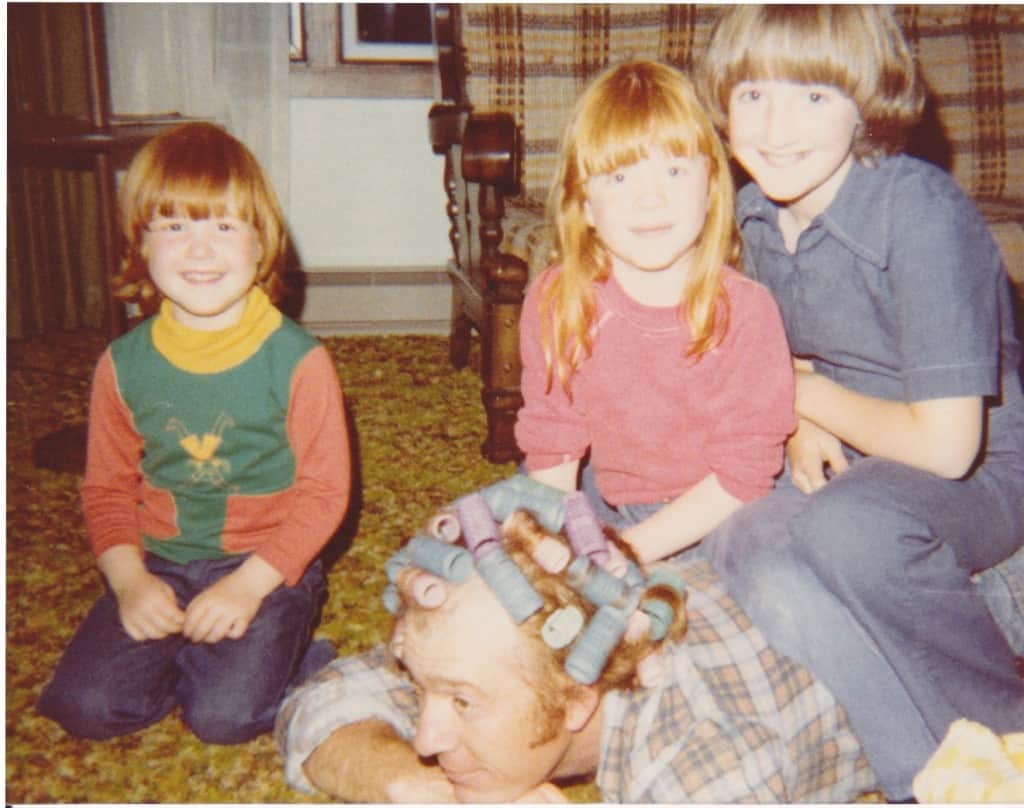 This is a Happy Birthday shout-out to one amazing dad.
A dad who taught me how to work.
And especially how to play.
Happy Birthday, Dad!
xoxo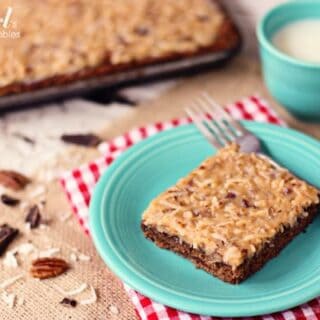 German Chocolate Sheet Cake
Yield: 20 to 24 servings
Prep Time: 25 minutes
Cook Time: 28 minutes
Total Time: 53 minutes
Although this recipe is a bit more involved than your basic chocolate sheet cake, its simplified form may just convince those who are intimidated to tackle the more common triple-layered German Chocolate cake.
Ingredients
for the German chocolate cake:
4 oz. Baker's German's Sweet Chocolate
1/2 c. water
4 large eggs, separated
2 c. all-purpose flour
1 tsp. baking soda
1/4 tsp. salt
1 c. unsalted butter, softened
2 c. sugar
1 tsp. pure vanilla extract
1 c. buttermilk
for the chocolate glaze:
3 T. unsalted butter
1 T. cocoa
3/4 c. powdered sugar
3 T. milk
1/2 tsp. pure vanilla extract
for the coconut-pecan frosting:
4 large egg yolks
1 can (12 oz.) evaporated milk
1.5 tsp. pure vanilla extract
1.5 c. sugar
3/4 c. unsalted butter
1 7-oz. pkg. flake coconut
1.5 c. chopped pecans
Instructions
for the German chocolate cake:
Preheat oven to 350° F. Spray an 11'' x 17'' sheet pan with cooking spray and set aside.
Microwave chocolate and water in large microwaveable bowl for 1-1/2 to 2 minutes, or until chocolate is almost melted, stirring after 1 minute. Stir until chocolate is completely melted.
In a small bowl, beat egg whites with a mixer on high speed until stiff peaks form. Set aside.
In a separate bowl, mix flour, baking soda, and salt. Set aside.
In a large bowl, beat butter and sugar with mixer until light and fluffy. Add egg yolks, 1 at a time, beating well after each addition. Blend in melted chocolate and vanilla. Add flour mixture alternately with buttermilk, beating until well blended after each addition. Add egg whites and stir gently until well blended.
Spread evenly into prepared pan and bake for 28 to 30 minutes, or until toothpick inserted in center comes out clean. Place on wire rack and immediately brush hot cake with chocolate glaze.
for the chocolate glaze:
Prepare the glaze while the cake is baking. In a small saucepan over medium heat, melt butter and cocoa. Add powdered sugar and milk, stirring well. Heat to boiling and then remove from heat. Add vanilla and stir well.
With a large pastry brush, gently brush the glaze over the hot cake. Let cake cool completely before adding the coconut-pecan frosting.
for the coconut-pecan frosting:
In a large saucepan, beat egg yolks, evaporated milk, and vanilla with wire whisk until well blended. Add sugar and butter, and cook over medium heat for 12 minutes, or until thickened and golden brown, stirring constantly.
Remove pan from heat. Add coconut and pecans, mixing well. Let cool to room temperature and of desired spreading consistency. Then spread frosting evenly over cooled cake.
Nutrition Information:
Yield: 24
Serving Size: 1
Amount Per Serving:
Calories: 465
Total Fat: 27g
Saturated Fat: 15g
Trans Fat: 0g
Unsaturated Fat: 11g
Cholesterol: 112mg
Sodium: 167mg
Carbohydrates: 53g
Fiber: 2g
Sugar: 41g
Protein: 6g
Nutrition information is automatically calculated by Nutritionix. I am not a nutritionist and cannot guarantee accuracy. If your health depends on nutrition information, please calculate again with your own favorite calculator.
We participate in the Amazon Services LLC Associates Program, an affiliate advertising program designed to provide a means for us to earn fees by linking to Amazon.com and affiliated sites. See our
disclosure policy
for more info.