Citrus Salad with Orange Poppy Seed Dressing
When I look at this Citrus Salad with Orange Poppy Seed Dressing, I feel joy!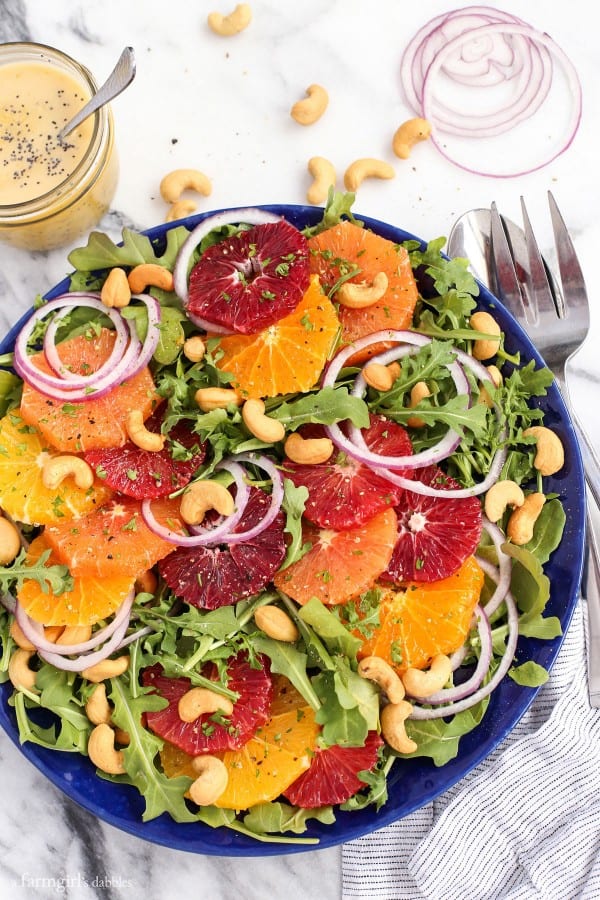 A couple of weeks ago, I set a platter of a variety of citrus slices on the supper table. Eyes lit up. Fingers pointed at each differently colored slice, while questions bubbled up, asking the names of the fruits. And then hands reached in, eager to try each one. We had so much fun tasting and comparing the range of juicy textures and flavors, side by side.
This Citrus Salad with Orange Poppy Seed Dressing resulted from that little platter of citrus taste testing. All that gorgeous citrus was just begging me to enjoy it in a fresh, pretty salad!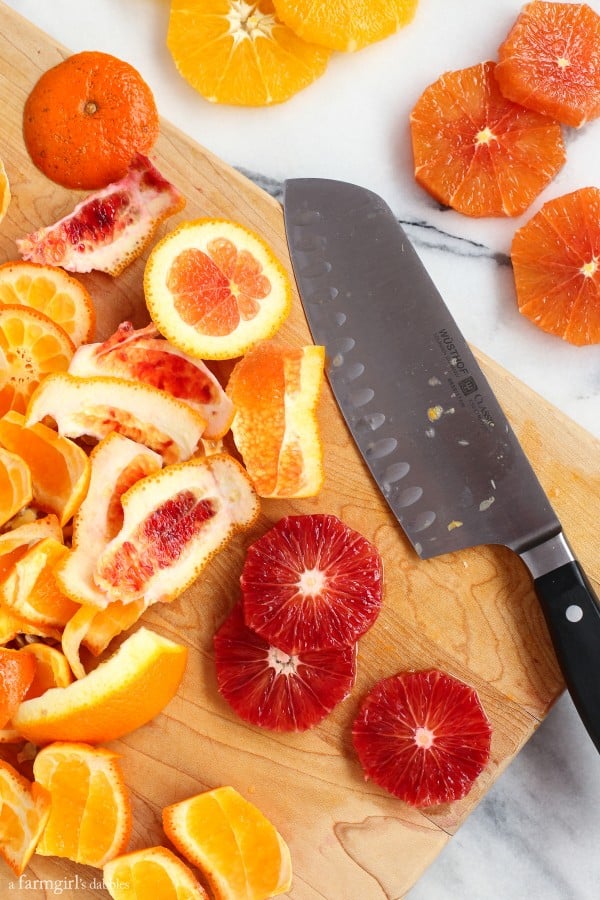 It helps to have a super sharp knife with a large blade when cutting the peels from a bunch of citrus. I just cut off the end of each orange, place one of the flat cut edges on the cutting board, and start slicing down the sides.
I love how different each variety's appearance is. The slices at top center are from a navel orange. Then Cara Cara (the favorite of our two girls) is pretty in orangey-pink in the upper right. And blood orange slices are on the cutting board.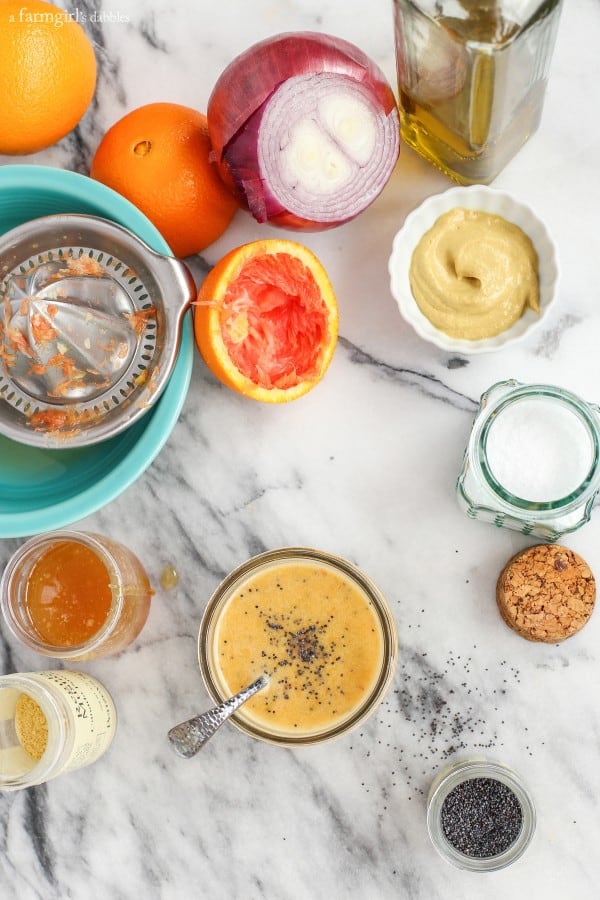 The orange poppy seed dressing is a riff on one that our neighbors/friends served at a dinner during the holidays. I can never pass up a poppy seed dressing, especially one such as this. It's bright and sweet, plus tangy from Dijon mustard.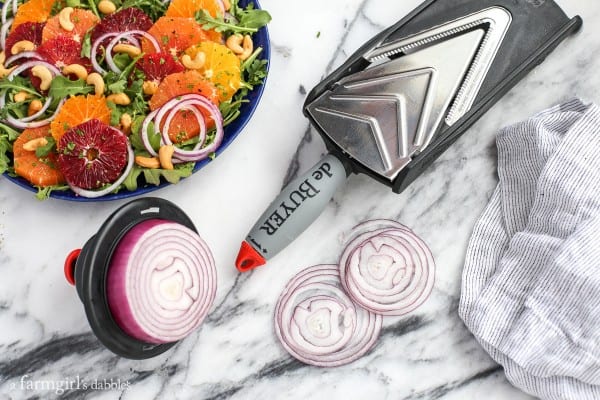 I've purchased a couple mandolins over the past year, only to return them to the stores, unable to justify the products' usability with the high price tags. Then I saw this one on sale at Williams-Sonoma online, with user reviews good enough to convince me to give it a try. With a Williams-Sonoma gift card in my pocket, I couldn't miss out on the opportunity. If you're looking for a mandolin that works well for simple tasks, is easy to use, a breeze to clean up, and won't cost a fortune, I'd recommend giving this one a try.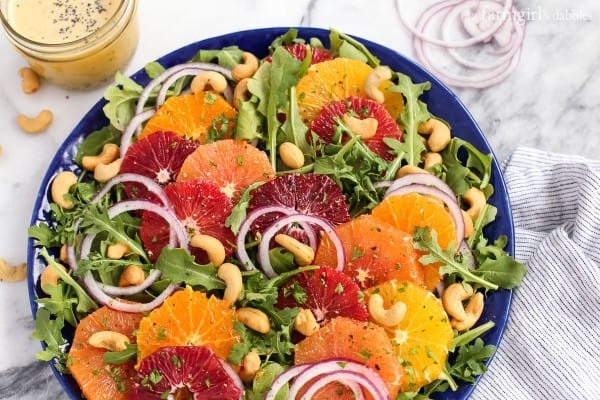 When I look at this salad, I feel joy. In the middle of this white-and-brown January, I welcome all those pretty colors and flavors and textures with open arms.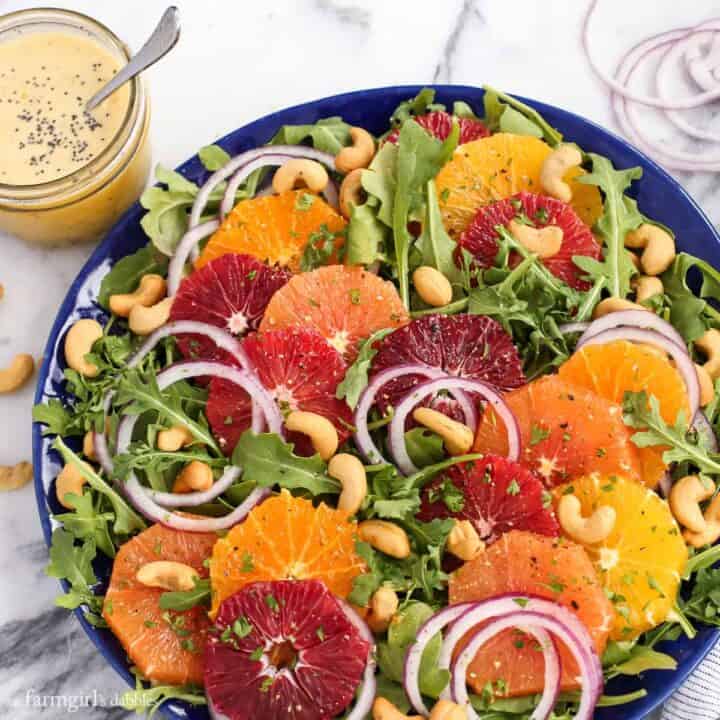 Citrus Salad with Orange Poppy Seed Dressing
Yield: serves 4 as a side salad
Prep Time: 10 minutes
Total Time: 10 minutes
When I look at this Citrus Salad with Orange Poppy Seed Dressing, I feel joy! Fruit salad makes a delicious side dish for so many occasions.
Ingredients
FOR THE CITRUS SALAD:
3 to 4 c. lightly packed arugula
kosher salt
1 navel orange
1 Cara Cara orange
1 blood orange
1 clementine
a few very thin slices of red onion
1/2 c. whole salted cashews
freshly ground black pepper
2 T. minced fresh parsley
FOR THE ORANGE POPPY SEED DRESSING:
1/3 c. extra-virgin olive oil
1/4 c. freshly squeezed Cara Cara orange juice
3 T. honey
1-1/2 tsp. Dijon mustard
1/2 T. finely chopped red onion
1/4 tsp. kosher salt
1 tsp. poppy seeds
Instructions
FOR THE CITRUS SALAD: Place the arugula on a large plate or small platter. Sprinkle lightly with kosher salt. If desired, drizzle some of the prepared orange poppy seed dressing over the arugula. Or just serve the dressing on the side. Cut the peels off of the citrus and slice into 1/4″ to 3/8″ thick rounds, removing any seeds. Arrange citrus rounds across the arugula. Tuck in some onion slices. Sprinkle cashews over the top, followed by black pepper and parsley.
FOR THE ORANGE POPPY SEED DRESSING: Place all ingredients except the poppy seeds in a small bowl with tall sides. Blend with an immersion blender until thickened and smooth. Add poppy seeds and stir to combine. Drizzle some of the dressing over the bed of arugula before adding the citrus to the salad, or just serve the dressing in a small bowl alongside the salad, for individual use. I like to add a couple pinches of additional poppy seeds to the top of the dressing right before serving.
Nutrition Information:
Yield: 4
Serving Size: 1
Amount Per Serving:
Calories: 447
Total Fat: 27g
Saturated Fat: 4g
Trans Fat: 0g
Unsaturated Fat: 22g
Cholesterol: 0mg
Sodium: 525mg
Carbohydrates: 51g
Fiber: 6g
Sugar: 37g
Protein: 6g
Nutrition information is automatically calculated by Nutritionix. I am not a nutritionist and cannot guarantee accuracy. If your health depends on nutrition information, please calculate again with your own favorite calculator.