Chocolate Dipped Valentine Marshmallow Pops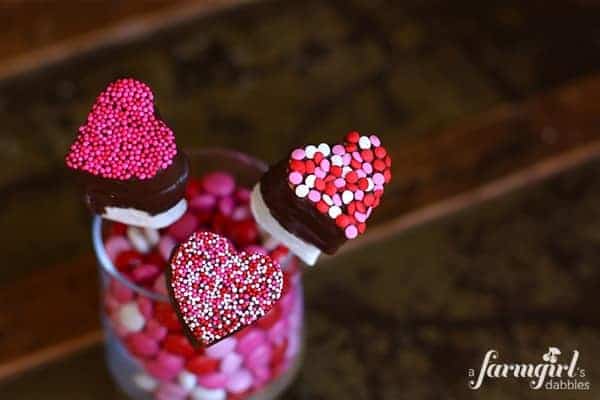 Here I am with another Valentine's Day treat using homemade marshmallows. I'm just a teensy bit obsessed with the chewy white fluff, if you haven't figured that out by now!
While I was cutting out the hearts used in the Homemade Marshmallow Conversation Hearts, a memory hit me. It was the image of our oldest daughter at the State Fair, eating chocolate dipped marshmallows on a stick. It's an annual tradition for her that started many years ago, compliments of a confectionary that caught her eye, located under the Grandstand. Our trip to the fair each year is not complete until we see Hatti's smile happily laced with chocolate.
These Chocolate Dipped Valentine Marshmallow Pops are just the sweetest treat. They are so fun to gift, wrapped in a small clear bag and tied with a pretty ribbon. And they would make great party favors, too. I think they even take a few years off a person when you bite into them. At least that's what it felt like for me. There's just something about eating candy on a stick that makes you feel like a kid again.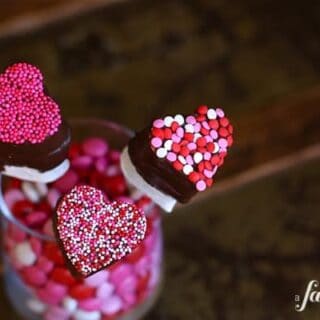 Chocolate Dipped Valentine Marshmallow Pops
Yield: 30 chocolate dipped marshmallow pops
Prep Time: 1 hour
Cook Time: 10 minutes
Additional Time: 1 hour
Total Time: 2 hours 10 minutes
Chocolate Dipped Valentine Marshmallow Pops - Here I am with another Valentine's Day treat using homemade marshmallows. I'm just a teensy bit obsessed with the chewy white fluff, if you haven't figured that out by now!
Ingredients
for the marshmallow hearts:
powdered sugar, for coating pan
2/3 c. water, divided
3 (1/4 oz.) envelopes unflavored gelatin (found by the Jell-O at the grocery store)
1 c. granulated sugar
1 c. light corn syrup
pinch of kosher salt
1 tsp. vanilla
for the chocolate dip:
16 oz. (about 2-1/2 c.) good quality semisweet chocolate chips, finely chopped (I really like Guittard.)
1 T. shortening
(or just use your favorite chocolate bark)
Instructions
for the marshmallow hearts:
Lightly spray the inside of a 9" x 13" pan with cooking spray. Generously coat with powdered sugar and set aside.
Pour 1/3 cup of the water into the bowl of a stand mixer. Sprinkle the gelatin over the water and stir briefly to incorporate. Let stand for about 10 minutes, or until the gelatin has softened.
In a saucepan, off the heat, combine the remaining 1/3 cup of water and the granulated sugar, corn syrup, and salt. Place the pan over medium-high heat. Clip a candy thermometer on the inside of the pan, making sure it doesn't touch the bottom. Cook the mixture without stirring until it reaches 240°. Brush down the sides of the pan with a pastry brush, dipped in water, to gently wipe away any sugar crystals.
With your mixer on low speed, very carefully add the hot syrup to the softened gelatin. Add the vanilla and increase the speed to medium-high. The mixture will start out clear, but quickly turns very white. Beat for about 8 minutes, or until the marshmallow gets very thick and sticky, and starts to pull away from the sides of the bowl, in string-like pieces. This will really give your mixer a workout.
Spread the mixture into the prepared pan using a lightly oiled spatula. With wet hands, press the batter evenly into the corners of the pan. Just keep rewetting your hands to help with the stickiness. Set aside for at least 1 hour, or until the mixture is firm and cool.
Run a wet knife around the edge of the cooled pan to loosen the marshmallow. Remove the marshmallow from the pan, onto a sheet of parchment paper.
Dip your small heart-shaped cookie cutter (mine measures 1-3/8″ wide by 1-3/8″ tall) into a shallow bowl of water and then cut the slab of marshmallow into heart shapes. This is a sticky job, but just have patience. It's worth it! It helps to dip the heart cutter into the water in between cuts. Repeat this process until the whole slab of marshmallow is cut.
for the chocolate dip:
In a small microwave-safe bowl, melt about 14 ounces of the chocolate in 30 second increments, stirring after each increment. Be very careful to not get the chocolate too hot. When the chocolate is almost all melted, stir by hand until it is completely smooth. Then add the remaining 2 ounces of chopped chocolate and stir again until completely smooth. This will help to cool down the chocolate. Stir in the shortening until completely incorporated. This will help to thin out the chocolate a bit. Pour chocolate into medium size glass for dipping the pops into.
to assemble the marshmallow pops:
Stack 2 marshmallow hearts on top of each other and press a 6″ treat pop stick down through the center, stopping just before you go all the way through the other side. Repeat with remaining marshmallow hearts until all your pops are assembled.
Dip each marshmallow pop down into the chocolate, leaving just a bit of the white marshmallow showing at the end with the stick. Lift up and gently tap excess chocolate off. Press top of heart into sprinkles of your choice, or just sprinkle the whole coating of chocolate.
Set the chocolate dipped marshmallow pops upright in a glass and allow to completely set. If you're in a hurry, pop them into the refrigerator for a bit to speed up the process.
If you want to give these as gifts, place a pop in a small cellophane treat bag and tie with a ribbon. Talk about a fun gift!!
Nutrition Information:
Yield: 30
Serving Size: 1
Amount Per Serving:
Calories: 189
Total Fat: 7g
Saturated Fat: 4g
Trans Fat: 0g
Unsaturated Fat: 3g
Cholesterol: 0mg
Sodium: 15mg
Carbohydrates: 34g
Fiber: 1g
Sugar: 32g
Protein: 1g
Nutrition information is automatically calculated by Nutritionix. I am not a nutritionist and cannot guarantee accuracy. If your health depends on nutrition information, please calculate again with your own favorite calculator.