Chocolate and Fresh Raspberry Cream Napoleons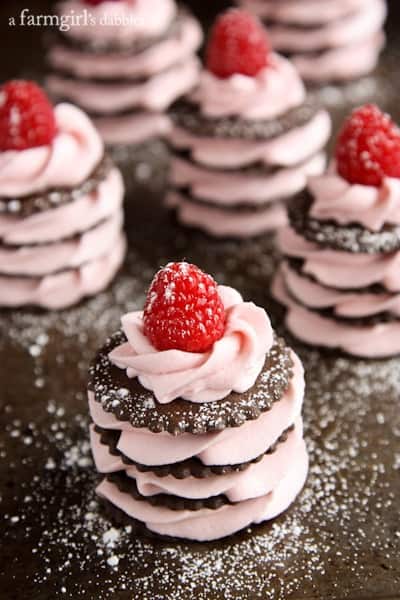 If I could have a big bowl of fresh raspberries in my refrigerator at all times, I'd be one happy girl. Actually, make that three happy girls in this house; we all love those vibrant ruby red berries just the same. They are happiness, in the most wonderful form possible, straight from nature…pure, sweet, wonderful joy.
Now just imagine the joy you could bring to someone by setting one of these Chocolate and Fresh Raspberry Cream Napoleons in front of them. Small in size, yet bursting with fresh raspberry flavor, these little beauties are sure to win anyone's heart.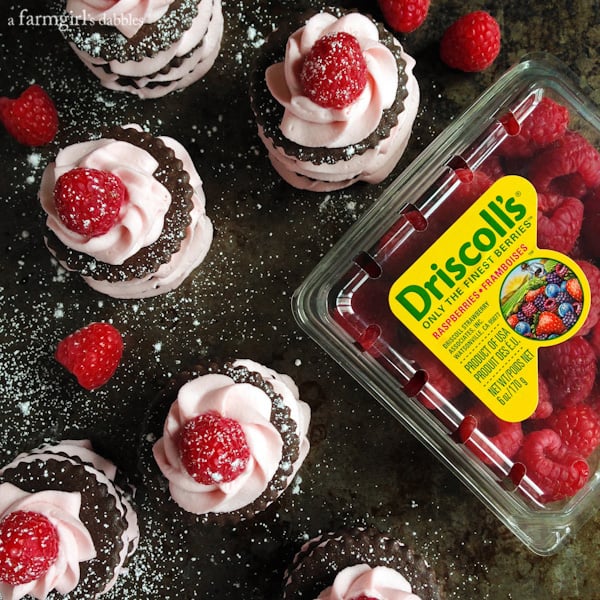 It's a pretty rare occasion when you open our refrigerator and can't find a package of Driscoll's berries in there. Raspberries, blueberries, strawberries, blackberries…Driscoll's has us covered for fresh juicy berries year-round. So when Driscoll's asked me to create a dessert featuring their raspberries, I needn't think twice, because raspberries naturally equal dessert.
Raspberries are my perfect treat, one that requires little more than popping them straight into my mouth for instant sweet indulgence. I was definitely up for a little creativity in the kitchen with them. Because you know me…I love my berries, and I can never pass up dessert!
To see my raspberry dessert on the Driscoll's site, just click here. Also be sure to check out all the other beautiful raspberry dessert recipes on Driscoll's!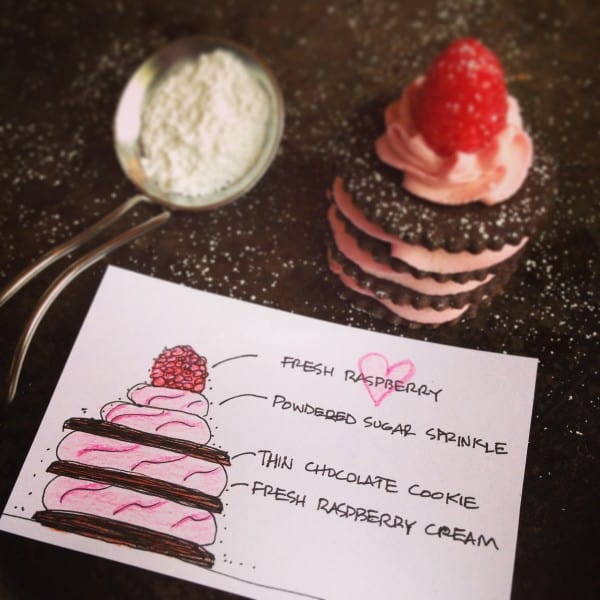 I'm such a visual person. Pictures always help me to envision what I'm aiming to achieve while developing a new recipe. And our girls always get such a kick out of the illustrations I create, so I thought I'd share this one with you, too. I don't always get out the colored pencils or draw little hearts, but especially fun recipes always receive a little extra flourish on the paper.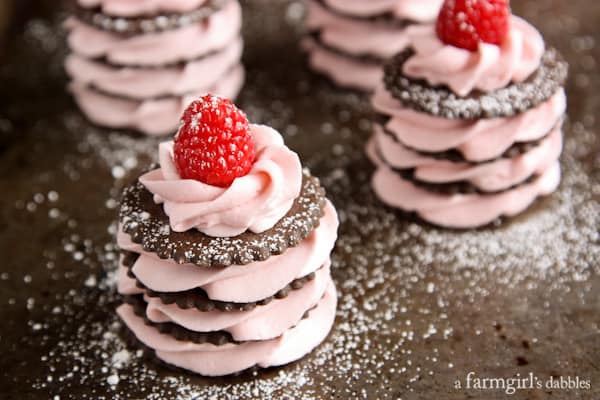 These individual mini desserts are constructed in true Napoleon form, with alternating layers of cake (in the form of thin chocolate cookies) and fluffy raspberry cream. Ruffly and oh-so-pretty, delicate yet firm, this cream is nothing short of amazing. It is pure raspberry flavor and color, with no extracts or dyes added. And the fresh raspberry adorning the top brings it all together, giving you a fresh burst of bright berry flavor.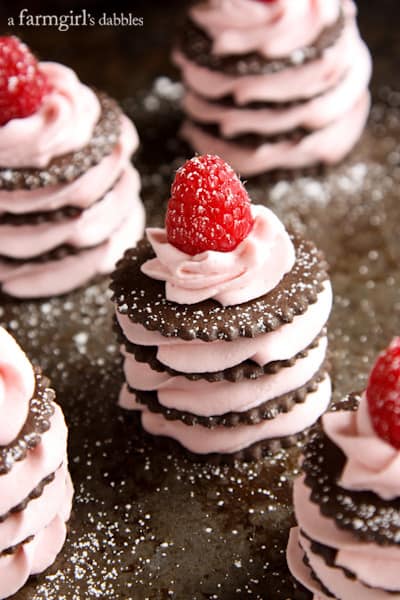 We found out that there are two very distinctly different ways to eat these Napoleons. When eaten as soon as they are constructed, the cookies are super crisp, cracking as your fork lowers down onto the plate, squeezing out that wonderful raspberry cream.
And when you place the Napoleons into the refrigerator to chill for a few hours, something magical happens. The raspberry cream firms up a bit more and the chocolate cookies start to take on the moisture from the cream, transforming the cookies into the thinnest layers of soft cake imaginable. When your fork eases through the dessert, it cuts like a knife, revealing the gorgeous pink and dark chocolate brown layers within. It's a completely luscious experience, and our preferred way to add a little raspberry Napoleon joy to life.
You can see my Chocolate and Fresh Raspberry Cream Napoleons on the Driscoll's site here. And for more raspberry recipes and inspiration from Driscoll's, click here. I promise you, those pretty raspberries and desserts will have you thinking about making your own dessert in no time at all!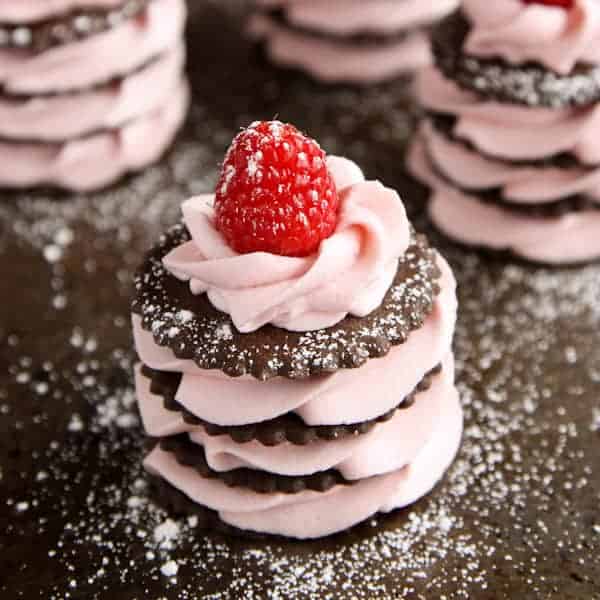 Chocolate and Fresh Raspberry Cream Napoleons
Yield: 8 to 10 servings
Prep Time: 25 minutes
Cook Time: 20 minutes
Total Time: 45 minutes
These individual mini desserts are constructed in true Napoleon form, with alternating layers of cake (in the form of thin chocolate cookies) and fluffy raspberry cream.
Ingredients
2 6-oz. packages (about 3-1/2 cups) fresh Driscoll's raspberries, plus 8 to 10 individual raspberries for topping the finished napoleons
1 c. heavy whipping cream
8 oz. cream cheese, at room temperature
1 c. prepared or homemade marshmallow cream
1 5-oz. box Moravian Cookies "Artisan Blend Chocolate" (I also found a small chocolate wafer cookie from Nabisco that I think would work well.)
powdered sugar, for dusting finished napoleons, if desired
Instructions
Cook the 12 ounces of raspberries in a medium saucepan over medium heat, stirring frequently until the raspberries are broken down into a sauce. Line a fine mesh strainer with 2 layers of cheese cloth and set over a bowl. Pour the raspberry sauce over the cheese cloth to remove the seeds. Gather up the ends of the cheese cloth and press out all the raspberry juice with the back of a spatula. You should be able to get at least a half cup of juice from this amount of berries, but I can usually press out almost 3/4 of a cup. Pour the raspberry juice back in the saucpan. Simmer over medium to medium-high heat until the juice reduces to a 1/4 cup. It will be a very rich red and concentrated sauce.
Set aside to cool completely. To speed up the cooling, the sauce can be placed in the refrigerator to chill.
In the bowl of a stand mixer, with the whisk attachment, whip the cream on high speed until stiff. Remove whipped cream to another bowl and set aside.
In the same bowl of the stand mixer (no need to clean the bowl first), with the paddle attachment, beat the cream cheese on medium-high speed until very smooth. Add the 1/4 cup of prepared and cooled fresh raspberry sauce and mix on medium to high speed until combined and completely smooth. Then add the marshmallow cream and mix again on medium to high speed until combined. With a rubber spatula, gently fold in reserved whipped cream until combined.
Spoon fresh raspberry cream into a piping bag fitted with a large open star tip and pipe it onto the top of one chocolate cookie. Top with a second cookie and pipe on more raspberry cream. Repeat until you have a fourth cookie on top. Then swirl on a smaller amount of raspberry cream to the top cookie. Gently press in a fresh raspberry. Use a thin metal spatula to transfer finished napoleon to a serving plate or platter. Repeat until all napoleons are finished. Alternately, you could use a small spoon to layer on the raspberry cream, for a more free-form look. Right before serving, sprinkle powdered sugar lightly over the tops of the napoleons.
Serve immediately for a crispy chocolate cookie experience. Or refrigerate for at least 2 hours for a softer chocolate cookie. Both ways are completely delicious, but two entirely different experiences. When the napoleons are left to mingle and chill for a couple hours, the chocolate cookies take on the moisture of the fresh raspberry cream, yielding a dessert that is eaten just like a small layer cake. It's very fun!
Notes
from a farmgirl's dabbles
Nutrition Information:
Yield: 10
Serving Size: 1
Amount Per Serving:
Calories: 383
Total Fat: 24g
Saturated Fat: 12g
Trans Fat: 0g
Unsaturated Fat: 10g
Cholesterol: 63mg
Sodium: 162mg
Carbohydrates: 39g
Fiber: 3g
Sugar: 27g
Protein: 4g
Nutrition information is automatically calculated by Nutritionix. I am not a nutritionist and cannot guarantee accuracy. If your health depends on nutrition information, please calculate again with your own favorite calculator.
This post is sponsored by Driscoll's berries. Visit www.driscolls.com for more berry recipes. All opinions are 100% my own, as always. Thank you for supporting the brands that help make this site possible!