Caramel Custard Pots with Salted Caramel Sauce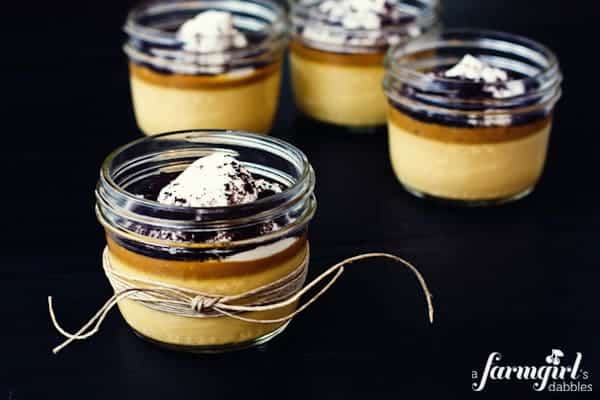 Since making crème brûlée for the first time earlier this year, I have been enamored, experimenting with more custards and puddings at home. Where my mind once had these luscious desserts reserved for fine dining menus, it has now been opened up to all the glorious possibilities of enjoying this thick and creamy yumminess in our very own home.
I know I got these Caramel Custard Pots with Salted Caramel Sauce right. Because it took me four tries. Four! I went through more eggs and cream than I care to admit, just to be able to share this recipe with confidence. So trust me…this is a good one!!
I started out with a caramel pudding that I was just never satisfied with in both flavor and texture, and eventually turned to a very lovely caramel custard by Dorie Greenspan. Then there were issues with jar shapes and sizes. I was determined to use mason jars, and the wide mouth half-pint ones ended up being just the ticket. The salted caramel sauce, however, was perfect from the start. And I enjoyed licking every last spoon, bowl, and mason jar of that vanilla bean speckled deliciousness.
I'm not gonna lie and say this dessert comes together in a quick 30 minutes or less. These cute little layered pots do take some time to prepare, but it's a fun labor of custard love. I also appreciate that they are very much a make-ahead dessert, perfect for entertaining. And just tell me who doesn't like their own individual pot of yum?!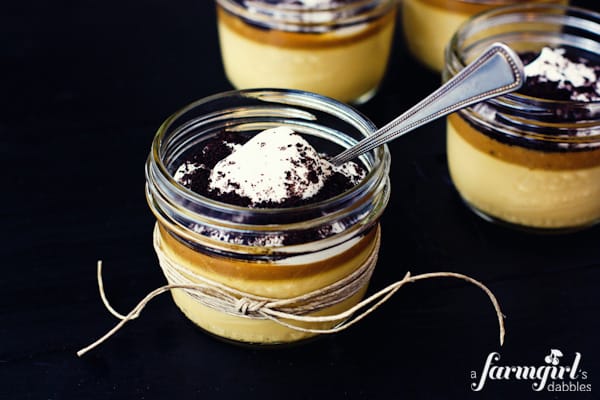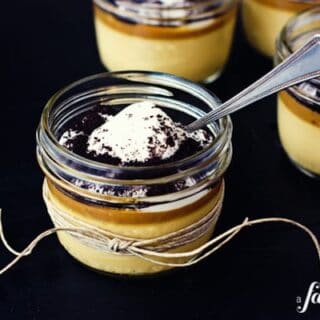 Caramel Custard Pots with Salted Caramel Sauce
Yield: 8 servings
Prep Time: 30 minutes
Cook Time: 45 minutes
Additional Time: 10 minutes
Total Time: 1 hour 25 minutes
Caramel Custard Pots with Salted Caramel Sauce are out-of-this-world amazing. These beautiful custard cups with homemade caramel sauce will definitely become a family favorite!
Ingredients
FOR THE CARAMEL CUSTARD:
2 c. heavy cream
1 c. whole milk
3/4 c. sugar
2 large eggs
5 large egg yolks
FOR THE SALTED CARAMEL SAUCE:
3/4 c. plus 2 T. heavy cream
1/2 vanilla bean, split lengthwise
1/2 c. sugar
2 T. light corn syrup
2 T. water
4 T. chilled unsalted butter, cut into 1/2″ cubes
1/4 tsp. kosher salt
TOPPINGS:
lightly sweetened whipped cream
crushed chocolate cookie wafers
Instructions
for the caramel custard:
Center a rack in the oven. Preheat oven to 300° F. Line a large roasting pan (with sides that are at least 2" tall) with a double layer of paper towels. Then place eight wide mouth half-pint mason jars on top of the paper towels. Fill a tea kettle with water and put it on to boil. When the water boils, turn off the heat.
Stir the cream and milk together and warm them in the microwave or in a saucepan over medium heat. Set aside.
Measure out 1/4 cup of the sugar and set it aside.
Put a large heavy-bottomed saucepan (I used a nonstick pan) over medium-high heat and sprinkle in 2 tablespoons of the remaining sugar. As soon as the sugar melts and starts to caramelize, stir it. When the color is uniform, stir in another 2 tablespoons of sugar and continue to stir until it is melted and colored. Continue with the remaining 1/4 cup sugar, adding it 2 tablespoons at a time.
When all the sugar is deep amber, almost mahogany colored, stand away from the pan so you don't get splattered, and stir in the warm liquid. The mixture will bubble furiously and probably seize up, but don't panic. Just keep stirring patiently and it will smooth out. Pull the pan from the heat.
Put the eggs, yolks, and reserved 1/4 cup sugar in a large glass measuring cup or a small bowl and whisk until pale and slightly thickened. Still whisking, drizzle in a little of the warm caramel liquid. This will gently warm the eggs so they won't curdle. Whisking constantly, slowly pour in the remaining liquid.
If there is foam at the top of the custard, skim it off with a spoon. If you leave the foam, it will form little craters on top of the baked custards. It's not a crime, but the custards are definitely prettier without the little foam craters. Divide the custard evenly between the mason jars.
Pour enough hot water from the tea kettle into the roasting pan to come halfway up the sides of the mason jars. Cover the pan snugly with foil, poke two holes in two opposite corners and very carefully and steadily slide the pan into the oven.
Bake the custards for 45 to 50 minutes, or until the tops darken a bit and the custards jiggle a little only in the center when tapped or lightly shaken.
Very carefully remove the roasting pan from the oven and place it on a cooling rack. Allow the custards to rest in their warm bath for 10 minutes, then peel off the foil and transfer the mason jars from the hot water (careful!!) to the cooling rack. Refrigerate when they reach room temperature. When the custards are cool, cover them tightly with their mason jar lids.
for the salted caramel sauce:
Place cream in a small pitcher. Scrape in seeds from vanilla bean and then also add the bean. Set aside.
Stir sugar, corn syrup, and water in a heavy saucepan over medium heat until sugar dissolves. Increase heat to medium-high and bring to a boil, occasionally swirling pan and brushing down sides with a wet pastry brush. It will thicken and turn deeper in color. After about 5 to 6 minutes, it should be deep amber in color. Don't let it get too dark. If it starts to smell a bit burnt, immediately remove pan from heat.
Gradually add vanilla cream. The mixture will bubble vigorously. Whisk over medium heat until smooth and thick, about 2 minutes. Remove from heat and whisk in butter and salt. Strain into a heatproof bowl. Let cool slightly.
to serve the custard pots:
I prefer to eat the caramel custard pots chilled. Spoon some of the salted caramel sauce over each custard and top with some lightly sweetened whipped cream and crushed cookie wafers.
It is best to prepare this dessert the day before you want to eat them. The custards should chill for a few hours or overnight to set properly. Just prepare the custards, caramel sauce, and cookie crumbles the day prior. And make the sweetened whipped cream on the day you want to serve. The pots can be completely assembled a few hours before serving.
Notes
Caramel Custard adapted from Baking from my home to yours by Dorie Greenspan. Overall inspiration and Salted Caramel Sauce adapted from bon appetit, September 2011, originally from Barbuzzo in Philadelphia.
Nutrition Information:
Yield: 8
Serving Size: 1
Amount Per Serving:
Calories: 551
Total Fat: 36g
Saturated Fat: 21g
Trans Fat: 1g
Unsaturated Fat: 13g
Cholesterol: 280mg
Sodium: 234mg
Carbohydrates: 50g
Fiber: 0g
Sugar: 48g
Protein: 9g
Nutrition information is automatically calculated by Nutritionix. I am not a nutritionist and cannot guarantee accuracy. If your health depends on nutrition information, please calculate again with your own favorite calculator.