Almond Peach Squares
These Almond Peach Squares are so chewy, nutty, sweet and delicious! Drizzled with almond icing, they're my absolute favorite late summer treat.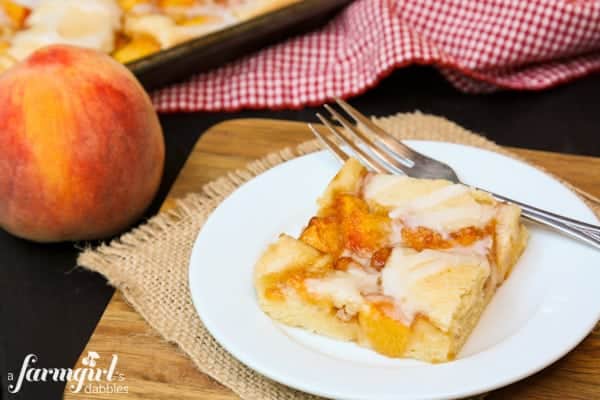 Almond Peach Dessert Bars
Eating sweet, juicy peaches each August is always bittersweet for me.
the bitter = it's a sure sign that summer is coming to an end
the sweet = do I even need to explain?!
Ohhhhh…they are such a treat, juice all dripping down my forearms, sweet and sticky with finest sugar.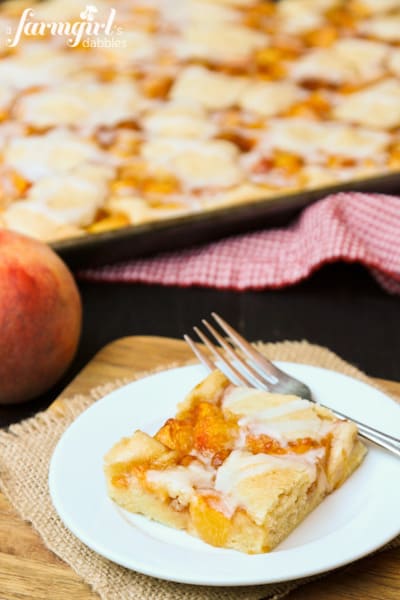 I prefer, without a doubt, to eat a peach simply peeled and sliced. When its golden flesh is just perfectly soft, barely able to contain its juices…it's heaven in my hand.
But I also cannot deny slicing up a few peaches for Mom's gorgeous lattice peach pie, my favorite peach bread, or a super easy and delicious peach cake with a thin crackly crust of cinnamon and sugar.
Peaches are great in savory and main dishes, too, and make a late summer meal extra special. This grilled pork tenderloin with peach glaze is one of our family's favorite August meals. And a grilled peach salad with peach cumin dressing makes for a darn sweet lunch.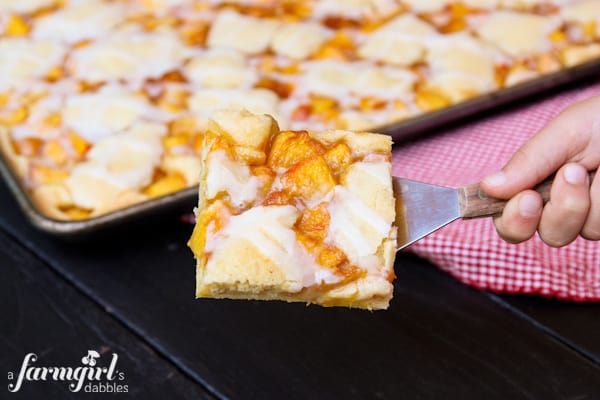 Our girls fell all over these Almond Peach Squares, where a simple almond flavored bar is laden with tender peaches and drizzled with a bit more almond in glaze. The recipe is a modification of a favorite childhood treat of mine, my mom's cherry square bars. I thought that old recipe would take well to fresh peaches.
And I was right.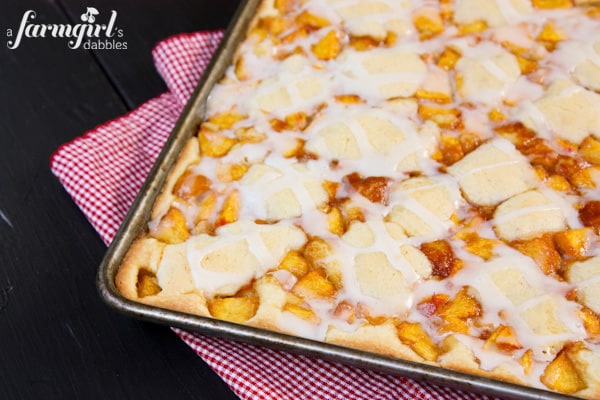 These almond peach squares would be most welcome at a late summer picnic or potluck. Baked in a larger jelly roll pan, they feed a crowd. That is, if everyone takes just one. Which could be a problem. ;)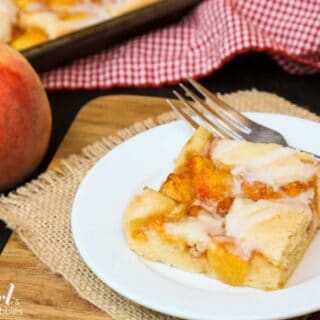 Almond Peach Squares
Yield: 24
Prep Time: 20 minutes
Cook Time: 35 minutes
Total Time: 55 minutes
These Almond Peach Squares are so chewy, nutty, sweet and delicious! Drizzled with almond icing, they're my absolute favorite late summer treat.
Ingredients
for the almond squares:
1 c. (2 sticks) unsalted butter, at room temperature
2 c. sugar
4 large eggs
1 tsp. pure vanilla extract
1 tsp. pure almond extract
3 c. unbleached all-purpose flour
1/2 tsp. kosher salt
for the peach filling:
5 c. thinly sliced fresh ripe peaches (peeled), from about 4 to 5 large peaches
1/4 c. brown sugar
1 tsp. cinnamon
1/8 tsp. cardamom
for the almond glaze:
1 c. powdered sugar
3 T. cream
1/2 tsp. pure almond extract
Instructions
Preheat oven to 350° F. Lightly spray a 17''x13'' pan with nonstick spray and set aside.
For the almond squares: In the bowl of an electric mixer fitted with the paddle attachment, cream together butter and sugar until smooth and fluffy, about 2 to 3 minutes.
Add in eggs, one at a time, incorporating well after each addition.
Add vanilla and almond extracts, and mix a bit just to combine.
Slowly add flour and salt, and mix until just incorporated. Spread three-fourths of the mixture into the prepared pan.
For the peach filling: Mix the peaches, brown sugar, cinnamon, and cardamom in a medium-sized bowl, and distribute evenly over the batter.
Using a teaspoon, drop the remaining batter over the peaches.
Bake for about 35 minutes, or until the edges start to turn golden brown.
For the almond glaze: Stir together powdered sugar, cream, and almond extract. Drizzle mixture over the warm bars and allow to cool. Cut into squares and serve.
Notes
Adapted from a favorite childhood recipe, Mom's cherry squares.
Nutrition Information:
Yield: 24
Serving Size: 1
Amount Per Serving:
Calories: 199
Total Fat: 2g
Saturated Fat: 1g
Trans Fat: 0g
Unsaturated Fat: 1g
Cholesterol: 34mg
Sodium: 66mg
Carbohydrates: 42g
Fiber: 2g
Sugar: 29g
Protein: 3g
Nutrition information is automatically calculated by Nutritionix. I am not a nutritionist and cannot guarantee accuracy. If your health depends on nutrition information, please calculate again with your own favorite calculator.