Thai Ground Pork Salad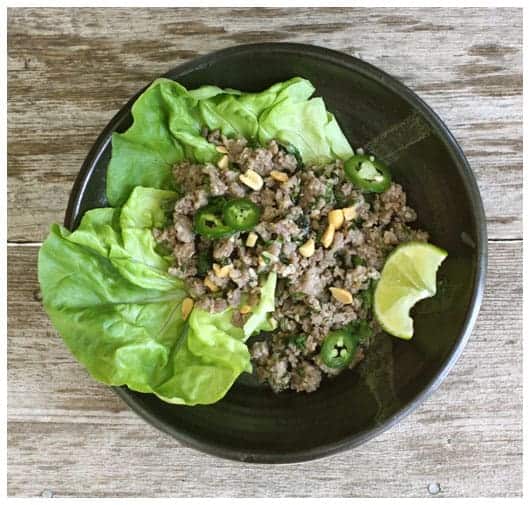 I had been sitting on this Thai Ground Pork Salad recipe for a year before I actually got around to trying it. Part of my holding off was due to Blake's dislike for lettuce wraps. But I finally convinced myself to go for it, knowing he couldn't possibly leave the table with two pounds of pork sitting there.
Knowing our evening was going to be a bit hectic, I prepared this dish earlier in the day, while Blake was still at work. And I couldn't resist having a mid-afternoon pork salad snack. Although I couldn't leave it alone, I was still left to wonder how my husband would rate it.
That evening, I warmed it up and made my presentation, with a lofty pile of lettuce leaves.
I was thrown off a bit by just how much Blake really did like this salad. He especially liked to tuck a few fresh jalapeno slices into each wrap, saying that those bites of heat brought out all the other flavors and textures perfectly.
He even went so far as to say it was the best new recipe I had made in the past two months.
Wow!
Considering some of the new dishes we've tried and really liked lately, this Thai Ground Pork Salad sitting at the top of the heap really says something.
Like, "Make me again, real soon!"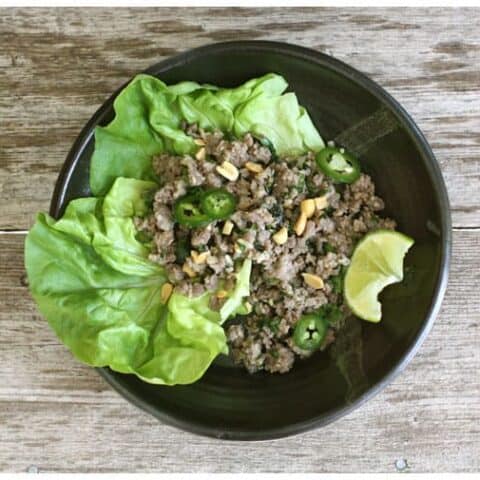 Thai Ground Pork Salad
Yield: 4 to 6 meal size portions, or more for appetizers
Prep Time: 20 minutes
Cook Time: 5 minutes
Total Time: 25 minutes
This Thai Ground Pork Salad has become one of my favorite salad recipes! If you like lettuce wraps, you'll love this super simple Asian pork salad.
Ingredients
2 lbs. ground pork
2 garlic cloves, minced
2 small shallots, minced
2 large jalapeno peppers – 1 seeded and minced, the other sliced for garnish
2 limes – 1 juiced, the other cut into wedges for serving
2 T. Asian fish sauce
1 tsp. light brown sugar
1 tsp. Sriracha (chile sauce), plus more for serving
1 T. vegetable oil
1/2 c. chopped cilantro
1/2 c. chopped mint
1/2 c. chopped basil
salt and freshly ground pepper, to taste
1 c. chopped salted peanuts
1 large head Boston or other leafy lettuce, separated into leaves
Instructions
In a bowl, mix the pork, garlic, shallots and minced jalapeno (I didn't add the minced jalapeno for our kids). In a small bowl, whisk the lime juice, fish sauce, brown sugar, and the Sriracha.
In a skillet, heat the oil. Add the pork mixture and cook over medium-high heat, stirring to break up the meat, until no pink remains, about 5 minutes. Remove from the heat and stir in the lime juice mixture. Let stand for 5 minutes. Transfer the meat to a bowl and stir in the herbs. Season with salt and pepper. Top with the peanuts and sliced jalapenos. Serve with lime wedges, Sriracha, and lettuce for wrapping.
Nutrition Information:
Yield: 6
Serving Size: 1
Amount Per Serving:
Calories: 715
Total Fat: 46g
Saturated Fat: 14g
Trans Fat: 0g
Unsaturated Fat: 28g
Cholesterol: 142mg
Sodium: 765mg
Carbohydrates: 31g
Fiber: 4g
Sugar: 16g
Protein: 46g
Nutrition information is automatically calculated by Nutritionix. I am not a nutritionist and cannot guarantee accuracy. If your health depends on nutrition information, please calculate again with your own favorite calculator.