Sweet Cherry Freezer Jam with Lime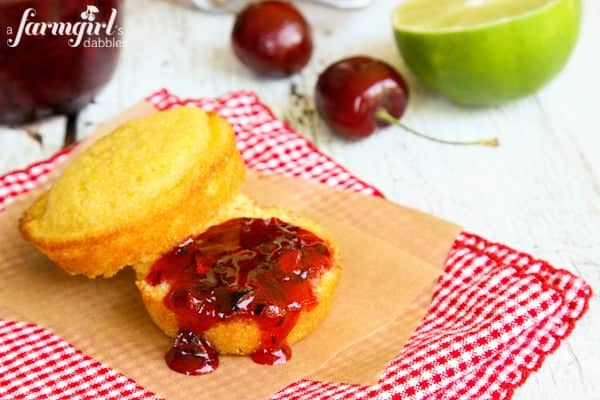 I live for the fresh produce of summer. Absolutely live for it. But I feel like this year is totally kicking my butt. Try as I might, I can't keep up with all the season's offerings. My regular eating schedule (and waistline) simply can't afford the intake I desire, to partake in all the deliciousness of this too-short time of year.
This dilemma calls for some preservation. Bottling up that summer goodness. Canning, freezing, jamming…these are all great ways to put away a bit of those sublime flavors of the season. There is nothing quite so lovely on a cold, bleak, winter morning as spreading a spoonful of bright and cheery jam, made from the fruits of last summer's sunshine.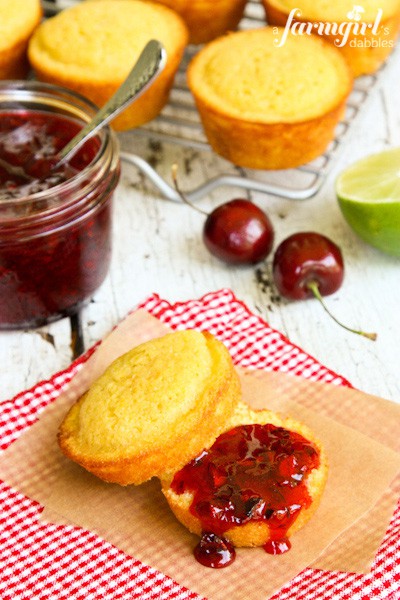 This Sweet Cherry Freezer Jam with Lime is just that. Pure summer sunshine. And it's so very easy to make.
The deep ruby color is stunning, with tiny little bits of fruit throughout. And its big cherry flavor leaves no doubt as to the fruit's authenticity. It's as though you're actually popping giant dark cherries into your mouth.
And the lime…I love it! It's bright and just a bit sassy. The perfect little way to jazz up the sweet cherries.
Hatti baked up a batch of our favorite honey cornbread muffins as we waited to test the jam. And can I just say…those muffins and this sweet cherry jam are amazing together!

Freezer jam is so easy to make. Just follow a few important tips:
Use firm perfectly ripe fruit for best flavor and set. Inferior fruit (not ripe or over ripe) will produce inferior jam.
Measure ingredients exactly. Altering recipes or ingredients could cause a set failure.
Yes, this recipe calls for alot of sugar, but don't alter the amount. If you want to use less sugar, look for SURE-JELL for Less or No Sugar Needed Recipes in the pink box.
When filling prepared containers with finished jam, leave ½" at top for expansion during freezing.
The finished product will not be as firm as a processed jam. It will be more loose, with a very spreadable consistency.
Because this jam is not cooked, it must be stored in the refrigerator or freezer. It will be good for about a month in the refrigerator, so store your jam in smaller containers (1 to 2 cups are great sizes!) that will be used up faster. Keep one jar in the refrigerator and the rest in the freezer for later.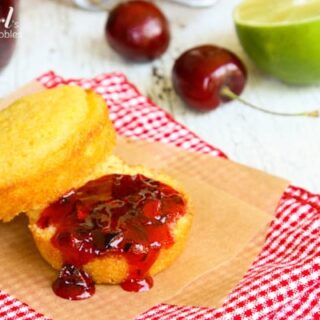 Sweet Cherry Freezer Jam with Lime
Yield: 5 half-pints
Prep Time: 30 minutes
Cook Time: 15 minutes
Total Time: 45 minutes
This Sweet Cherry Freezer Jam with Lime is just that. Pure summer sunshine. And it's so very easy to make.
Ingredients
2 c. finely chopped ripe sweet cherries
2 T. fresh lime juice
lime zest from 2 large limes
4.25 c. sugar
3/4 c. water
1 box (1.75 oz.) SURE-JELL Fruit Pectin
Instructions
Be sure to first read through my freezer jam tips in this post, right before the recipe. Then wash 5 half-pint (1 cup) plastic containers and lids with hot water and dish soap. Rinse and dry thoroughly.
In a very large bowl, combine chopped cherries, lime juice, lime zest, and sugar. Stir to combine. Let stand 10 minutes, stirring every couple of minutes.
In a small saucepan over high heat, stir together water and pectin. Bring to a boil, stirring constantly. Boil and stir for 1 minute. Add pectin mixture to cherry mixture and stir constantly for 3 minutes, or until sugar is dissolved and no longer grainy. If a few sugar crystals remain, that's ok.
Immediately fill containers to within 1/2'' of container tops. With a damp paper towel, wipe off the edges of containers. Immediately cover with lids. Let stand at room temperature for 24 hours. Jam can now be used, stored in the refrigerator for up to 1 month, or frozen for up to 1 year. Thaw in refrigerator before using.
Notes
Basic sweet cherry freezer jam recipe from SURE-JELL, with adaptations from a farmgirl's dabbles.
Nutrition Information:
Yield: 40
Serving Size: 1
Amount Per Serving:
Calories: 91
Total Fat: 0g
Saturated Fat: 0g
Trans Fat: 0g
Unsaturated Fat: 0g
Cholesterol: 0mg
Sodium: 1mg
Carbohydrates: 24g
Fiber: 0g
Sugar: 23g
Protein: 0g
Nutrition information is automatically calculated by Nutritionix. I am not a nutritionist and cannot guarantee accuracy. If your health depends on nutrition information, please calculate again with your own favorite calculator.
Other sweet cherry recipes you may like: