Sparkle Berry Cupcakes with Flowers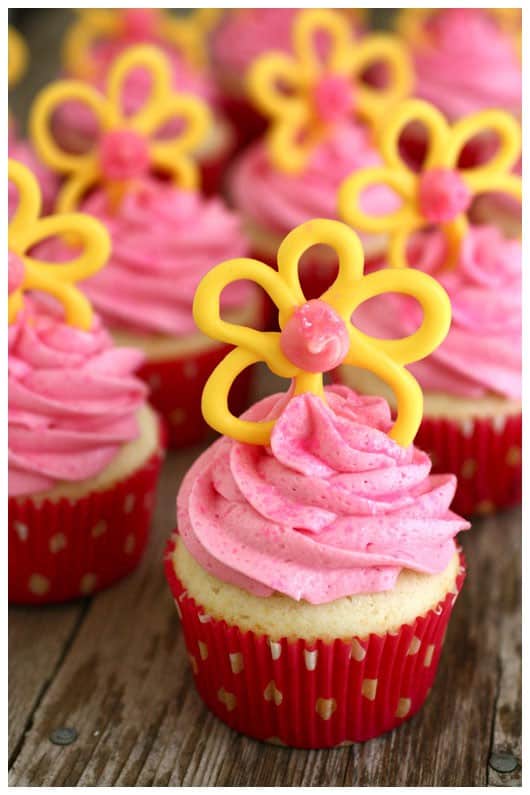 Well, here we are once again. If you've been following along with me the past year, you'll know that I've now returned to the place where this blog was born. My first post was in celebration of our youngest daughter's 3rd birthday. And now, one year later, we're blowing up balloons for birthday #4.
When I made those butterfly cupcakes a year ago, I had so much fun creating the butterflies with candy melts, and vowed to try my hand at it again. This year, I squeezed a field of yellow flowers out of my pastry bag. They were a much quicker project than the butterflies!
There are definite similarities in this year's and last year's cupcakes. They both have a mound of pink frosting, plus an adornment of candy melt design in yellow and pink. But what can I say? It's just what comes to mind when I think of Tessa.
She's happy.
She's twirly.
She's sparkly.
She's a girly-girl, through and through.
And her favorite color is still yellow, with pink following closely behind.
The cupcake base is made from my family's new favorite white cake recipe, courtesy of Amanda from i am baker. (My family's old favorite was from a box, as I could never find a white cake recipe I liked!) This cake is moist, fragrant, and absolutely delightful, with a touch of almond flavoring. And my girls adore it. They actually prefer eating the cupcakes without frosting. Yes, this recipe is that good!
Be sure to delight in the glory of Amanda's cake creations. Here are a couple of my favorites, in the spirit of flowers:
* Hydrangea Cake
* Rose Cake
Aren't they GORGEOUS?!
Happy 4th Birthday, sweet Tessa!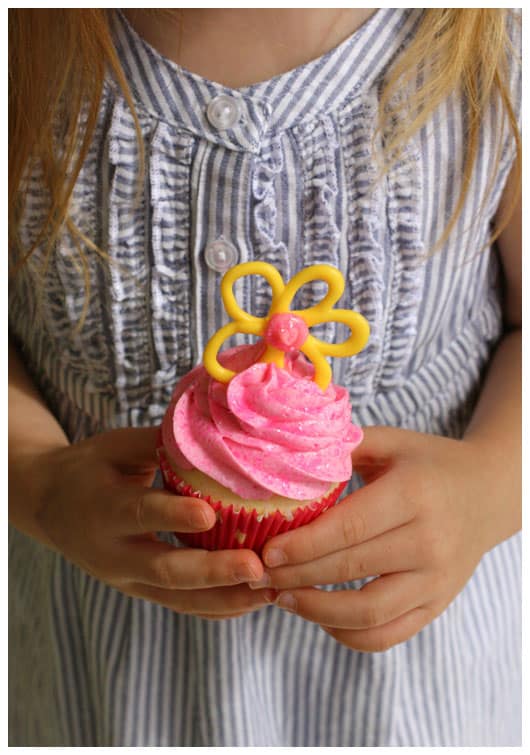 Sparkle Berry Cupcakes with Flowers
Yield: 23 to 24 regular size cupcakes
Prep Time: 30 minutes
Cook Time: 20 minutes
Total Time: 50 minutes
This cake is moist, fragrant, and absolutely delightful, with a touch of almond flavoring.
Ingredients
for cupcakes:
2.75 c. flour
1.75 c. super fine sugar
2 tsp. baking powder
3/4 tsp. salt
3/4 c. unsalted butter, at room temperature
5 egg whites
1 c. milk or yogurt (Amanda told me the yogurt makes them very moist. True!!)
2 tsp. vanilla
.5 tsp. almond extract
for berry cheesecake buttercream:
1 c. butter, at room temperature
4 oz. cream cheese, at room temperature
1/4 c. strained berry jam (I used my own raspberry blackberry jam) or seedless jam of your choice
4 c. powdered sugar
pink icing color
pink edible sparkle glitter, for sprinkling on the piped frosting
for candy sparkle flowers:
yellow candy melts, or white melts tinted yellow with Candy Coloring (not icing coloring)
pink candy melts, or white melts tinted pink with Candy Coloring (not icing coloring)
pink edible sparkle glitter
Instructions
For the cupcakes:
Preheat oven to 350° F.
Prepare two regular cupcake pans by lining with paper liners. Set aside.
In a medium bowl, sift together the flour, superfine sugar, baking powder, and salt. In the bowl of a stand mixer, cream the butter until light and fluffy. Add the egg whites, one at a time, until mixed. Add milk, vanilla, and almond extract. A bit at a time, add the sifted dry ingredients, until just mixed.
Fill cupcake cups 2/3 full with batter. I found that mine turned out just the way I like them when I made 23 cupcakes. Bake for 18 to 20 minutes, or until a toothpick inserted into the center comes out clean. Just be careful to not over bake, to preserve that delicious moistness. Remove to a rack to cool completely.
For berry cheesecake buttercream:
With a mixer, cream the butter on medium-high until light and fluffy. This should take just a couple of minutes. Add the cream cheese and beat again for another minute. Add in the strained jam (I just pressed my jam through a fine strainer) and mix to incorporate. Then add the powdered sugar, 1 cup at a time, until smooth and creamy. Add pink icing color, just a bit at a time, until you reach your desired pinkness.
Using a medium-size star tip, pipe the frosting onto the cupcakes, then sprinkle with the pink sparkle glitter.
For candy sparkle flowers:
Cover two large baking sheets with wax paper to design your flowers on.
If you want, you can draw a flower template on a piece of paper, so that all your flowers are the same size and shape. Place your template under the wax paper so the template shows through.
Carefully melt your yellow candy melts in the microwave until they are very soft. Stir to completely melt. If using white candy melts, tint the candy now with yellow Candy Color.
You can use a plastic baggie and snip off a corner, for piping the candy. I used a plastic plain circle decorating tip, inserted in a disposable pastry bag. This still allowed me the flexibility to pop it into the microwave for a bit if I were to be called away during the project (versus using a metal tip that can't go in the microwave). The candy melts will start to firm up and return to a solid-state if left to cool too long.
Pipe your candy, following the flower's lines on your template. Or just freehand it. When you have a full pan of yellow flowers, pop the pan into the fridge to let them firm up for a few minutes.
Next, prepare the pink candy melts in the same way you did the yellow. Pipe a circle of pink candy onto the center of your flower. Repeat a few times. Then sprinkle the pink centers with pink sparkle glitter. Don't wait too long to sprinkle with the glitter, or the pink candy will set up and the glitter will not adhere. Pop them back into the fridge for a final set. Note: these can be made many days in advance.
Press Candy Sparkle Flowers into the frosted cupcakes to finish.
Notes
for the cupcakes: i am baker's Homemade Cake Mix, adapted here with instructions for how I made the cupcakes. For Amanda's full tutorial on storing this recipe as a cake mix (how cool is that?!), and for instructions on baking this in round cake pans, please see her original post titled "Homemade Cake Mix".
for berry cheesecake buttercream: a farmgirl's dabbles
for candy sparkle flowers: a farmgirl's dabbles
Nutrition Information:
Yield: 24
Serving Size: 1
Amount Per Serving:
Calories: 355
Total Fat: 16g
Saturated Fat: 10g
Trans Fat: 0g
Unsaturated Fat: 5g
Cholesterol: 42mg
Sodium: 219mg
Carbohydrates: 50g
Fiber: 1g
Sugar: 38g
Protein: 3g
Nutrition information is automatically calculated by Nutritionix. I am not a nutritionist and cannot guarantee accuracy. If your health depends on nutrition information, please calculate again with your own favorite calculator.