Mini Phyllo Cups with Coconut Cream, Raspberries, and Dark Chocolate
These Mini Phyllo Cups with Coconut Cream, Raspberries, and Dark Chocolate offer a beautiful sweet bite for any occasion.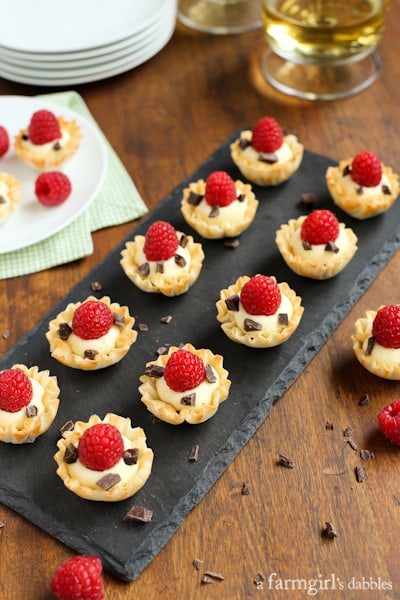 We just bid farewell to March, Easter is peeking from around the corner, and spring is begging to be let loose from its cold temperature confines. My mind is slowly drifting away from a desire to eat an all-out comfort food menu, to one of lighter fare. I'm thinking about grilling outdoors, plucking ultra tender and delicious greens from our garden, and pouring lemonade into tall glasses filled with ice. Yes, I'm in a spring and summer state of mind (waiting patiently for the temps to rise so I can actually break out the flip-flops).
If you're looking for a pretty and super tasty way to add a little sweetness to this weekend's Easter celebration, or any gathering coming up this spring and summer, then I have just the recipe for you. These Mini Phyllo Cups with Coconut Cream, Raspberries, and Dark Chocolate offer dessert in miniature-sized portions, beautiful little bites for any occasion.
[rss-cut]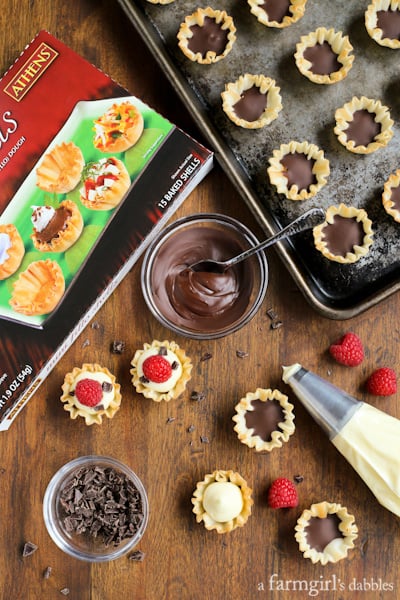 Mini Fillo Shells by Athens Foods are great for creating individual desserts and appetizers. I've been using them for the past couple years, smitten with their versatility and pretty looks. If you've never seen them before, just look for them in the pastry area of your grocery store's freezer section. They're so easy to work with. And who doesn't love to eat that delicately flaky phyllo dough?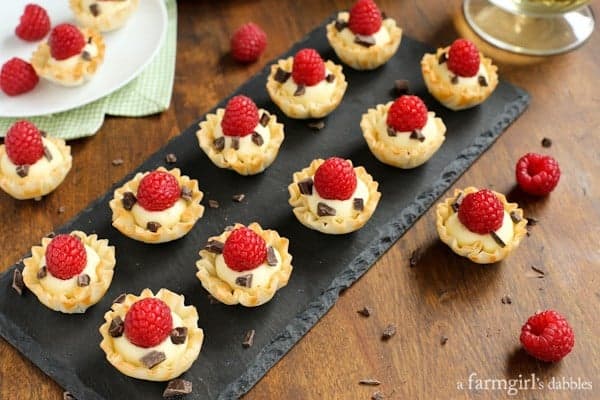 I pre-baked the shells for this recipe, to give the phyllo extra crispiness. The shattery layers of dough are a lovely contrast to the softer textures of the coconut cream and raspberries.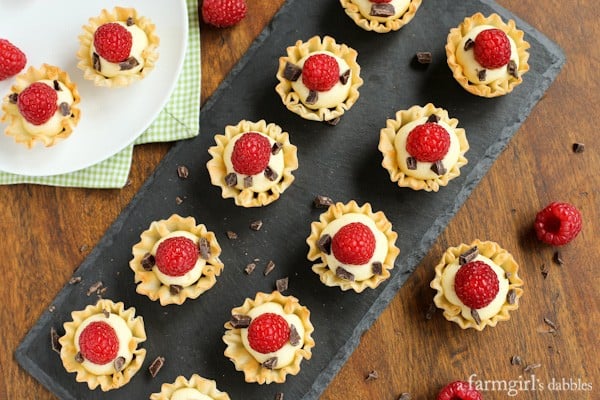 A bit of melted dark chocolate is then spooned into the bottoms and left to cool and harden before dollops of luscious coconut cream are added. These mini phyllo cups with coconut cream are then finished off with bright red raspberries and chopped dark chocolate pieces. Some call this work. I call this play. Ohhhhhhh…sweet, delicious play.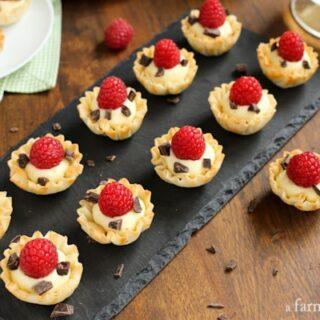 Mini Phyllo Cups with Coconut Cream, Raspberries, and Dark Chocolate
Yield: 30 mini desserts
Prep Time: 20 minutes
Cook Time: 5 minutes
Total Time: 25 minutes
These Mini Phyllo Cups with Coconut Cream, Raspberries, and Dark Chocolate offer a beautiful sweet bite for any occasion.
Ingredients
2 boxes Athens Mini Fillo Shells (30 shells total)
4 oz. good dark chocolate, divided
1-1/2 c. heavy whipping cream
1/4 c. instant dry vanilla pudding mix
1/4 c. powdered sugar
1 tsp. coconut extract
30 fresh raspberries
Instructions
Preheat oven to 350°. Remove shells from all packaging. Place empty shells on a baking sheet and bake for 3 to 5 minutes. Remove from oven and allow shells to cool completely.
Gently melt 3 ounces of the dark chocolate in a small bowl in the microwave, taking care to not let it scorch. Let chocolate cool for a bit before spooning it into the bottoms of the phyllo shells, dividing evenly between the 30 shells. Let cool completely until chocolate is hardened. To speed up the hardening, the shells can be placed in the refrigerator for a few minutes.
With an electric mixer, whip cream, dry pudding mix, and powdered sugar until stiff and thick, about 2 minutes. Add coconut extract and mix just to combine. Place coconut cream mixture in a pastry bag fitted with a large plain tip. Pipe a dollop of the mixture onto the chocolate on the bottom of each phyllo shell. Gently press a raspberry into the top of each coconut cream dollop. Chop the remaining ounce of dark chocolate into very small pieces and press a few pieces into each of the coconut cream dollops, dividing the chocolate pieces evenly amongst the 30 phyllo shells.
These can be assembled up to three hours prior to serving, stored in the refrigerator.
(If you don't have pastry bags and tips, simply use a small spoon to fill the phyllo cups with the coconut cream. Or place coconut cream in a ziplock baggie, snip off a corner of the baggie, and pipe it into the phyllo shells.)
Nutrition Information:
Yield: 30
Serving Size: 1
Amount Per Serving:
Calories: 86
Total Fat: 7g
Saturated Fat: 4g
Trans Fat: 0g
Unsaturated Fat: 2g
Cholesterol: 18mg
Sodium: 8mg
Carbohydrates: 5g
Fiber: 0g
Sugar: 4g
Protein: 1g
Nutrition information is automatically calculated by Nutritionix. I am not a nutritionist and cannot guarantee accuracy. If your health depends on nutrition information, please calculate again with your own favorite calculator.
Here are some more sweet bites for you, perfect for Easter (or spring and summer!):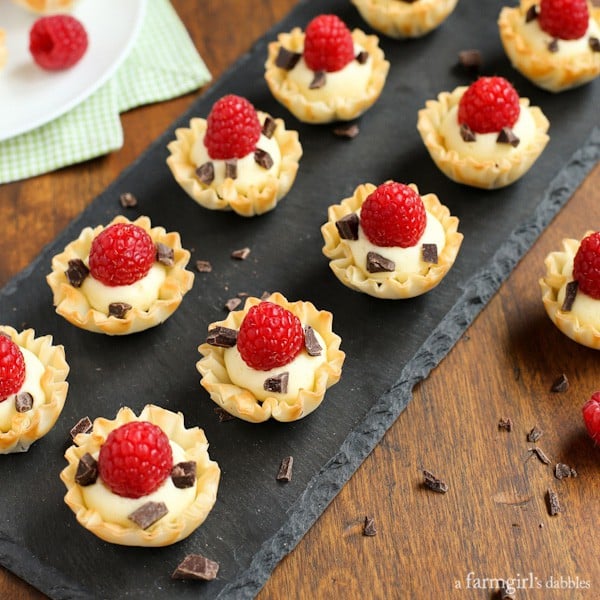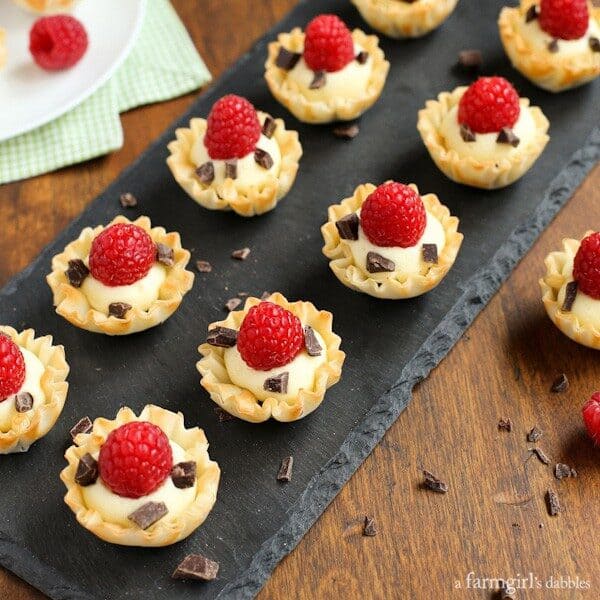 For more recipes using Athens Mini Fillo Shells, go here. And for more details on the Fillo Dough and other Athens Foods products, be sure to follow them on Facebook, Twitter, and Pinterest.
Disclosure: This post is sponsored by Athens Foods. Thank you for supporting the brands I so carefully choose to work with, that help make this site possible. All opinions are my own.