Marshmallows
I get giddy preparing to make these homemade marshmallows. Something about this recipe, and the fun it produces, just makes me happy, happy, happy.
Have you ever even thought about the possibility of making your own marshmallows?! Did you know they can be whipped up (easily!) right in your very own kitchen, and that they taste far, far better than any bag of little identical cylindrical white puffs purchased from the store?
Well, my friends, it is possible. And it's not hard. All you need is a little patience with cutting the sticky pan of marshmallow. The rest is chump change.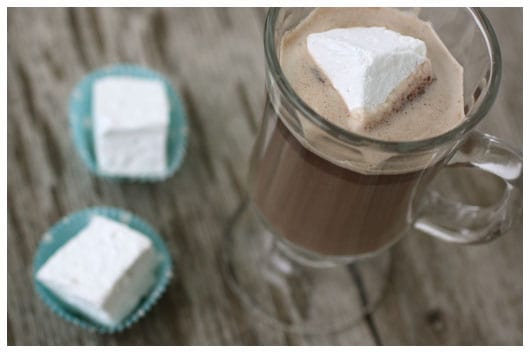 We eat plenty of these flavorful marshmallows just as they are, plain and beautifully simple. But they are ahhhhhmazing in homemade hot chocolate…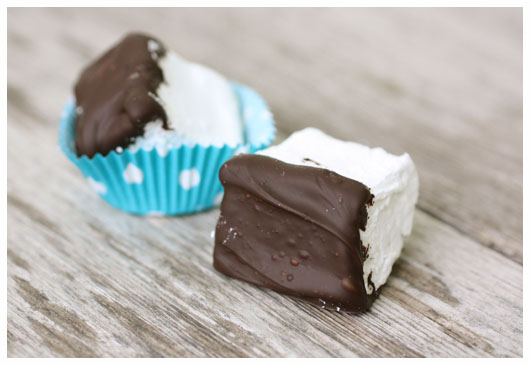 and, when dipped in melted chocolate, they are better than the very best piece of candy.
When we made these last winter, we even roasted them over the coals on the Weber, after Blake grilled. And they were absolutely positively the best roasted marshmallows we've ever had the pleasure of tucking between two graham crackers.
They also make a great gift, as they keep really well in an airtight container at room temperature. They are still good a few weeks after making them. So…just put some in a baggie, tie on a playful ribbon, and you have a very fun gift. It will make anyone happy, happy, happy.
Have you ever made your own marshmallows? If so, how do you like to eat them?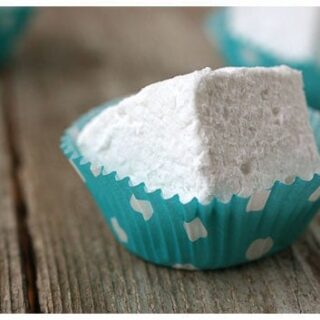 Marshmallows
Yield: 36 medium marshmallows
Prep Time: 25 minutes
Cook Time: 10 minutes
Additional Time: 1 hour
Total Time: 1 hour 35 minutes
Never made your own Marshmallows? These fluffy, homemade marshmallows are just as good as the ones in the store. Try them out with your next cup of hot chocolate for the best results!
Ingredients
2/3 c. water, divided
3 (1/4 oz.) envelopes unflavored gelatin (found by the Jell-O at the grocery store)
1 c. granulated sugar
1 c. light corn syrup
pinch of kosher salt
2 tsp. vanilla
1 c. powdered sugar, for dusting
Instructions
Lightly spray the inside of an 8"x8" pan with vegetable cooking spray. Generously coat with powdered sugar and set aside.
Pour 1/3 cup of the water into the bowl of a stand mixer. Sprinkle the gelatin over the water and stir briefly to incorporate. Let stand for about 10 minutes, or until the gelatin has softened.
In a saucepan, off the heat, combine the remaining 1/3 cup of water and the granulated sugar, corn syrup, and salt. Place the pan over medium-high heat. Clip a candy thermometer on the inside of the pan, making sure it doesn't touch the bottom. Cook the mixture without stirring until reaches 240°. Brush down the sides of the pan with a pastry brush, dipped in water, to gently wipe away any sugar crystals.
With your mixer on low speed, very carefully add the hot syrup to the softened gelatin. Add the vanilla and increase the speed to medium-high. The mixture will start out clear, but quickly turns very white. Beat for about 8 minutes, or until the marshmallow gets very thick and sticky, and starts to pull away from the sides of the bowl, in string-like pieces.
Spread the mixture into the prepared pan using a lightly oiled spatula. With wet hands, press the batter evenly into the corners of the pan. Just keep rewetting your hands to help with the stickiness. Set aside for at least 1 hour, or until the mixture is firm and cool.
Sift the powdered sugar into a shallow bowl. Run a wet knife around the edge of the cooled pan to loosen the marshmallow. Remove the marshmallow from the pan, onto a cutting board. Cut into squares, using a pizza cutter. This is a sticky job, but just have patience. It's worth it! I like to cut each pan into 36 squares, which gives you marshmallows that are about 1-1/4" square, but feel free to cut them into whatever size you like. Toss each marshmallow in the powdered sugar until completely coated.
Store marshmallows in a single layer, or in layers separated by wax paper. They will keep very well for quite a long time (a couple weeks!) when stored airtight at moderate temperature. For a variation, I like to dip the marshmallows in melted chocolate. It's the best homemade candy EVER!! These are also spectacular roasted on a stick over the fire. Better than spectacular, actually.
Nutrition Information:
Yield: 36
Serving Size: 1
Amount Per Serving:
Calories: 63
Total Fat: 0g
Saturated Fat: 0g
Trans Fat: 0g
Unsaturated Fat: 0g
Cholesterol: 0mg
Sodium: 10mg
Carbohydrates: 16g
Fiber: 0g
Sugar: 16g
Protein: 0g
Nutrition information is automatically calculated by Nutritionix. I am not a nutritionist and cannot guarantee accuracy. If your health depends on nutrition information, please calculate again with your own favorite calculator.