Cream Cheese Pound Cake with Almond Glaze
This Cream Cheese Pound Cake with Almond Glaze is made with just 6 ingredients. It's a dense and delicious pound cake begging for a sprinkling of fresh berries and a dollop of whipped cream!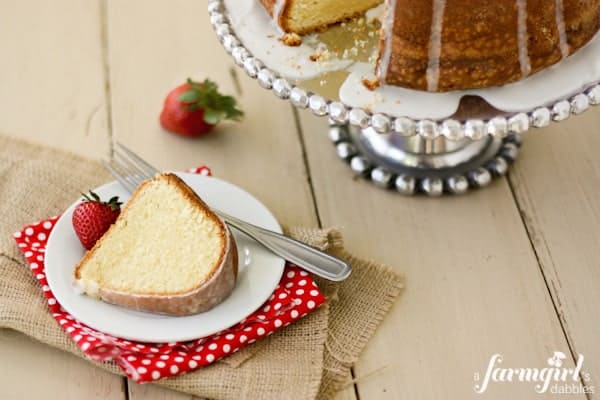 The Best Cream Cheese Pound Cake
My youngest sister Jessica had raved about a cream cheese pound cake she'd been making the last few years. And she kept asking me if I had made it yet – and I'd reply again, meekly, that I still had not.
So last July, when our family was staying with Jessica's family for the weekend, she took this matter into her own hands and made her famous cream cheese pound cake. Yes, she forced that cake on me and my unsuspecting family. The nerve!
But now I know why my sister wanted me to try the pound cake so badly. It's delicious, in a very simple way. There are only 6 ingredients (with 2 being butter and cream cheese, yum!) to the pound cake, and it bakes up moist and dense and perfectly lovely. While she doesn't usually add any kind of glaze to hers, I opted for a thin sugary crust with a hint of almond flavoring on mine.
A slice of this Cream Cheese Pound Cake with Almond Glaze begs for a few fresh berries and, if you're feeling a little more indulgent, a big pillowy spoonful of barely sweetened whipped cream would be the ultimate pleasure.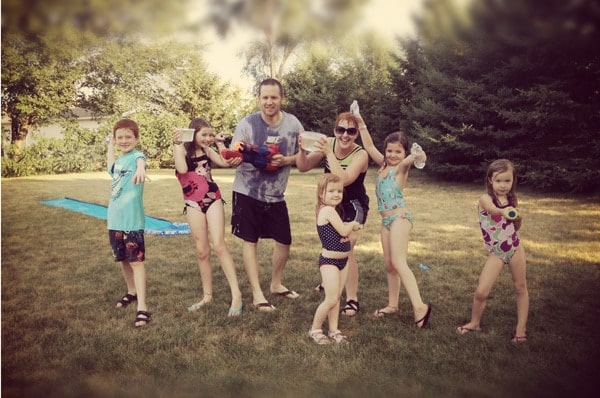 WATER FIGHT!!
This photo just makes me smile. It was taken that same weekend that I first enjoyed Jessica's pound cake. It was muggy and hot. Extremely hot. And everyone…well most everyone…found themselves in the back yard with buckets and bottles and blasters filled with water. It was the perfect sultry summer solution!
And, wow, am I ready for spring and summer, and the green I see in this photo from last July! We're still buried in snow here in Minnesota. Yesterday I was looking at pictures from last year's late March, when all our daffodils were blooming and we were running around in short sleeves and flip flops. Please tell me we'll be there soon!!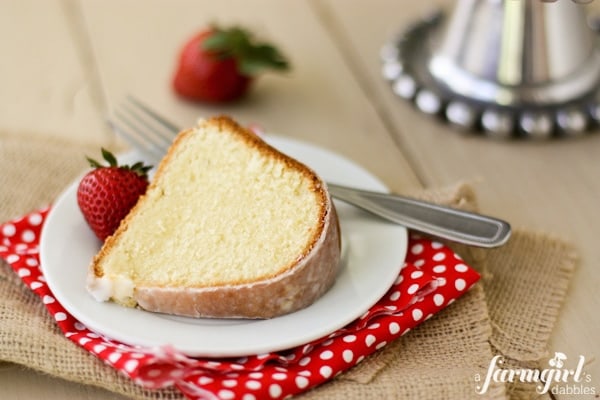 This cream cheese pound cake was definitely worth the wait. But, really, what's the point in waiting? I recommend trying this soon. Very, very soon!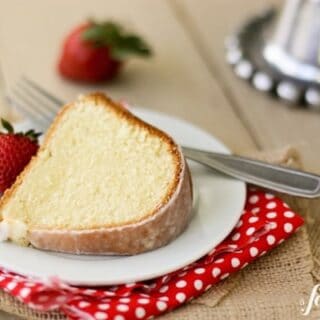 Cream Cheese Pound Cake with Almond Glaze
Yield: 16 servings
Prep Time: 15 minutes
Cook Time: 1 hour 20 minutes
Total Time: 1 hour 35 minutes
This Cream Cheese Pound Cake with Almond Glaze is made with just 6 ingredients. It's a dense and delicious pound cake begging for a sprinkling of fresh berries and a dollop of whipped cream!
Ingredients
for the cream cheese pound cake:
1.5 c. (3 sticks) unsalted butter, softened, plus 1 T. for buttering the pan
8 oz. cream cheese
3 c. sugar
6 large eggs
3 c. all-purpose flour, plus more for flouring the pan
2 T. pure vanilla extract
for the almond glaze:
1.25 c. powdered sugar
1 tsp. almond extract
1 to 3 T. milk, depending on how thick you want the glaze
Instructions
Coat the entire interior of a Bundt pan with the tablespoon of butter, taking care to get every little nook and cranny. Add a bit of flour and tilt the pan around to cover all of the buttered surface. Gently tap out the excess. Set pan aside.
In the bowl of a stand mixer, beat the butter and cream cheese together. Add sugar
and beat well on high speed until light and fluffy. Turn mixer to low speed and add 2 eggs, then 1 cup flour, alternating adding eggs and flour until all eggs and flour are added, mixing well between each addition. Add vanilla and mix well. Pour into prepared Bundt pan and spread evenly.
Place pan in cold oven. Heat oven to 340° F and bake for 80 to 85 minutes, or until toothpick comes out mostly clean. Remove from oven and let cool 10 minutes in pan. Top Bundt pan with platter or cake stand and carefully turn cake out of pan. Let cool.
for the almond glaze:
Whisk together all glaze ingredients. To get the very thin glaze as shown in my pictures, I used 2 tablespoons of milk to thin the glaze, and then drizzled the glaze over the cake when the cake still had just the slightest bit of warmth left to it. If you want a thicker glaze, start with just 1 tablespoon of milk to thin it, adding just a bit more if needed. Then wait until cake is completely cooled to drizzle the glaze over it.
Notes
Adapted from my sister Jessica's recipe box, originally from an old Penzeys catalog.
Nutrition Information:
Yield: 16
Serving Size: 1
Amount Per Serving:
Calories: 466
Total Fat: 18g
Saturated Fat: 10g
Trans Fat: 0g
Unsaturated Fat: 6g
Cholesterol: 116mg
Sodium: 172mg
Carbohydrates: 69g
Fiber: 1g
Sugar: 50g
Protein: 8g
Nutrition information is automatically calculated by Nutritionix. I am not a nutritionist and cannot guarantee accuracy. If your health depends on nutrition information, please calculate again with your own favorite calculator.