Herby Lemon Grilled Chicken Breast Salad
Put this Herby Lemon Grilled Chicken Breast Salad on your menus for bright, delicious meals all summer long!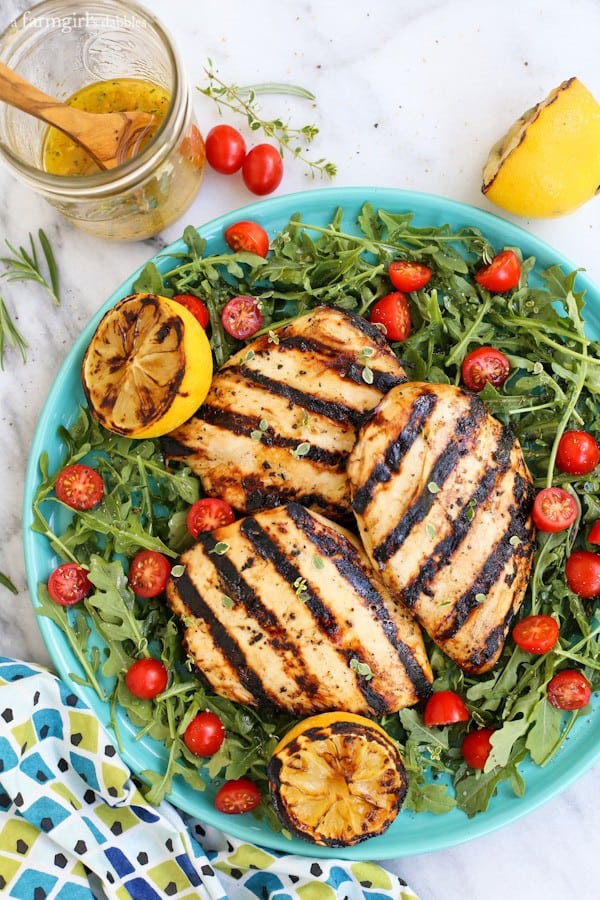 We go through quite alot of chicken year-round, but in the summer the quantity is always amplified with the nice weather and its invitation to stand over a grill in the back yard. Grilling makes everything taste better, don't you agree? And we utilize our grills to their fullest, creating meals almost daily from our back yard deck. By far, chicken is our most grilled meal.
This Herby Lemon Grilled Chicken Breast Salad is a super lovely way to liven up your chicken grilling this summer. Simple enough for a weeknight meal and beautiful enough to invite your friends over for a weekend gathering, it's a recipe to put on the menu all summer long.
[rss-cut]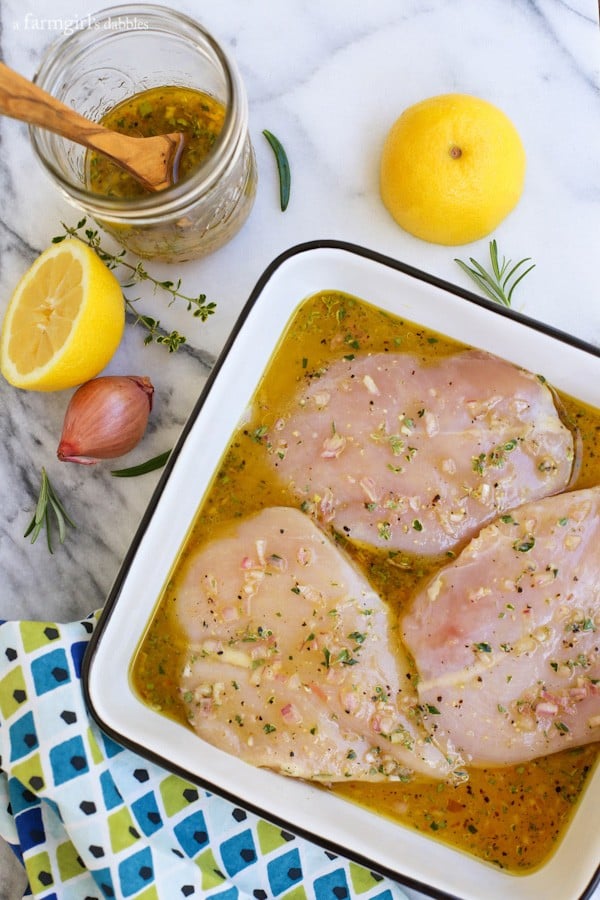 One thing I've found with our frequent meals of chicken breasts is that I need to constantly be mixing up flavors and techniques to keep our family interested. With this dish, I used my herby lemon vinaigrette recipe that I shared with you last week, employing it this time as a marinade.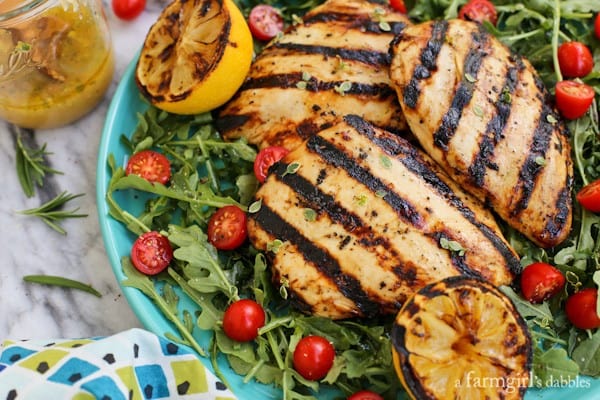 I especially like the earthiness of rosemary and thyme with chicken, and swap in lemon thyme from our herb garden in the vinaigrette/marinade, for even more pronounced lemon goodness.
Before grilling the chicken breasts, Blake lays a few lemon halves on the hot grill, letting them soften and char over the heat.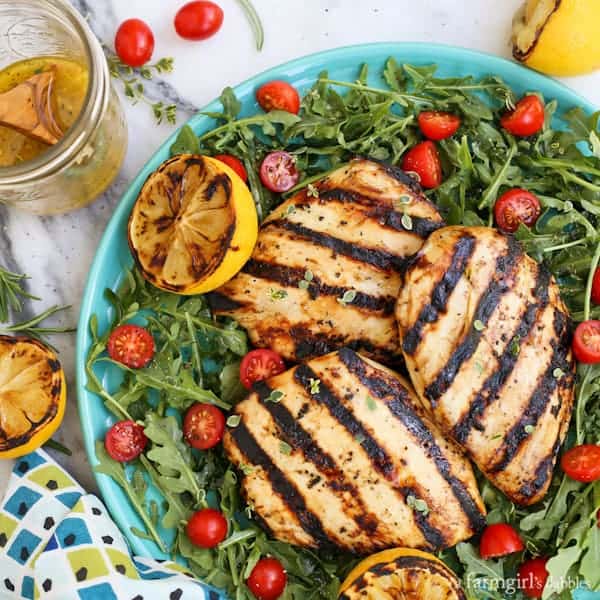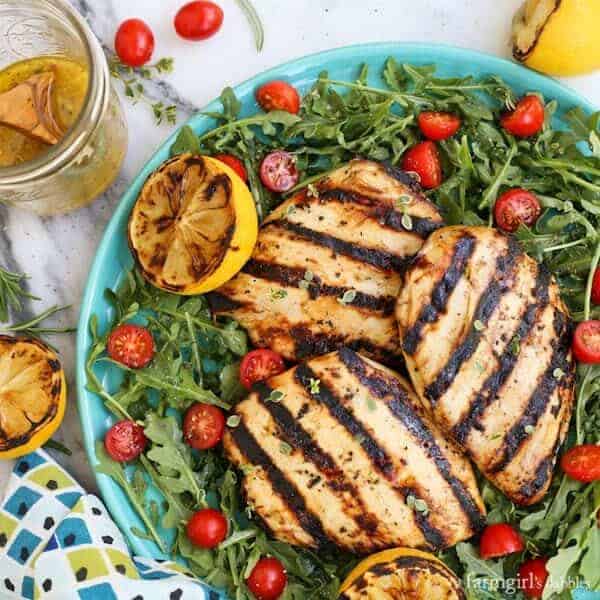 Then I prepare a bedding of peppery arugula on a platter and squeeze some of the smoky grilled lemon juice over the top, followed by a generous handful of halved grape tomatoes, coarse salt, and freshly ground black pepper. Once the chicken breasts are grilled and have rested off the heat for a few minutes, they are arranged simply over the arugula salad. If arugula isn't your thing, watercress is also quite lovely. This pretty dish is finalized with a sprinkling of fresh thyme leaves, a sensory boost for both your eyes and your palate.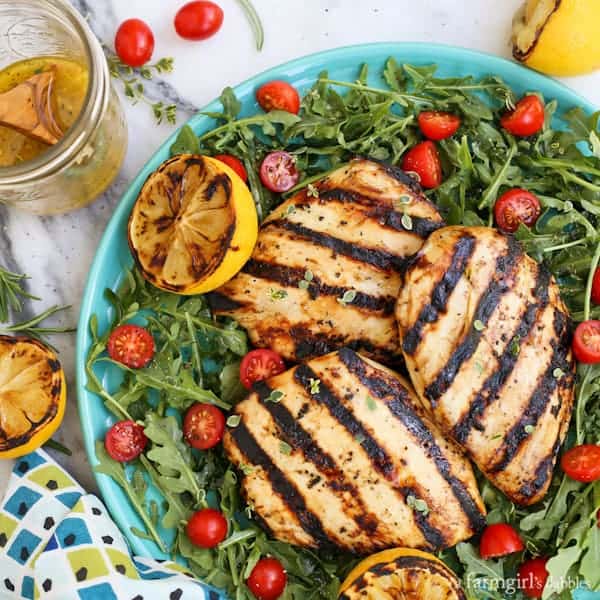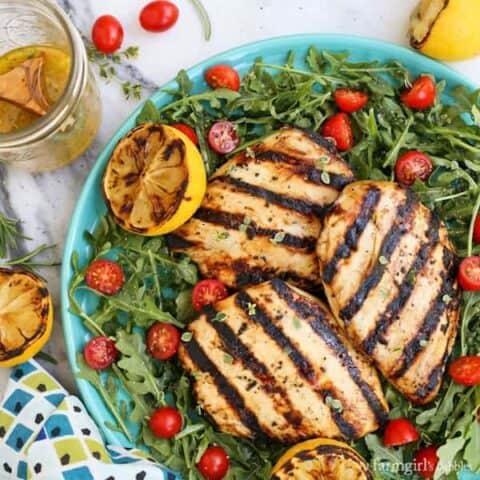 Herby Lemon Grilled Chicken Breast Salad
Yield: 6 servings
Prep Time: 1 hour 15 minutes
Cook Time: 10 minutes
Total Time: 1 hour 25 minutes
Put this Herby Lemon Grilled Chicken Breast Salad on your menus for bright, delicious meals all summer long!
Ingredients
(substitute lemon thyme for the regular thyme for even more lemony flavor)
4 to 6 boneless, skinless chicken breasts
kosher salt
freshly ground black pepper
arugula
extra virgin olive oil
1 to 2 lemons, halved
1 to 2 c. halved grape tomatoes
fresh lemon thyme or thyme leaves
Instructions
Place a bit of the herby lemon vinaigrette in a low, wide dish. Then pound the chicken breasts to an even thickness of about 1/2" (I place the chicken in a large resealable plastic baggie and pound with a kitchen mallet) and arrange it in the dish. Add more of the vinaigrette, as needed, and spoon it over the chicken to cover. Reserve any unused vinaigrette for topping a fresh green salad or veggies. Cover chicken and place in refrigerator to marinate for one to two hours.
Remove chicken from refrigerator. Heat grill to medium to medium-high heat, about 400° F. Make sure grates are scrubbed clean and then oiled. (To oil the grates, add some canola oil or olive oil to a small bowl. Then fold a heavy paper towel a few times to make a smaller square. With a tongs, grasp the folded paper towel and dip it into the oil until the paper towel is drenched. Then run the paper towel over the grates, repeating until all grill grates are thoroughly oiled.)
Place cut sides of lemon halves on grill for just a minute or two, until charred and softened. Remove to a plate to cool. Oil grill grates again and place marinated chicken breasts on the grates. Grill for about 3 to 4 minutes, or until nicely charred. Flip chicken and grill for another 3 to 4 minutes on the second side, until nicely charred and an instant read thermometer reaches 160°F. Then pull the chicken off the grill, to a platter, to rest for a few minutes and continue to cook to 165°F. This will help to ensure that your chicken doesn't dry out from over cooking it.
While chicken is resting, arrange arugula on a platter. Drizzle just a bit of olive oil over the top, followed by a squeeze of grilled lemon halves. Add grape tomatoes, course salt, and freshly ground black pepper. Arrange chicken breasts simply over the top of the salad and then sprinkle with fresh thyme leaves.
Notes
from a farmgirl's dabbles
Nutrition Information:
Yield: 6
Serving Size: 1
Amount Per Serving:
Calories: 245
Total Fat: 7g
Saturated Fat: 2g
Trans Fat: 0g
Unsaturated Fat: 4g
Cholesterol: 102mg
Sodium: 190mg
Carbohydrates: 8g
Fiber: 2g
Sugar: 3g
Protein: 38g
Nutrition information is automatically calculated by Nutritionix. I am not a nutritionist and cannot guarantee accuracy. If your health depends on nutrition information, please calculate again with your own favorite calculator.
Here are a few more citrusy grilled chicken recipes you may like: