Espresso Brownies with Peanut Butter Marshmallow Frosting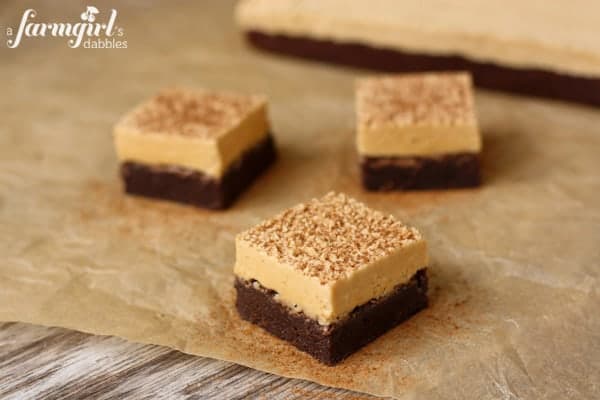 Give me a dark and decadent brownie, and all my problems are solved.
Brownies are my go-to. My constant craving. My chocolate saviour.
A couple months ago, I made some brownies with a thick layer of irresistible mocha buttercream, and shared them with my sister's family and their friends who were visiting from out of town. It was such fun to see my sister's eyes roll back in pleasure as she took each bite, savoring the simple bliss of an extra special brownie.
Cheryl's birthday is in a few days, exactly one week before mine. So there were many times that our birthday parties were done in tandem. Note the two candles for Cheryl, five for me, on the butterfly cake that Mom made for us when we were kids. Mom always made us such fun cakes!
For a number of years when I was young, I remember having a very hard time grasping the concept that Cheryl's birthday was before mine, but that I was older. I think it was due to the fact that our birthdays were just so close together, because I didn't question anybody else's birthdays during the year. Now I smile when I have to explain this to my own youngest daughter.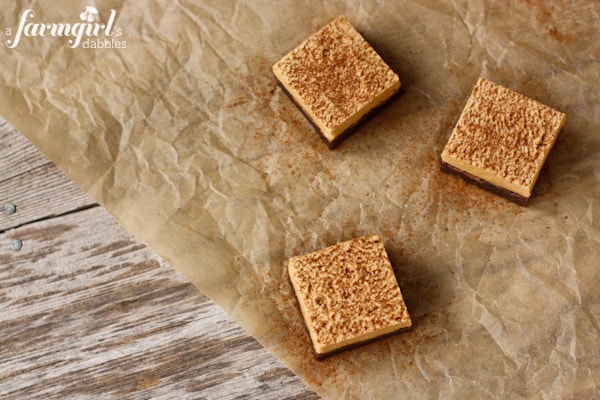 If I had to name people in my life who live for the chocolate and peanut butter combo, at the top of the list would be my husband and my sister Cheryl. Their pick from the candy rack has always been Reese's Peanut Butter Cups. So I set out to create a brownie for Cheryl's birthday that would make her eyes roll back even further…Espresso Brownies with Peanut Butter Marshmallow Frosting.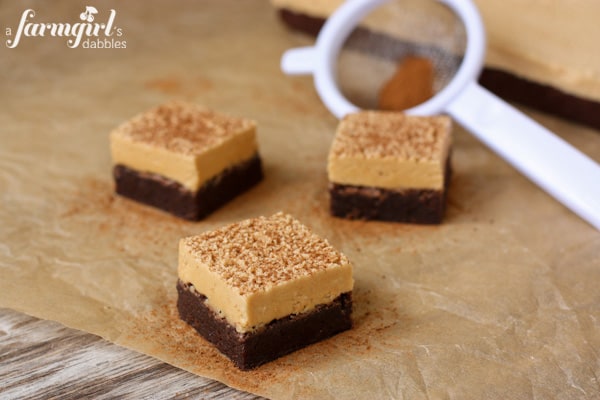 These brownies are dense and fudgy, with a deep chocolate flavor enhanced by espresso powder. Cheryl loves a good cup of coffee, so the espresso was a no-brainer.
And the peanut butter frosting…oh my. Sitting on top of the brownie, almost as thick as the brownie itself, it's a fluffy silky layer that's fun to sink your teeth into. The frosting is loaded with peanut butter flavor and fluffed up with sweet marshmallow cream. Topped with a little splattering of more espresso powder, plus cinnamon and rich cocoa powder, this is definitely, absolutely, positively an extra special brownie.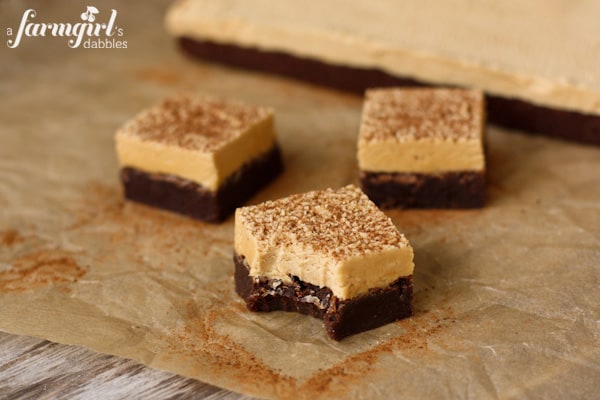 Here's to you, dear sister. Thanks for always helping me see this world through a different set of lenses. I love you, Cheryl!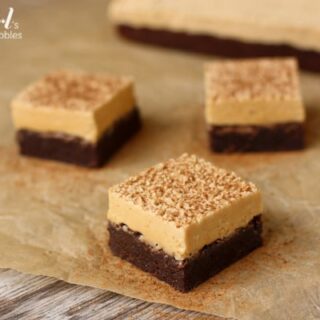 Espresso Brownies with Peanut Butter Marshmallow Frosting
Yield: 16 to 20 brownies
Prep Time: 20 minutes
Cook Time: 30 minutes
Total Time: 50 minutes
These brownies are dense and fudgy, with a deep chocolate flavor enhanced by espresso powder.
Ingredients
for the espresso brownies:
1/2 c. (1 stick) unsalted butter, diced
3 oz. unsweetened chocolate, chopped
1.5 c. sugar
3 large eggs
1 tsp. instant espresso powder
2 tsp. pure vanilla extract
1/4 tsp. kosher salt
3/4 c. all-purpose flour
for the peanut butter marshmallow frosting:
1/2 c. marshmallow cream (homemade or store bought)
3/4 c. creamy peanut butter
6 T. unsalted butter, at room temperature
1/4 tsp. salt
2 c. powdered sugar
2 T. heavy cream
1 tsp. pure vanilla extract
1/2 tsp. espresso powder
1/2 tsp. cinnamon
1/2 tsp. cocoa powder (I used a rich Dutch process cocoa from Penzeys.)
Instructions
for the espresso brownies:
Preheat oven to 325° F.
To achieve ultra clean cuts, prepare a pan with a foil or parchment paper liner. Fold a 16'' long piece of foil to an 9'' x 16'' strip and place in 9'' x 9'' metal baking pan, leaving overhang on 2 sides. Repeat with another sheet of foil in opposite direction, lining pan completely. Spray foil with nonstick spray. If you're not looking for perfect brownie cuts, simply spray pan with nonstick spray and eliminate the foil lining.
Stir butter and chocolate in large heavy saucepan over very low heat until chocolate is melted. Remove from heat and whisk in sugar, then eggs, one at a time. Whisk in espresso powder, vanilla, and salt and then sift flour over. Stir to blend well. Transfer batter to prepared pan.
Bake brownies until puffed and dry-looking and tester inserted into center comes out with some moist batter attached, about 30 minutes. Cool completely in pan on rack.
for the peanut butter marshmallow frosting:
In a medium bowl, with a mixer at low speed, combine marshmallow cream, peanut butter, butter, and salt until well blended. On low speed, beat in powdered sugar, alternately with cream, until smooth and fluffy. Beat in vanilla. Spread frosting evenly over cooled brownies.
If you lined the pan with foil, using foil as an aid, lift brownies from pan.
Then, in a very small bowl, combine espresso powder, cinnamon, and cocoa powder. Gently pour mixture into a very fine mesh strainer. Hold the strainer over the frosted brownies and gently tap the strainer on the side to release the mixture in little splatterings over the top of the frosting.
Cut into squares and serve. If the brownie is sticking to your knife as you cut, it helps to set the brownies in the refrigerator or freezer for a bit to chill first.
Notes
from a farmgirl's dabbles
Nutrition Information:
Yield: 20
Serving Size: 1
Amount Per Serving:
Calories: 274
Total Fat: 13g
Saturated Fat: 5g
Trans Fat: 0g
Unsaturated Fat: 6g
Cholesterol: 40mg
Sodium: 129mg
Carbohydrates: 37g
Fiber: 2g
Sugar: 29g
Protein: 5g
Nutrition information is automatically calculated by Nutritionix. I am not a nutritionist and cannot guarantee accuracy. If your health depends on nutrition information, please calculate again with your own favorite calculator.