Cinnamon Doughnut Muffins
This post may contain Amazon or other affiliate links. As an Amazon Associate I earn from qualifying purchases.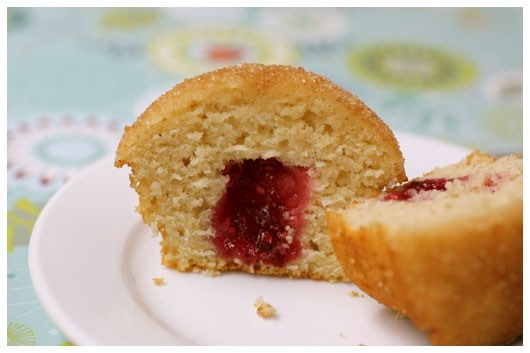 Back in May, just a few weeks after this blog was launched, our friend, Kevin, sent a message to me on Facebook, requesting I make these Cinnamon Doughnut Muffins. He had seen them on the Noble Pig blog. Not only am I glad that Kevin sent the link to this recipe, but I also appreciate now knowing the Noble Pig, where Cathy chronicles her delicious food and the winery that she and her husband are developing in Oregon. (Check out the Noble Pig!)
So it only took me four months to make these. I think I just needed to be in the right mood. And the cool weather we've had the past couple weeks has definitely shifted me into comfort food mode. But, by respecting my mood and holding off, I know that I enjoyed these to the utmost. They were worth the wait.
I do believe these are the closest non-fried sweet you will find to a real doughnut. The batter's aroma was even softly doughnut-esque. I filled them with Raspberry Blackberry Freezer Jam – the best jam I've ever made – and popped them in to bake. After pulling these muffins out of the oven and dipping their perfectly mounded tops into melted butter, and then cinnamon and sugar, my expectations for the finished product were sky high. And rightfully so. These little gems were moist, flavorful, and doughnutty delicious.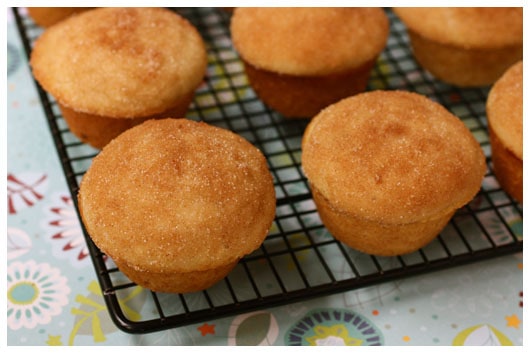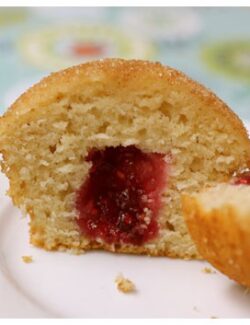 Cinnamon Doughnut Muffins
Yield: 9 standard-size muffins

Cook Time:20 minutes
Ingredients:
1-3/4 c. all-purpose flour
1-1/2 tsp. baking powder
1/2 tsp. salt
1/2 tsp. ground nutmeg
1/4 tsp. ground cinnamon
3/4 c. sugar
1/3 c. canola oil
1 large egg, lightly beaten
3/4 cup milk
Jam – I recommend Raspberry Blackberry Freezer Jam, but any jam will do!
for the topping:
1/4 c. butter, melted
1/3 c. sugar
1 tsp. ground cinnamon
Directions:
Preheat oven to 350°.

In a large bowl, combine flour, baking powder, salt, nutmeg and cinnamon. In a small bowl, combine sugar, oil, egg and milk.  Stir wet ingredients into dry ingredients just until moistened.

Spray muffin cups with cooking spray, or line with paper liners.  Fill cups half-full with muffin batter.  Place 1 teaspoon jam on top, in the very center. Cover jam with enough batter to fill muffin cups three-fourths full. Bake for about 20 minutes, or just until a toothpick comes out clean.

Place melted butter in a small bowl. Combine sugar and cinnamon in another small bowl. Immediately after removing muffins from the oven, dip tops in butter, then in cinnamon-sugar.  Serve warm.

These really were best the day they were made.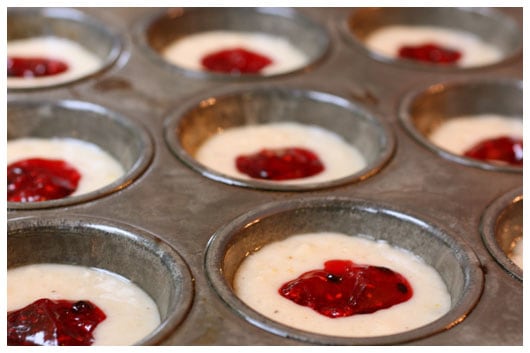 We participate in the Amazon Services LLC Associates Program, an affiliate advertising program designed to provide a means for us to earn fees by linking to Amazon.com and affiliated sites. See our
disclosure policy
for more info.