Chopped Chicken and Couscous Salad with Sweet Basil Dressing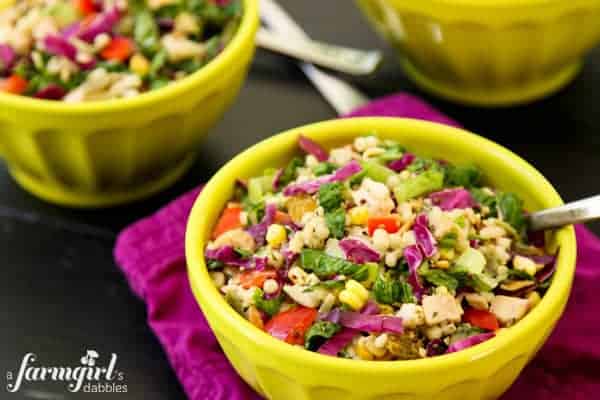 Aren't summer salads, bursting with fresh garden produce, just the best?! I am super excited to share this Chopped Chicken and Couscous Salad with Sweet Basil Dressing with you. But first…
First I want to share something I've been working on, to help keep you updated on all the latest happenings around here. We are now offering a weekly newsletter, sent right to your email at the end of every week. It will include snippets from that week's posts and recipes, keep you updated on any current giveaways, and let you know about any other cool things going on. Plus we'll share a little bit more, extra stuff from our everyday life that's not included in the posts. Cool, huh?!
For those of you who are already signed up for email updates, your information was transferred over to our new system, and you should have received our inaugural newsletter earlier this week. You will continue to receive email updates after each new post is published, just like before but it will look slightly different, plus the new weekly newsletter at the end of the week. I hope that you will stayed subscribed to both mailings, but completely understand if you prefer to opt out of one of them.
For those of you who have not yet signed up, now would be a great time to do so! There's a button on the sidebar that links to a subscription form, for you to choose the weekly newsletter and/or the email update. Or just click here.
And now let's get back to that awesome salad!!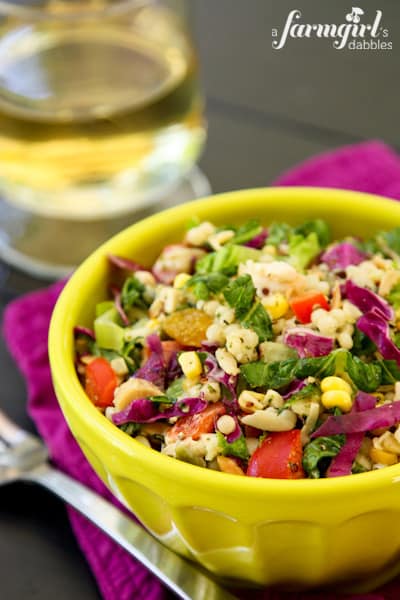 This salad recipe comes from Lori Lange of Recipe Girl. I've always loved Lori's enticing and approachable recipes, sprinkled with stories of her family's life. But it wasn't until I attended the BlogHer Food conference in Austin, Texas a couple months ago, that I had the pleasure of finally meeting her face to face. Lori has a great laugh, is super smiley, and knows how to rock a pair of cowboy boots. I like that. Alot. :)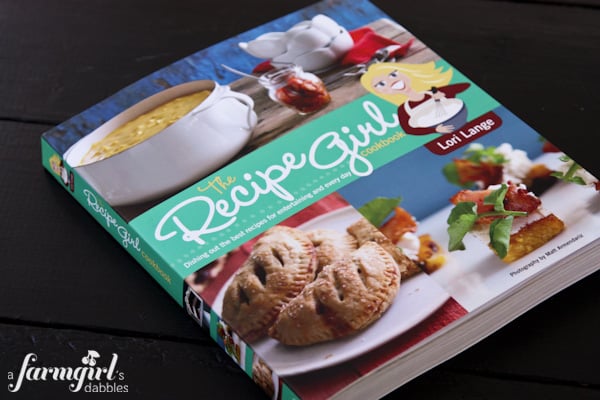 It has been a real pleasure to read and cook from Lori's book, The Recipe Girl Cookbook. Just like the recipes on her popular blog, the ones in the book are welcoming and tasty, using ingredients and techniques that are easily attainable. I especially like how Lori offers ideas to change up each recipe, and at the back of the book she includes ways to incorporate her recipes into themed menus. She completely takes the guess work out of planning a gathering or special meal.
And the photos in the book? They are simply beautiful, as you would only expect from the work of Matt Armendariz, from Matt Bites.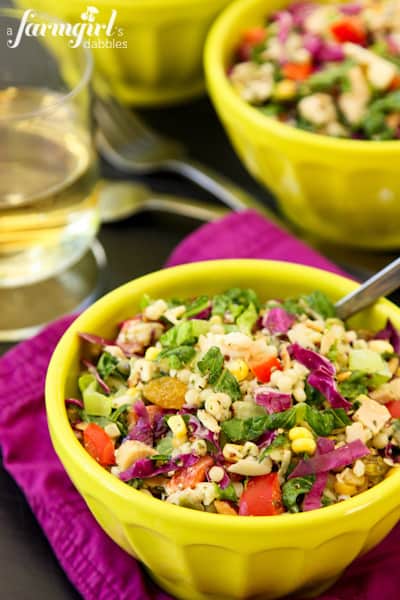 I had several recipes tagged from the cookbook, and it took me awhile to decide what to actually share with you. But then I looked out the window into our kitchen garden and saw the basil plants, all lush and begging to be used. I knew right then and there what I wanted to make. And eat. And share with you!
This salad is a definite keeper, an all-family pleaser. It has chicken (meat!), which automagically bumps up any salad in my husband's rating system. It has Israeli couscous, those tiny little pasta bubbles that our girls love so much. And it's loaded with the delicious summer goodness of sweet corn and fresh pungent basil. This recipe particularly peaked my interest with its use of raw sweet corn kernels, incorporated into the salad straight from the cob without cooking. I think I've found a new love. Why haven't I been eating raw sweet corn in my summer salads all along?!
Oh, and one more thing. Just go ahead and double the sweet basil dressing right away, to have some extra on hand. Drizzle it over fresh greens and use it as a veggie dip. It's awesome!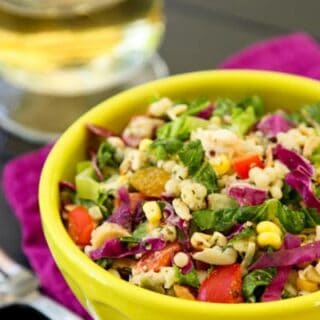 Chopped Chicken and Couscous Salad with Sweet Basil Dressing
Aren't summer salads, bursting with fresh garden produce, just the best?!
Ingredients
for the sweet basil dressing:
1/2 c. mayonnaise
2 T. finely chopped fresh basil
1 T. prepared basil pesto
1 T. water
2 tsp. freshly squeezed lemon juice
1 tsp. honey
1/8 tsp. salt
1/8 tsp. freshly ground black pepper
for the chopped chicken and couscous salad:
4 c. finely chopped romaine lettuce
2 c. finely chopped roasted chicken
2 c. fresh (raw) corn kernels, from about 2 large cobs
2 c. finely chopped red cabbage
1 c. dry Israeli couscous, cooked according to package directions, then cooled
1 medium red bell pepper, seeded, ribs removed and finely chopped
1/2 c. freshly grated Parmesan cheese
1/2 c. dried currants (or substitute golden raisins)
1/2 c. finely chopped pecans
Instructions
for the sweet basil dressing:
In a small bowl, whisk together all dressing ingredients. If the dressing seems too thick, whisk in more water, 1 teaspoon at a time, until you reach a consistency you're happy with. It should be creamy and thick, but also pourable.
for the chopped chicken and couscous salad:
In a large bowl, toss together all salad ingredients.
Add the dressing and toss to coat evenly. Divide salad among 4 bowls to serve. Or, if you prefer, serve the dressing on the side so that individual eaters can add their own salad dressing.
The dressing is so good, I highly recommend making a double batch of it. Whatever doesn't get used on this salad can be used for other salads or as a veggie dip. Yum!
Nutrition Information:
Yield: 6
Serving Size: 1
Amount Per Serving:
Calories: 582
Total Fat: 38g
Saturated Fat: 8g
Trans Fat: 0g
Unsaturated Fat: 27g
Cholesterol: 92mg
Sodium: 403mg
Carbohydrates: 31g
Fiber: 5g
Sugar: 13g
Protein: 30g
Nutrition information is automatically calculated by Nutritionix. I am not a nutritionist and cannot guarantee accuracy. If your health depends on nutrition information, please calculate again with your own favorite calculator.
Disclosure: I received a copy of The Recipe Girl Cookbook for review purposes. All opinions are my own.